Best Sugar-Free and Low Carb Drinks At Sonic
This post may contain affiliate links.
Are you looking for low-carb drinks and menu options at Sonic Drive-In? No worries, I've got you covered! From refreshing drinks to tasty snacks, Sonic offers a variety of low-carb options that will satisfy your cravings.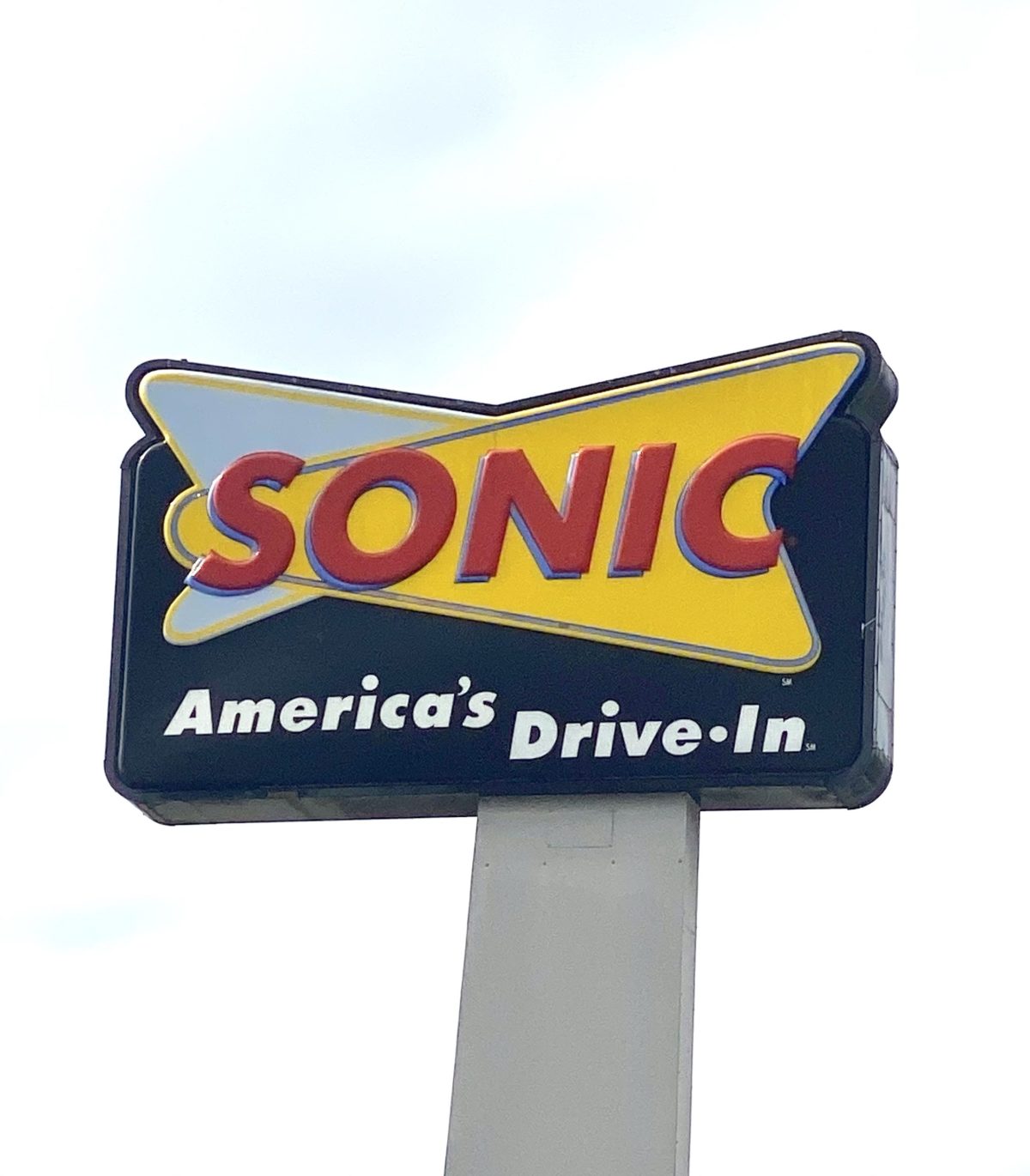 As a child, I have cherished memories of visiting the Sonic drive-in in our town with my parents. My go-to order was a slush and pickle-Os, which makes me feel nostalgic and miss those carefree days. Of course, my Sonic order looks much different these days. But with all the sugar-free and low carb drinks at Sonic, it's still great!
Sonic is known for high-sugar slushes, french fries and ice creams. Low-carb and keto-diet followers are known to be creative. We know how to find options that fit our lifestyle that isn't typically on the menu. Can you still find suitable low-carb options at Sonic that won't derail your progress? The answer is yes! You may be surprised how much you CAN have at Sonic.
Low Carb Drinks at Sonic
Diet Cherry Limeade – We'll start with my favorite low-carb drink at Sonic. Diet Cherry Limeade is my go-to. The base is Sprite Zero, with fresh limes, sugar-free cherry syrup and cherries. I always order mine WITHOUT the cherries to save carbs. It combines the tartness of limes with the sweetness of cherry to create a refreshing, low-carb drink perfect for hot summer days.
Diet Limeade – This is simply limeade made with sprite zero and fresh limes. At this point, you could add a different sugar-free flavor. I'll make sure to cover that later.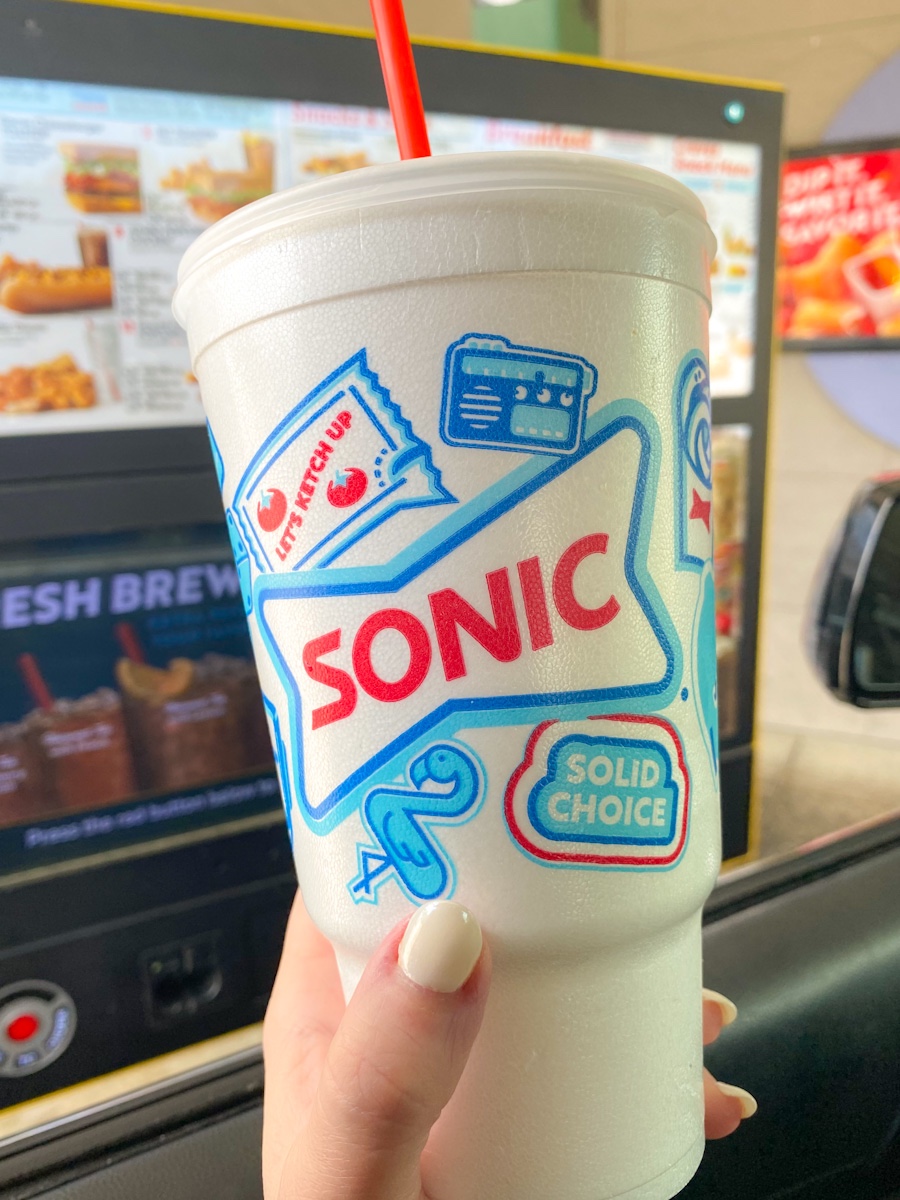 Sugar-Free Flavors – Sonic has several sugar-free flavor add-ins. Blackberry, Diet Cherry, Mango, Peach and Rasberry are all delicious options. You can add this to any drink. There are so many flavor combinations. Have fun and get creative!
Unsweetened Iced Tea – Unsweetened iced tea is a great low-carb beverage. You can request lemon slices and sugar-free sweeteners in it. I like to carry zero-sugar sweetener packets for occasions such as this.
Flavored Unsweetened Iced Tea – You can add a sugar-free flavor to the unsweetened tea. My favorite is the peach unsweetened tea!
Diet Soda – They offer Sprite Zero, Diet Coke and Diet Dr Pepper. You can also add sugar-free flavors to the diet sodas. I like Diet Cherry in Diet Dr Pepper!
Black Coffee – I love coffee, but this isn't my favorite option at Sonic. It had to be listed as black coffee is a low-carb option!
Water – You can order a bottle of water or water in a cup with ice. Sonic water isn't just ordinary water. Their water comes with that famous Sonic pebble ice we know and love! Did you know you can buy their ice by the bag at some Sonic Drive-ins? In addition, many people like adding a sugar-free flavor to the water. It's so refreshing on a hot summer day! This also makes it a low-cost, budget-friendly option.
Beverages to Avoid – Ocean water is very popular, but the blue coconut flavor add-in isn't low carb, so best avoid it. The slushes are also high in carbs and sugar.
Low Carb Foods at Sonic
Bunless Burgers – A bunless burger is always an excellent keto-friendly, low-carb option at any restaurant. You can order any of their burgers without the bun. Depending on how hungry you are, you can choose a jr. burger or, my favorite, the Super Sonic Bacon Double Cheeseburger without the bun. I get it deluxe with all the fixings. My local Sonic is fantastic, and they always put it in a box, making it easy to eat like a burger salad!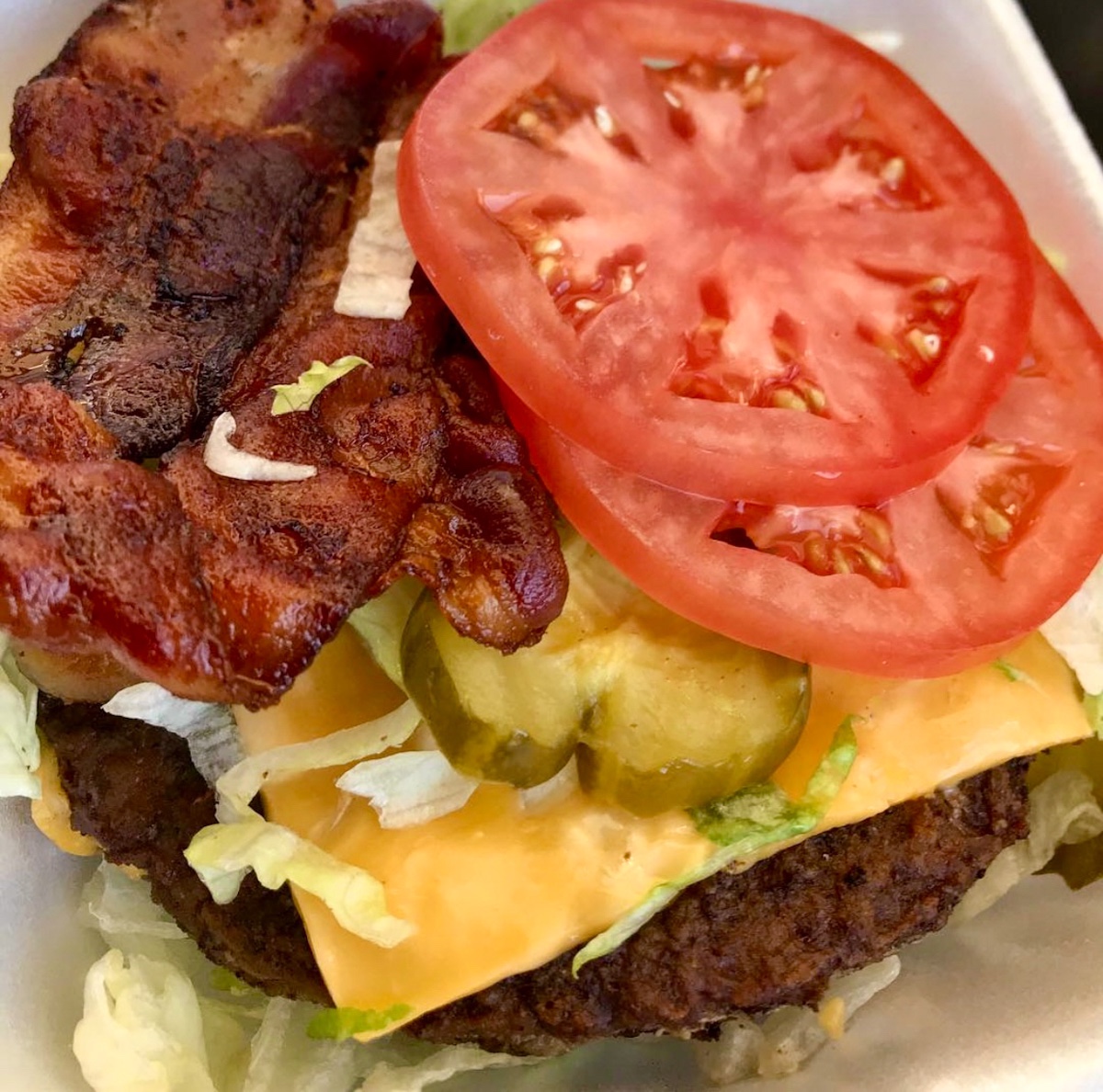 Bunless Hot Dogs – Although processed, hotdogs are a low-carb option. They are all beef hotdogs. You can order a regular or footlong hotdog without the bun. Or you can order the chili cheese coney, bunless. Their chili has some carbs, but it doesn't have beans.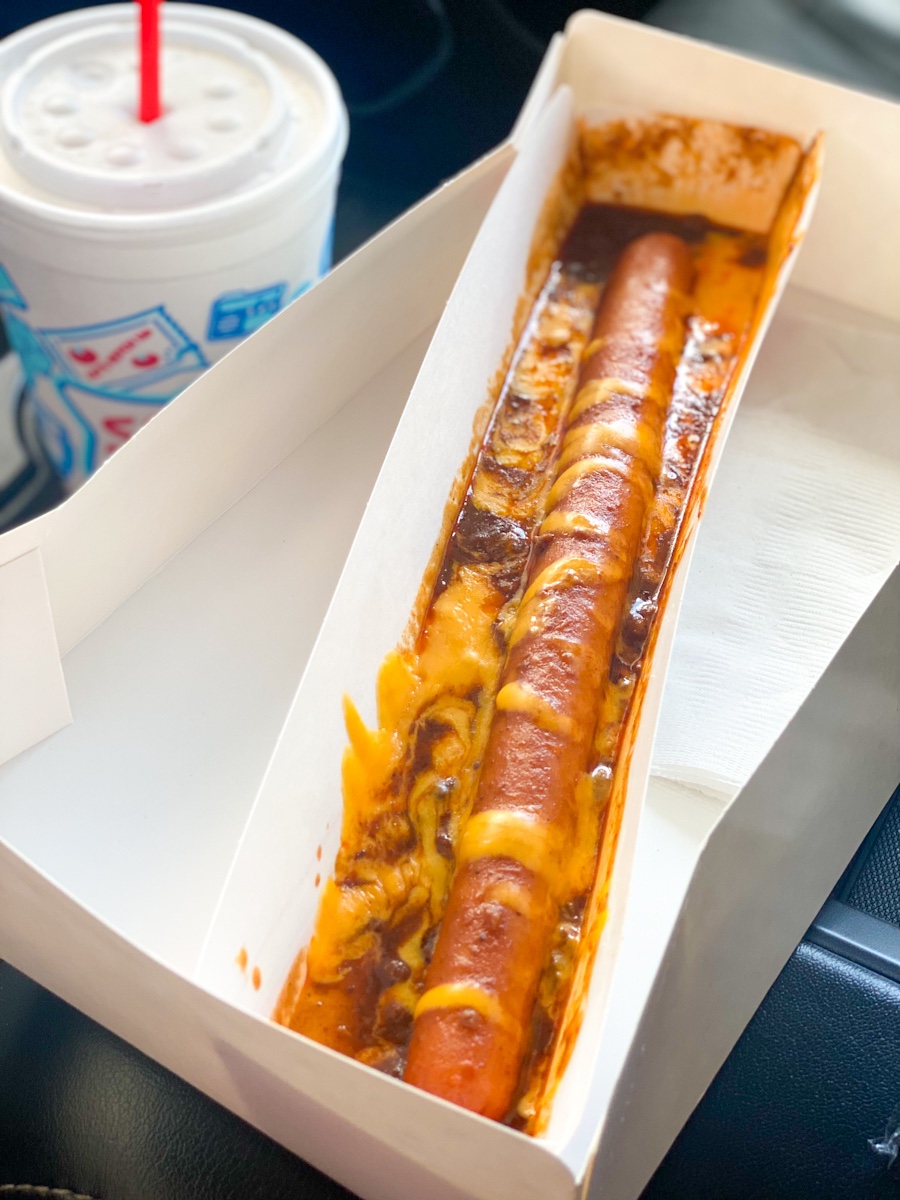 Grilled Chicken – Chicken is a great option, but make sure to order grilled chicken. For example, their popcorn chicken is breaded. So a grilled chicken sandwich without the bun is a great option. This menu item comes and goes, so check with your local Sonic.
Low-Carb Breakfast Options – You can order any of their breakfast sandwiches or burritos without the bun or flour tortilla. You can also order a la cart bacon, sausage and eggs. Of course, my favorite snack hack is to order a side of crispy bacon!
Foods to Avoid – When choosing low-carb options, it's always best to avoid breaded foods such as onion rings, mozzarella sticks and popcorn chicken.
Pro Tips
When eating out at any restaurant while following a low-carb or keto lifestyle plan ahead, look at the menu and nutrition facts and decide before you go. Being prepared with help you feel good about your choices!
Get the Sonic App – I love the Sonic App! The biggest perk of the app is 1/2 price drinks all day, not just happy hour! That is alone enough reason to get the free app. It isn't perfect, though. For example, the app will not let you leave the bun off burgers and hot dogs at my local Sonic. Hopefully, they will fix this!
Customization is key – Don't be afraid to customize your order to fit your low-carb needs. Whether asking for no bun on your burger or choosing sugar-free flavorings in your drink. Most restaurants are usually happy to accommodate your requests.
Choose Condiments Carefully – The condiment carbs can add up. For example, ketchup contains a lot of sugar, so I order my burgers with mustard or mayonnaise. Avoid honey mustard and bbq sauce, as those also have a lot of sugar. Ranch dressing would be a better choice, although it does contain carbs.
Check the nutritional information – Sonic provides nutritional information for their menu items on their website. Please don't just take my word for it; things constantly change. To be sure, take a quick look before ordering to make informed choices that align with your goals. Pay attention to the grams of carbs and sugar to stay on track.
Frequently Asked Questions
Are Sonic's chicken tenders low-carb?
No. Their chicken tenders are breaded. An order of 3-piece chicken tenders has 26 grams of carbohydrates.
How can I make sure I'm staying within my carb limits when eating out?
Checking the nutritional information provided by the restaurant's website is the best way to ensure you stay within your carb limits. Pay attention to the grams of carbs listed for each menu item and make informed choices accordingly.
Can I find low-carb options at other fast-food restaurants like Burger King or Taco Bell?
Many of the same rules apply when eating out on a low-carb lifestyle. However, different fast-food restaurants have varying options, so it's worth looking at their websites' menus and nutritional information before you go. For example, Burger King and Taco Bell offer customizable options like bunless burgers or protein bowls that can be modified to fit a low-carb diet.
Fast-food places may not always seem like the most obvious choice for those following a low-carb or ketogenic diet; Sonic Drive-In offers a range of customizable options and low-carb drinks without compromising your commitment lifestyle by making simple modifications and choosing wisely from their menu. This list and article are not exhaustive but are based on my top picks and experiences. Sonic lists all nutritional values on its website. Always do your due diligence when making the best dietary choices for you!
If you love down-home southern cooking, Check out my Southern Keto cookbooks! I've written 3 cookbooks, and each book has over 100 recipes in it. As always, they use easy-to-find ingredients.
Delicious Low-Carb Recipes:
Author: Natasha Newton (Natasha's Southern Flavor)
Natasha is the founder of Natasha's Southern Flavor. She has a passion for sharing delicious family friendly low-carb recipes that are easy to make and use readily accessible ingredients. Natasha has published three bestselling cookbooks. Her books and recipes have been featured by CNET, Delish, Mindbodygreen, Parade and Women's Health. She enjoys traveling and spending time with her husband, two adult children, and three furbabies.
Read more about Natasha here.