Dirt cake was one of my favorite desserts when I was a kid.  In fact, I've always loved anything with Oreos in it!  It took awhile for me to replicate this dessert because I could never get the authentic Oreo flavor I was looking for.. until now.  Black dutched cocoa powder is what gives Oreos their distinct flavor.  You can use regular cocoa powder but it will not taste the same!  Hint: you can find so many other uses for these cookie crumbs.  Enjoy!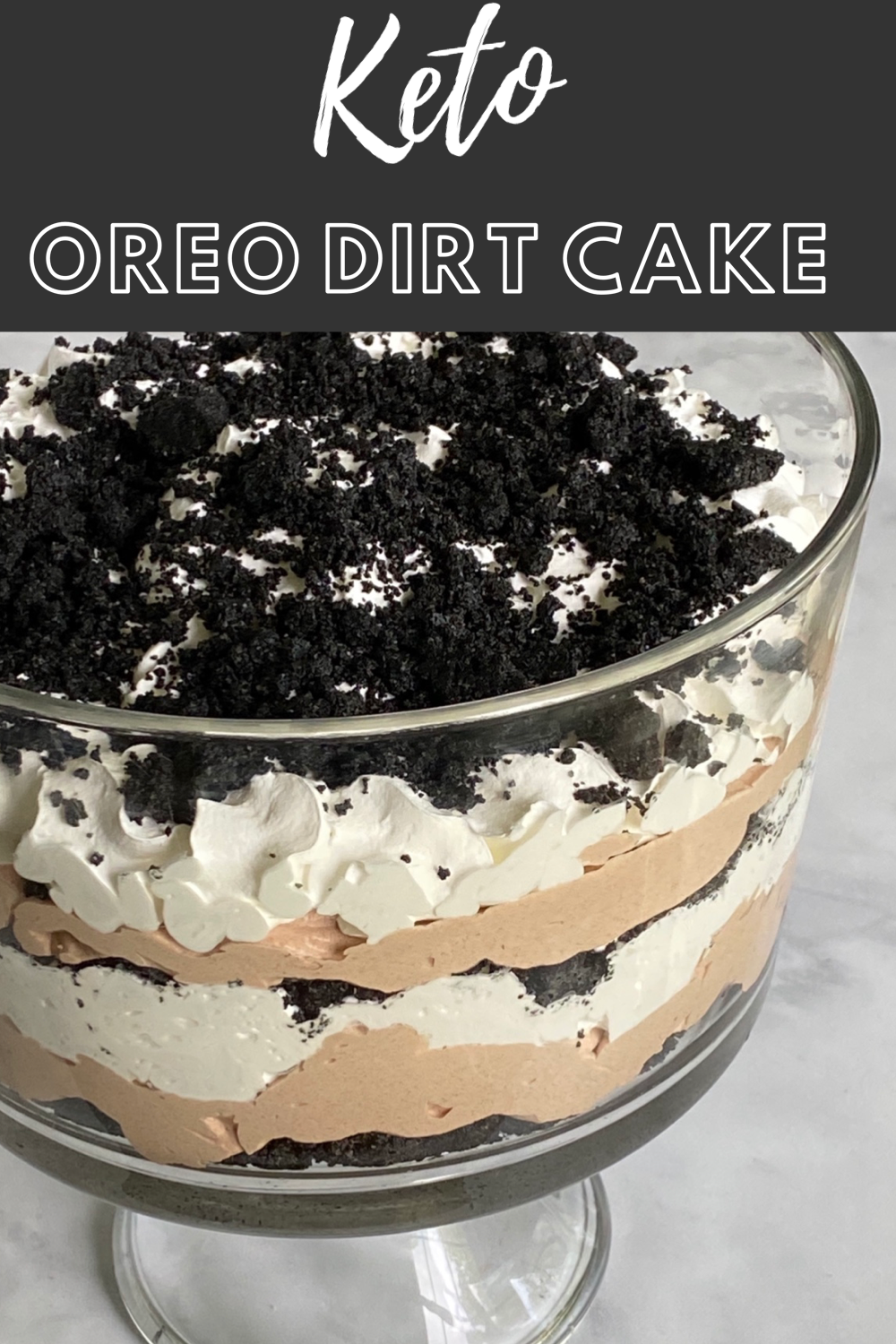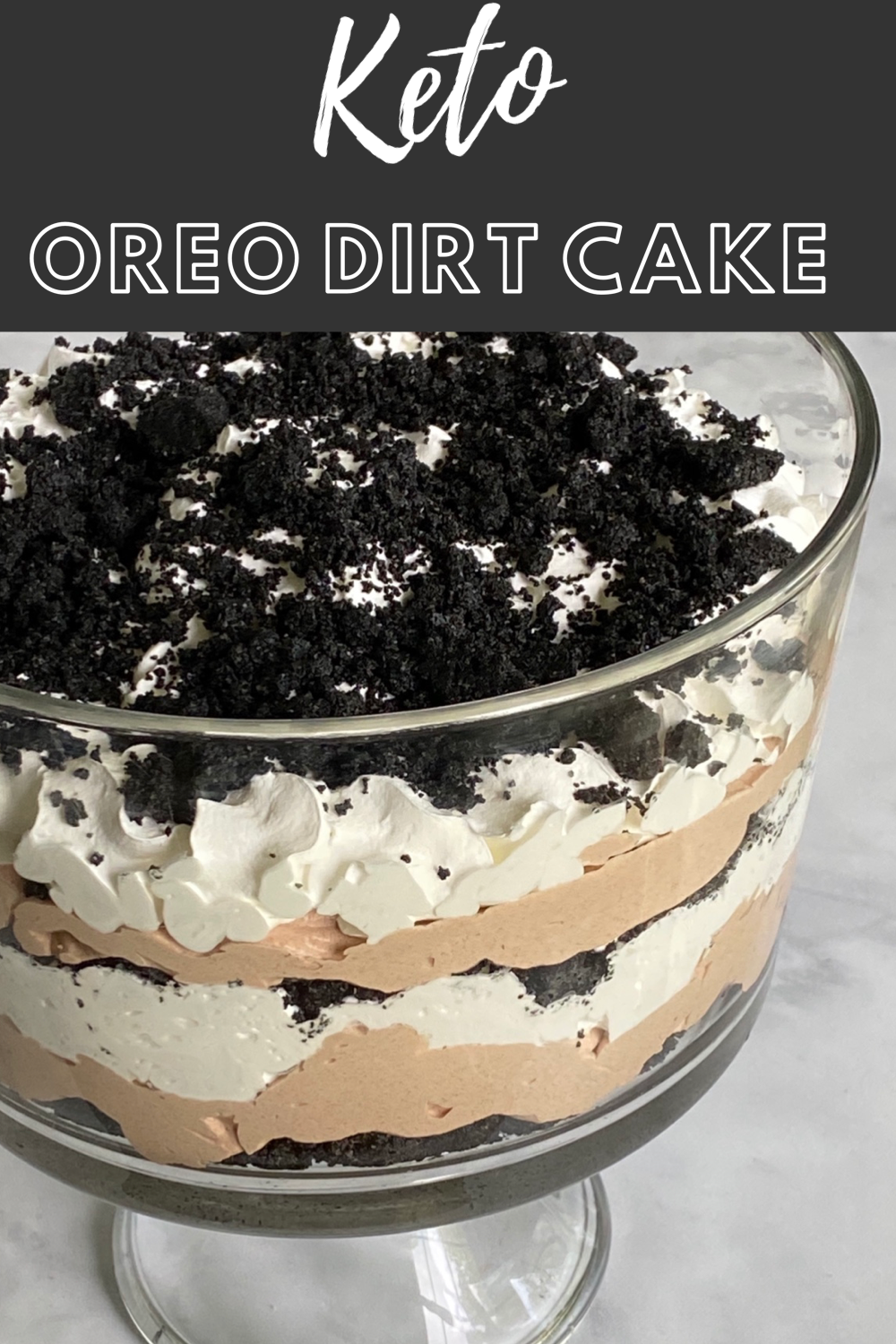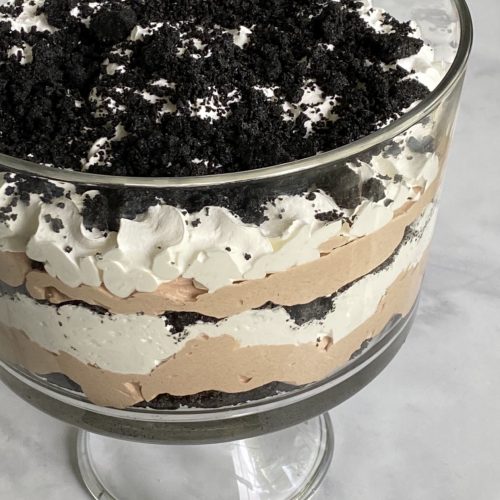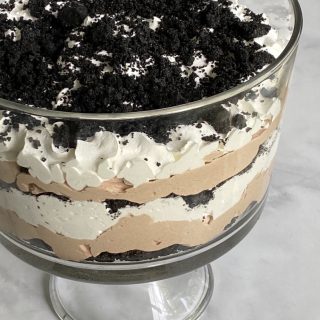 Ingredients
Whipped Cream
1

cup

heavy whipping cream

2

tablespoons

confectioners sweetener

1

teaspoon

vanilla extract
Instructions
Make the Cookie Crumbs
Preheat oven to 350 degrees. Line a sheet pan with parchement paper.

Put all of the ingredients in a large bowl. Use a fork to stir them together until well combined. The mixture will be wet and crumbly.

Spread the crumbs evenly onto sheet pan. Bake for 15 minutes. The cookie crumbs will look wet and still be soft. Allow to completely cool. Break up mixture into small crumbles. (It's less messy to leave them on the parchment paper and fold in the paper with your hands to crush the cookie crumbs.)
Make the Chocolate Mousse
Put water in a small bowl and sprinkle the gelatin over it. Let stand for 1 minute to soften. Add the hot water, Stirring until the gelatin is completely dissolved.

Use a large mixing bowl with a hand mixer or a stand mixer fitted with a whisk attachment. Whip the cream and sweetener on medium speed until soft peaks start to form. Scrap down the sides. Continue mixing, slowly adding the cocoa powder. Mix until all the ingredients are well combined. Pour in the gelatin mixture and mix until the mousse is smooth.
Make the Whipped Cream
Use a large mixing bowl with a hand mixer or a stand mixer fitted with a whisk attachement. On medium speed, blend cream with sweetener and vanilla until stiff peaks form.
Layer the cake
Use a large trifle bowl or other clear serving bowl to layer the ingredients. Spread one third of the cookie crumbs in the bottom of the bowl. Next, evenly spread half of the chocolate mousse over the cookies followed by half of the whipped cream. Repeat with another third of the cookie crumbs and the rest of the mousse and whipped cream. Sprinkle the top with the rest of the cookie crumbs. Refrigerate for at least 8 hours to overnight before serving.
Notes
You can use any whipped cream you like. I like to use my whipped cream dispenser for this dessert.  
Net Carbs 5.6g
Carbs 12g
Calories 485
Protein 7.8g
Fiber 6.5