Review of the Ketodiet App
This post may contain affiliate links.
Are you looking for a way to track macros for your Keto lifestyle?  Apps can be confusing!  There are a growing number of choices in the app stores.  I had the privilege of testing the Ketodiet App.  I don't personally track macros, but I know many people do.  If you do track, you need a dependable app.  The Ketodiet App is user-friendly with a smooth interface.  It is available on iOS and Android.  There are two versions, KetoDiet Basic and the fully featured KetoDiet app.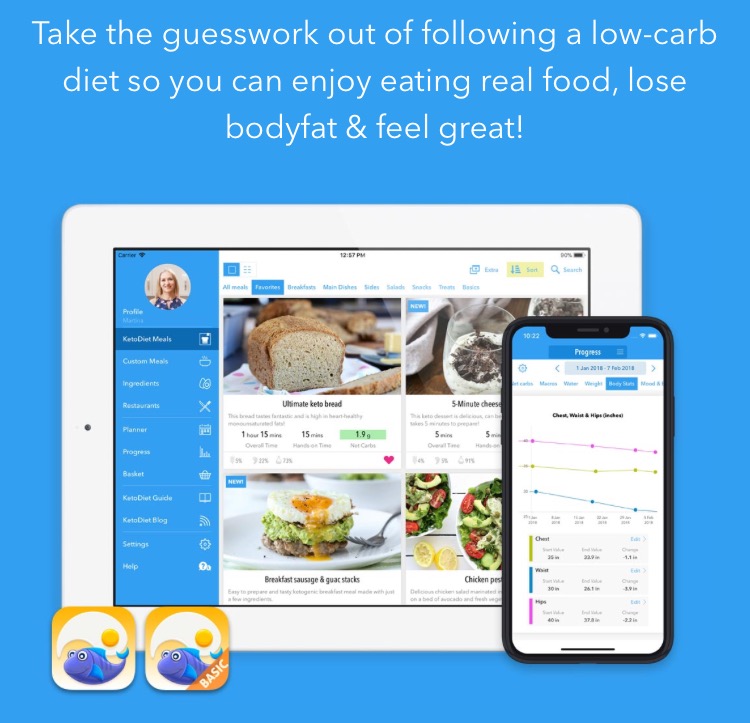 We'll start with KetoDiet Basic, $3.99 for iPhone, iPad and Android
Features:
300 low carb recipes
Complete ketogenic guide
Integrated with the KetoDiet app blog, over 450 free recipes, guides, diet plans and more.
Intuitive shopping basket
The KetoDiet advanced, $8.99 for iPhone and iPad, $6.99 for android
Features:
all of the basic features
Meal planning
Create your own meals and custom ingredients.
Built in Keto calculator to set your goals and carbohydrate limits.
Sync data across all of your devices.
*There are a few advanced features that aren't available for android on the advanced version making it a lower price than the iOS advanced.
Data sync
Daily planner notes
water intake, mood and energy tacking
Ketone blood glucose and lipids tracking
One of my favorite features of Ketodiet app is the ability to create your own recipes. I'm writing a ketogenic cookbook and understand the need to accurately calculate macros. Those of you who love to plan are going to love all of the added planning features. Over all I found Ketodiet app to be accurate and easy to use, making it worth paying for!
The creator of Ketodiet app and the Ketodiet blog is Martina Slajerova. She's also authored many ketogenic books, The KetoDiet Cookbook, Sweet & Savory Fatbombs, and Quick Keto Meals in 30 minutes or Less. Martina discovered the ketogenic diet after being diagnosed with Hashimoto's disease in 2011. She's created the Ketodiet app and blog to help others live the ketogenic diet successfully. She's a science geek at heart, incorporating the latest research as well as firsthand experience into her advice.
Author: Natasha Newton (Natasha's Southern Flavor)
Natasha is the founder of Natasha's Southern Flavor. She has a passion for sharing delicious family friendly low-carb recipes that are easy to make and use readily accessible ingredients. Natasha has published three bestselling cookbooks. Her books and recipes have been featured by CNET, Delish, Mindbodygreen, Parade and Women's Health. She enjoys traveling and spending time with her husband, two adult children, and three furbabies.
Read more about Natasha here.