Cheesy Zucchini Beef Marinara
This post may contain affiliate links.
Cheesy Zucchini Beef Marinara proves you don't need pasta to enjoy an Italian dinner. A simple meat sauce, creamy cheese, herbs and lots of zucchini make a hearty low-carb meal that's always a hit. This easy recipe is healthy comfort food at its best!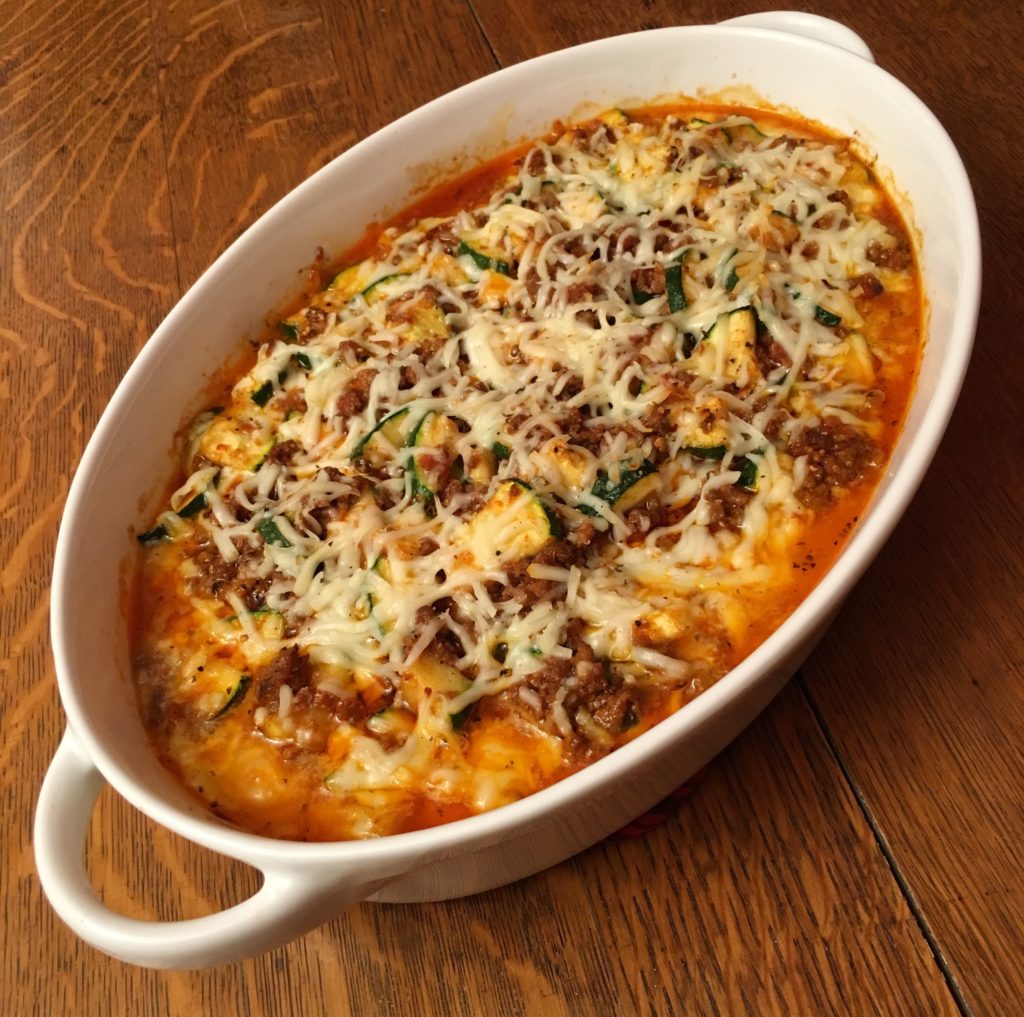 This is one of the first recipes I posted on this blog in 2016. I used to make pasta at least once a week. I made spaghetti a lot, but baked ziti was my special dish. It was the birthday meal request. It was the dish I took to church potlucks. It was the meal I took to new moms or someone who had just had surgery. And, of course, I had to throw in a big loaf of garlic bread. Oh, and I would add a side salad just for fun.
I love revising dishes I used to make and fitting them to this low-carb and keto lifestyle. This zucchini recipe doesn't replace baked ziti but has some of the same ingredients and is so incredibly good. The flavor is similar to a zucchini lasagna recipe, but I didn't want to slice and layer it that way. Instead, I wanted to create pieces similar to the size of ziti pasta.
Why You'll Love Zucchini Marinara Bake
This main course dish has all the flavors of traditional lasagna and is the perfect way to enjoy Italian on a keto diet. It's gluten-free with a thick, meaty sauce, plenty of cheese and fresh Italian taste. You can leave out the meat if you prefer a vegetation version. Make it ahead of time for busy weeknights when you need something quick yet filling. It's also a great way to use up your extra summer zucchini!
Ingredients & Substitutions
Ground beef – I like 80/20 lean ground beef. Substitute Italian sausage, ground chicken or ground turkey.
Zucchini – Two large zucchini make about 4 cups once it's chopped, which is what you'll need for this recipe. Choose firm, fresh zucchini with bright skin free of wrinkling or discolored spots.
Marinara sauce – Look for a high-quality brand low in sugar. Or substitute an equal amount of crushed tomatoes or tomato sauce seasoning with Italian seasoning. A few brands I like are Rao's, Mezzetta and Victoria.
Mozzarella cheese – Buy it pre-shredded, or, for better melting, get a block and shred your own. Instead of mozzarella, you can use another mild melting cheese like provolone or Gouda. Or sprinkle a little parmesan cheese over the top for extra sharp flavor.
Ricotta cheese – Often used in traditional Italian recipes, fresh ricotta adds creaminess and thickness to dishes. Cottage cheese is a great substitute if you prefer.
Garlic – Finely diced fresh garlic lends a sweet, nutty flavor when cooked with the meat. Choose bulbs that feel firm and avoid any that are sprouting. If you don't have fresh garlic, substitute garlic powder.Italian seasoning – A blend of dried Italian herbs usually includes basil, oregano, rosemary, thyme and marjoram. It infuses the casserole with an earthy, savory taste.
How to Make Zucchini Casserole with Meat
Step 1
Preheat the oven to 375°F and grease a 9×13 baking dish with butter or olive oil.
Step 2
Slice zucchini in half the long way, then slice again into quarters. Dice the quarters into even pieces and spread them over paper towels. Sprinkle them with salt and let sit for 10 minutes. The salt will pull excess moisture out of the zucchini and keep the casserole from getting watery.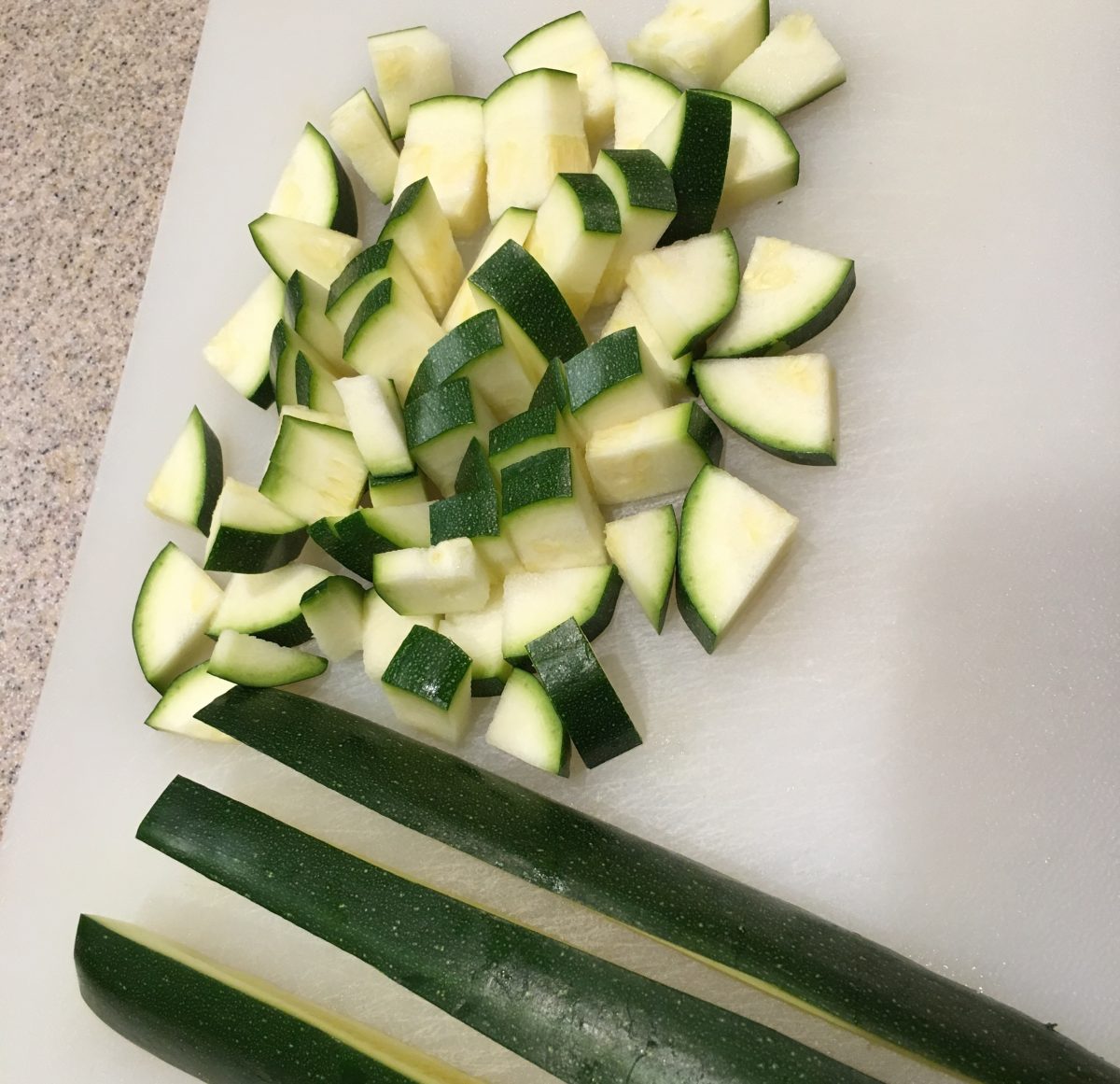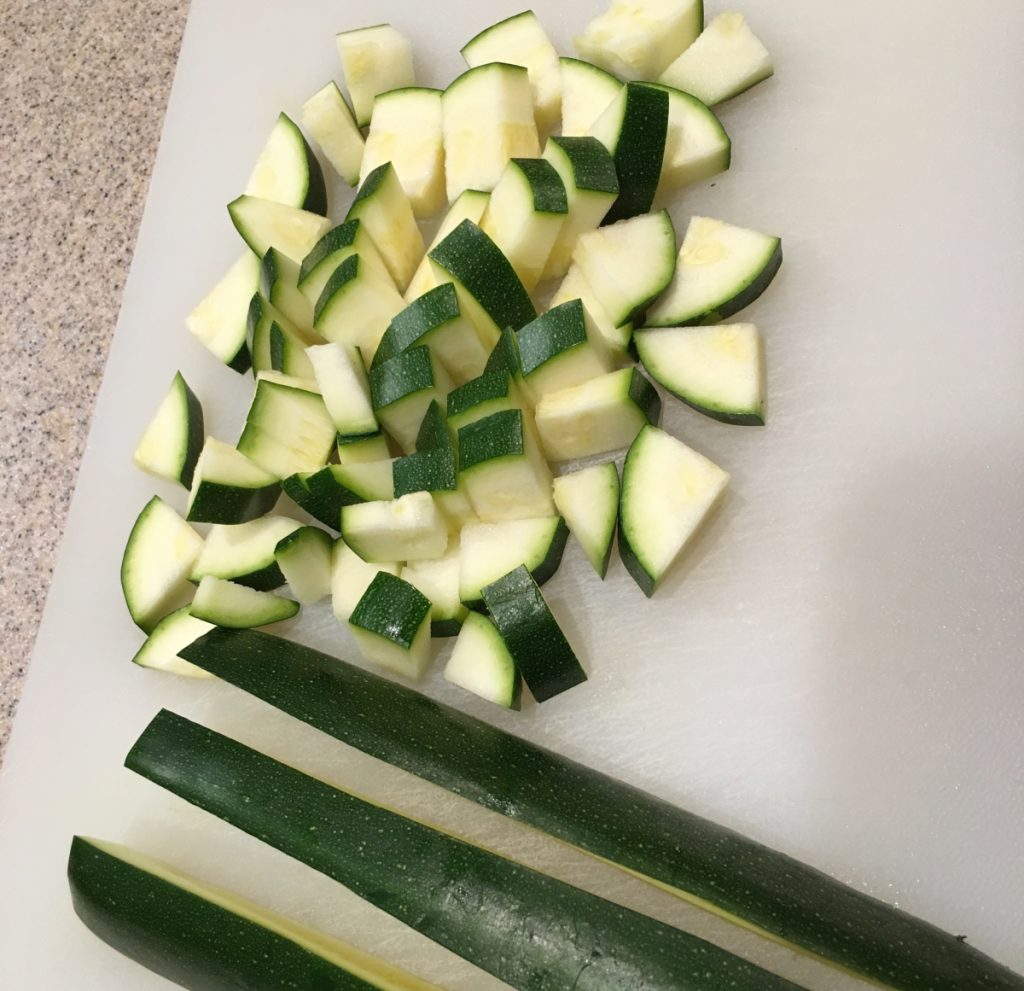 Step 3
Brown the beef in a skillet over medium heat with finely chopped garlic, salt and pepper. Drain the excess fat and stir in the pasta sauce. Turn the heat to a simmer.
Step 4
Press out the rest of the water from the zucchini with a dry paper towel. Add it to the pan with the beef and marinara and stir gently.
Step 5
In a medium bowl, mix 1 cup shredded mozzarella, 1 cup ricotta and the Italian seasoning until well-blended.
Step 6
To assemble, spread half of the meat mixture into the bottom of the baking pan. Top with the mozzarella ricotta mixture. Add the rest of the zucchini marinara and spread in an even layer. Top with the additional shredded mozzarella.
Step 7
Bake for at least 25-30 minutes until the cheese is lightly browned and bubbling around the edges. If you prefer softer zucchini, bake it longer. Let the casserole rest for 10 minutes before serving.
Pro Tips
Don't skip salting the zucchini! This step is necessary to draw any excess water out of the squash. Otherwise, the extra liquid will cook out while baking and you'll end up with a runny, watery casserole.
Watch the beef and garlic closely to avoid overcooking. Garlic can easily burn and overcooked beef will dry out. Instead, you want the meat to be cooked through but still juicy and garlic that's fragrant and golden brown.
For a crispier layer of cheese, broil the baked zucchini marinara for the last 1-2 minutes of baking. Keep a close eye on it and remove it before it gets too dark.
Garnish the finished dish with additional chopped herbs like fresh basil, parsley and oregano. They'll add extra Italian flavor to your cheesy zucchini bake.
FAQs
Do you have to peel zucchini?
No, you don't have to peel zucchini before dicing. The skin is thin and soft and fully edible. Plus, it's super healthy and full of good-for-you nutrients!
Can Cheesy Zucchini Beef Marinara be made ahead of time?
Definitely! You can assemble all of the ingredients in a casserole dish the day before. Cover it with foil or a lid and refrigerate until ready to bake. Let it come to room temperature as you preheat the oven.
How do you store zucchini beef casserole?
Cover and refrigerate leftovers in an airtight container for up to 3 days. Reheat in the microwave, on the stovetop or in the oven. I don't recommend freezing the assembled dish, as the zucchini will turn watery. You can, however, freeze the beef marinara mixture. Thaw and add the rest of the ingredients when ready to use.
More Low Carb Italian Recipes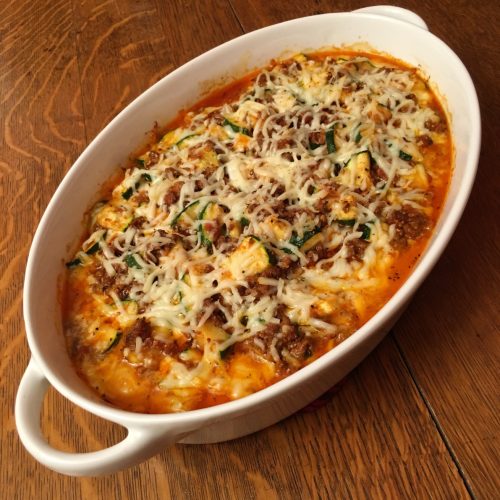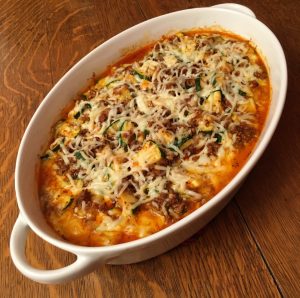 Ingredients
1

lb

Ground beef

2

cloves

Minced garlic

salt and pepper

4

Cups

Chopped zucchini

Or 2 large zucchinis

1 1/2

Cups

Marinara sauce

Lowest carb

2

Cups

Mozzarella cheese shredded

Divided

1

Cup

Full fat ricotta cheese

1

Tbsp

Italian seasoning
Instructions
Preheat oven 375 degrees. Greasde a 9×13-inch baking dish.

Dice zucchini into small pieces that are similar in size. Spread zucchini over paper towels and salt liberally. This will pull the moisture out of the zucchini. Let sit for 10 minutes 

Meanwhile in an extra large skillet brown the ground beef with garlic, salt and pepper. Drain off any extra fat and then add the marinara sauce. Turn heat down to low.

Drain the water off the zucchini and press out all of the extra moisture with dry paper towels. Toss the zucchini in with the beef and marina.

In a bowl mix together 1 cup of the mozzarella and 1 cup of ricotta and the Italian seasoning 

First layer, spread half of the zucchini beef mixture into baking dish.

Second layer, spread all of the ricotta mozzarella mixture. 

Third layer, spread the rest of the zucchini beef mixture. Then top it with the remaining cup of mozzarella cheese. 

Bake for 25-30 minutes. If you like the zucchini really soft bake it longer.  Let sit for at least 10 minutes before serving.  
Disclaimer: Nutritional information is included as a courtesy and is calculated to the best of my ability, using my preferred brands. I recommend calculation your own macros, as they can widely vary depending on the brands of ingredients you use.
Author: Natasha Newton (Natasha's Southern Flavor)
Natasha is the founder of Natasha's Southern Flavor. She has a passion for sharing delicious family friendly low-carb recipes that are easy to make and use readily accessible ingredients. Natasha has published three bestselling cookbooks. Her books and recipes have been featured by CNET, Delish, Mindbodygreen, Parade and Women's Health. She enjoys traveling and spending time with her husband, two adult children, and three furbabies.
Read more about Natasha here.