Keto Parmesan Roasted Broccoli
This post may contain affiliate links.
Keto Parmesan Roasted Broccoli is a quick and easy side dish that goes with just about anything. The florets are crispy on the outside and tender on the inside, with a topping of nutty Parmesan. You'll be amazed at how addicting this broccoli dish is!

I've never been a broccoli hater but I didn't love it either. It's because I didn't think outside the box. I either ate it steamed or raw with ranch dressing. When I was feeling really fancy I made broccoli casserole.
Then I discovered the beauty of roasted vegetables, which is now my favorite way to make them. Roasting really brings out the flavor and it's super easy with minimal cleanup. That's always a plus!
Roasted broccoli has quickly moved to the top of my favorite side dish list. I hope you love it!
Why you'll love this keto broccoli recipe
The easiest thing you'll ever make, my favorite broccoli recipe is the perfect last-minute side dish. It's low carb for a keto diet and pairs great with meats, soups and salads. Keep it simple or customize it any way you like. I suggest doubling the recipe because it's impossible to resist.
Ingredients & Substitutions
Broccoli – Look for fresh broccoli florets that are firm and dark green. Avoid any with yellow spots or wilted stems.
Avocado oil – this high-heat oil is perfect for roasting broccoli. You can substitute olive oil, but make sure it's a high-quality brand because you'll taste the difference.
Parmesan cheese – I love the nutty flavor that Parmesan adds! Shred a block of fresh cheese for the best results.
Salt and black pepper – a little bit of simple seasoning is all you need to intensify the earthy broccoli flavor.
How to make keto broccoli and cheese
Step 1
Preheat the oven to 425°. Grease a baking sheet or line it with parchment paper.
Step 2
Cut the broccoli florets away from the stem. Chop them into smaller pieces that are all about the same size. Add to a large bowl and toss with the oil. Add the cheese and toss again.
Step 3
Spread the broccoli in a single layer on the baking sheet. Season with salt and pepper to taste.
Step 4
Roast the florets in the hot oven for about 25 minutes. The finished broccoli will be browned with crispy edges.
Roasted broccoli is best served hot and fresh. But if you have leftovers you can store them in an airtight container in the fridge. Use them in scrambled eggs or add them to main dishes like Keto Cajun Shrimp Alfredo Pasta.
Roasted Broccoli Variations
Another great thing about this keto-friendly side dish is that there are so many options for customization!
Swap the broccoli: If you're not a fan of broccoli, try this recipe anyway. You will probably change your mind! If not, cauliflower florets or halved Brussels sprouts make great substitutions.
Add garlic: Sprinkle in a few cloves of thinly sliced, fresh garlic with the broccoli before roasting. If you don't have garlic bulbs, mix in a few dashes of garlic powder. Or substitute garlic salt for regular salt.
Try lemon zest: Lemon and broccoli just go together. Use a Microplane grater to zest the yellow part of a lemon and add it to the broccoli. Or drizzle the finished broccoli with a little bit of juice. Either way, you'll get a pop of fresh, bright taste.
Roasted vegetables with feta: If you like the tang of feta cheese, you'll love it with roasted broccoli. Chop or crumble a block into ½ cup of bite-size pieces to use instead of Parmesan. Add it during the last 5-10 minutes of baking.
Layer with seasoning: If you like some heat, sprinkle the broccoli with chili powder, curry powder or red pepper flakes. Try some Italian seasoning or toss it with fresh chopped herbs like basil, parsley or chives.
Recipe Tips
After you've cut the broccoli florets, run them under cold water to give them a good wash. Let them drain in a colander and then give them a good pat down with a clean kitchen towel. You want to make sure they are as dry as possible so they get brown and crisp while baking.
Use the stalk too! Chop it along with the florets and roast it for the same amount of time. Leftover broccoli is great in soup, casserole or veggie lasagna.
Salt and pepper are a great way to add lots of flavor. Season the broccoli generously before baking, so the salt and pepper soak into the veggies. After baking, taste and add more if needed.
Your sheet pan should be big enough to spread out the broccoli in an even layer with some space between each piece. If the florets get too close together they will have a harder time drying out and getting those nice caramelized, crispy edges.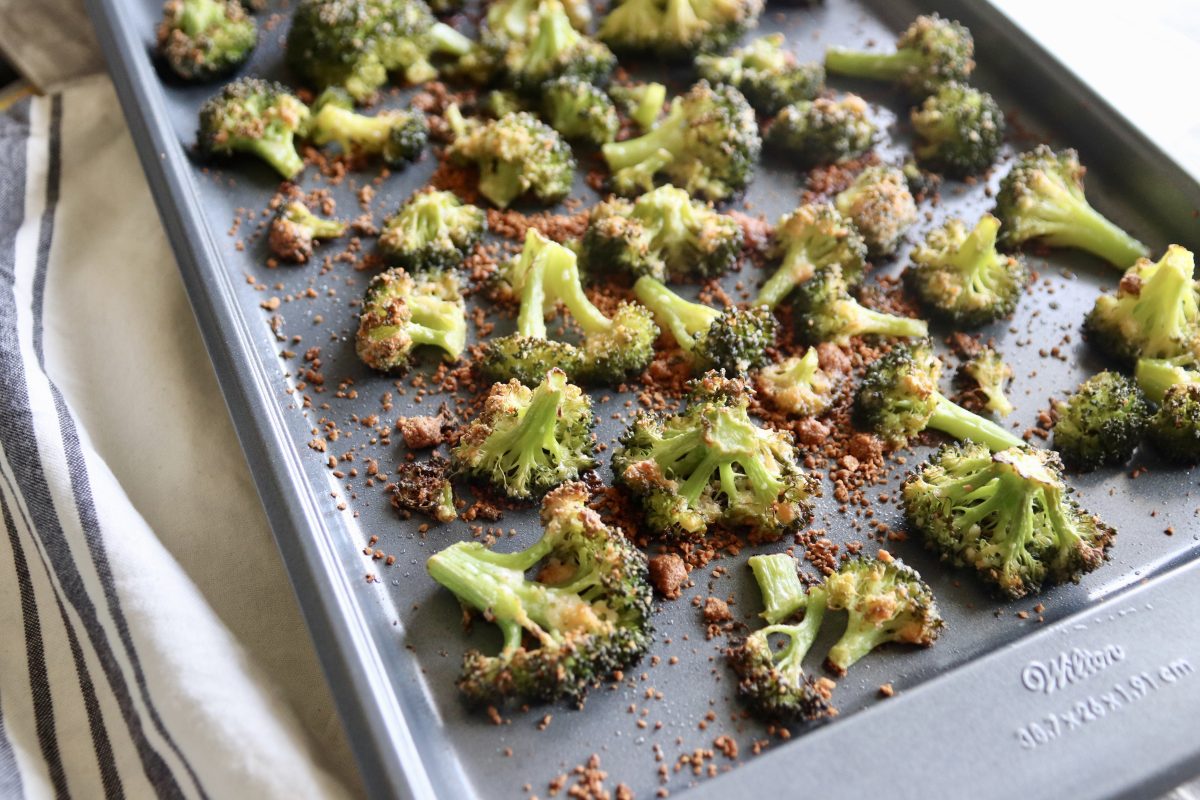 FAQs
Can you roast frozen broccoli?
If you don't have fresh broccoli, you can use frozen. But because frozen broccoli is really wet, it won't get as crispy as the fresh florets do. For best results, increase the oven temperature to 450° and finish them off under the broiler for extra crunch.
Can broccoli go bad?
Broccoli will stay fresh in the fridge for up to 10 days. Signs that your broccoli is starting to spoil include yellow or brown spots, mold, an off smell, wilted leaves and soft stems. If you see any of these, it's best to toss out the broccoli and buy a fresh bunch.
How do you stop broccoli from burning when roasting
Part of the deliciousness of roasted broccoli is the crispy, crunchy edges. You want them browned but not black. To keep them from burning, make sure the tops of the broccoli florets are cut to a similar size. Then rub the tips well with oil, which makes them less likely to dry out and burn.
More recipes
Serve Keto Parmesan Roasted Broccoli with any of these main dish recipes.
Shrimp Alfredo Spaghetti Squash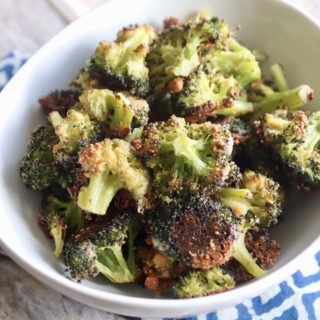 Ingredients
12

ounces

broccoli florets

fresh

2

tbsp

avocado oil

1/2

cup

grated parmesan cheese

pepper
Instructions
Preheat oven to 425 degrees. Grease or line a sheet pan with parchment paper.

Toss the broccoli in oil. Add cheese to the broccoli and toss until coated. Spread evenly on the pan. Sprinkle lightly with salt and pepper.

Roast for 25 minutes until the edges are browned and crispy
Notes
Net Carbs 3.4 g
Total Carbs 5.6 g
Fiber 2.2 g
Protein 6.4 g
Fat 10.3 g
Calories 141 
Disclaimer: Nutritional information is included as a courtesy and is calculated to the best of my ability, using my preferred brands. I recommend calculation your own macros, as they can widely vary depending on the brands of ingredients you use.
Author: Natasha Newton (Natasha's Southern Flavor)
Natasha is the founder of Natasha's Southern Flavor. She has a passion for sharing delicious family friendly low-carb recipes that are easy to make and use readily accessible ingredients. Natasha has published three bestselling cookbooks. Her books and recipes have been featured by CNET, Delish, Mindbodygreen, Parade and Women's Health. She enjoys traveling and spending time with her husband, two adult children, and three furbabies.
Read more about Natasha here.