KETO BURRITO BOWL with Cilantro Lime Caulirice (Chipotle Copycat)
This post may contain affiliate links.
The Keto Burrito Bowl with Cilantro Lime Caulirice is fresh and easy to make! This Chipotle inspired burrito bowl is packed with nutritious ingredients, including delicious low-carb cilantro lime cauliflower rice. Customize it with your favorite restaurant burrito bowl toppings without being charged for extra guacamole!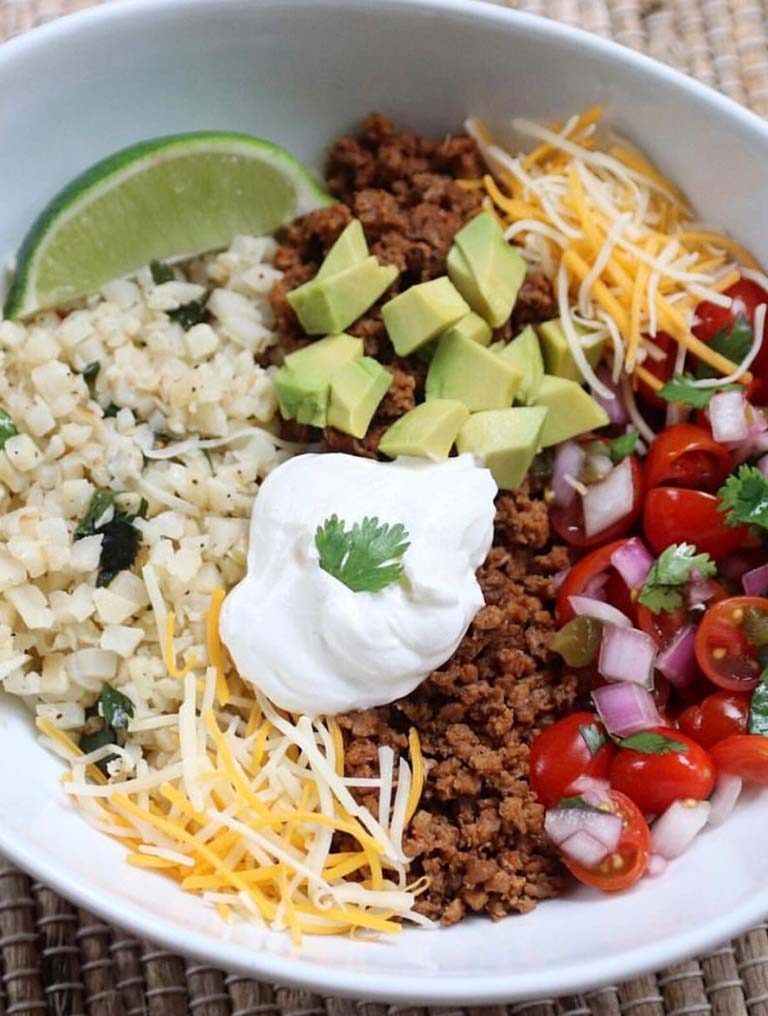 This tastes super similar to Chipotle's Cilantro Lime Rice, so if this is your first time eating this recipe, enjoy! The next time you're hungry and want something easy to make, try this recipe! Sometimes the simplest recipes are the most delicious!
What is caulirice?
If you have never had caulirice and aren't sure what it is, you will love it! Caulirice is riced cauliflower made to look like real rice. People love this idea because it can make almost any meal low-carb! Cauliflower rice has a neutral flavor and takes on the flavors added to it. The burrito bowl plus cilantro lime caulirice are so delicious together.
We all love those build your own burrito bowls from restaurants! They sure are a tasty and easy on the go option if you follow a keto lifestyle. It's so easy and fun to make your own at home, not to mention all the money you'll save! Pair your favorite protein with my cilantro lime "rice" and lots of yummy toppings. This would also be a fun idea for parties, have a build your own burrito bowl bar. Offer different meats and a wide variety of toppings. The possibilities are endless!
Ingredients Needed
Please check out the recipe card to get the "how to" of making Chipotle's Cilantro Lime caulirice and burrito bowl.
Butter – Gives a creamy texture and rich flavor to the cilantro lime caulirice.
Frozen Riced Cauliflower – This Keto Burrito Bowl includes frozen riced cauliflower. You can use a head of cauliflower if you'd like, just chop it up in the food processor.
Garlic Powder – Add a subtle flavor to your burrito bowl with garlic powder! You can alternatively use fresh minced garlic.
Salt & Pepper – Enhance the flavors of the other ingredients with salt and pepper.
Chopped Cilantro – Fresh cilantro adds a zingy finish to our Keto Burrito Bowl.
Fresh Lime Juice – Brighten up your burrito bowl with some freshly squeezed lime juice!
Burrito Bowl Toppings
There are so many ways to customize your burrito bowl. Get creative and use your favorite protein and toppings!
Protein – Barbaco, chipotle beef, chicken or carnitas pork. We use ground beef taco meat. Shrimp would also be a great option!
Cheeses – Cheddar, Monterey Jack and queso fresco are great choices.
Lettuce – Romaine, iceberg or any lettuce with a neutral flavor.
Cilantro lime caulirice – This will take your burrito bowl to the next level!
Salsa or pico de Gallo
Sour Cream – Greek yogurt is also a great option.
Avocado or Guacamole
Extra cilantro and a wedge of lime if that's your thing!
How to Store Keto Burrito Bowl with Cilantro Lime Caulirice
To store your Keto Burrito Bowl with Cilantro Lime Caulirice, place your ingredients separately into a large airtight container and store them in the refrigerator for up to 3 days. Then, when ready to eat, heat the protein and caulirice in the microwave or stovetop until everything is hot, and enjoy!
FAQs
What can I use instead of Cauliflower Rice?
Shirataki rice or hearts of palm rice are great alternatives to cauliflower rice.
How many carbs are in Cilantro-Lime Cauliflower Rice?
Cilantro-Lime Cauliflower Rice contains approximately 4 net carbs per cup, making it the perfect low-carb side dish for those following a keto lifestyle.
Is Caulirice keto?
Yes, caulirice is a keto-friendly side dish! It's low in carbs and high in fiber and vitamins, making it a great addition to any meal. Plus, its flavor pairs nicely with other ingredients like cheese, avocado, and cilantro.
Is cauliflower rice better for you than rice?
Cauliflower rice can is a better choice for those looking to reduce their carb intake. It contains four times fewer carbs than traditional white or brown rice, making it an excellent option for those following a keto lifestyle. Additionally, it is also gluten-free and a good source of dietary fiber.
Does cauliflower break ketosis?
No, cauliflower doesn't typically break ketosis when eaten in moderation. Depending on the serving size, one cup of cauliflower contains only five carbs and is a great source of dietary fiber. Additionally, its taste and texture pairs perfectly with many keto-friendly meals and side dishes, making it an excellent addition to any ketogenic diet.
Can I make my own caulirice?
Yes, you can make your cauliflower rice. You need the food processor to make it into tiny pieces to look like rice. Cauliflower makes it possible to make almost any rice dish, low carb!
You can make this Burrito Bowl with Cilantro Lime Cauliflower Rice recipe, but you might wonder what you can add to the top of this dish. Here are some more ideas for toppings:
Regular rice: If you don't want to be low carb and want to enjoy this recipe in its entirety, then make the traditional white rice.
Add your favorite cheese to the cilantro lime caulirice recipe with a box grater! Low-carb side dishes are perfect for adding cheese to!
Add a little chili powder on top to make it a little spicier. If you prefer mild flavors or bold flavor, then this recipe is for you.
More Low Carb Recipes
Southern Keto Low Carb Hushpuppies
Shrimp Alfredo Spaghetti Squash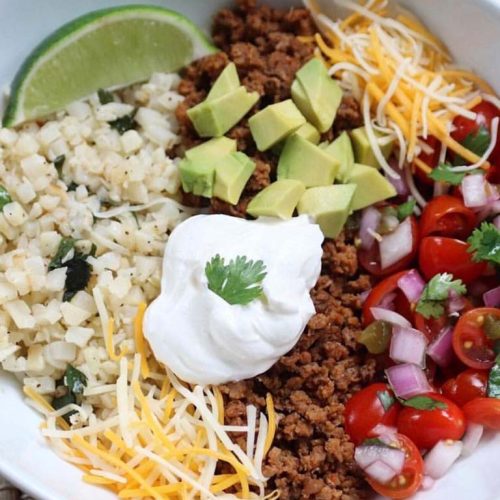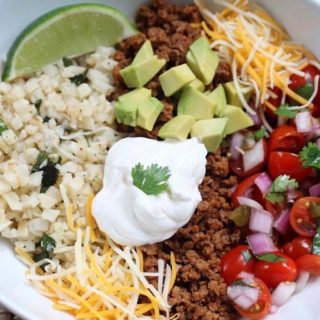 Cilantro lime caulirice – Keto Burrito Bowl
This recipe is for the Cilantro lime caulirice. I like to serve it with taco meat, tomatoes, onion, cheese, avocado and garished with sour cream, a lime wedge and cilantro.
Print
Pin
Rate
Ingredients
2

tbsp

butter

12

ounces

frozen riced cauliflower

1/4

tsp

garlic powder

pinch

salt

pinch

pepper

1/4

cup

chopped cilantro

2

tbsp

fresh lime juice
Instructions
On medium heat melt butter in a medium-size skillet. Add riced cauliflower, garlic powder, salt and pepper to skillet. Cook until tender, stirring often. About 10 minutes

Remove from heat. Stir in cilantro and lime juice. Serve immediately.
Notes
Serve with your favorite burrito bowl toppings!
Sometimes people use frozen riced cauliflower and complain of it being soggy.  Most of the time, this is a case of it being undercooked.  When using my recipe, continue cooking until any extra liquid is evaporated. That should do the trick!
Macros are for the Cilantro Lime Rice only.
Net Carbs 2.7 g
Nutrition
Calories:
74
kcal
|
Carbohydrates:
4.8
g
|
Protein:
1.9
g
|
Fat:
6
g
|
Fiber:
2.1
g
Disclaimer: Nutritional information is included as a courtesy and is calculated to the best of my ability, using my preferred brands. I recommend calculation your own macros, as they can widely vary depending on the brands of ingredients you use.
Author: Natasha Newton (Natasha's Southern Flavor)
Natasha is the founder of Natasha's Southern Flavor. She has a passion for sharing delicious family friendly low-carb recipes that are easy to make and use readily accessible ingredients. Natasha has published three bestselling cookbooks. Her books and recipes have been featured by CNET, Delish, Mindbodygreen, Parade and Women's Health. She enjoys traveling and spending time with her husband, two adult children, and three furbabies.
Read more about Natasha here.