Keto Shrimp Alfredo Spaghetti Squash
This post may contain affiliate links.
Your whole family will love my Keto Shrimp Alfredo Spaghetti Squash. A great alternative to the classic alfredo recipe, you get all the cheesy goodness without the guilt. Spaghetti squash alfredo is the ultimate low-carb keto comfort food.
Spaghetti squash has become a very popular low-carb spaghetti replacement. The tender yellow strands won't fool a pasta lover because it doesn't taste like spaghetti, but it's very delicious in its own right. In addition, it has a mild flavor that pairs easily with a variety of cuisines.
You can add a variety of sauces and flavors to spaghetti squash. This creamy spaghetti shrimp alfredo dish received a wonderful response when I first shared it on Instagram last year.
Why You'll Love Keto Alfredo
This creamy keto shrimp Alfredo recipe uses simple ingredients and is perfect for those on a low-carb diet. One of the hardest parts of living a keto lifestyle can be giving up some of your favorite meals. But this keto dinner is a great way to enjoy a creamy alfredo sauce with noodles that will quickly become a family favorite.
Ingredients & Substitutions
Spaghetti squash – Roasted spaghetti squash noodles have a soft, slightly sweet, and nutty flavor. They make a great pasta substitute.
Avocado oil – This oil has a mild, neutral flavor. Look for cold-pressed, unrefined avocado oil. Or substitute olive oil.
Garlic – Fresh, minced garlic is best, but you can substitute jarred garlic.
Shrimp – I like to use raw shrimp, as precooked shrimp have a more rubbery texture when baked. Peel and devein before using.
Heavy whipping cream – Be sure to use heavy cream for a rich and creamy sauce. I don't recommend substituting non-dairy or lower-fat milk, as they will result in a thinner sauce.
Parmesan cheese – Freshly grated parmesan adds the best flavor to the sauce, but you can substitute pre-grated cheese if you'd like.
Butter – Use high-quality, salted butter.
Salt, pepper and crushed red pepper flakes – The spices add extra flavor and heat. You can omit the red pepper flakes if you aren't into spicy foods.
How To Cook Spaghetti Squash
My favorite way to cook spaghetti squash is to roast it in a 400° oven.
1. Soften. My instructions involve microwaving it first. If you've ever cut spaghetti squash in half, you know it can be hard to do! Pierce holes in the squash with a knife and microwave it for a few minutes. This will make it easy to slice in half.
2. Cut and clean. Use a sharp knife to cut the squash in half lengthwise. Scoop out the seeds and stringy parts with a spoon and discard.
3. Season and bake. Line a baking sheet with parchment paper. Coat the insides of the squash halves with oil, salt and pepper. Flip the squash over so the cut side is down. Bake for 35-45 minutes, until the spaghetti strands easily pull away from the sides of the squash with a fork. Fluff the squash flesh until the strands are all loosened, and there you have your keto spaghetti noodles. Add your toppings and enjoy!
How To Make Keto Shrimp Alfredo
Step 1
First, preheat the oven to 400° and line a baking sheet with parchment paper.
Step 2
Get the spaghetti squash ready to bake by cutting a few slits through the skin with a sharp knife. This lets the steam escape while you microwave it for about 5 minutes to soften.
Be careful removing the squash from the microwave, as it will be hot. Now that it's softened, it's easier to cut it in half lengthwise. Then use a large spoon to scoop out and discard the seeds.
Step 3
Drizzle avocado oil over each half and use your fingers to rub it evenly into the squash. Sprinkle with salt and pepper.
Flip the cut sides facing down on the baking sheet and roast them in the oven until they are softened and tender, about 35-45 minutes. You'll know it's done when you shred the baked spaghetti squash and it easily pulls away from the shell. Leave the shredded strands of squash in the skin.
Step 4
To make the keto alfredo sauce, start by warming the butter in a medium skillet over medium heat. Once it's melted, add the shrimp and garlic. Cook for about 4-5 minutes or until the shrimp turns pink. Then turn the heat to low and add in the cream and cheese.
Stir frequently for another 5 minutes, then remove from the heat.
Step 5
Turn the oven to broil. Top each half of the squash with the shrimp mixture. Sprinkle with extra parmesan and crushed red pepper flakes.
Step 6
Broil for 2-4 minutes, until the cheese is melted and the edges turn light brown.
Serve it as a complete meal on its own, or add veggies like Keto Parmesan Roasted Broccoli, cooked Brussels sprouts, or a side salad.
Recipe Tips
Because heavy cream and parmesan cheese can stick to the bottom of the pan when cooking, keep the heat turned to low. Stir the sauce at least every 30 seconds for about 5 minutes to ensure it cooks evenly and doesn't burn.
You can easily change the consistency of low-carb alfredo sauce. If your sauce is too thin, add more parmesan. If it's too thick, add more cream.
This keto alfredo dish is best when served fresh from the oven. Scoop the leftovers out of the squash shells and store them in an airtight container in the refrigerator for up to 3 days. Then, you can reheat them on the stove over low heat and thin the sauce with heavy cream as needed. Be careful not to overheat, as you want the shrimp to stay tender.
FAQs
Is spaghetti squash low on carbs?
Spaghetti squash contains about 7 grams of net carbs in a cooked, one-cup serving. This makes it a great option to use as a pasta replacement for a keto lifestyle.
Does spaghetti squash taste like real spaghetti?
The first time you try the spaghetti-like strands of this squash, you will be surprised by how good it is! It does taste different from regular pasta, but it's still delicious. These keto spaghetti noodles have a nutty, slightly sweet flavor that pairs well with the creamy sauce in this recipe.
Do you leave the skin on squash when you cook it?
Spaghetti squash has a thick, tough skin that you won't want to eat, but you do leave it on while you bake it. Once the squash is roasted, use a fork to shred the spaghetti-like strands away from the sides easily, then fill with the alfredo mixture and bake. Because you leave the skin on, the squash shells act as a serving bowl.
I hope you enjoy Keto Shrimp Alfredo Spaghetti Squash, and be sure to share it on Pinterest, Instagram and Facebook!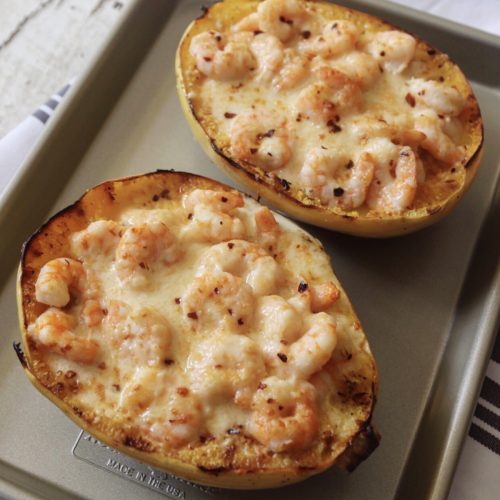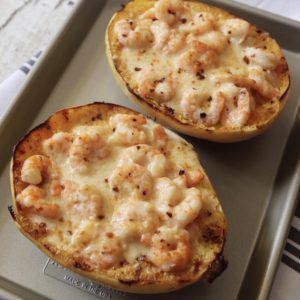 Keto Shrimp Alfredo Spaghetti Squash
A great alternative to the classic alfredo recipe, you get all the cheesy goodness without the guilt. Spaghetti squash alfredo is the ultimate low carb keto comfort food.
Print
Pin
Rate
Ingredients
1

medium

spaghetti squash

2

tbsp

avocado oil

pinch

salt

pinch

pepper

2

tbsp

butter

2

cloves

garlic

minced

12

ounces

medium shrimp

peeled & deveined

1/2

cup

heavy cream

1

cup

grated parmesan cheese

shredded parmesan cheese

optional garnish

crushed red pepper flakes

optional garnish
Instructions
Preheat oven to 400 degrees. Line a large rimmed baking pan with parchment paper

Use a knife to pierce holes down both sides of the squash. Microwave the squash for 5 minutes. Carefully remove squash, it will be hot.

Cut squash in half lengthwise. Use a spoon to scoop out the seeds.

Drizzle both halves with oil and sprinkle evenly with salt and pepper. Place cut side down on the pan and roast in oven for 35-45 minutes, until tender. Use a fork to shred squash leaving it in skin.

Melt butter in a medium size skillet over medium heat. Add garlic and shrimp. Cook until shrimp is pink, about 4-5 minutes. Turn heat down to low. Stir in cream and cheese. Cook for 5 more minutes, stirring frequently. Remove from heat. Turn on oven to Broil.

Evenly top squash halves with alfredo shrimp mixture. Garnish with extra parmesan cheese and crushed red pepper flakes. Broil in oven for 2-4 minutes, just long enough to melt the cheese and brown the edges.
Notes
Net carbs 4.4g
If you want it extra saucy you can double the cream and cheese. 
I calculated the macros on my spaghetti squash having 3 cups of squash. 
Nutrition
Calories:
251
kcal
|
Carbohydrates:
5.6
g
|
Protein:
15.4
g
|
Fat:
19.2
g
|
Fiber:
1.1
g
Disclaimer: Nutritional information is included as a courtesy and is calculated to the best of my ability, using my preferred brands. I recommend calculation your own macros, as they can widely vary depending on the brands of ingredients you use.
Author: Natasha Newton (Natasha's Southern Flavor)
Natasha is the founder of Natasha's Southern Flavor. She has a passion for sharing delicious family friendly low-carb recipes that are easy to make and use readily accessible ingredients. Natasha has published three bestselling cookbooks. Her books and recipes have been featured by CNET, Delish, Mindbodygreen, Parade and Women's Health. She enjoys traveling and spending time with her husband, two adult children, and three furbabies.
Read more about Natasha here.