11 Creative Uses For Leftover Taco Meat
This post may contain affiliate links.
Taco meat isn't just for Taco Tuesday! It's so versatile, and you can use it in many dishes. And the best part is, if you make extra, you've got meals for days. Here's a creative list of low-carb ways to use leftover taco meat the whole family will love!
First, you need an excellent taco seasoning:
Making your taco seasoning is easy and delicious, without added sugar or unnecessary additives in store-bought packets. You can create a blend perfect for nights with just a few simple ingredients. You'll feel great knowing exactly what's going into your seasoning, and your tacos will taste even better! Say goodbye to pre-packaged products and hello to a healthier, tastier option that will take your tacos to a whole new level.
Nachos
Start with a base of tortilla chips, pork rinds, or baked cheese crisps. Top with taco meat and shredded cheese, then broil for 1-2 minutes. Add your favorite taco toppings.
Zucchini Boats
Scoop out the center of the zucchini halves, fill them with taco meat and cheese, then bake at 350 degrees until the zucchini is tender and the cheese is melted. Serve with your favorite taco toppings.
Taco Dip
This Cheesy Baked Taco Dip is an easy recipe and a perfect way to reuse leftover taco meat. You only need a few additional ingredients like cheddar cheese, Rotel, and sour cream. This dip is sure to be a crowd-pleaser!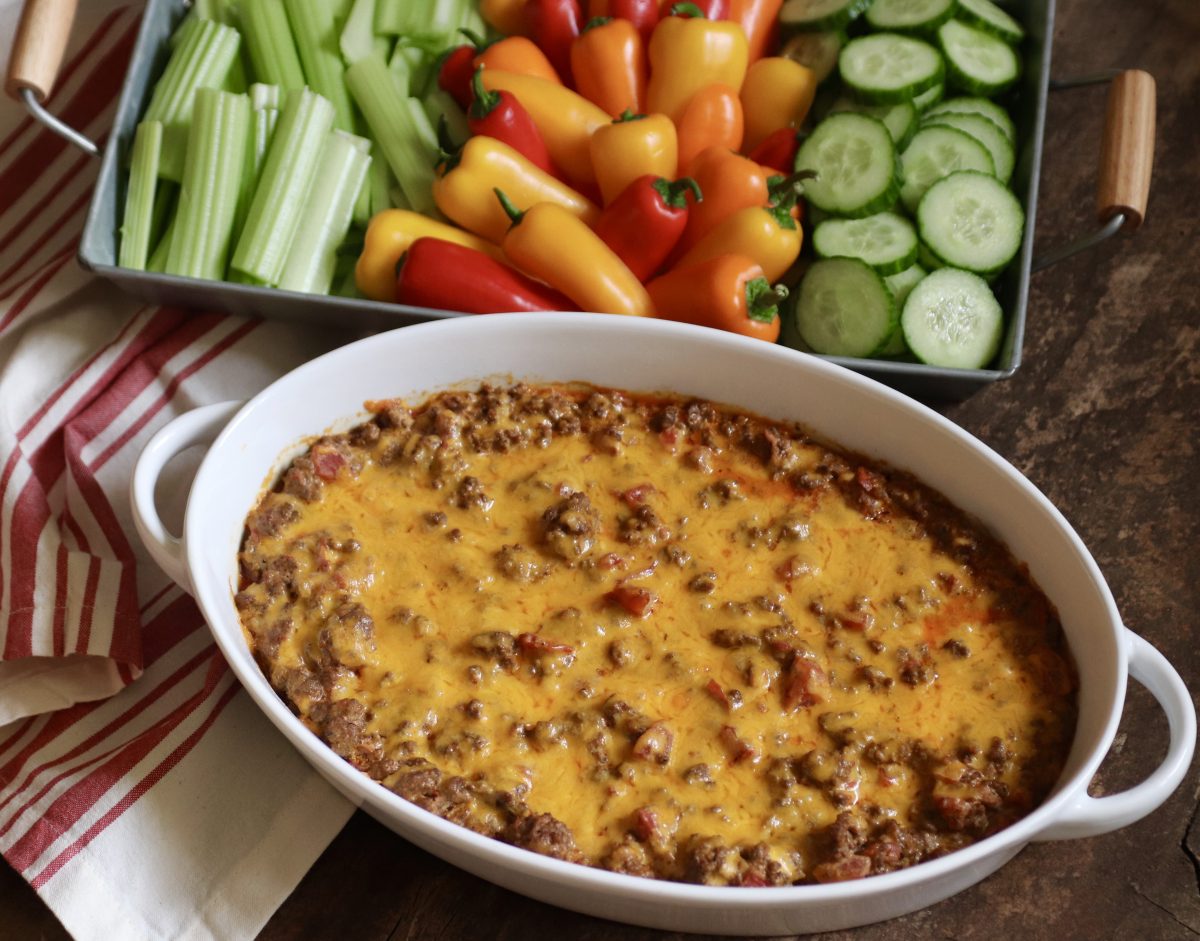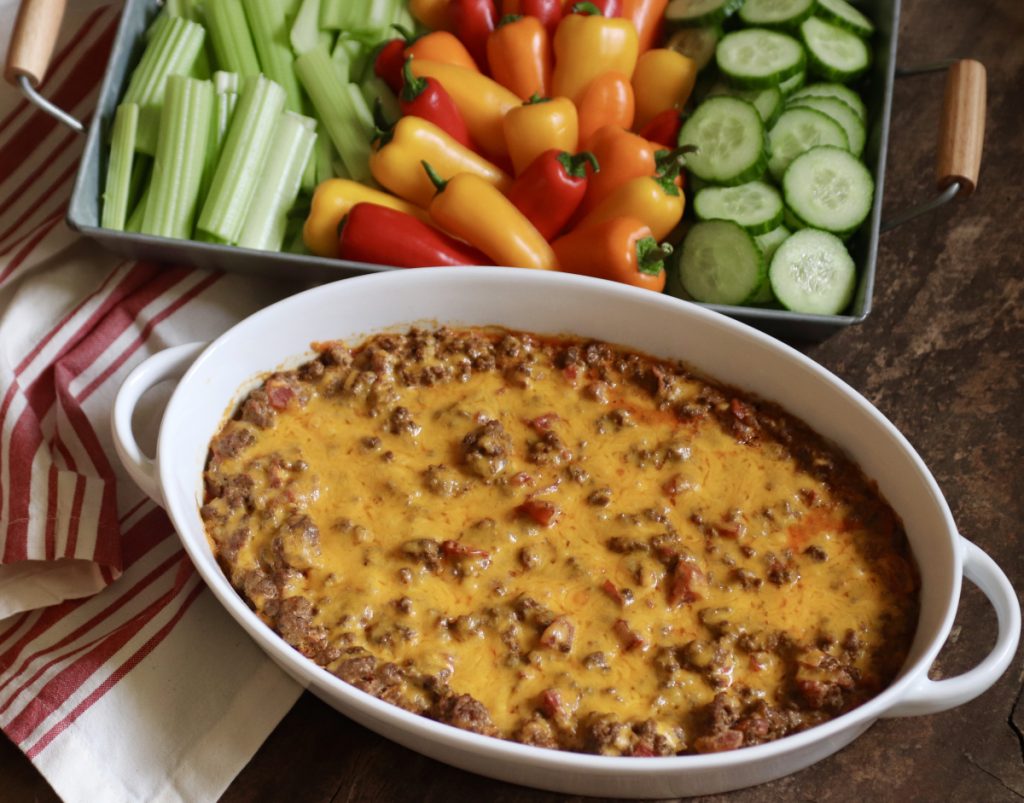 Taco Pizza
You can use a storebought crust or this recipe for pizza dough to make a low-carb taco pizza. Bake the crust, then add a thin layer of taco sauce, taco meat and shredded cheese. Bake until the cheese is melted. Top the pizza with shredded lettuce, diced tomatoes and black olives. To give it a special touch like the restaurant-style taco pizza, crumble low-carb nacho chips over the top of the pizza!
Taco Salad
Taco salad is our family favorite way to use leftover taco meat is to mix it with a generous serving of your preferred greens and top it off with taco toppings. This makes for a refreshing salad perfect for any day of the week.
Taco Scramble
Taco meat for breakfast? Yes! It tastes fantastic when combined with scrambled eggs! Just scramble two eggs with taco meat and cheese, and top it with some salsa and sour cream for a perfect protein-packed breakfast.
Burrito Bowls
Create delicious burrito bowls similar to those at Chipotle using leftover taco meat, along with some Cilantro Lime Cauliflower Rice and all your preferred toppings like lettuce, cheese, salsa, and guacamole.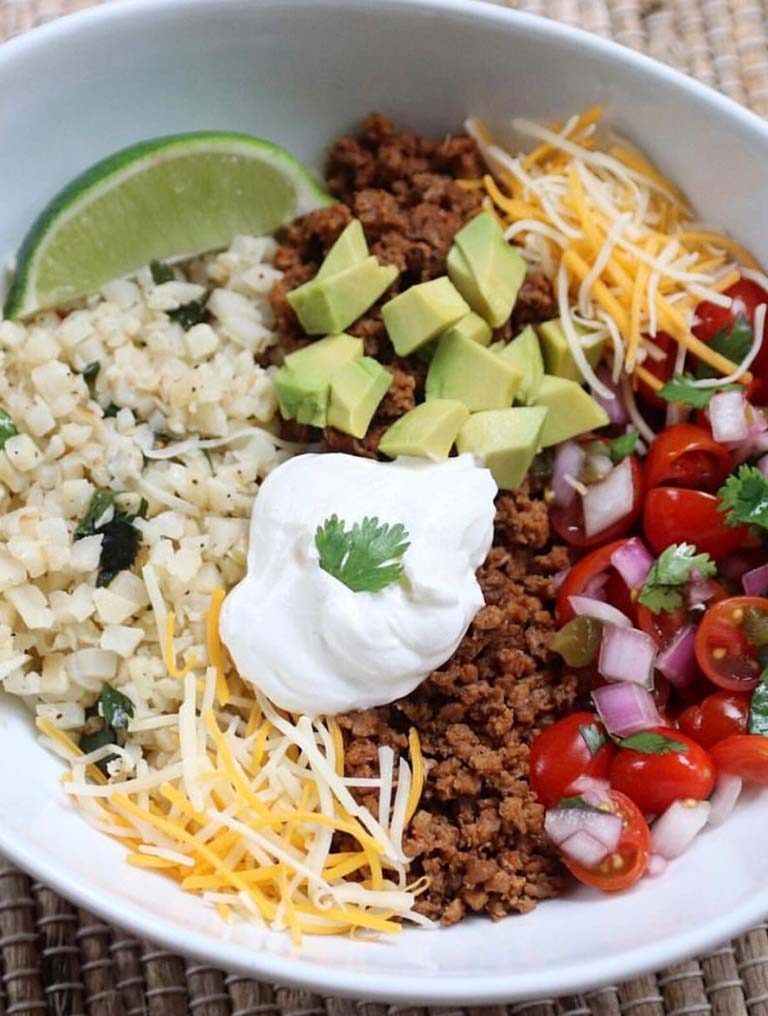 Avocado Taco Boats
For avocado lovers, fill avocado halves with taco meat cheese. You can heat them to melt the cheese or eat them cold.  Of course, put all your favorite yummy taco toppings on them.
Taco Stuffed Mushrooms
You can use white mushrooms or the larger portabello mushroom caps to make taco-stuffed mushrooms. All you need to do is fill them with taco meat and cheese, bake them at 350 degrees until tender, and serve them with your preferred taco toppings. This is a great appetizer or meal idea!
Mexican-Style Cauliflower Rice
This delicious dish can be served as a main course or a side dish. Start by cooking a bag of frozen cauliflower rice in a skillet on medium heat with 2 tablespoons of butter until tender. Then, stir in half a pound of taco meat and a can of Rotel and cook until heated—finally, season with salt and pepper to taste. Serve with cheese, sour cream and green onions.
Quesadillas
Create a delicious quesadilla by filling your favorite low-carb tortillas
with taco meat and cheese. Heat a tablespoon of avocado oil in a skillet and cook the quesadilla until crispy on both sides. Then, add your preferred toppings and enjoy! You can also make this with Egglife egg wraps for a low-carb, gluten-free option.
Author: Natasha Newton (Natasha's Southern Flavor)
Natasha is the founder of Natasha's Southern Flavor. She has a passion for sharing delicious family friendly low-carb recipes that are easy to make and use readily accessible ingredients. Natasha has published three bestselling cookbooks. Her books and recipes have been featured by CNET, Delish, Mindbodygreen, Parade and Women's Health. She enjoys traveling and spending time with her husband, two adult children, and three furbabies.
Read more about Natasha here.