Easy Homemade Taco Seasoning (Keto, Low Carb, Gluten-Free)
This post may contain affiliate links.
Make homemade taco seasoning mix with just a few simple ingredients! This flavorful blend is perfect for tacos and or any Mexican-inspired dish. Plus, it's sugar-free and contains no preservatives!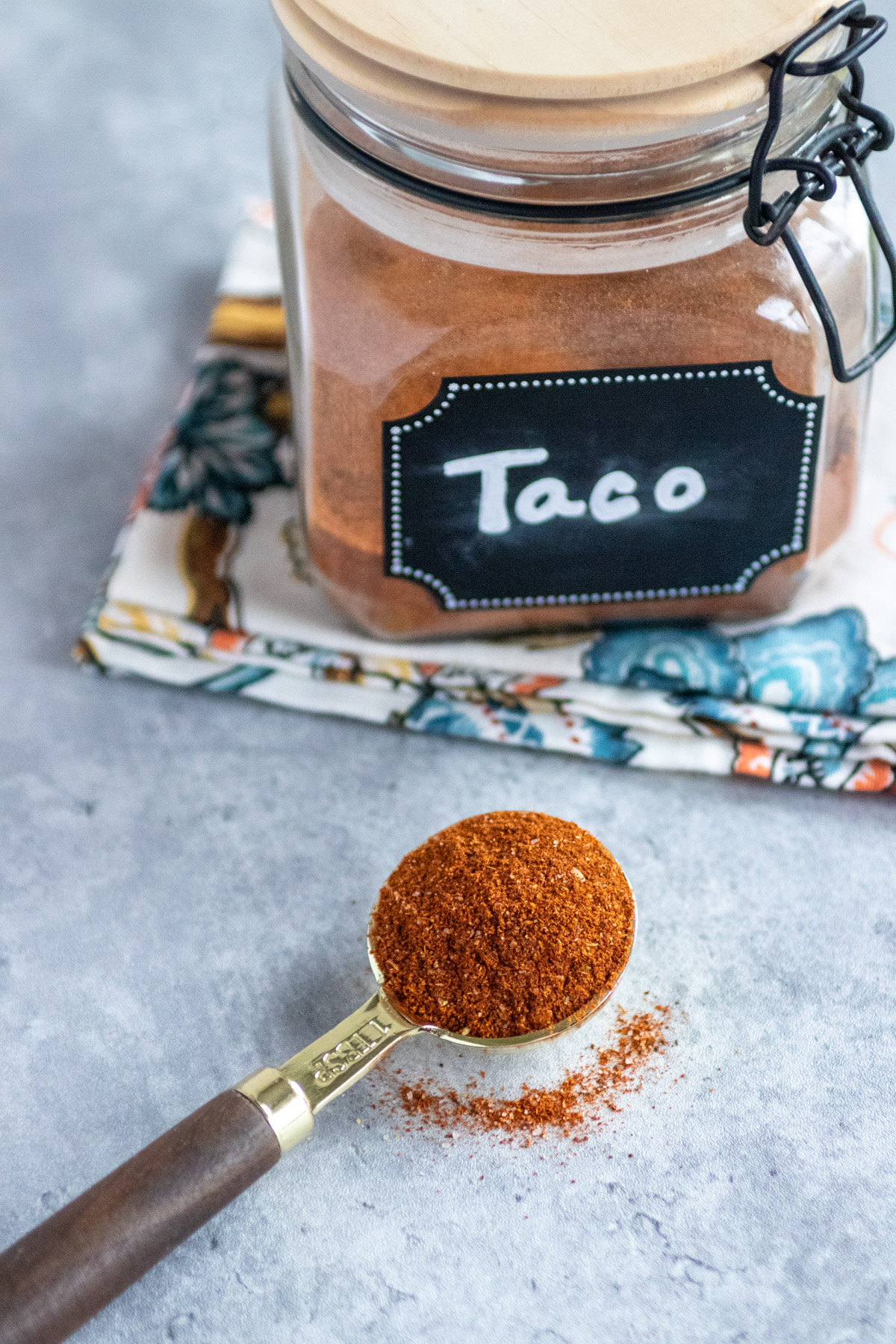 Are you a fan of tacos? Who isn't? They are so delicious and versatile. You can make them with beef, chicken, or vegetables and top them with cheese, lettuce, tomatoes, and more. But have you ever wondered what makes tacos taste so good? It's the seasoning! And did you know that you can make your own keto taco seasoning mix? It's so easy! I'll show you how to make your taco seasoning at home with just a few simple ingredients.
Why you'll love this recipe
It's easy to make your own spice blends. Buying grocery store taco seasoning packets can be expensive, especially if you use them frequently. DIY taco seasoning mix is much more cost-effective. You can buy the spices in bulk and make several batches of seasoning for the price of one packet. Most store-bought taco seasoning packets contain preservatives, additives, and even sugar. In 5 minutes, you'll have your own keto-friendly taco seasoning!
Ingredients needed
The ingredients are simple, and you probably already have most of them in your pantry!
Chili powder
Ground cumin
Smoked paprika
Salt
Black pepper
Garlic powder
Onion powder
Dried oregano leaves
How to make healthy taco seasoning
Add all the spices to the bowl or mason jar.
Stir or shake everything together until well combined.
Serving suggestions
Taco Tuesday, of course! Beef or chicken tacos in low-carb tortillas and lettuce wraps are our favorite, along with taco salads. Serve them with your favorite taco toppings, such as lettuce, tomato, jalapenos, onions, cheese, guacamole and sour cream.
Quesadillas, make them with low-carb tortillas or egg wraps.
Burrito bowls, make burrito bowls like Chipotle!
Chili and taco soup, add a couple of tablespoons of taco seasoning mix to your favorite for a fantastic flavor.
Layered taco dip, mix some of the seasoning with sour cream, spread it in a dish, and top with lettuce and all your favorite taco toppings. Then, to keep it keto, serve with low-carb tortilla chips, veggies and pork rinds.
Use it as a rub for grilled meats or vegetables. Rub the seasoning on the meat or vegetables before grilling for extra flavor.
Pro Tips
Toast the spices – Toasting your spices can bring out their natural oils and flavors, making your taco seasoning even more delicious.
To toast your spices, heat them in a dry skillet over medium heat for a few minutes until fragrant.

Add a Touch of Sweetness – This taco seasoning recipe is sugar-free, but you can still add a touch of sweetness to balance out the spice. Try adding a teaspoon of Brown sugar substitute to your seasoning blend.

Customize to your taste – The beauty of making your own low carb taco seasoning mix is that you can customize it to your own taste. Experiment with different spice combinations and adjust the amounts to find the perfect flavor for you.
Storage
By storing your homemade keto taco seasoning mix properly, you can ensure it stays fresh and flavorful for as long as possible.
Store your taco seasoning in an air-tight container to keep it fresh and flavorful. A small glass jar with a tight-fitting lid or a plastic container with a snap-on lid works well.
Keep it in a cool, dark, dry place like a pantry or spice cabinet. Exposure to light and heat can cause the spices to lose their flavor more quickly.
Date and Label – To keep track of the freshness of your taco seasoning mix, be sure to label the container with the date you made the seasoning. Spice mixes can lose their potency over time, so it's best to use your seasoning within six months to a year.
Frequently asked questions
Is homemade taco seasoning healthier than store-bought?
Yes, making your own homemade taco seasoning is generally healthier than store-bought versions, as it does not contain any potato starch, preservatives or artificial ingredients.
Can I make a large batch of taco seasoning and store it for later?
Yes! You'll love it so much that you'll want to double or triple this recipe to always have it on hand for taco night!
Can I adjust the spice level of my taco seasoning?
Yes, you can adjust the spice level of your taco seasoning by adding more or less of certain spices, such as cayenne pepper. Be sure to taste the seasoning as you go and adjust accordingly.
If you love down-home southern cooking, Check out my Southern Keto cookbooks! I've written 3 cookbooks that have over 300 fabulous recipes in them. As always, they use easy-to-find ingredients.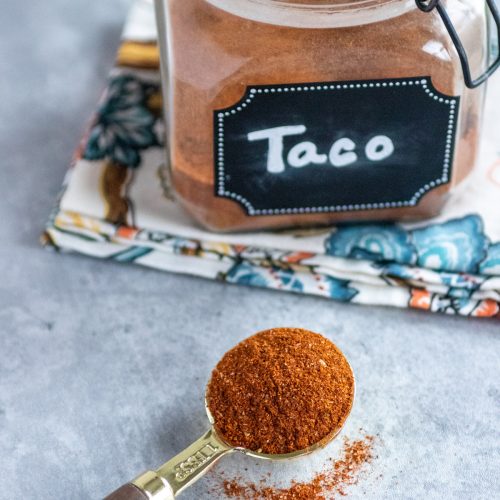 Easy Homemade Taco Seasoning (Keto, Low Carb, Gluten-Free)
Make homemade taco seasoning mix with just a few simple ingredients! This flavorful blend is perfect for tacos and or any Mexican-inspired dish. Plus, it's sugar-free and contains no preservatives!
Print
Pin
Rate
Ingredients
1/4

cup

chili powder

2

tablespoon

ground cumin

1

tablespoon

smoked paprika

2

teaspoons

salt

1

teaspoon

black pepper

1

teaspoon

garlic powder

1

teaspoon

onion powder

1

teaspoon

dried oregano leaves
Instructions
In a small bowl, stir the ingredients together until well combined. Store in an airtight container or glass jar with a lid. Shake before use.
Notes
Net Carbs 2.1g
To make taco meat, use 2 tablespoons of taco seasoning per pound of meat.
Nutrition
Calories:
22
kcal
|
Carbohydrates:
3.9
g
|
Protein:
1
g
|
Fat:
1
g
|
Fiber:
2.1
g
Disclaimer: Nutritional information is included as a courtesy and is calculated to the best of my ability, using my preferred brands. I recommend calculation your own macros, as they can widely vary depending on the brands of ingredients you use.
Author: Natasha Newton (Natasha's Southern Flavor)
Natasha is the founder of Natasha's Southern Flavor. She has a passion for sharing delicious family friendly low-carb recipes that are easy to make and use readily accessible ingredients. Natasha has published three bestselling cookbooks. Her books and recipes have been featured by CNET, Delish, Mindbodygreen, Parade and Women's Health. She enjoys traveling and spending time with her husband, two adult children, and three furbabies.
Read more about Natasha here.