Keto Multi-Purpose Dough
This post may contain affiliate links.
Super versatile buttery Keto Multi-Purpose Dough is my go-to low-carb substitute for just about any yeast bread recipe. It's extra light and fluffy with a neutral taste that makes it easy to adapt for sweet and savory baking. I think it's the best keto dough recipe you'll find!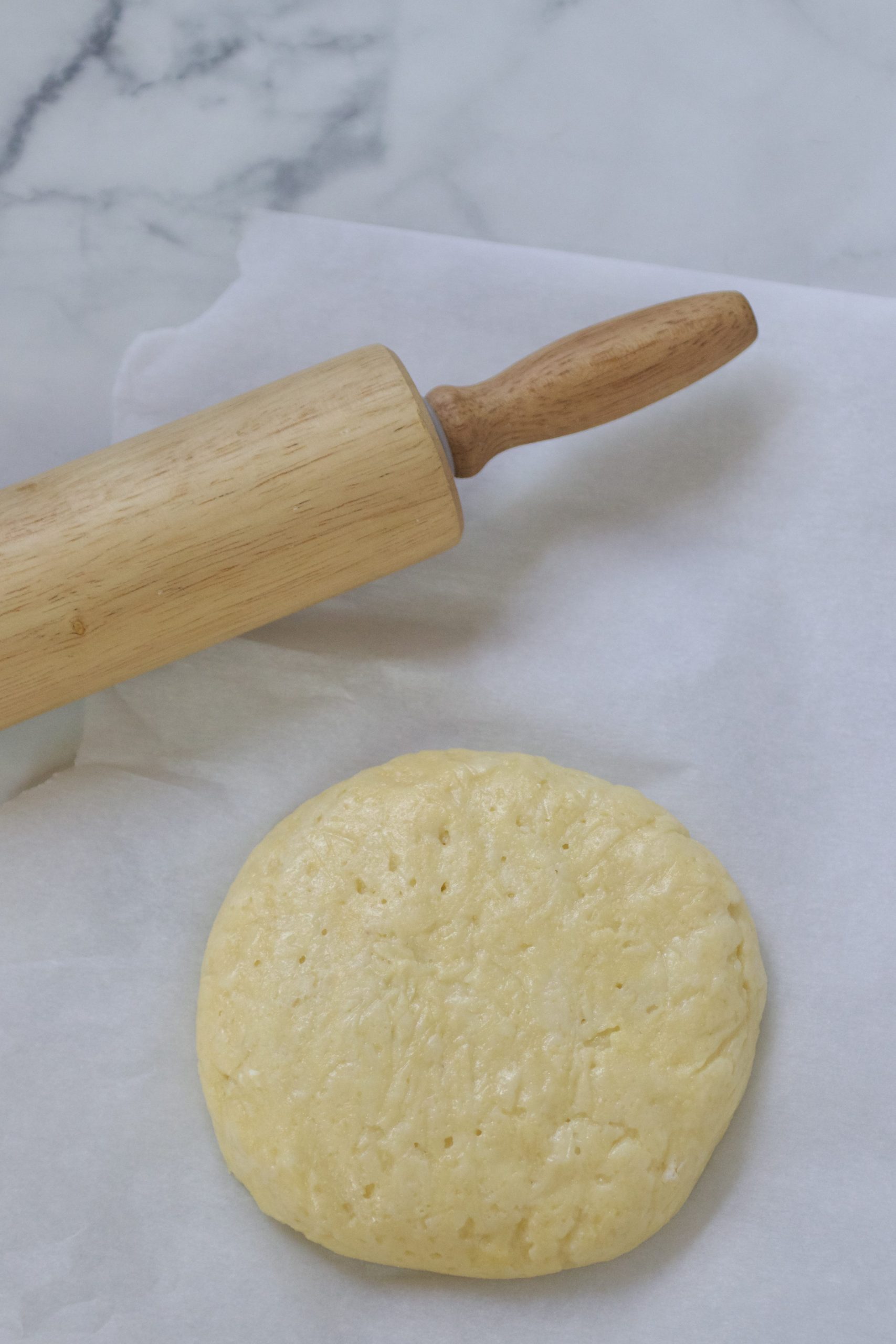 What is fathead dough?
If you follow a keto lifestyle, you've probably heard of fathead dough, which is another name for Keto Multi-Purpose Dough. It's made with low-carb ingredients like almond flour, cheese and egg. Not your typical dough, right?
If you've tried it you know how ridiculously delicious it is! If it's your first time making a keto fathead dough recipe, you'll love how quickly and easily it comes together. I guarantee if you're eating keto and craving regular bread, this is the perfect recipe you'll turn to again and again.
For years I've experimented with all sorts of variations of this dough. Every fathead dough recipe is a bit different; mine is no exception. I add baking powder for a little lift and coconut flour for a smoother texture. A tablespoon of butter makes for an even richer and softer dough.
Why you'll love easy keto dough
It's a low-carb, gluten-free dough with simple ingredients and a chewy, fluffy texture that's a great substitute for white bread. This pliable keto bread mix makes a great pizza crust you can enjoy without the guilt. It's the best filling-yet-low-carb dough for pizza, focaccia, cheese bread, bagels…the list goes on and on!
Fathead dough uses
Aside from its fabulous flavor, the best part about easy keto dough is its versatility. With just a few minor modifications, you can use it for countless keto-friendly recipes that call for low-carb bread. It's always a welcome addition to any meal! Below are a few ideas for how to use this low-carb recipe in all of your keto baking. The possibilities really are endless!
Sweet recipes – cinnamon rolls, fruit danishes, galettes, cinnamon twists, croissants, pie crust, babka, blueberry bars, caramel pecan sticky buns, fruit pizza, pastries, churros.
Savory recipes – Pizza is the first thing you think of, but there are many uses! Dinner rolls, burger buns, pizza crust, flatbread, pull-apart bread, keto bagels, soft pretzels, Italian breadsticks, quiche, naan bread, garlic knots, crackers, cheese bread, and calzones.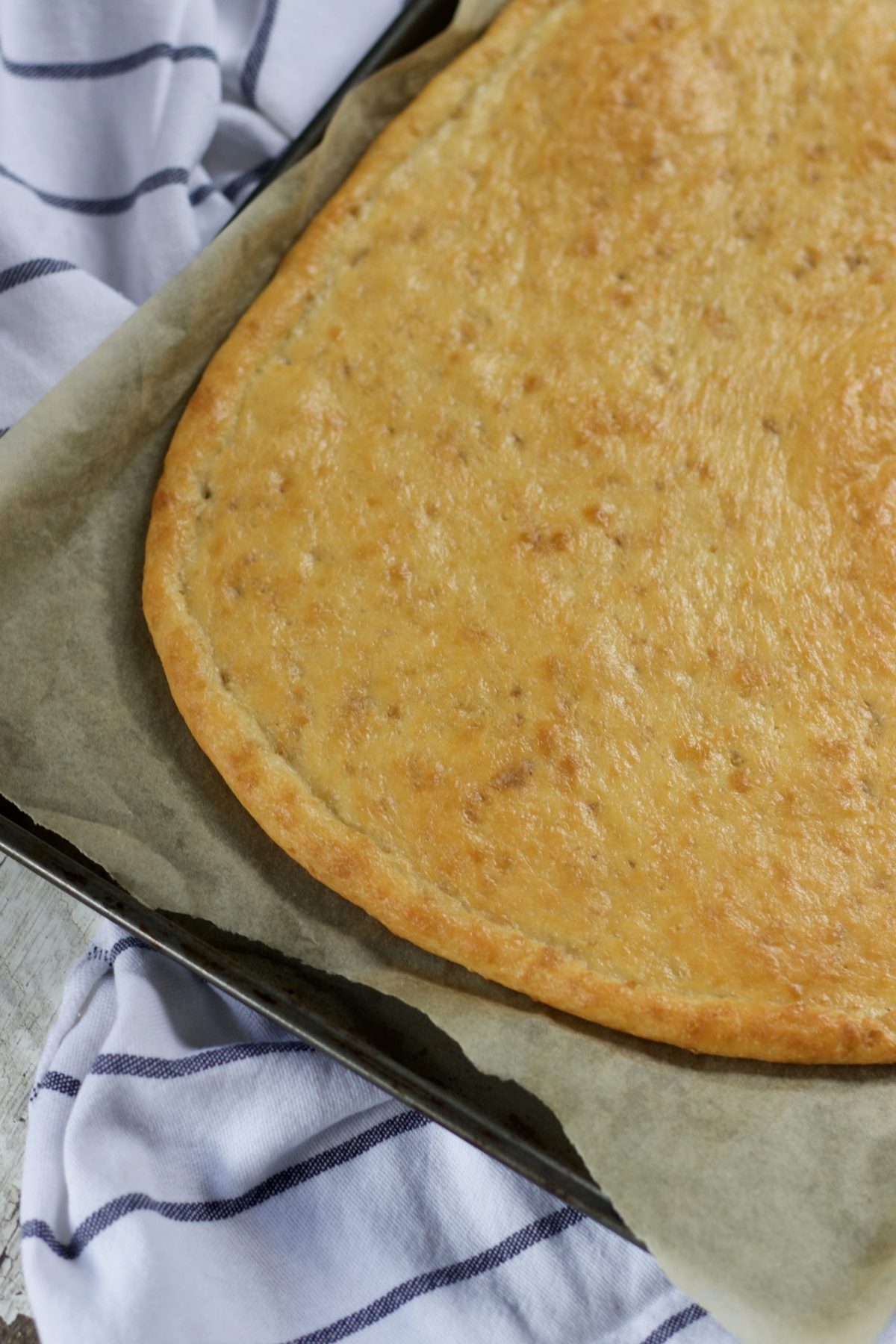 Ingredients & substitutions
Mozzarella cheese – Whole milk mozzarella is what I recommend, as it has the richest taste and does the best job of binding the dough. Freshly shredded mozzarella from a block will melt the best, but you can also use a package of pre-shredded cheese. Just avoid balls of fresh mozzarella.
Cream cheese – Full-fat cream cheese mixed with the mozzarella makes the dough smooth, rich and extra creamy.
Butter – I prefer salted butter, which means you don't have to add salt separately.
Almond flour – For the best texture, use the finest almond flour you can find. Avoid almond meal, which has a coarser grind and will give the dough a gritty feel.
Coconut flour – A small amount of coconut flour gives the dough a slightly sweet taste. If you can't find it at the grocery store, you can order it online.
Egg – Use one large egg at room temperature for the easiest blending.
Baking powder – Check the expiration date before using it to make sure it's fresh! Remember that baking soda is different and will not give you the same result.
How to make fathead dough
Step 1
Start by adding the shredded mozzarella, cream cheese and butter to a microwave-safe mixing bowl. Cook for 90 seconds in 30-second increments, stirring each time the microwave stops. Then continue stirring until the entire mixture is smooth and fully melted.
If you don't have a microwave, you can melt the cheeses and butter in a heat-proof mixing bowl set over the top of a pan of simmering water. It might take longer than 90 seconds but will still get the job done.
Step 2
Stir in the almond flour and coconut flour, then whisk in the egg and baking powder. Once the mixture is well combined, heat it again in the microwave for 10 seconds. Stir the ingredients until they form a ball of dough.
Step 3
Use the dough immediately or wrap in plastic and store in the refrigerator or freezer until ready to use for all of your keto friendly bread recipes.
Pro Tips
Add the egg last – For the best results, stir in the egg after you've added the almond and coconut flours. If the egg hits the hot cheese it could curdle and begin to cook, which is not what you want! Adding the flour first gives the cheese a chance to cool off a bit.
Knead by hand – Although it's not required, knead the finished dough by hand for a minute or two after it has cooled if you have time. This guarantees the flour and cheese are evenly distributed throughout the dough and avoids hard clumps of flour or unmixed cheese.
Keep the dough covered – Although this dough is easy to work with it can dry out and lose its stretch as it cools. If you're not using it right away, wrap it in plastic wrap and store in the refrigerator.
Rolling the dough – Place the dough ball between two sheets of parchment paper to keep it from sticking to your countertop. Place a rolling pin over the top of the parchment and spread the dough until it's the shape you want. If it's way too sticky to roll, you can add a little extra almond flour.
Sweetener – This bread is not sweet, but you can add your favorite sweetener for any recipe that requires it, like my Keto Blueberry Galette. Stir it in at the same time you add the flour.
FAQs
What keto flour is closest to all-purpose?
Almond flour is the closest thing to all-purpose flour when you're following a low carb diet. Make sure it's finely ground or you'll end up with dough that isn't all that smooth. If you have some that's a coarser grind you can run it through your food processor to get a finer texture.
How long does fathead dough stay fresh?
If you don't use your dough right away, you can store it in the refrigerator for up to 2 days. Let it sit at room temperature for 15 minutes before using. For long storage see freezing instructions below.
Can you freeze fathead dough?
Yes! Fathead dough freezes well and storing it this way keeps it fresher for a longer period of time. Wrap the finished dough ball tightly in plastic wrap and store it in a heavy-duty plastic bag or airtight container before freezing. You can also roll the dough into your desired shape before wrapping and freezing. Thaw it overnight in the refrigerator when you're ready to use it.
More Easy Keto Recipes
Flourless Peanut Butter Chocolate Chip Bars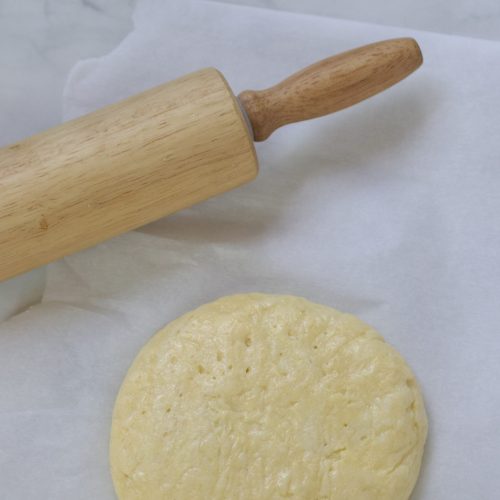 Keto Multi-purpose Dough
Super versatile buttery Keto Multi-Purpose Dough is my go-to low-carb substitute for just about any yeast bread recipe. It's extra light and fluffy with a neutral taste that makes it easy to adapt for sweet and savory baking. I think it's the best keto dough recipe you'll find!
Print
Pin
Rate
Instructions
Place the mozzarella, cream cheese and butter in a large microwave safe mixing bowl. Microwave on high for 90 seconds, stirring every 30 seconds. Remove from the microwave and stir until melted and smooth.

Add the flours, egg and baking powder to the cheese mixture and stir with a rubber spatula to combine. Microwave on high for 10 seconds and stir again. Then mix the ingredients until they're completely combined, and firm dough comes together.

Roll the dough into a ball. You can use it immediately as directed in the recipe you're making or store it in the refrigerator, double-wrapped in plastic wrap until ready to use.
Notes
Net Carbs 1.2
Store dough double-wrapped in plastic wrap in the refrigerator.  When ready to use the dough, remove it from the refrigerator and allow it to sit on the counter for 15 minutes before use.
Nutrition
Calories:
100
kcal
|
Carbohydrates:
1.9
g
|
Protein:
5.5
g
|
Fat:
8.2
g
|
Fiber:
0.4
g
Disclaimer: Nutritional information is included as a courtesy and is calculated to the best of my ability, using my preferred brands. I recommend calculation your own macros, as they can widely vary depending on the brands of ingredients you use.
Author: Natasha Newton (Natasha's Southern Flavor)
Natasha is the founder of Natasha's Southern Flavor. She has a passion for sharing delicious family friendly low-carb recipes that are easy to make and use readily accessible ingredients. Natasha has published three bestselling cookbooks. Her books and recipes have been featured by CNET, Delish, Mindbodygreen, Parade and Women's Health. She enjoys traveling and spending time with her husband, two adult children, and three furbabies.
Read more about Natasha here.