Keto Strawberry Jello Fluff Salad
This post may contain affiliate links.
The perfect spring-time recipe, Keto Strawberry Jello Fluff Salad is light, simple and delicious! With only 6 ingredients and a 15-minute prep, it's an easy dessert salad that fits the bill when you want something sweet yet keto-friendly.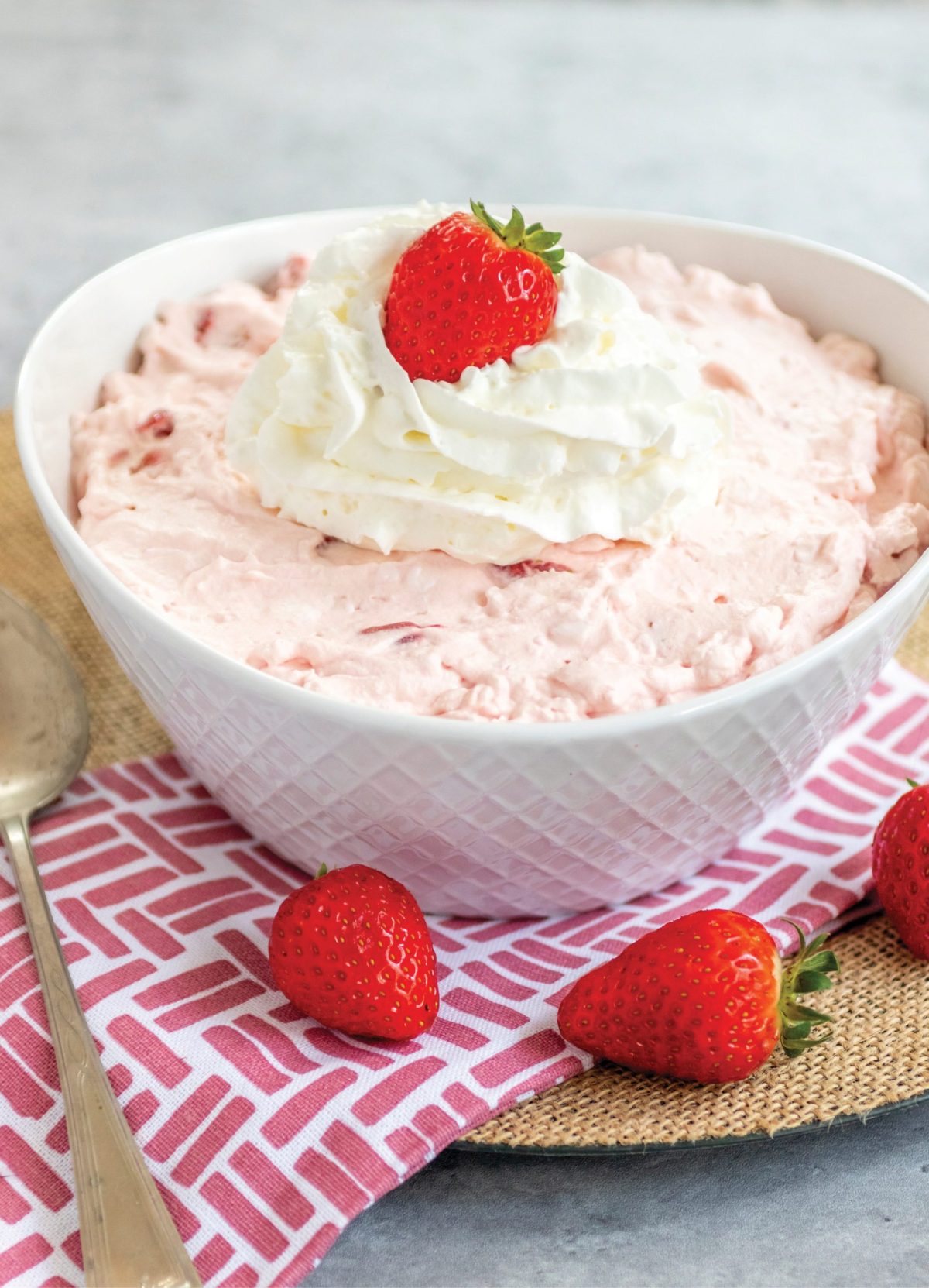 You may have seen many versions of this old-school strawberry jello salad recipe, with different flavors and ingredients. Some recipes call for orange gelatin and mandarin oranges, lime gelatin with shredded coconut or raspberry gelatin with crushed pineapple and nuts. Ambrosia salad and Watergate salad are two other variations that include nuts and marshmallows.
As tasty as many of those recipes are, they don't always fit into a low carb diet. So my goal was to make a strawberry fluff jello salad that tastes as good as the original but fits into a keto lifestyle.
I often use my family and friends as taste testers when developing recipes. My dad loved this recipe so much that my mom started making it for him on a regular basis. I guess you could say it's a winner, which is why I included it in my newest cookbook, Let's Celebrate!
My strawberry fluff salad recipe starts off with a light and airy base of freshly whipped cream. Then I add cottage cheese for thickness and strawberry jello mix for flavor. As a bonus, jello gives the creamy dessert a gorgeous pale pink color that makes it fun for Easter, Mother's Day or bridal showers! A bit of sweetener, vanilla extract and fresh strawberries round out the short ingredient list.
Why you'll love Keto Strawberry Jello Fluff Salad
There are so many reasons to love a yummy strawberry fluff recipe! You can satisfy your sweet tooth on a keto diet with strawberries and whipped cream, the perfect sweet and sugar-free dessert or side dish. Hands-on time for this retro no bake dessert is a quick 15 minutes. Let it chill for a couple of hours and it's ready to go for any occasion. Whip it up for your next party, potluck or family gathering where it's sure to be a hit!
Ingredients & substitutions
Heavy whipping cream – Heavy cream forms the base of this keto dessert and gives it a rich and creamy texture. You can find it in the dairy section at the grocery store.
Granular sweetener – Make this salad a guilt-free sweet treat with a sugar-free sweetener like monk fruit, erythritol or stevia.
Vanilla – Commonly used as a flavoring agent in baking and cooking, vanilla extract adds a subtle, sweet flavor to the salad. For best results, use pure vanilla extract made from real vanilla beans.
Cottage cheese – Full-fat cottage cheese is more keto-friendly than low-fat or no-fat varieties. Choose a brand without added thickeners or stabilizers.
Strawberry gelatin – Use sugar-free gelatin rather than regular, which is high in carbs and sugar. You can experiment with different gelatin flavors.
Strawberries – You can substitute different berries.
How to make strawberry jello fruit salad
Step 1
Add the heavy cream, sweetener and vanilla extract to a large bowl. Beat on high speed with an electric mixer until stiff peaks form. You can also use a stand mixer if you prefer.
Step 2
Add the cottage cheese to a medium mixing bowl. Sprinkle the dry jello over the top and stir gently until combined. Fold the whipped cream into the jello mixture. Then stir in the sliced strawberries.
Step 3
Transfer the fruit salad to a mixing bowl and cover it with plastic wrap. Refrigerate for at least 2 hours. Just before serving, garnish it with additional whipped cream and strawberries
FAQs
Can you have whipped cream on keto?
Freshly whipped heavy cream is low-carb and a great addition to any keto dessert if you use sugar-free sweeteners instead of traditional sweeteners. Try it in Keto Dirt Cake or on top of Keto Cheesecake.
Can you use other berries?
Definitely! If you're tired of strawberries, other fresh fruit such as blackberries, raspberries or blueberries are all a great option. Or use any combination of the four that you like!
Can you make Keto Strawberry Jello Fluff Salad ahead?
Yes, this salad can be made up to 1 day ahead of time. Store in an airtight container in the refrigerator until ready to serve. Top with whipped cream and additional strawberries right before serving.
Can you freeze strawberry fluff salad?
I don't recommend freezing this salad, as it will turn watery once it thaws. The good news is, everyone loves this recipe so much it will likely disappear in a day or two!
More Recipes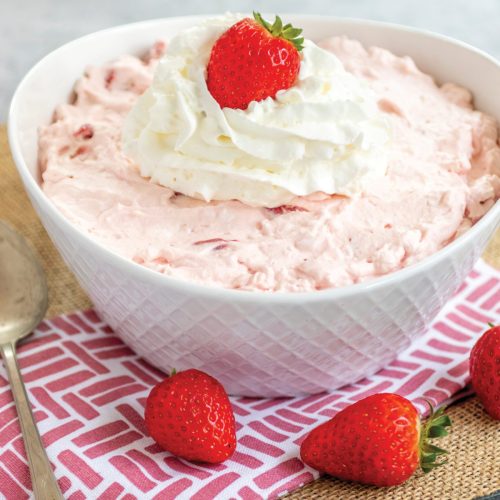 Keto Strawberry Jello Fluff Salad
The perfect spring-time recipe, Keto Strawberry Jello Fluff Salad is light, simple and delicious! With only 6 ingredients and a 15-minute prep, it's an easy dessert salad that fits the bill when you want something sweet yet low-carb.
Print
Pin
Rate
Instructions
Place the cream, sweetener and vanilla in a large mixing bowl. Use a hand mixer to beat on high speed until stiff peaks form.

In a medium-sized mixing bowl, stir together the cottage cheese and gelatin until combined. Gently fold the sweetened whipped cream mixture into the cottage cheese mixture until combined, making sure not to overmix. Gently fold in the strawberries.

Transfer to a serving bowl, cover and refrigerate for at least 2 hours before serving. Garnish with whipped cream and strawberries, if desired.
Nutrition
Calories:
189
kcal
|
Carbohydrates:
3.1
g
|
Protein:
7.2
g
|
Fat:
17.7
g
|
Fiber:
0.4
g
Disclaimer: Nutritional information is included as a courtesy and is calculated to the best of my ability, using my preferred brands. I recommend calculation your own macros, as they can widely vary depending on the brands of ingredients you use.
Author: Natasha Newton (Natasha's Southern Flavor)
Natasha is the founder of Natasha's Southern Flavor. She has a passion for sharing delicious family friendly low-carb recipes that are easy to make and use readily accessible ingredients. Natasha has published three bestselling cookbooks. Her books and recipes have been featured by CNET, Delish, Mindbodygreen, Parade and Women's Health. She enjoys traveling and spending time with her husband, two adult children, and three furbabies.
Read more about Natasha here.