Sugar Free Peanut Butter Chocolate Bars
This post may contain affiliate links.
If you like Reese's Peanut Butter Cups, you'll love my Sugar Free Peanut Butter Chocolate Bars. The combination of chocolate with a creamy peanut butter layer will satisfy your craving for a sweet treat with no added sugar.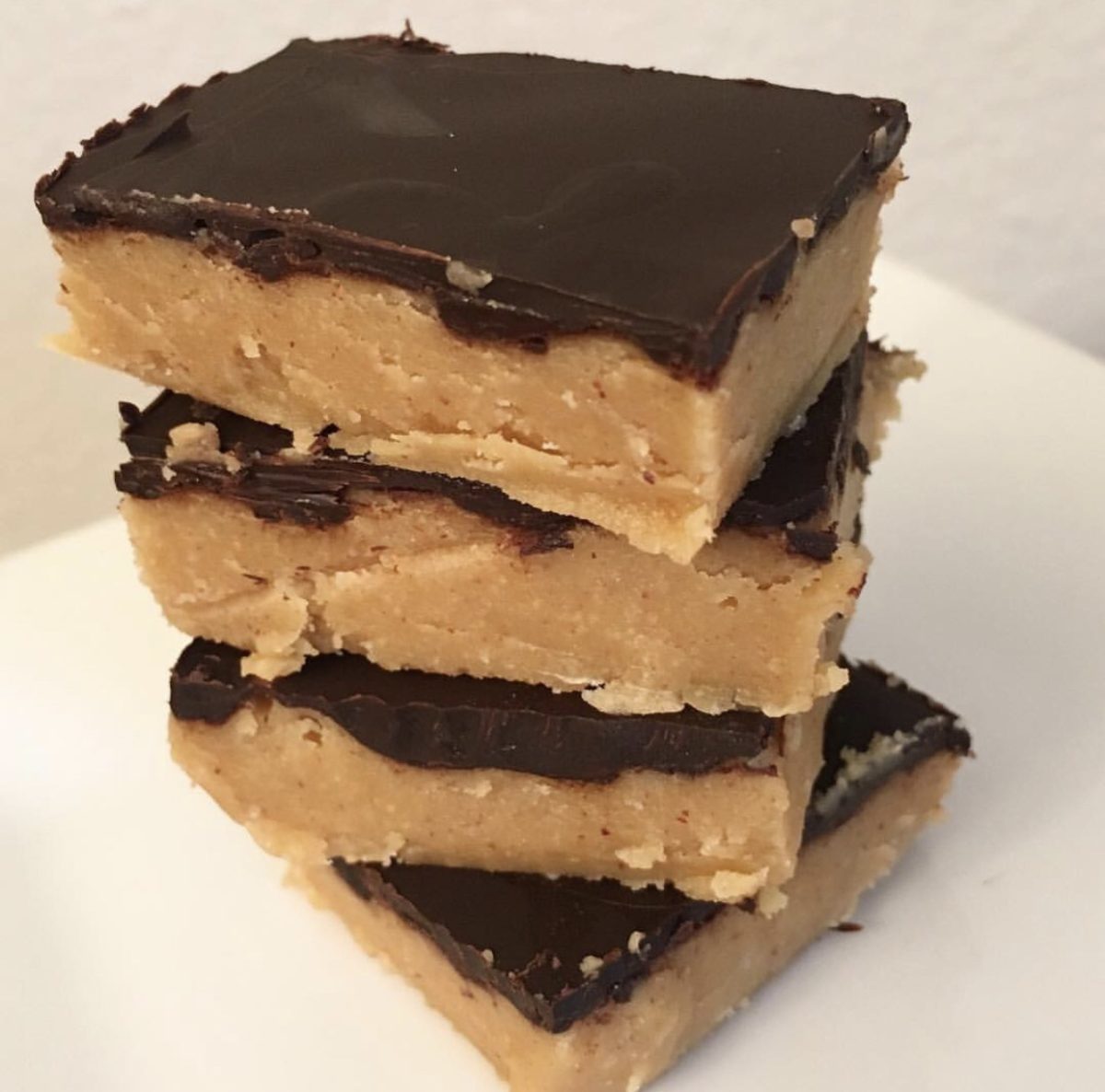 These easy keto Sugar-Free Peanut Butter Chocolate Bars have been wildly popular since I first posted them on Instagram a few years ago! They are reminiscent of your favorite peanut butter chocolate candies. So I decided they deserve a permanent spot on the blog.
What is the best-tasting keto sweetener?
I've received a lot of questions about the sweetener and why use a powdered (confectioners) sweetener. In my experience, powdered sweetener dissolves better and creates a smoother consistency than a granulated sweetener.
There are now several brands available in grocery stores. I like a combination of monk fruit and erythritol. If you can't find a powdered sweetener, you can grind granular sweetener into a powder using a coffee grinder.
For sugar-free chocolate, I like using sugar-free milk chocolate chips, but you can use whatever chocolate you prefer. I've even used 80-90% dark chocolate with good results.
I hope you enjoy these sugar-free treats as much as we do! And if you're craving more peanut butter desserts, try my Flourless Peanut Butter Chocolate Chip Cookie Bars.
Why you'll love this no-bake keto dessert
You can make super-addictive sugar-free peanut butter bars using only six simple ingredients.
A thick and decadent layer of chocolate topping pairs perfectly with the creamy peanut butter base. And because they're full of healthy fats, it's a better-for-you dessert.
Even though this easy no-bake recipe is gluten-free and sugar-free, no one will suspect it's keto-friendly. They taste just like your favorite peanut butter cups but yummier.
If you're looking for a low-carb dessert for your next get-together or road trip, you can't go wrong with keto chocolate peanut butter bars.
Ingredients & Substitutions
Butter – makes the bars taste extra creamy and rich.
Peanut butter – look for natural peanut butter with no added sugar – be sure to read the label. You can substitute almond butter if you prefer. I like to use creamy for this recipe, but if you want crunchy better, that works too!
Sweetener – a powdered keto-friendly sweetener works best in these bars. Granular sweetener makes the texture too grainy. You can cut the sweetener back to ½ cup if you prefer less sweet desserts.
Stevia extract – (optional) you only need a few drops of liquid stevia to cut the cooling effect sometimes caused by erythritol.
Vanilla – use pure vanilla extract for the best flavor.
Sugar-free chocolate chips – You can use milk chocolate or dark chocolate chips. Or mix it up and try white chocolate chips. They are all delicious.
How to make keto peanut butter bars
Step 1
Line an 8×8-inch baking pan with parchment paper.
Step 2
Next, melt the butter and peanut butter in a medium-sized mixing bowl. Before measuring the peanut butter, be sure to give it a good stir. Most natural brands have some separation, and you'll want to make sure all of the peanut oil is well incorporated.
Heat the butter and peanut butter in the microwave for 30 seconds at a time. Stop and stir in between with a rubber spatula until everything is melted.
If you'd rather not use the microwave, simply melt the ingredients in a double boiler.
Step 3
Add the powdered sweetener, stevia and vanilla to the peanut butter mixture. Stir until all ingredients are well incorporated and the mixture is smooth. Pour into the parchment-lined pan and freeze for 10 minutes.
Step 4
Add the chocolate chips to a small bowl and microwave for 30 seconds at a time, stirring in between. These can easily scorch, so be careful not to overheat. Again, you can use a double boiler if you prefer.
Step 5
Remove the pan from the freezer. Pour the chocolate layer evenly over the top of the peanut butter layer, smoothing with a spatula. If you like, sprinkle a little sea salt over the chocolate.
Freeze for one hour. The bars will slice easier if you let them sit at room temperature for a few minutes before cutting. And there you have it – no bake keto peanut butter chocolate bars!
How to store chocolate peanut butter bars
While you can store these bars at room temperature, depending on the temperature, they could get too soft. So I like to keep them in the fridge or freezer.
They will stay fresh for up to three weeks in the fridge if they last that long! Odds are, they will be gobbled up way before that.
For longer storage, wrap the bars in parchment paper so they don't stick together. Then, freeze in an airtight container for up to six months.
FAQs
Can I have peanut butter on keto?
Because peanut butter is naturally low carb and contains mainly fats and protein, it's a great fit for a keto lifestyle, in moderation, of course. Find a brand with no added oils or sugar and store it in the fridge to keep it fresh longer.
Which chocolates are keto friendly?
Over the years, more companies have been making sugar-free chocolate chips. I use Lily's the most. They come in several flavors and can be found at most grocery stores. Most brands include a wide range of flavors, including dark chocolate, milk chocolate and white chocolate. All work great for these keto chocolate bars.
What sweets can you have on keto?
Sugar-free chocolate bars with peanut butter and other keto desserts are some of my favorite things to make. However, if you're looking for more ideas, any of the following will surely satisfy your sweet tooth!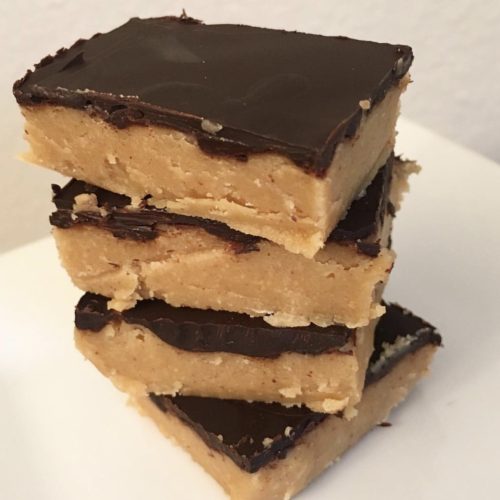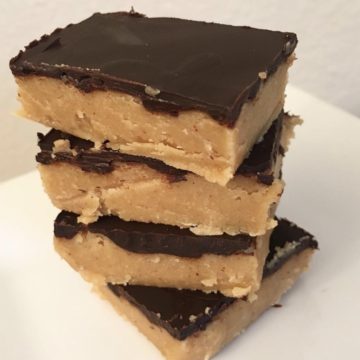 Instructions
Place butter and peanut butter in a medium-size bowl. Microwave, stirring every 30 seconds until completely melted.

Add sweetener, stevia and vanilla. Stir until smooth. Pour into a 8×8 pan lined with parchment paper. Place in freezer for 10 minutes.


Break chocolate into pieces and place in a small bowl. Melt in microwave, stirring every 30 seconds until just melted, careful not to scorch. (may also use a double boiler for this step)

Remove peanut butter layer from freezer. Pour chocolate over peanut butter and use the back of spoon or spatula to evenly spread the chocolate. Return to freezer for 1 hour. Allow to sit out for a few minutes before cutting.
Notes
Net Carbs  1.4 g
You can cut the sweetener back to ½ cup if you prefer less sweet desserts.  
The stevia is optional to help cut the cool taste caused by erythritol.
Bars can be stored in the freezer or refrigerator.  I prefer to keep them in the freezer.  
Nutrition
Calories:
128
kcal
|
Carbohydrates:
2.1
g
|
Protein:
2.5
g
|
Fat:
12.6
g
|
Fiber:
0.7
g
Disclaimer: Nutritional information is included as a courtesy and is calculated to the best of my ability, using my preferred brands. I recommend calculation your own macros, as they can widely vary depending on the brands of ingredients you use.
Author: Natasha Newton (Natasha's Southern Flavor)
Natasha is the founder of Natasha's Southern Flavor. She has a passion for sharing delicious family friendly low-carb recipes that are easy to make and use readily accessible ingredients. Natasha has published three bestselling cookbooks. Her books and recipes have been featured by CNET, Delish, Mindbodygreen, Parade and Women's Health. She enjoys traveling and spending time with her husband, two adult children, and three furbabies.
Read more about Natasha here.