Air Fryer Artichokes with Garlic Aioli
This post may contain affiliate links.
If you're looking for an extra easy low-carb appetizer, Air Fryer Artichokes with Garlic Aioli dipping sauce is just what you need! The perfect starter or side dish to serve for any occasion!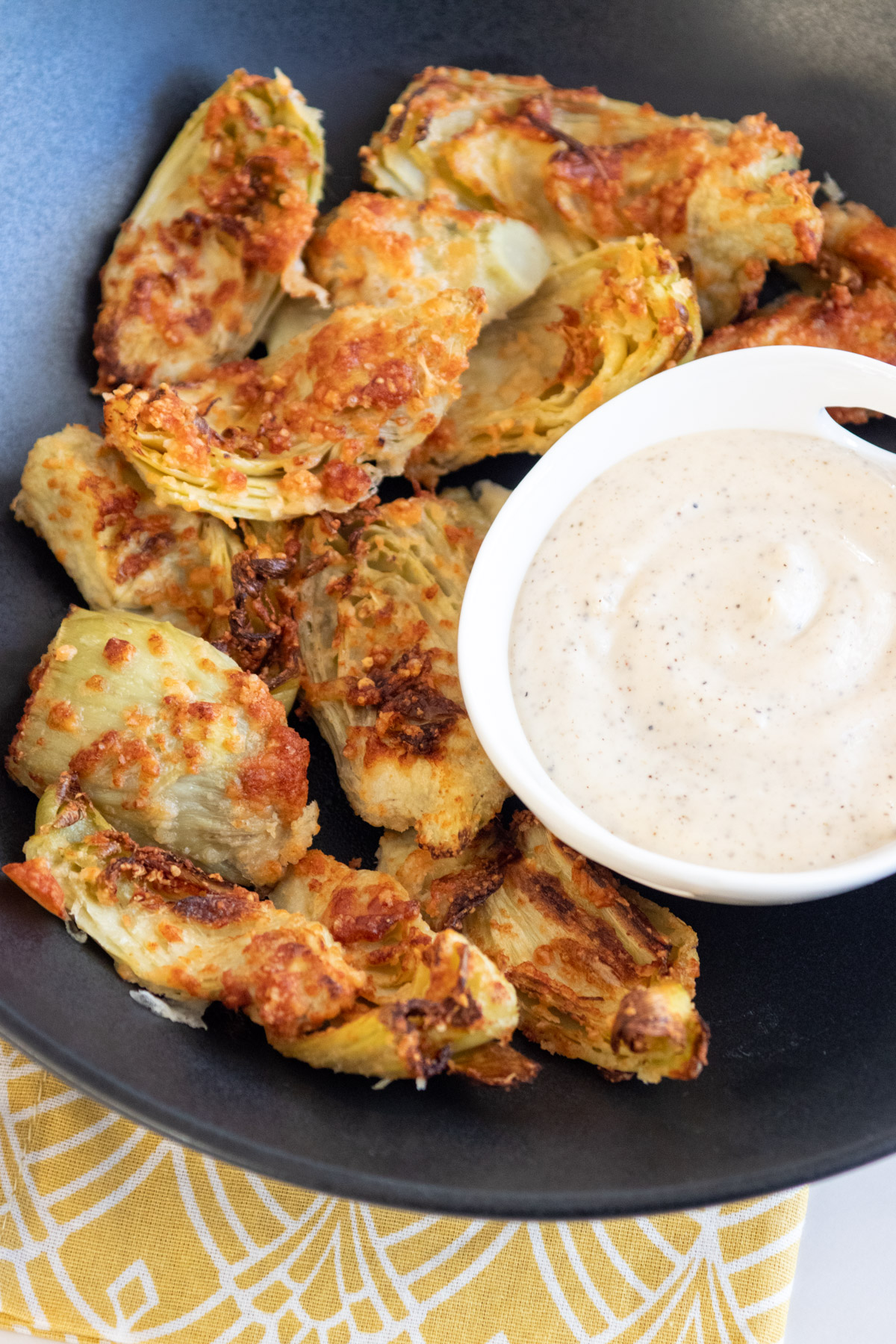 My air fryer artichokes have been a social media hit ever since I posted the recipe on Instagram a few months ago. The reel has over 1 million views! Its popularity is no surprise because everyone loves easy air fryer recipes!
As good as the air fried artichokes are, they're even better served with thick and creamy garlic aioli. It's a dip that's perfect not only with artichokes but also with countless other foods. Try leftovers with roasted broccoli, onion rings, shrimp and chicken. It's also great for burgers and tacos!
Why you'll love artichokes in the air fryer
This simple recipe is one of my favorite air fryer appetizers. For the quickest cooking time use canned artichokes—you'll have them fried and on the table in about 15 minutes. Crispy on the outside and tender on the inside, Air Fryer Artichokes are the perfect healthy appetizer for any get-together. And of course, they're even better with my easy garlic aioli sauce!
Benefits of an Air Fryer
Do you use an air fryer? I love air fryer recipes because they take a fraction of the time versus baking. So many people love it better than traditional deep-frying, yet you still enjoy tender artichokes fried to crispy perfection! And air fryers are excellent for reheating food while keeping a great texture.
If you don't own an air fryer, here are some good reasons to get one!
Healthy: Air frying uses significantly less oil than traditional frying, which can help reduce calories and fat in your meals.
Convenient: Air frying is a quick cooking method that can save you time in the kitchen. With air frying, you don't have to preheat oil or worry about oil splatters, making it a convenient option for busy lifestyles.
Versatile: Air frying is a great way to cook various foods, from vegetables and meats to snacks and desserts. You can even make multiple items at once, which is especially useful for families or entertaining. It's also handy to heat leftovers like pizza since it crisps them at the same time it cooks. No more soggy microwave meals!
Flavorful: Air frying can produce food that is crispy on the outside and tender on the inside, creating a delicious and satisfying texture. Additionally, since the food is not sitting in oil, it can retain more of its natural flavor and moisture.
Ingredients & substitutions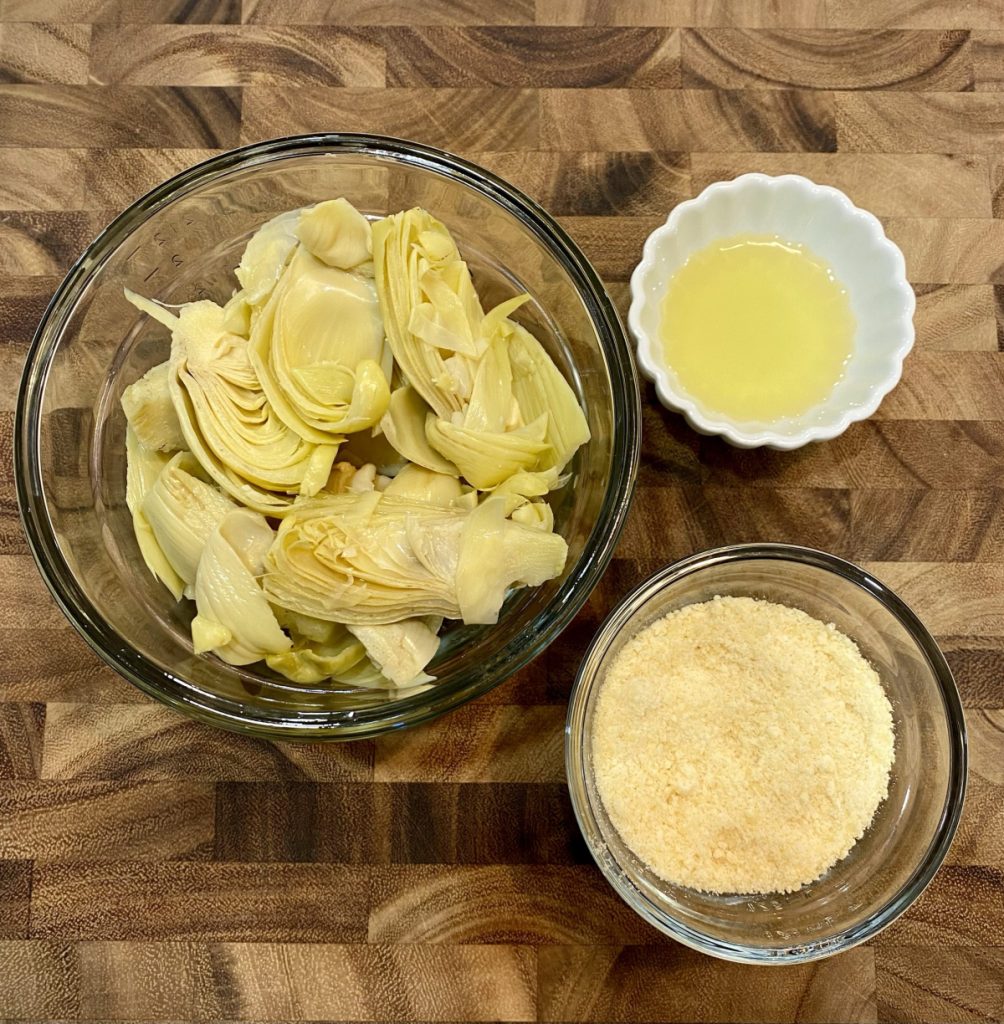 Artichokes – I use marinated or canned artichokes. Use a good quality brand. I don't recommend Great Value. You can also use fresh artichokes. They aren't as hard to prepare as you might think. Read below for detailed instructions.
Parmesan cheese – Coat the artichokes with finely grated Parmesan to create a crispy, crunchy low-carb crust. Avoid shredded cheese, as it won't stick to the artichokes.
Extra virgin olive oil – If you're not using marinated artichokes, you'll need oil. You can use your choice of oil. I like using avocado oil as well.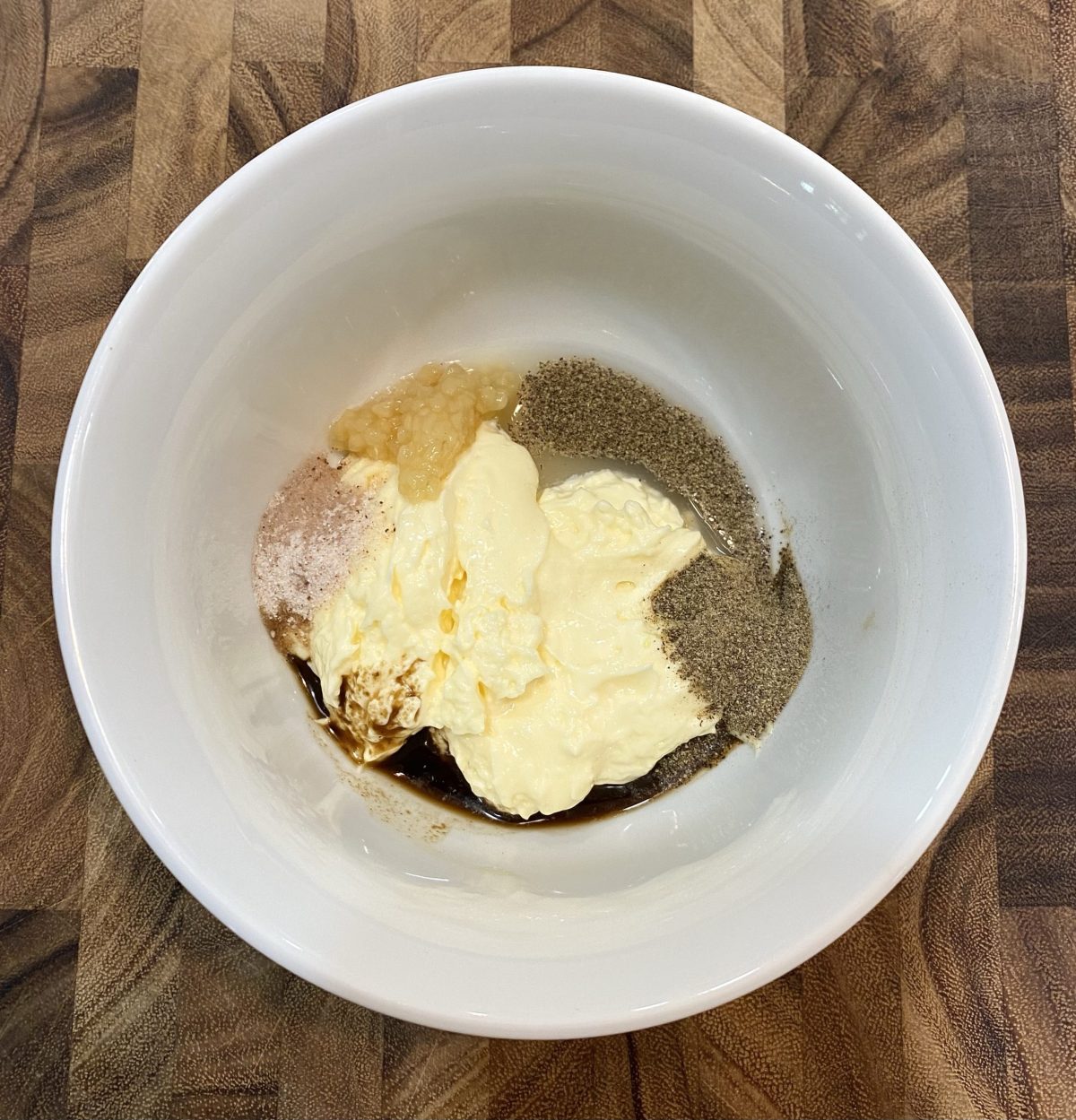 Mayonnaise – Mayo forms the base of the aioli dipping sauce. You can also make garlic aioli with greek yogurt instead of mayo if you prefer.
Garlic – Since garlic is the star ingredient of the aioli, use minced fresh garlic cloves, not garlic powder.
Lemon juice – Choose lemons that are firm and heavy for their size with bright yellow skin. Slice the lemon in half and then in half again to form lemon wedges for juicing. For extra lemon flavor, add a little lemon zest to the sauce.
Worcestershire – Gives a complex, savory flavor of vinegar, molasses and garlic to the aioli.
Salt and pepper – Season with salt and pepper and, for optional heat, shake in some crushed red pepper flakes.
You can make this easy appetizer with jarred artichokes. However, if you're feeling adventurous and would rather give fresh artichokes a try, read on for instructions.
How to choose a fresh artichoke
Buying a whole artichoke at the grocery store or farmer's market can seem intimidating, but there are a few key things to look for that will ensure you're picking a good one.
Size: Since the size of the artichokes doesn't matter for this recipe, you can choose large, medium or small. But pay attention to weight. The best artichokes feel heavy for their size. A heavier artichoke means it has more moisture and will be more tender.
Color: Look for artichokes with vibrant green leaves that are tightly packed together. Avoid artichokes with dry, brown or yellow leaves as these are signs of age.
Stem: The stem should be firm and not woody. If it feels soft or looks dry and shriveled, the artichoke is likely past its prime.
Squeezability: Gently squeeze the artichoke to see if it gives a little. If it's too firm, it may not be fully ripe, and if it's too soft, it may be overripe.
Sound: Listen for a squeaking sound when you gently press the leaves together. This is a sign that the artichoke is fresh and the leaves are tightly packed together.
Season: Although you can buy whole artichokes year-round in many places, the best time to get them is from March through June and September to October. These are the months California artichokes are at their peak seasons and when you'll find them at their most affordable.
How do you clean an artichoke?
Preparing fresh artichokes for air frying takes a little time, but isn't difficult if you follow the steps below:
Cut off the stem: Using a sharp knife, cut off the stem of the artichoke so it can sit flat on a cutting board.
Trim the top: Use your knife to slice about 1 inch from the top of the artichoke, removing the tough, pointy leaves.
Remove the tough outer leaves: Starting from the bottom of the artichoke, peel off the outer leaves until you reach the pale yellow, tender leaves.
Cut off the top third: Use a sharp knife to cut off the top third of the artichoke, removing the remaining tough leaves.
Remove the fuzzy choke: Use a spoon or a melon baller to scoop out the fuzzy choke and any small leaves in the center of the artichoke.
Cut the artichoke in half: Cut the artichoke in half lengthwise.
Trim the edges: Use kitchen shears to trim off any remaining tough edges or leaves on the artichoke halves. Toss with a little lemon juice to help the Parmesan cheese stick.
How to make Air Fryer Artichokes with Garlic Aioli
Step 1
Begin by preheating your air fryer to 400°F. If you're using marinated artichokes, drain the liquid from the jar. If you're using fresh artichokes, follow the guidelines above to remove the outer leaves and prep them for frying.
Step 2
Toss the artichoke pieces with grated Parmesan cheese. You can do this in a large bowl or a plastic bag. Make sure the artichokes are well-coated with cheese so they fry up nice and crispy.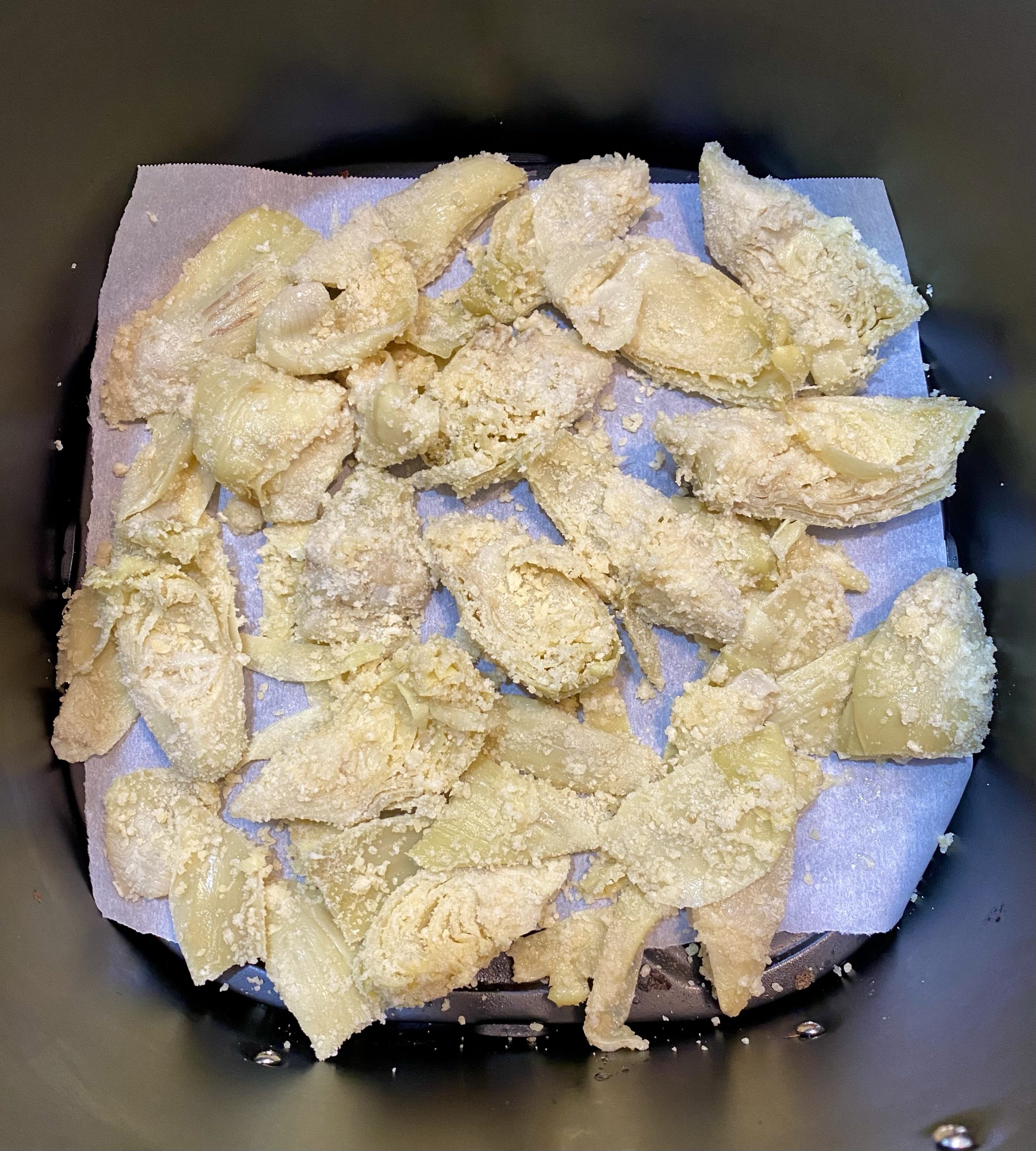 Step 3
Add the breaded artichokes to your air fryer basket for 12 minutes or until they reach the desired doneness. We tend to like our air fryer foods extra crispy!
If you're using fresh artichokes, depending on the size you may need to increase the fry time. Check them after 12 minutes and if the outer leaves peel off easily it's a sign they are done.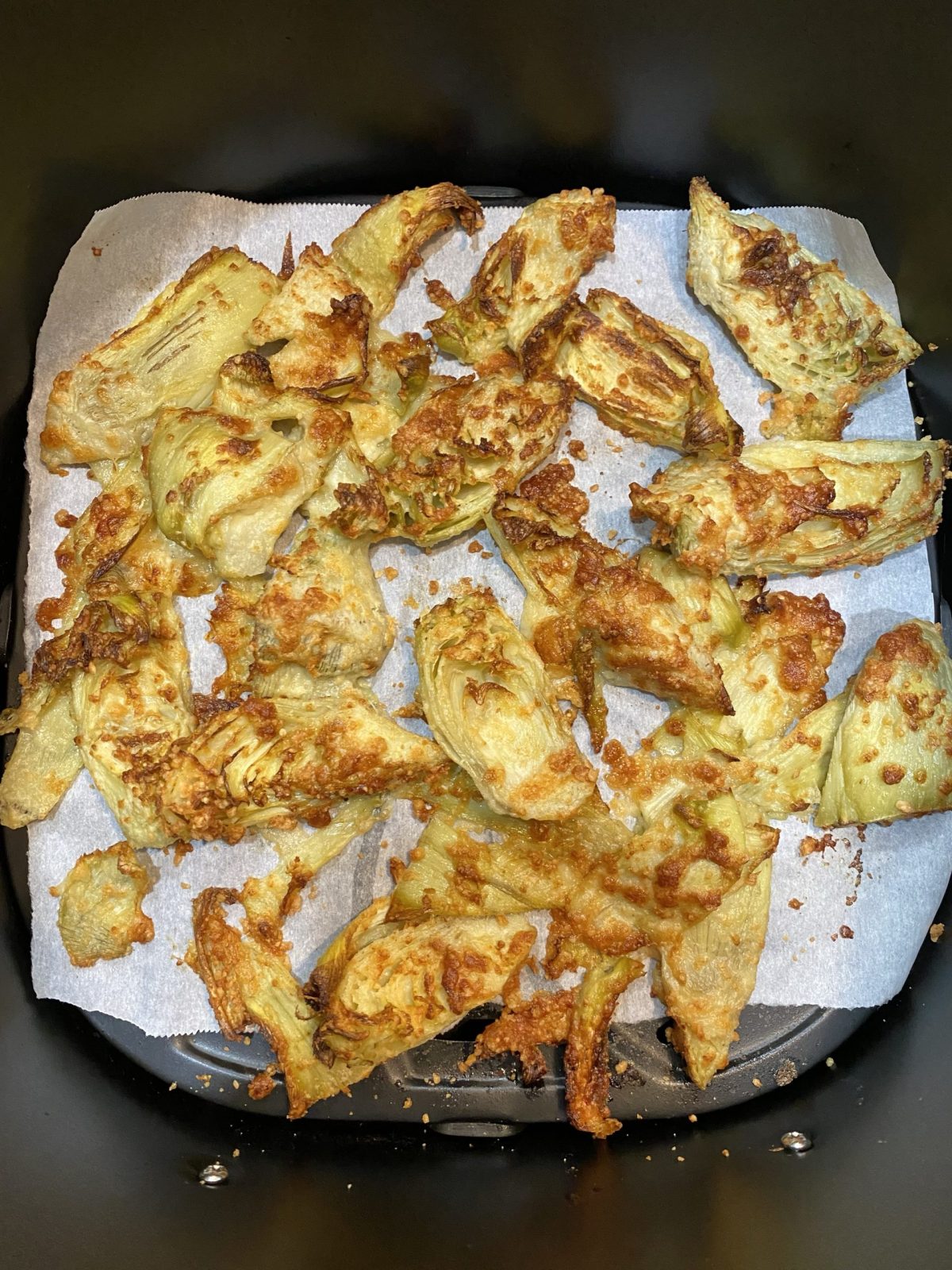 Step 4
While the artichokes cook, prepare the garlic aioli dip. Combine the mayo, minced garlic, lemon juice, Worcestershire, salt and pepper in a small bowl. Mix until well combined.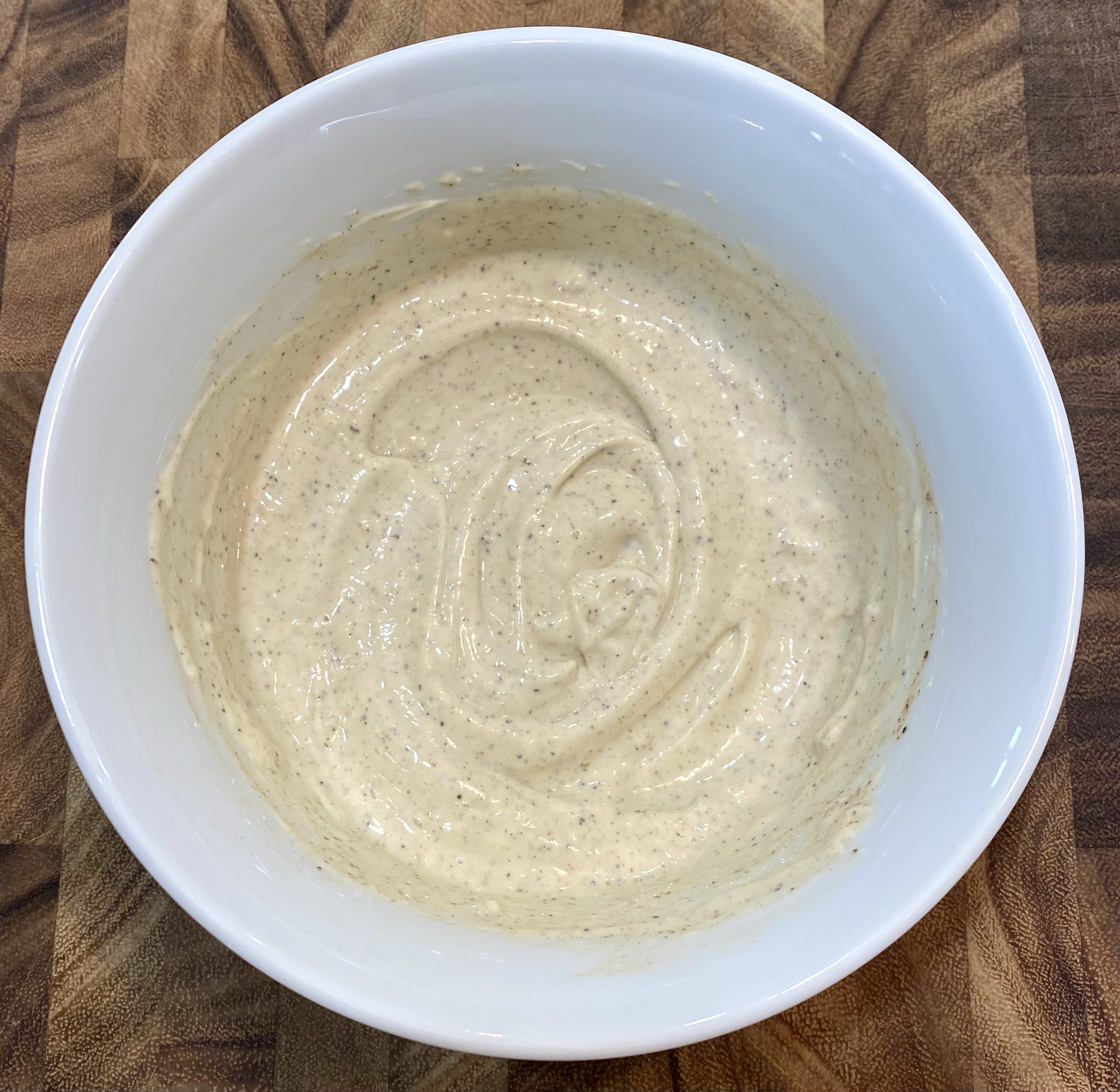 Step 5
Remove artichokes from the air fryer and serve with homemade garlic aioli.
FAQs
Can you air fry artichokes whole?
Yes, you can, although you'll need to increase the cooking time. Once the artichokes are done, cut them in half and scoop out the fuzzy chokes before eating.
How do you eat artichokes?
To eat air-fried artichoke leaves, pull each one off the artichoke and dip it in the garlic aioli. Use your front teeth to remove the soft, edible part and discard the rest. As for the artichoke heart, you can dip it in sauce and eat the entire thing!
What does garlic aioli taste like?
Rich and tangy aioli dipping sauce has a fresh garlic flavor with a bright burst of lemon. You can serve it anytime you would typically use mayonnaise. If you like garlic, you'll love this sauce!
How do I reheat leftover air fried artichokes?
You can reheat artichokes in the air fryer, but they taste the best the same day! They can become tough reheated. The garlic aioli can be stored in an airtight container in the refrigerator for up to 5 days.
More Healthy Appetizers
Low Carb Cheddar Ranch Cheeseball
If you love down-home southern cooking, Check out my Southern Keto cookbooks! I've written 3 cookbooks that have over 300 fabulous recipes in them. As always, they use easy-to-find ingredients.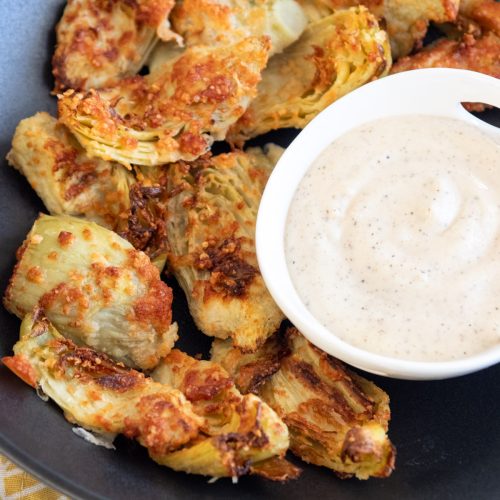 Air Fryer Artichokes with Garlic Aioli
If you're looking for an extra easy low-carb appetizer, Air Fryer Artichokes with Garlic Aioli dipping sauce is just what you need! The perfect starter or side dish to serve for any occasion, these artichokes are especially great for upcoming spring dinners, Easter and Mother's Day.
Print
Pin
Rate
Ingredients
1

14-ounce

can artichoke hearts

Drained

1

tablespoon

extra virgin olive oil

1/4

cup

grated parmesan cheese
Garlic aoili ingredients
1/2

cup

mayonnaise

3

cloves

garlic

minced

1 1/2

tablespoons

fresh lemon juice

1

teaspoon

Worcestershire sauce

1/2

teaspoon

salt

1/4

teaspoon

pepper
Instructions
Air Fried Artichokes
Preheat the air fryer to 400°F.

Drain the liquid from the artichokes and gently toss with oil, then grated Parmesan cheese until well-coated.

Air fry for 12 minutes or until they reach desired crispness.
Garlic Aioli
Add the mayonnaise, garlic, lemon juice, Worcestershire sauce, salt and pepper to a small bowl. Stir well until combined, and serve with fried artichokes. Store the aioli in an airtight container in the refrigerator for up to one week.
Notes
Net Carbs 4.5g
Use a good quality brand of artichokes.  I don't recommend Great Value. 
Omit the olive oil if you are using artichokes marinated in oil.  
If using fresh artichokes, you'll need 6 artichokes to get enough artichoke hearts to equal a 14-ounce can.
Nutrition
Calories:
320
kcal
|
Carbohydrates:
11.7
g
|
Protein:
6.9
g
|
Fat:
31.8
g
|
Potassium:
14
mg
|
Fiber:
7.1
g
Disclaimer: Nutritional information is included as a courtesy and is calculated to the best of my ability, using my preferred brands. I recommend calculation your own macros, as they can widely vary depending on the brands of ingredients you use.
Author: Natasha Newton (Natasha's Southern Flavor)
Natasha is the founder of Natasha's Southern Flavor. She has a passion for sharing delicious family friendly low-carb recipes that are easy to make and use readily accessible ingredients. Natasha has published three bestselling cookbooks. Her books and recipes have been featured by CNET, Delish, Mindbodygreen, Parade and Women's Health. She enjoys traveling and spending time with her husband, two adult children, and three furbabies.
Read more about Natasha here.