Keto Creamy Spicy Corn Dip
This post may contain affiliate links.
The next time you're hosting a game day party, whip up some Keto Creamy Spicy Corn Dip. It's a great option if you're on a low-carb lifestyle and a huge hit with anyone craving a creamy, cheesy, warm corn dip.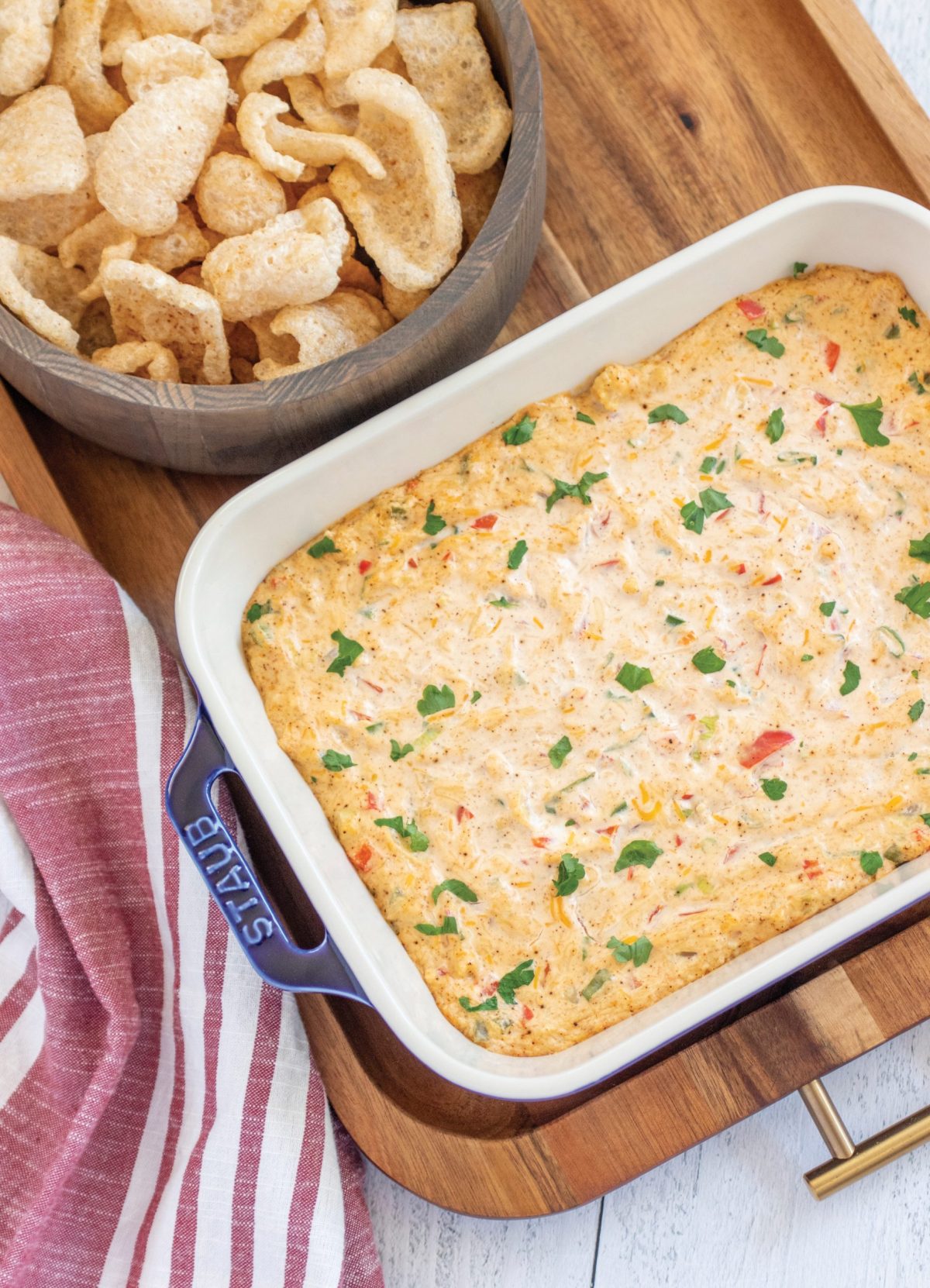 Keto Creamy Spicy Corn Dip with cream cheese is the best hot appetizer for any get-together, and it's especially comforting during the colder winter months. This is a popular recipe from my newest book, Let's Celebrate, that I wanted to share here. It contains over 115 recipes for year-round entertaining! I used to make a higher carb dip with canned mexicorn similar to this one, and that's where I got the inspiration for this recipe. The dip's smooth, rich base, fresh veggies and Mexican flavors are impossible to resist. It's easy to see why this super-addicting recipe is often called crack corn dip!
Why you'll love low-carb dip with corn
Cheesy hot mexicorn dip is the perfect appetizer for your next party, potluck or Super Bowl gathering. Baby corn and sweet corn extract add all the flavor without the added carbs. A great recipe for last-minute get-togethers, it has a quick and simple prep with a bake time of only 20 minutes. Pair it with low carb dippers for a mouthwatering combo.
For more easy-to-make keto-friendly appetizers try Low Carb Dill Pickle Dip and Cheesy Baked Taco Dip.
Ingredients & Substitutions
Cream cheese – Soften it at room temperature for 30-60 minutes before using so it's easier to mix with the other ingredients.
Sour cream – The full fat version makes a super creamy dip. If you want, swap in some greek yogurt to lighten things up.
Mayonnaise – Lends a smooth texture and balances out the tangy sour cream.
Baby corn – While fresh sweet corn is delicious, it's also high in carbs. Low carb baby corn ears are the perfect substitute. Chop them into small pieces so they are easy to dip.
Bell pepper – I like to use red bell peppers since they are the sweetest of all the bell pepper varieties.
Green onion – For mild onion flavor that won't overpower the rest of the ingredients.
Jalapeño pepper – Use more or less depending on how spicy you want the dip. You can lower the heat level by removing the seeds and membranes, or leave them in for extra spice. Or substitute a small can of chopped green chiles.
Chili powder – Made with a mix of spices like cayenne, paprika, garlic powder and salt, a little of this gives the dip its slightly smoky taste.
Ground cumin – A popular in Mexican dishes, cumin adds earthy warmth and depth.
Sweet corn extract – The secret ingredient for lots of corn flavor without the extra carbs.
Cheese – Any shredded cheese will work. I like to use cheddar or a mexican cheese blend. Queso blanco is also a good choice.
Cilantro or parsley – Fresh herbs are optional, but I recommend giving them a try since you can't beat their bright flavor. Chop them and sprinkle over the dip once you remove it from the oven.
Does sweet corn extract have carbs?
If you're looking for a way to have your favorite corn recipes while on a keto diet, sweet corn extract is the answer! It's a super concentrated extract that tastes like fresh sweet corn with a lot fewer carbs.
The exact carb count will vary by brand, but most have about 1 gram per teaspoon. And because it's so concentrated, a little goes a long way – you only need 1 teaspoon of extract for this entire recipe.
Corn extract is a favorite keto cornmeal substitute. It's versatile enough to use in muffins, cakes, ice cream, sauces and soup like my Keto Sausage Corn Chowder. If your local grocery store doesn't carry it, you can find it on Amazon and other online stores.
How to make Keto Creamy Spicy Corn Dip
Step 1
Start by preheating the oven to 375°F. Grease an 11×7-inch baking dish. Alternatively, you can bake the dip in a large skillet that's oven safe.
Step 2
Add the softened cream cheese, sour cream and mayonnaise to a large bowl and stir until well combined. Fold in the corn, bell peppers, green onions, jalapeño peppers, chili powder, cumin and corn extract. Fold in the cheese. Mix well until all ingredients are incorporated.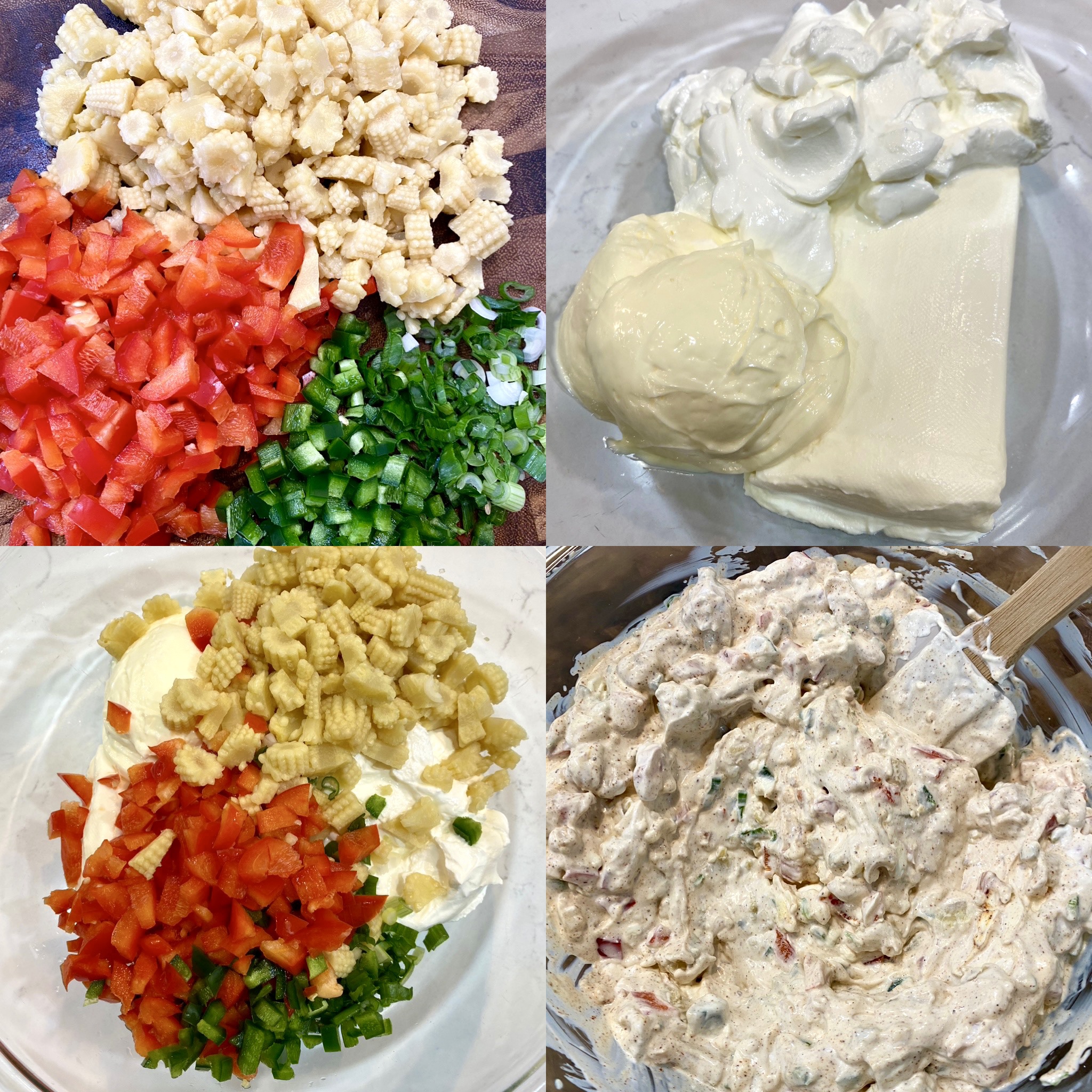 Step 3
Pour the mixture into the casserole dish and bake for 20-25 minutes. At that point, the dip should be lightly browned and bubbling at the edges.
Step 4
Remove from the oven and allow to cool for 10 minutes. Sprinkle with fresh herbs and serve with your favorite dippers.
What can replace chips on a low carb diet?
Of course, tortilla chips and corn dip are a classic combo. But what about when you're sticking with low carb dippers? Here are a few that go great with keto cheese dip.
Fresh veggies – Cucumber and zucchini slices, carrot sticks, celery sticks, mini sweet peppers, slices of red peppers and green peppers, jicama, broccoli and cauliflower florets.
Shrimp – Instead of cocktail sauce, dip fresh shrimp in warm corn dip with cream cheese.
Pork rinds – Crunchy, salty pork rinds are a great option.
Low carb tortilla chips or crackers – There are lots of store-bought tortilla chips and crackers made with almond flour that fit perfectly in a keto lifestyle.
Homemade low carb tortilla chips – If you're still craving tortilla chips, make your own lower carb version! Brush your favorite low carb tortillas lightly with olive oil. Sprinkle it with salt or a little lime juice and cut each one into 6 wedges. Bake at 350°F for about 15 minutes. You can also fry them in avocado oil.
Recipe tips
If you're pressed for time, you can make corn dip with cream cheese in your slow cooker. Add all of the ingredients and warm on low until the cream cheese is softened and warm. Stir well before serving. Making it in the slow cooker means you won't get the same golden brown top as when you bake it. But it tastes just as good!
For a spicier dip, add some dashes of hot sauce or a few shakes of cayenne pepper. I recommend adding and tasting a little at a time until you reach your preferred level of spice.
Another way to adjust the heat level is to choose mild or spicy jalapeños. It's easy to do – simply look for cracks that look like white lines across the skin of the pepper. The more cracks a pepper has, the spicier it will be. If you prefer mild peppers, stick with smooth, green jalapeños without the white lines.
FAQs
Can you eat corn on Keto?
If you're following a keto diet, it's best to steer clear of corn as it's high in carbs. A mere 1/2 cup of corn has approximately 18.7 grams of carbohydrates.
Can corn dip be made ahead of time?
Yes, it's easy to make this hot cheesy corn dip ahead of time. Mix the ingredients and store in an airtight container in the refrigerator. The next day, spread the dip in the greased casserole dish and bake.
Can this corn dip be served cold?
You can serve it cold if you prefer, but I think the cheesy dip is best served hot right out of the oven. It's also great at room temperature, but since it has a dairy base, don't let it sit out for more than a few hours.
Can you freeze dip made with cream cheese?
If you freeze this corn dip, you'll end up with a texture you won't like. The mayonnaise, sour cream and cream cheese change consistency once frozen and can become curdled. For that reason, I recommend storing leftovers in the refrigerator and eating them within a few days.
More game day recipes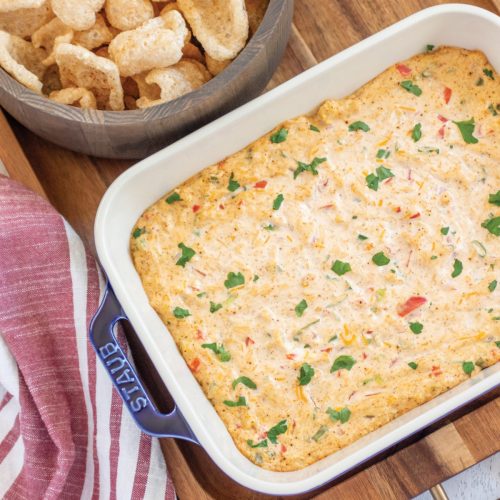 Keto Creamy Spicy Corn Dip
The next time you're hosting a game day party, whip up some Keto Creamy Spicy Mexicorn Dip. It's a great option if you're on a low-carb lifestyle and a huge hit with anyone craving a creamy, cheesy, warm corn dip.
Print
Pin
Rate
Ingredients
1

8-ounce

cream cheese

softened

1

cup

sour cream

1/2

cup

mayonnaise

1

15-ounce

can baby corn

drained and chopped

1

diced red bell pepper

1

sliced green onion

1

jalapeno pepper

seeded and finely chopped

1

teaspoon

chili powder

1

teaspoon

cumin

1

teaspoon

corn extract

1

cup

Shredded mexican blend cheese

chopped fresh parsley, cilantro or green onion

optional garnish
Instructions
Preheat the oven to 375 degrees. Grease an 11 by 7-inch baking dish with oil.

In a medium mixing bow, stir together the cream cheese, sour cream and mayonnaise until thoroughly combined. Add the corn, bell pepper, green onions, jalapeño, chili powder, cumin and corn extract. Stir until well combined. Last, fold in the shredded cheese.

Spread the mixture evenly in the prepared baking dish. Bake for 20-25 minutes, until the dip is lightly browned on top and bubbling around the edges. Allow to cool slightly, then garnish with cilantro or parsley, if desired.
Notes
Net Carbs 2.8g
Great served with cucumbers, celery, sweet mini peppers, low carb crackers, low carb tortilla chips and pork rinds.  
My family loves dips with corn in them, but corn is high in carbohydrates. Simply switching to baby corn lowers the carb count by a lot. Though baby corn isn't quite as sweet as yellow corn, it makes a delicious substitute when combined with corn extract.
Nutrition
Calories:
277
kcal
|
Carbohydrates:
4.5
g
|
Protein:
3.8
g
|
Fat:
26.9
g
|
Fiber:
1.6
g
Disclaimer: Nutritional information is included as a courtesy and is calculated to the best of my ability, using my preferred brands. I recommend calculation your own macros, as they can widely vary depending on the brands of ingredients you use.
Author: Natasha Newton (Natasha's Southern Flavor)
Natasha is the founder of Natasha's Southern Flavor. She has a passion for sharing delicious family friendly low-carb recipes that are easy to make and use readily accessible ingredients. Natasha has published three bestselling cookbooks. Her books and recipes have been featured by CNET, Delish, Mindbodygreen, Parade and Women's Health. She enjoys traveling and spending time with her husband, two adult children, and three furbabies.
Read more about Natasha here.