21 Kroger Keto Must-Haves You Don't Want to Miss
This post may contain affiliate links.
Are you looking for low-carb and keto foods at Kroger? You're in luck! We've handpicked 21 fantastic low-carb finds just for you. This diverse list covers everything, from condiments to baking essentials and even pizza!
Tortilla Chips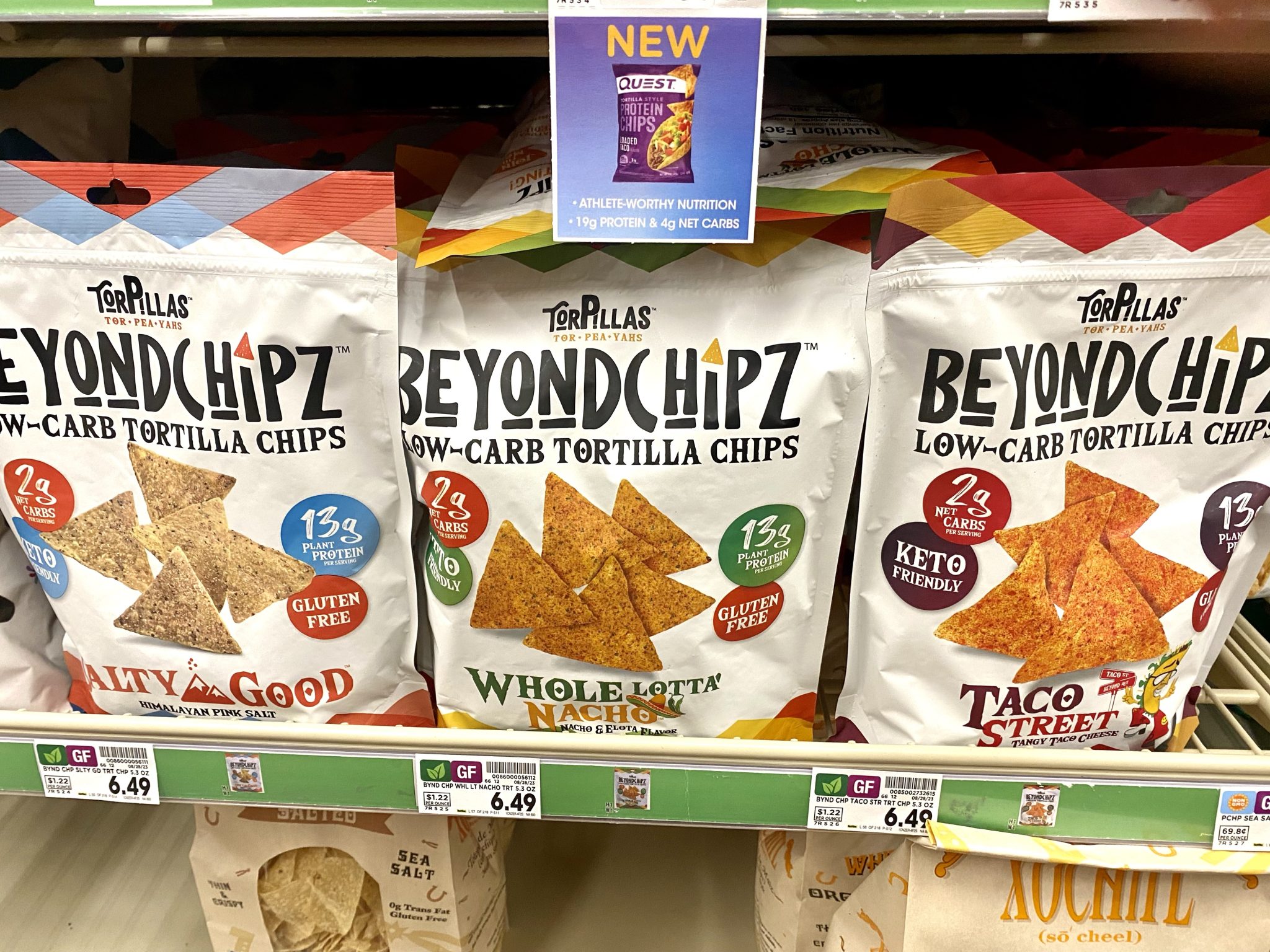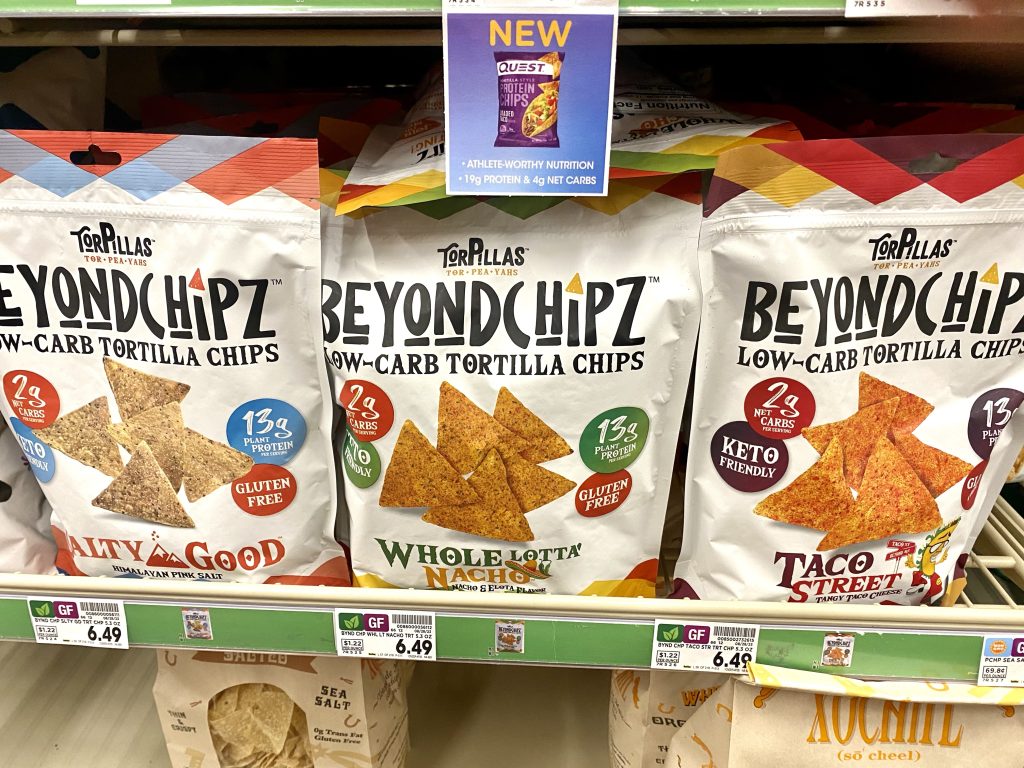 Beyond Chipz low-carb tortilla chips are low in carbs and high in protein. They are gluten-free and keto-friendly. Perfect for making keto nachos!
Cheese Wraps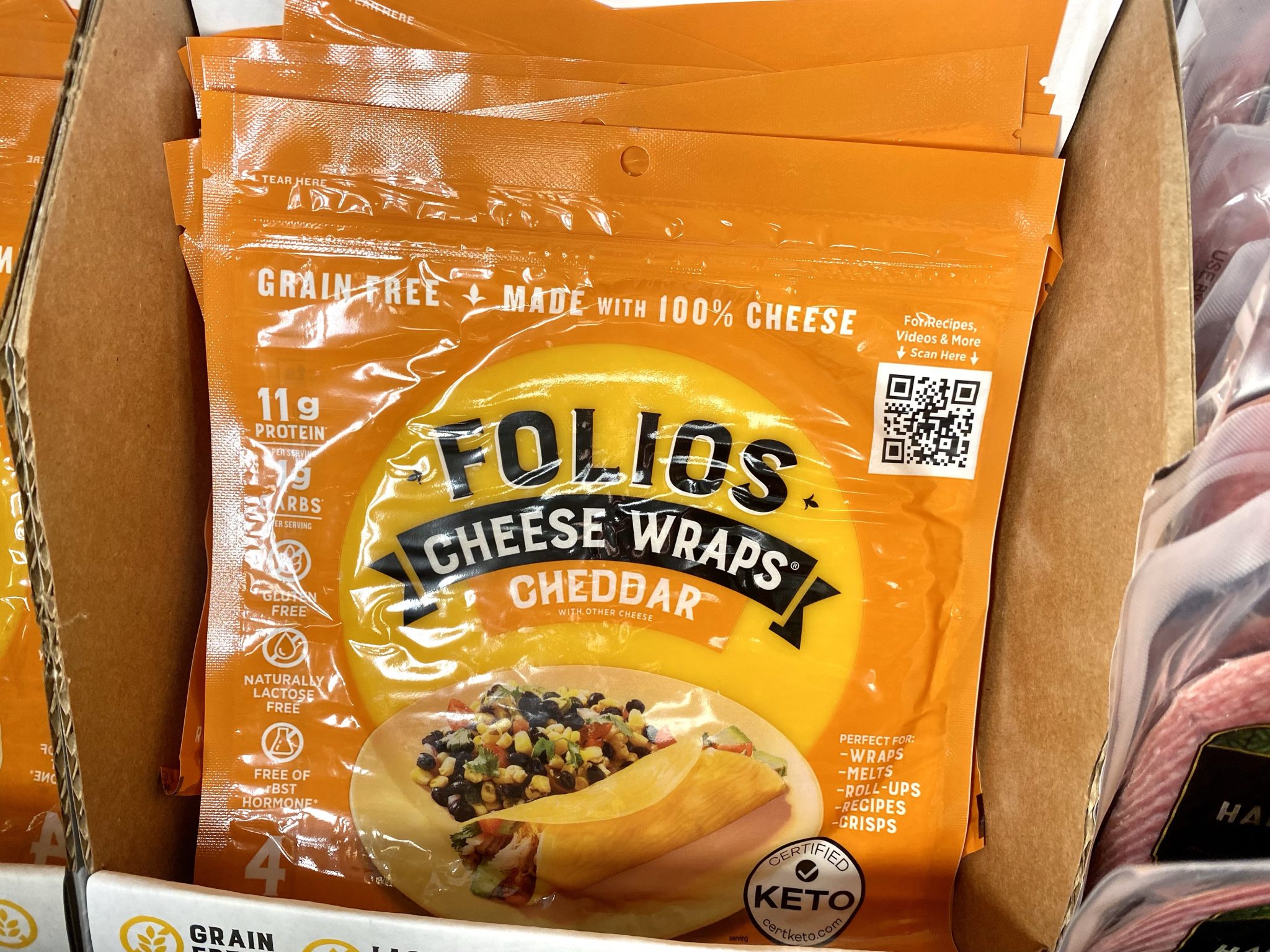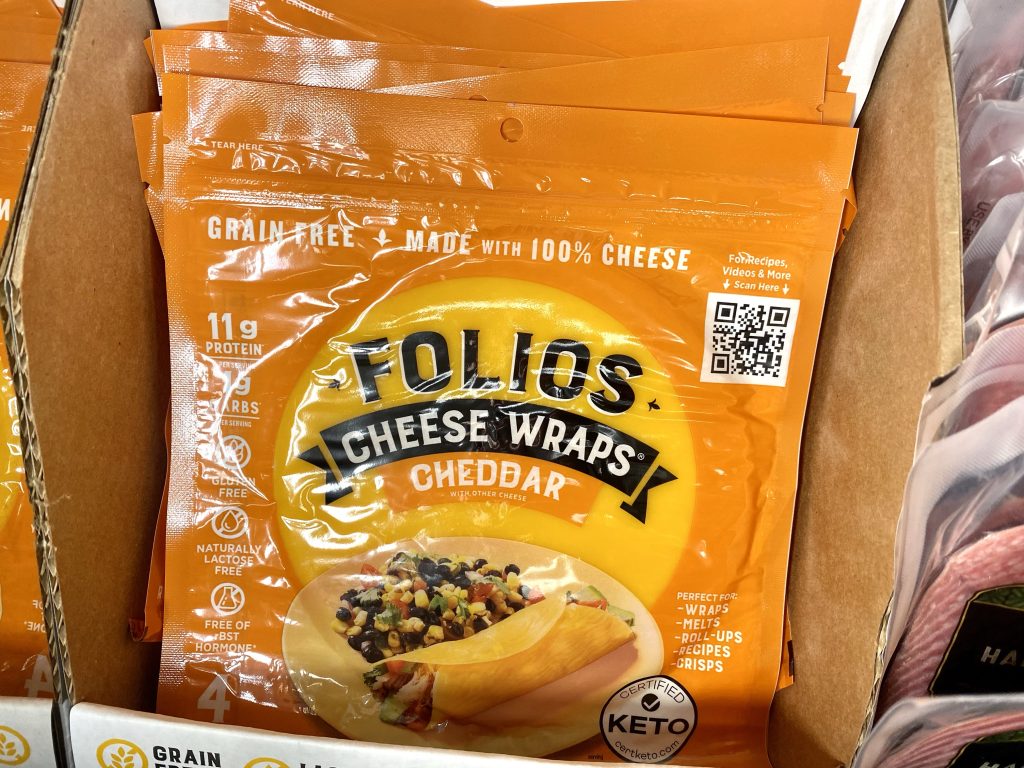 Cheddar Folio cheese wraps are keto-certified and can be used in a variety of ways, such as sandwich wraps, cheese crisps, and tacos.
Breakfast Sandwiches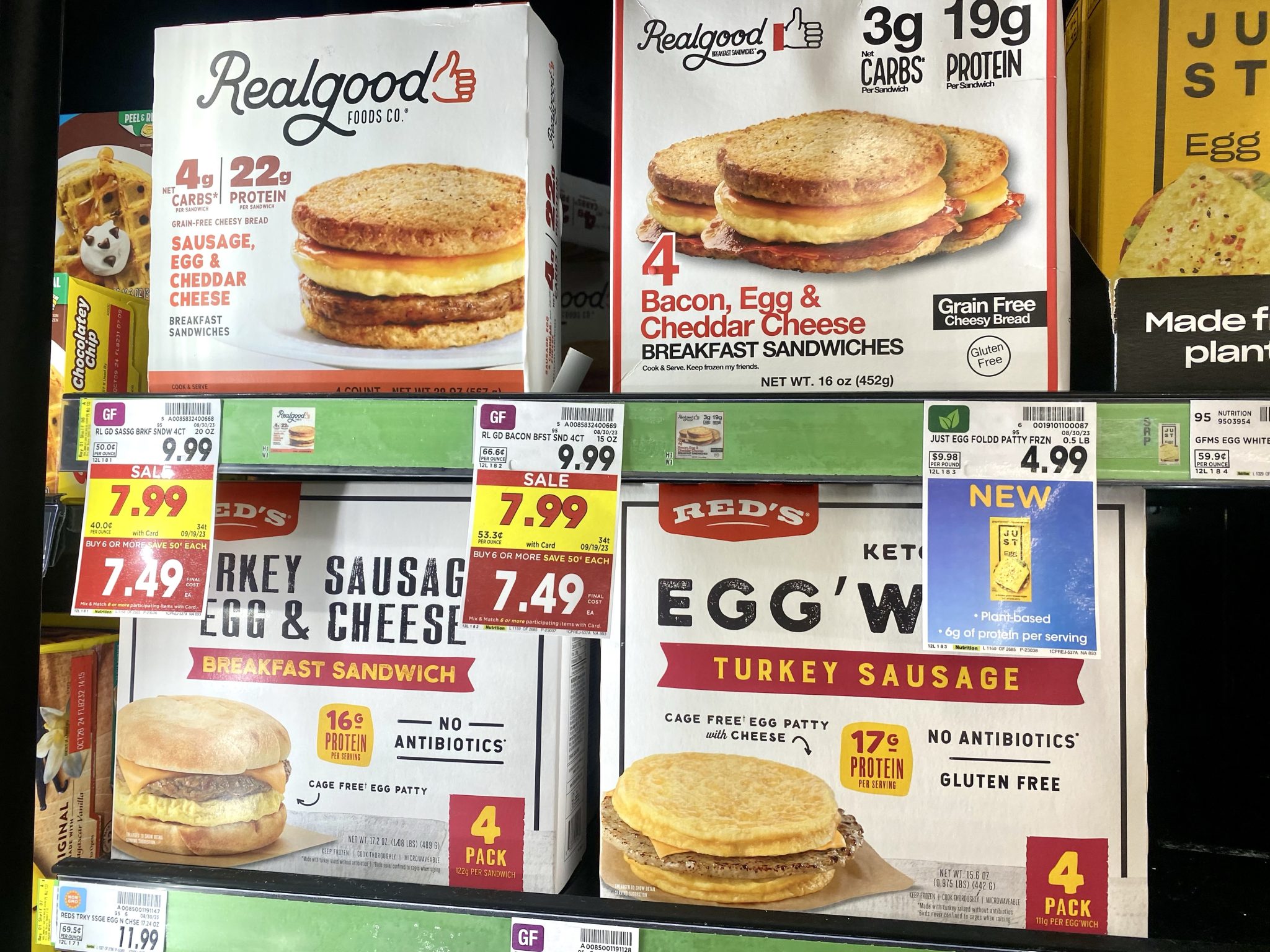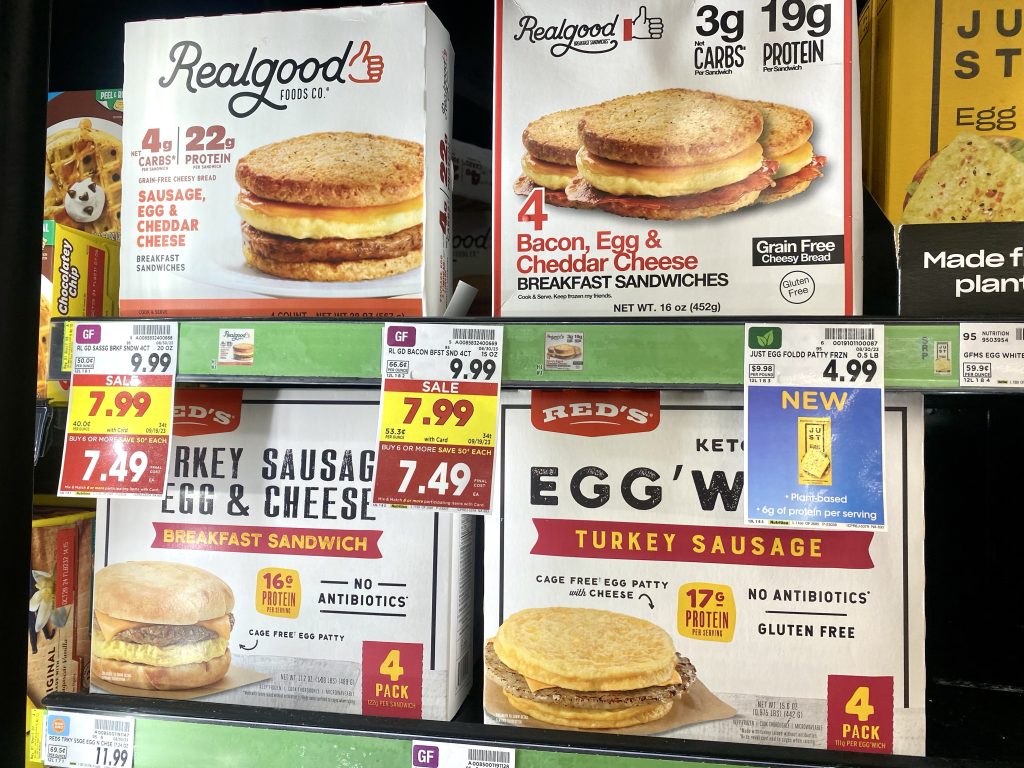 Kroger has a variety of keto breakfast sandwiches, which are a delicious option for those busy mornings when you need something fast and have no time to cook.
Cookies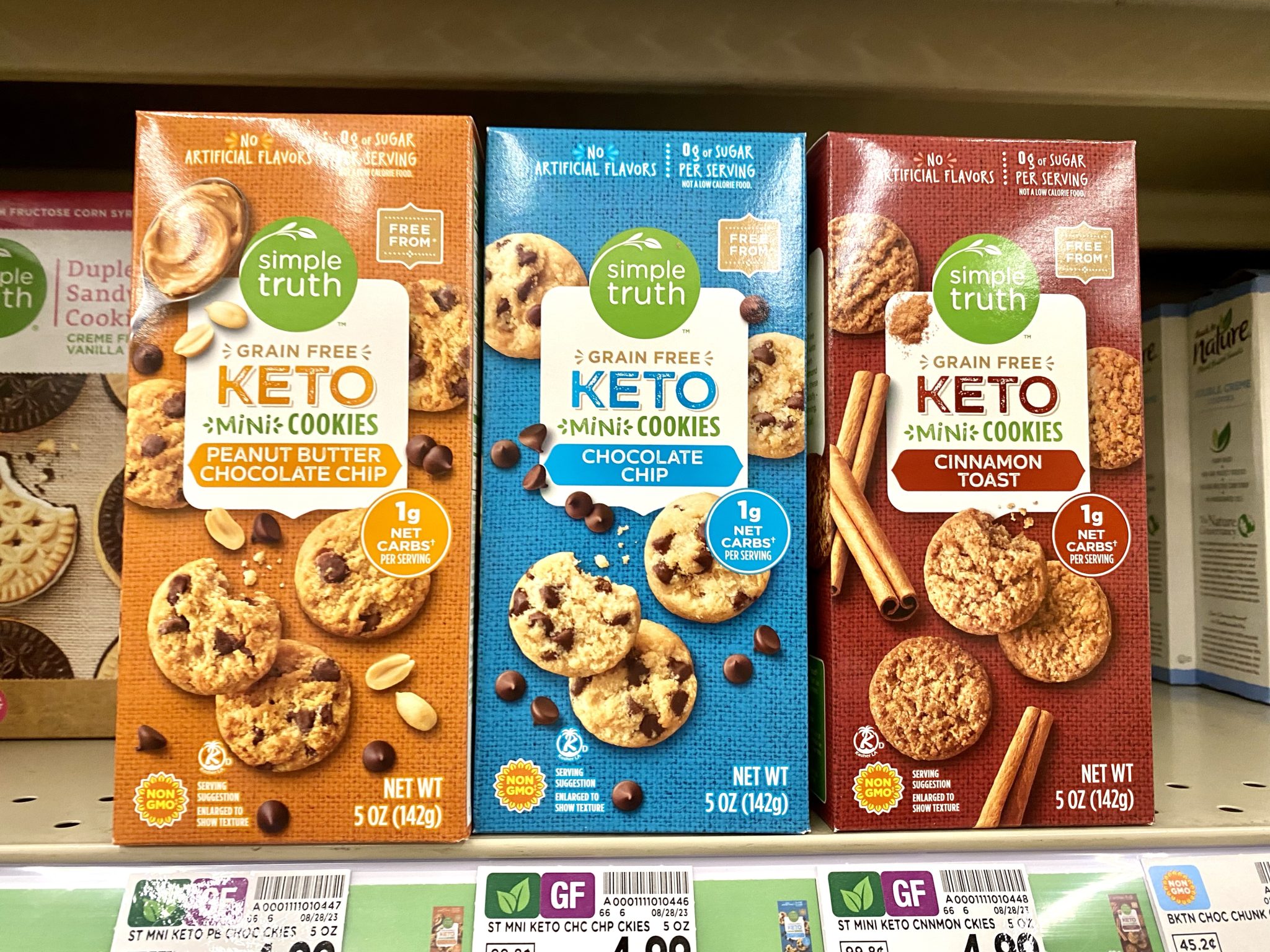 Simple Truth keto mini cookies are grain-free and low in carbs, coming in at 1 net carb per serving and in various flavors.
Sweetener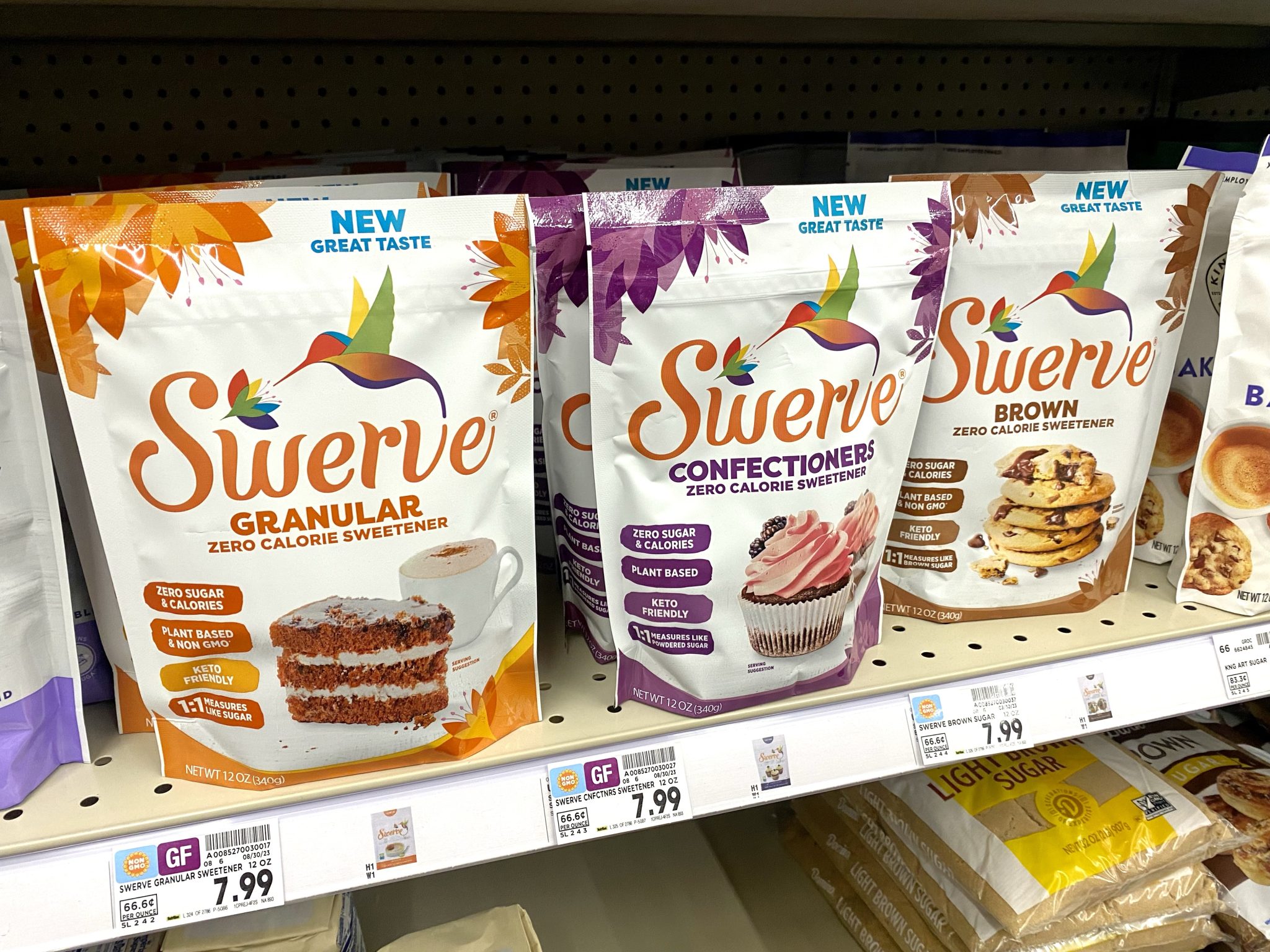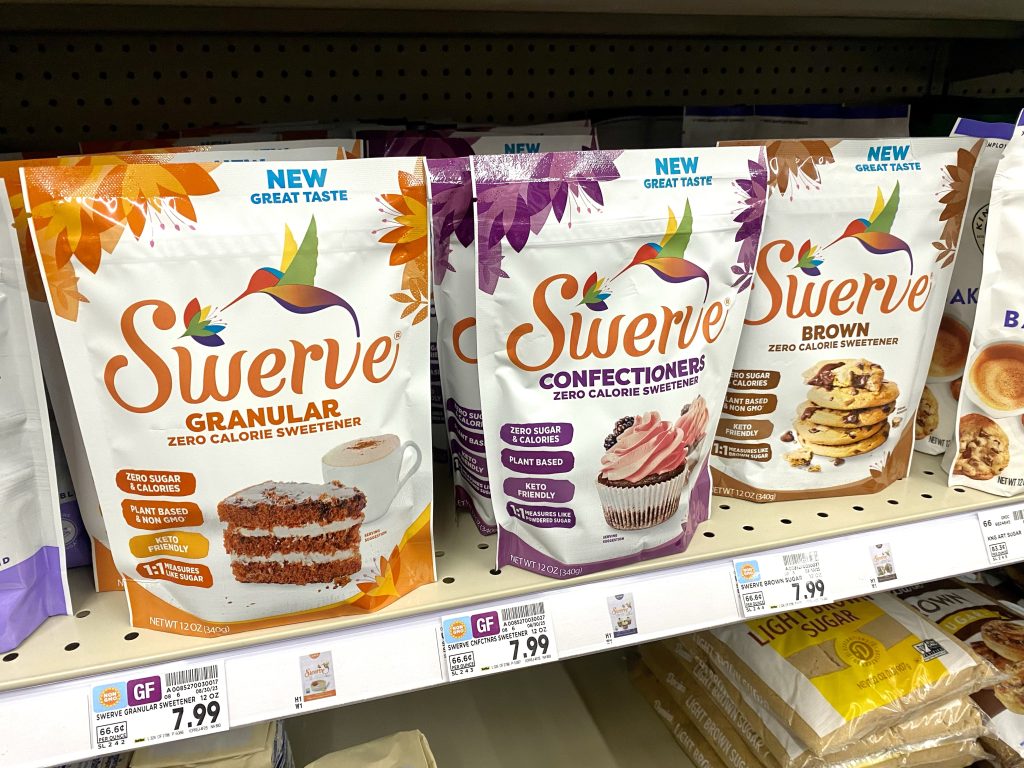 You can find several options for zero sugar sweeteners at Kroger, including granular, confectioners, and a brown sugar substitute.
Tortillas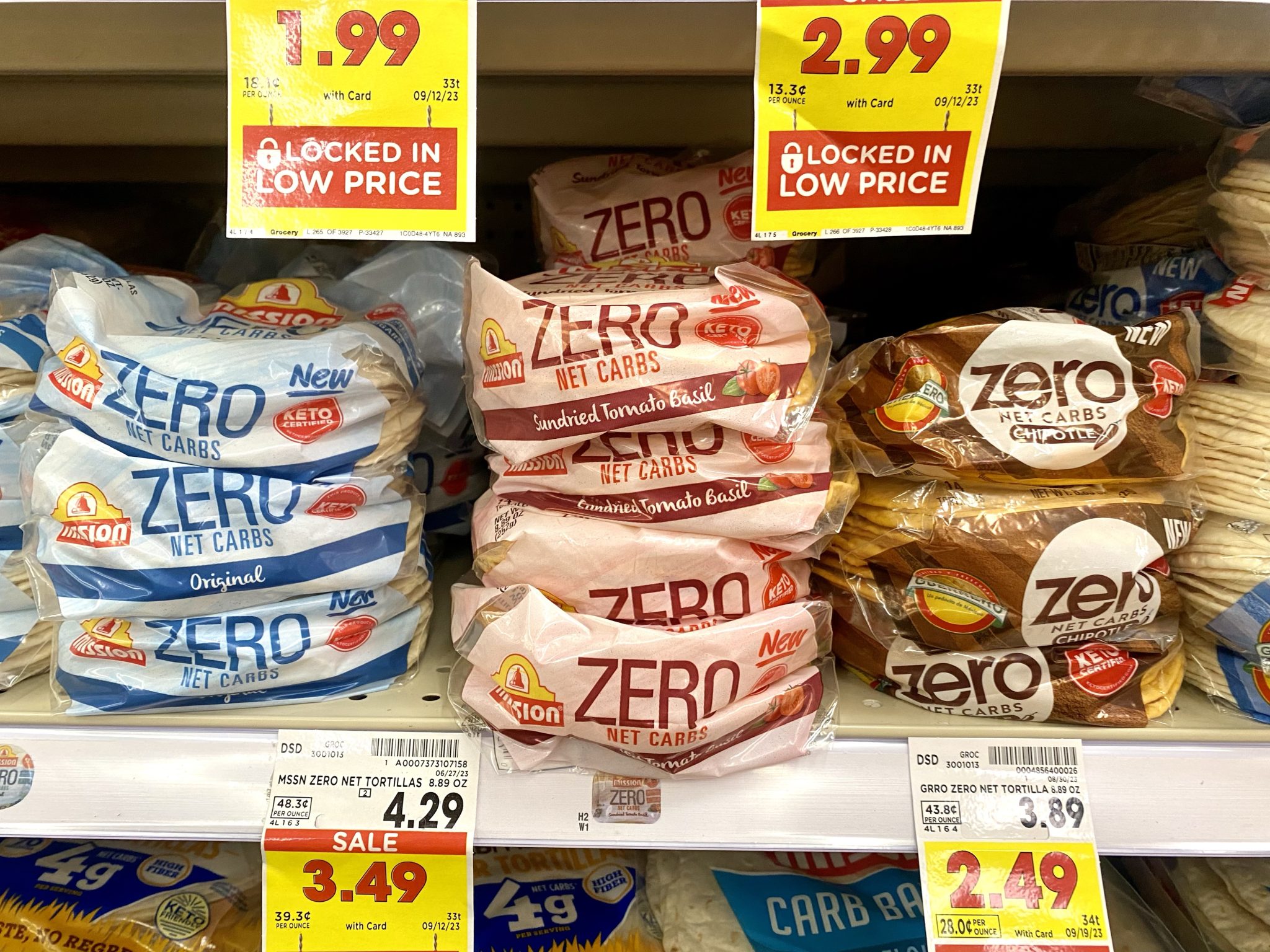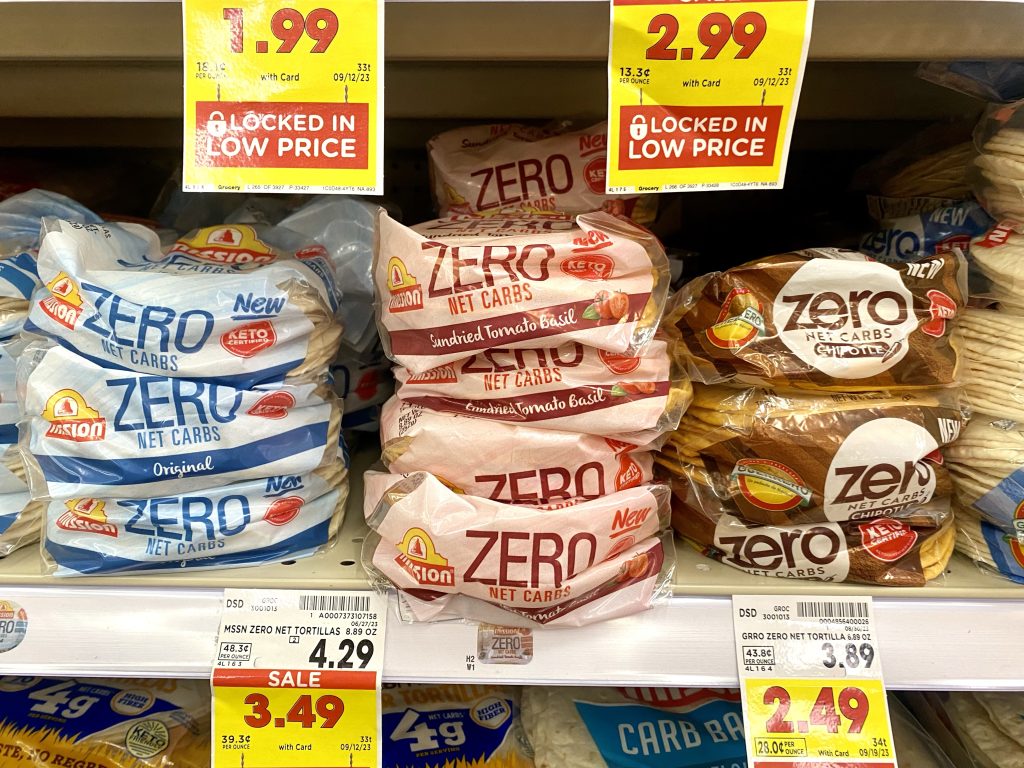 Kroger carries several brands and flavors of low-carb tortillas. They are perfect for making tacos, sandwich wraps, quesadillas, and pizza.
Noodles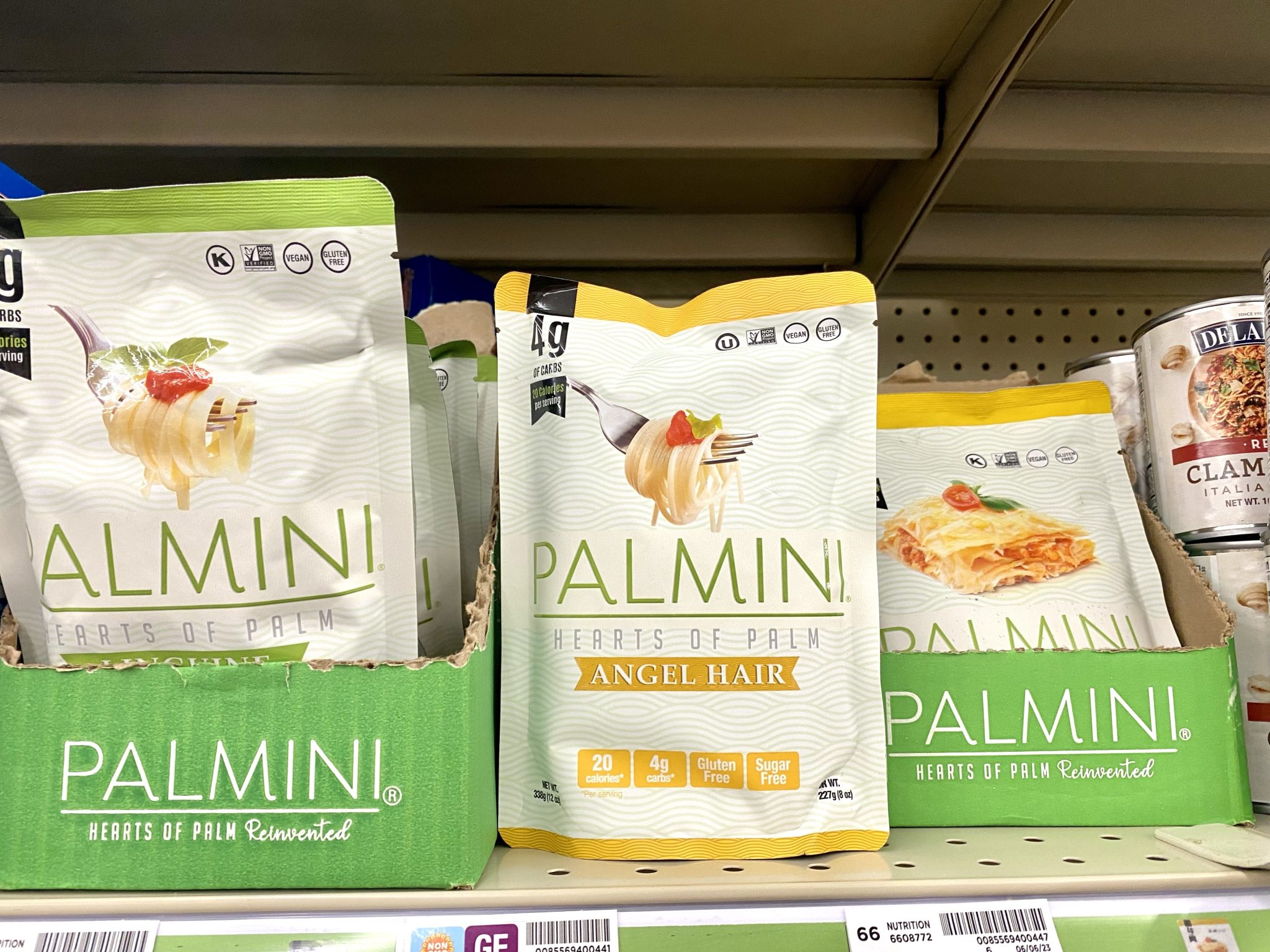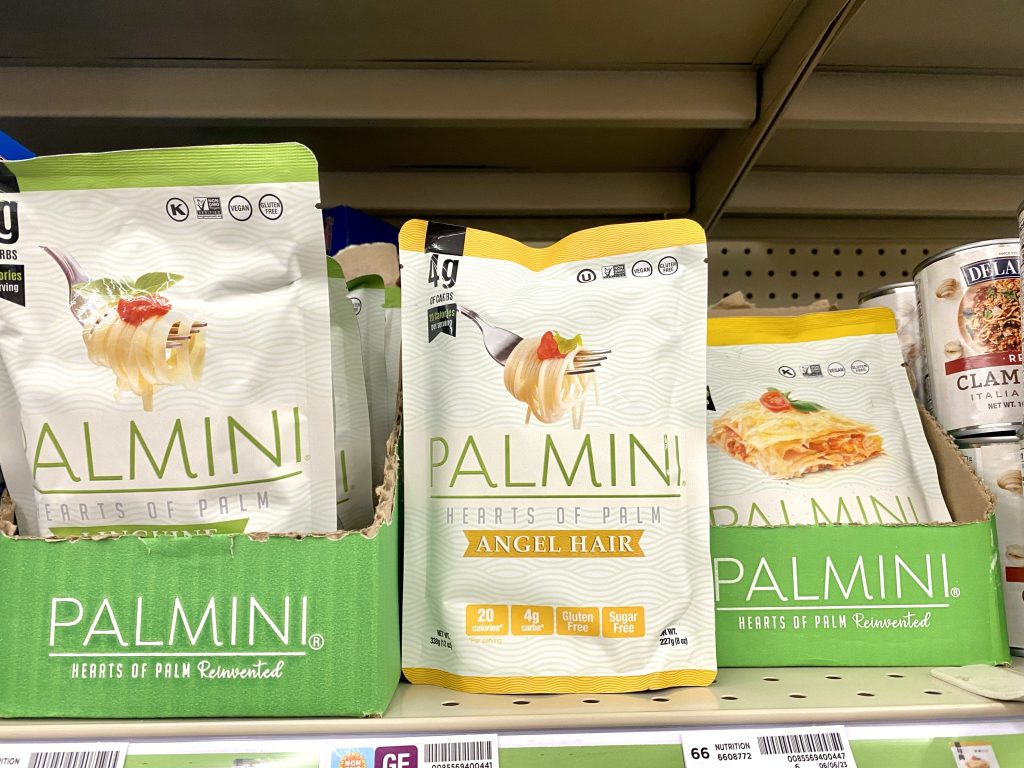 Hearts of Palm noodles are a great low-carb substitute for pasta. The neutral taste and texture are great for making keto spaghetti and alfredo dishes such as Cajun Shrimp Alfredo Pasta.
Pork Rinds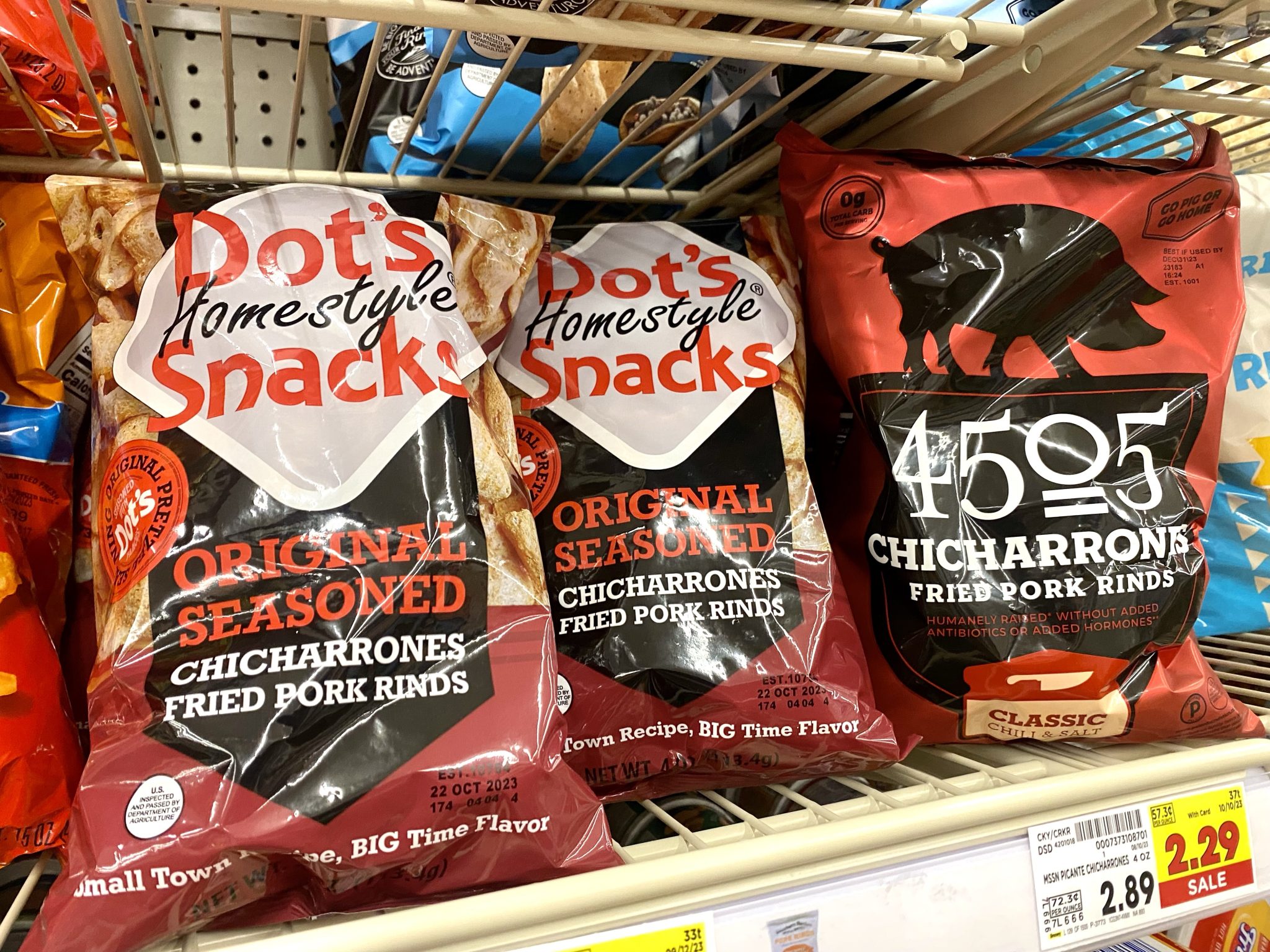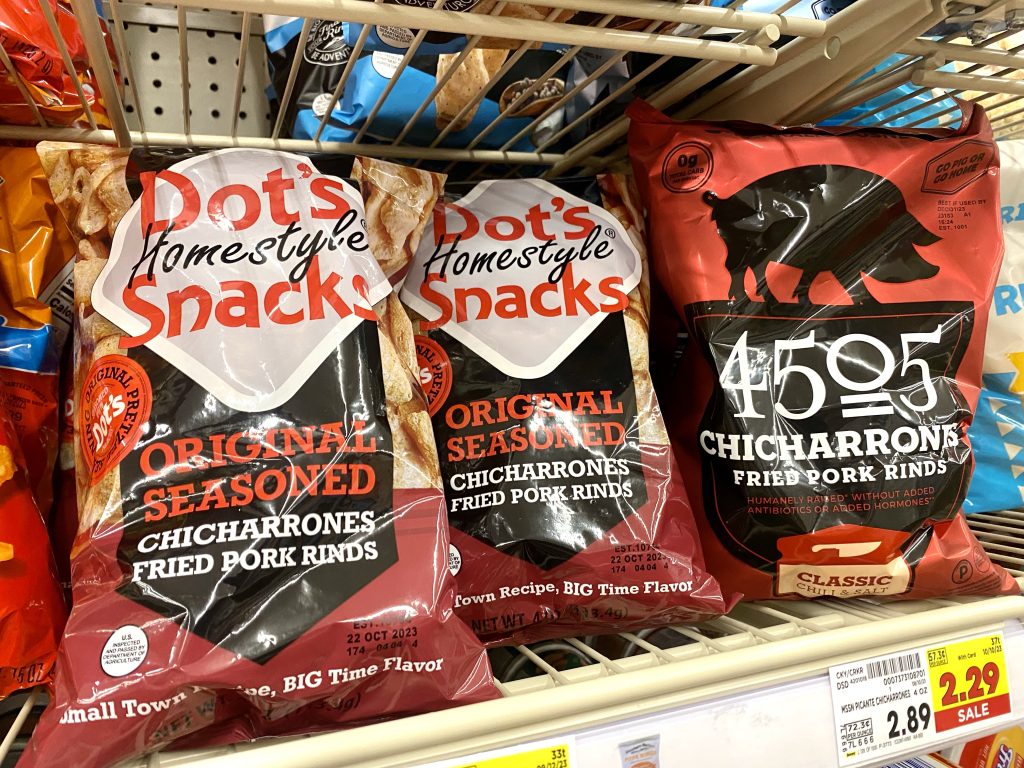 Kroger has many brands of pork rinds, including the popular Dot's pretzel flavored pork rinds.
Pizza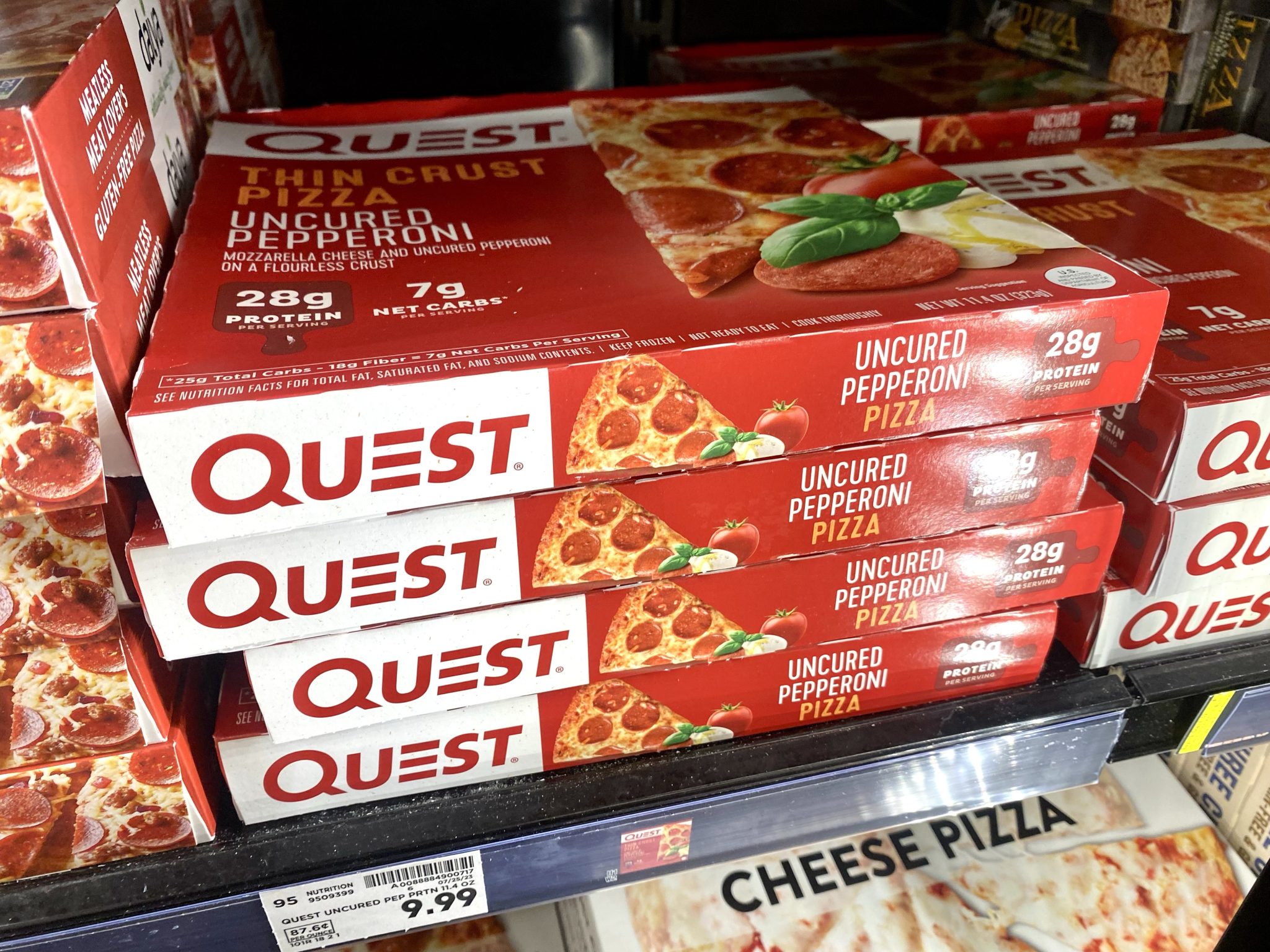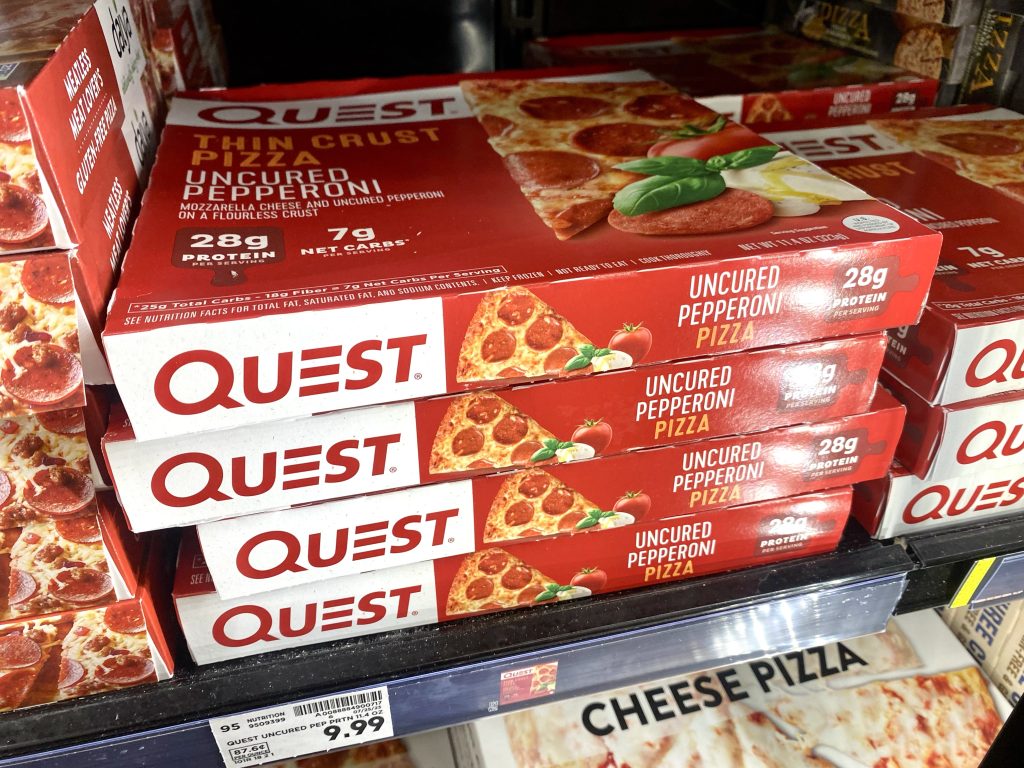 Quest pizzas are low-carb and high protein, a great option when you're craving pizza and don't have time to make a homemade low-carb pizza dough.
Salad Dressing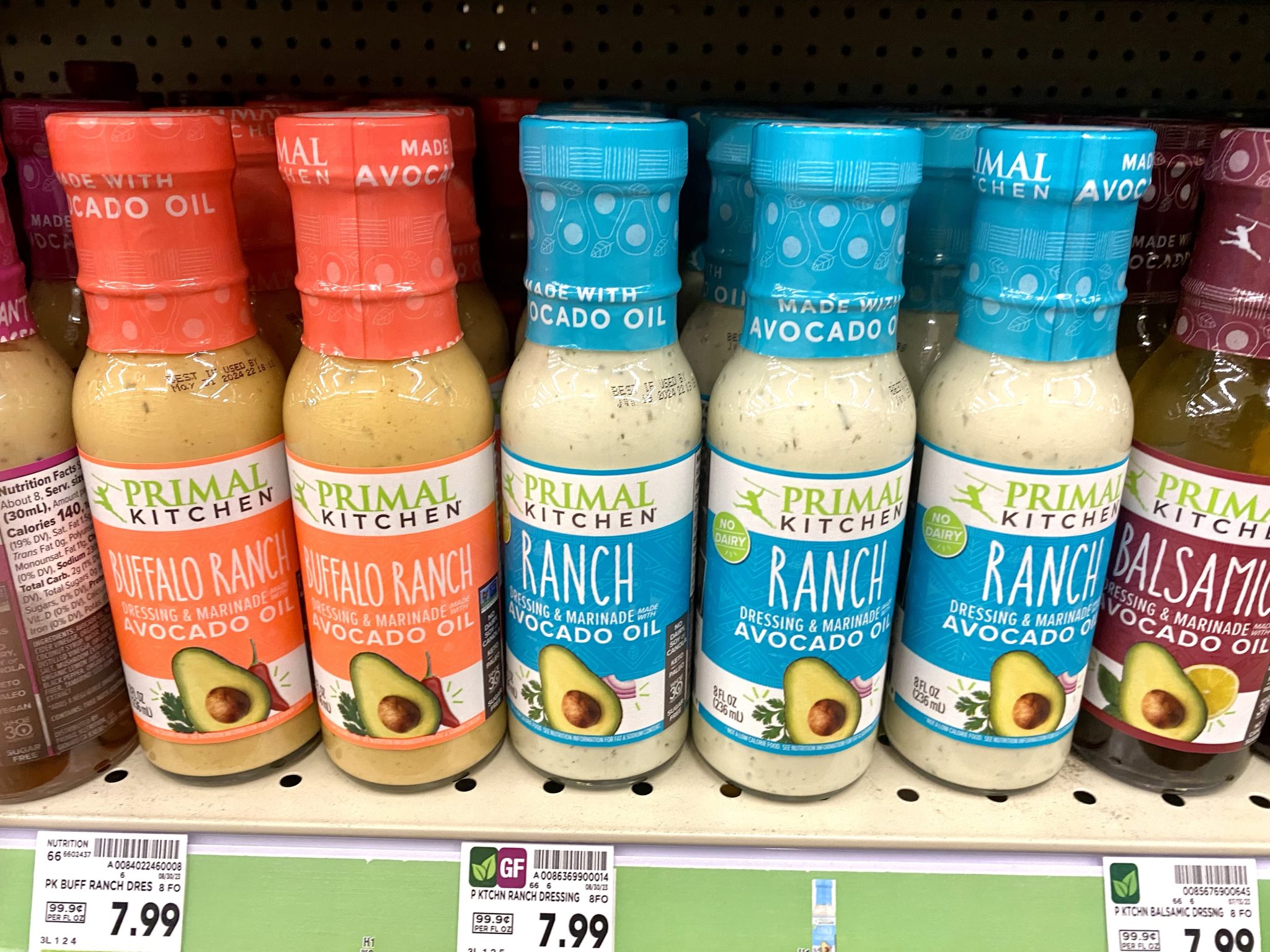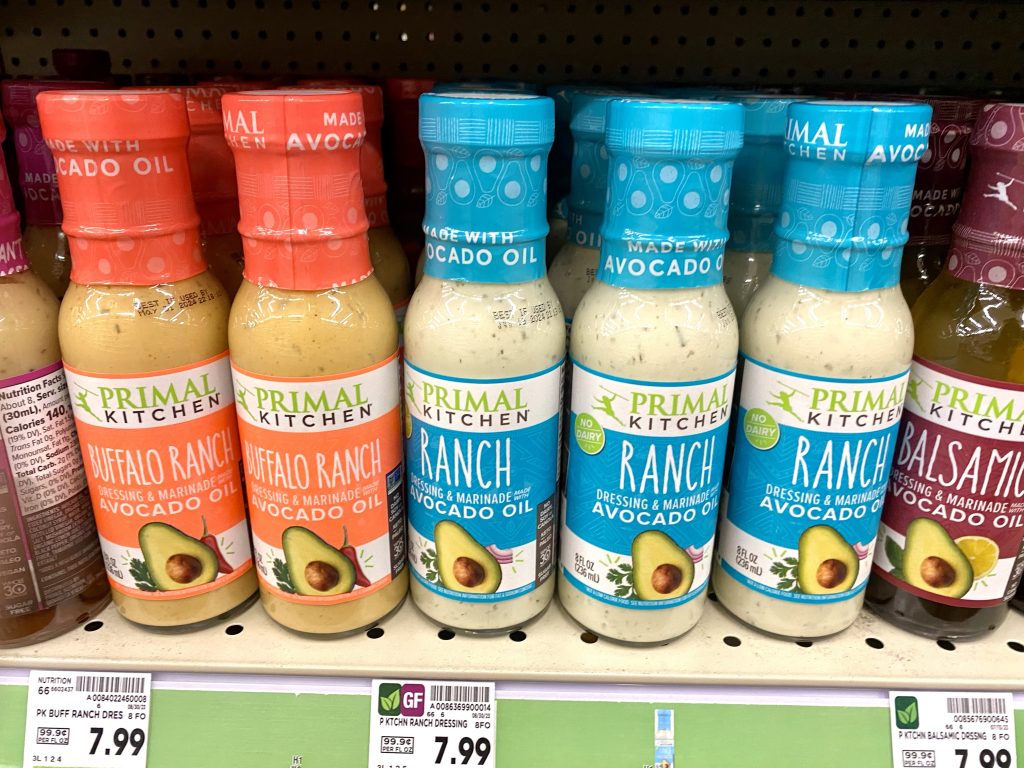 Many store-bought salad dressings are low-carb, but some are made with hydrogenated oils. Primal Kitchen dressings and low-carb marinades are made with avocado oil.
Baking Mix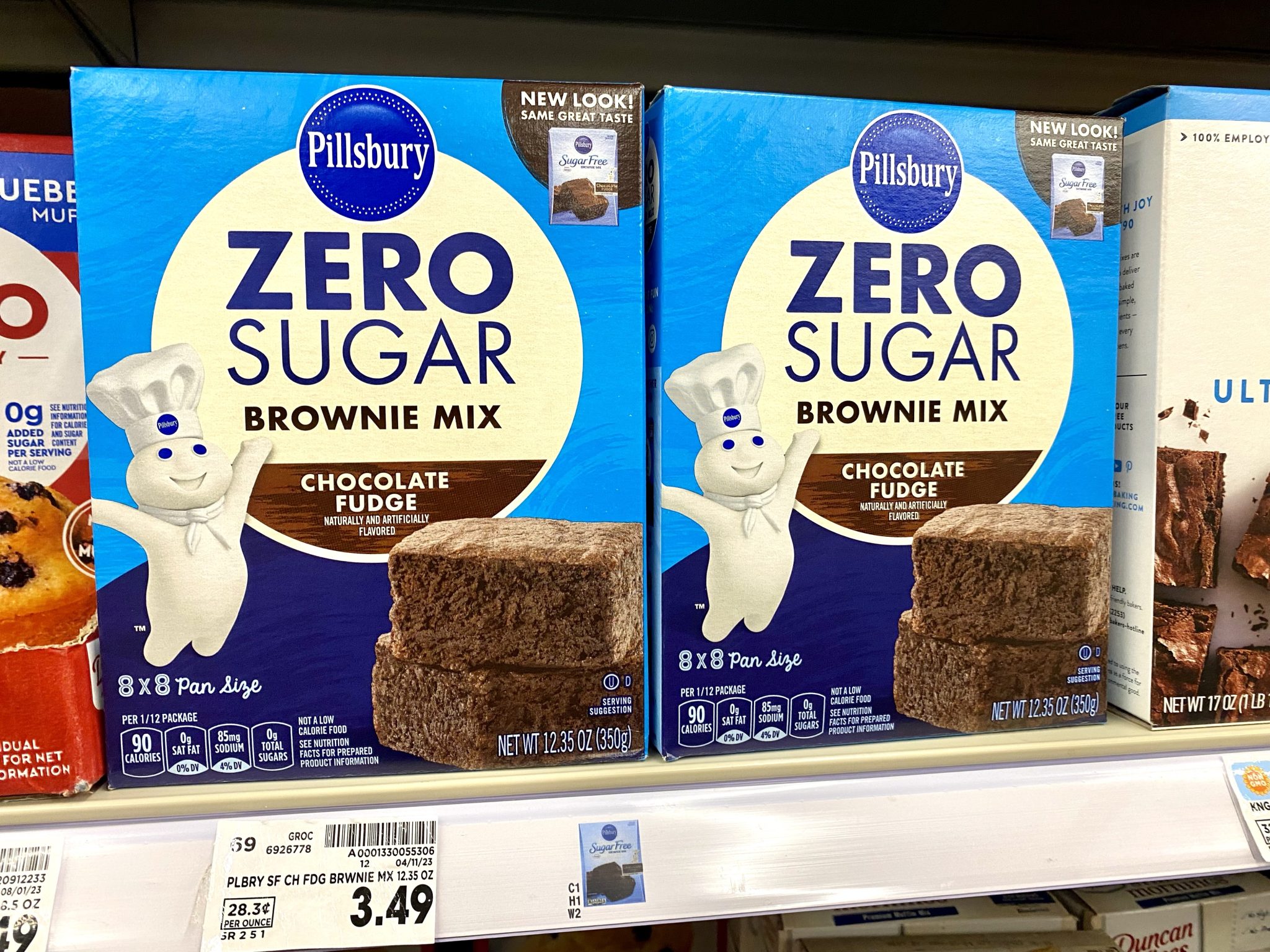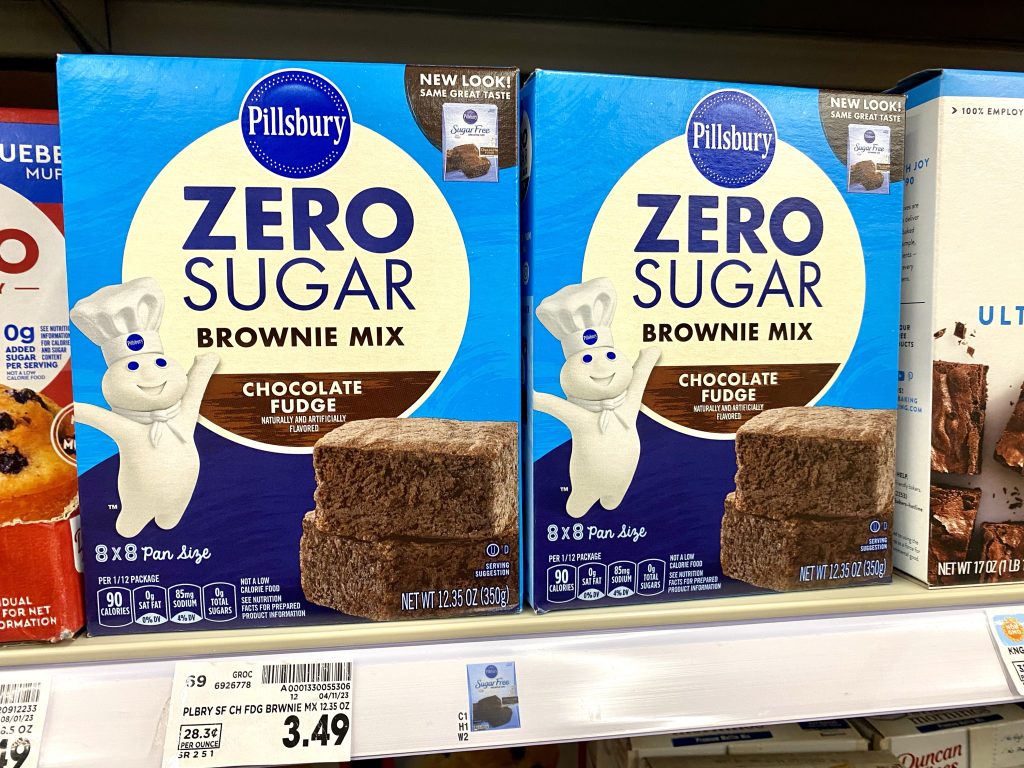 Zero-sugar baking mixes are a convenient option when you want a lower-carb dessert but don't have time to bake from scratch.
Candy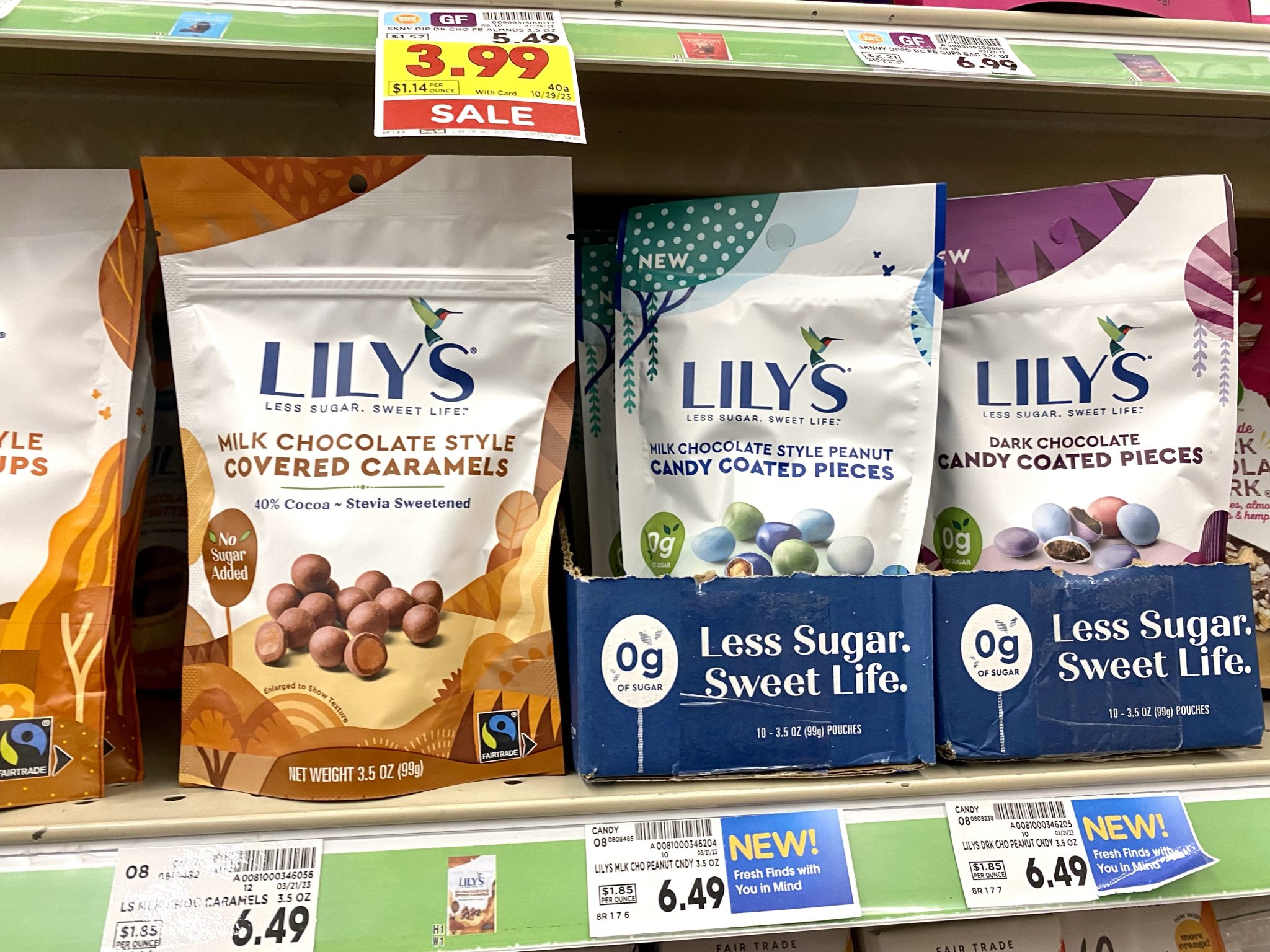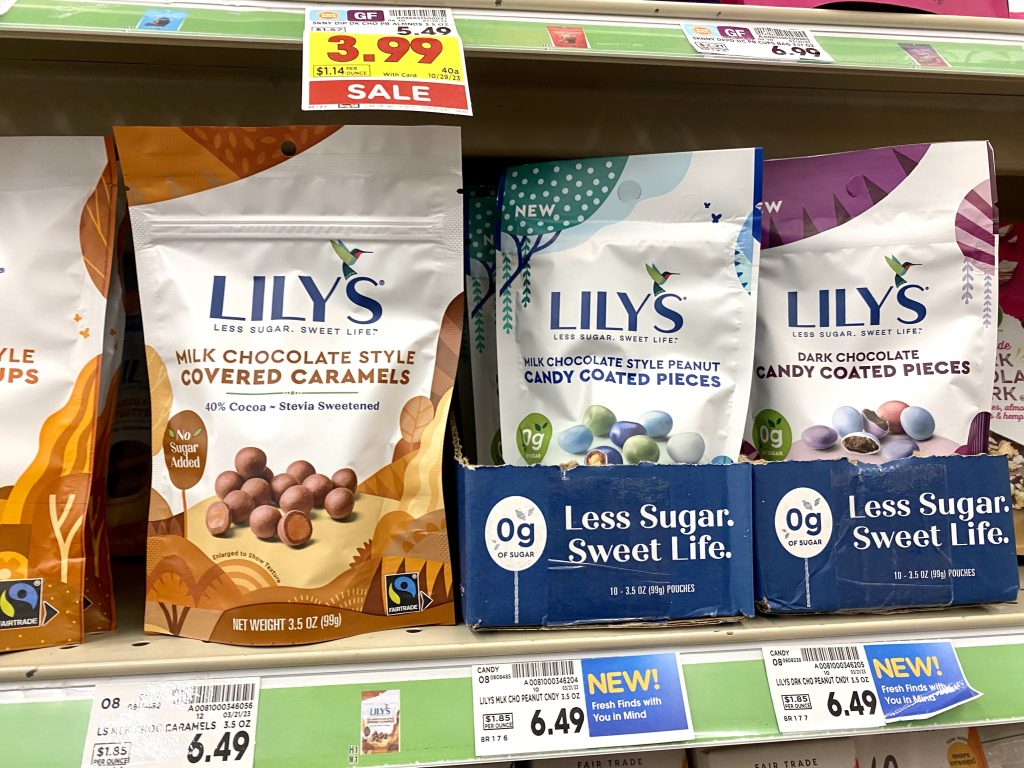 Kroger has a variety of low-carb candies, including the popular brand Lily's. These candies are a tasty way to satisfy your sweet cravings without the added sugars.
Produce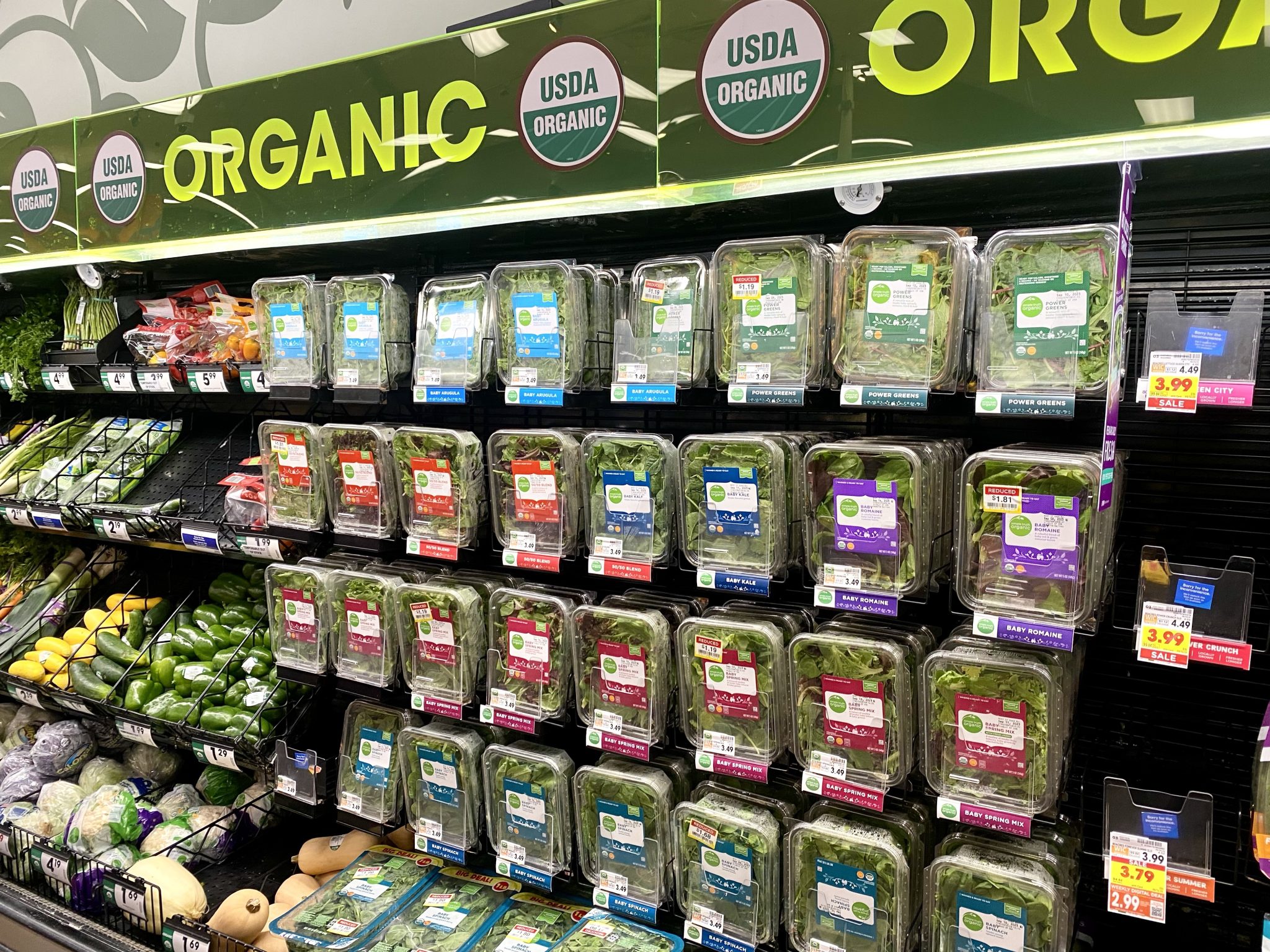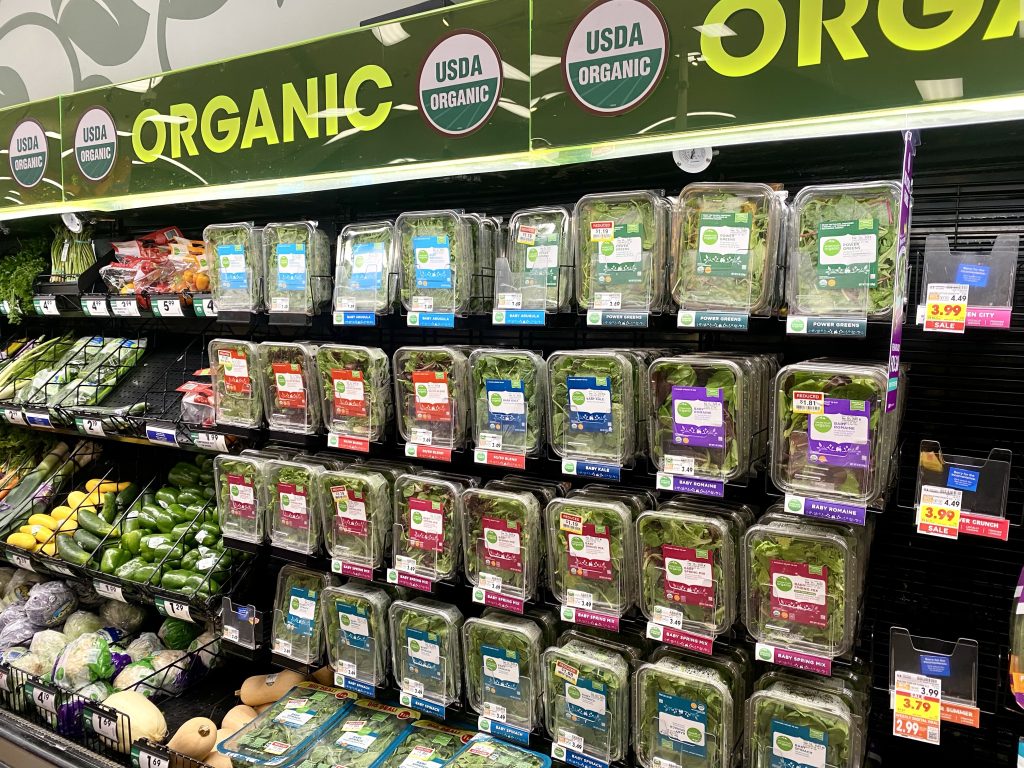 Kroger's fresh produce selection is known for its quality and variety. From crisp, colorful vegetables to berries, you'll find a wide range of options to create healthy and delicious meals.
Cottage Cheese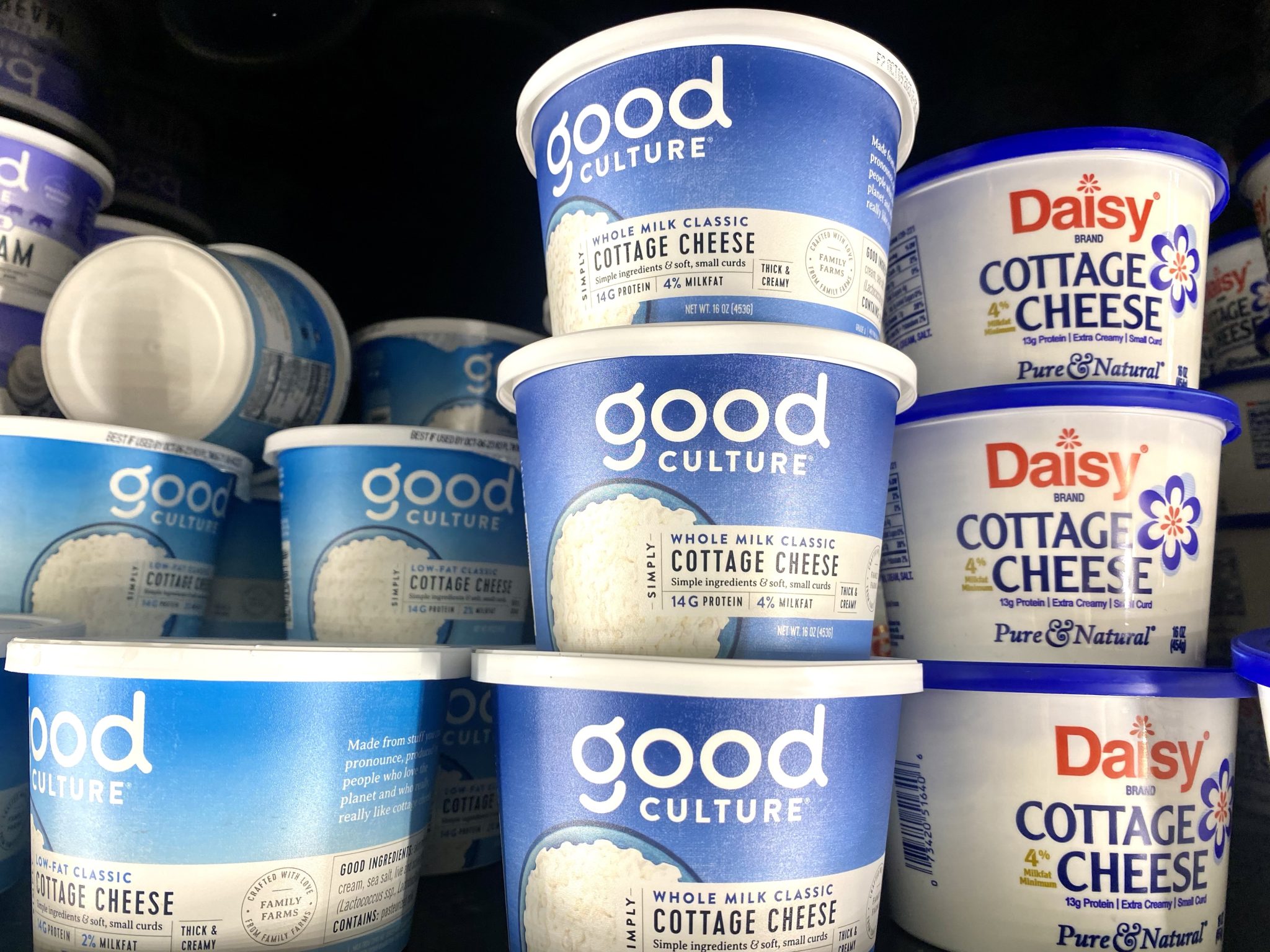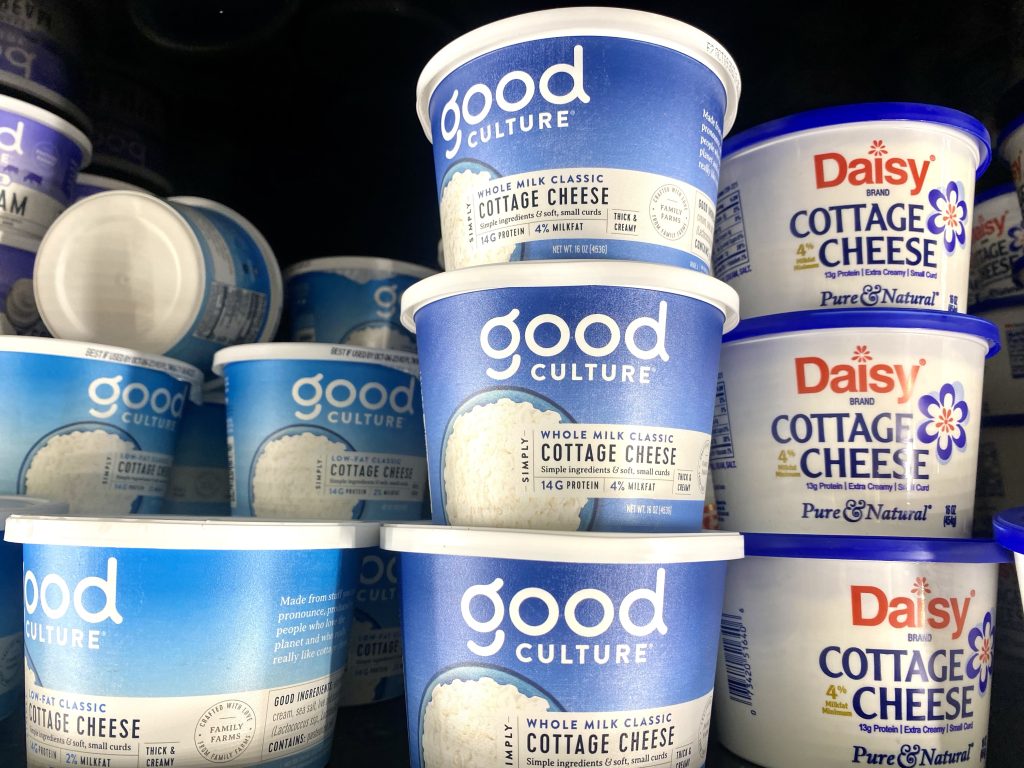 Good Culture cottage cheese is high in protein and made with simple ingredients. It has only 3 net carbs per serving, compared to the 5 net carbs in most cottage cheese. There are many creative ways to add cottage cheese to your meals.
Moon Cheese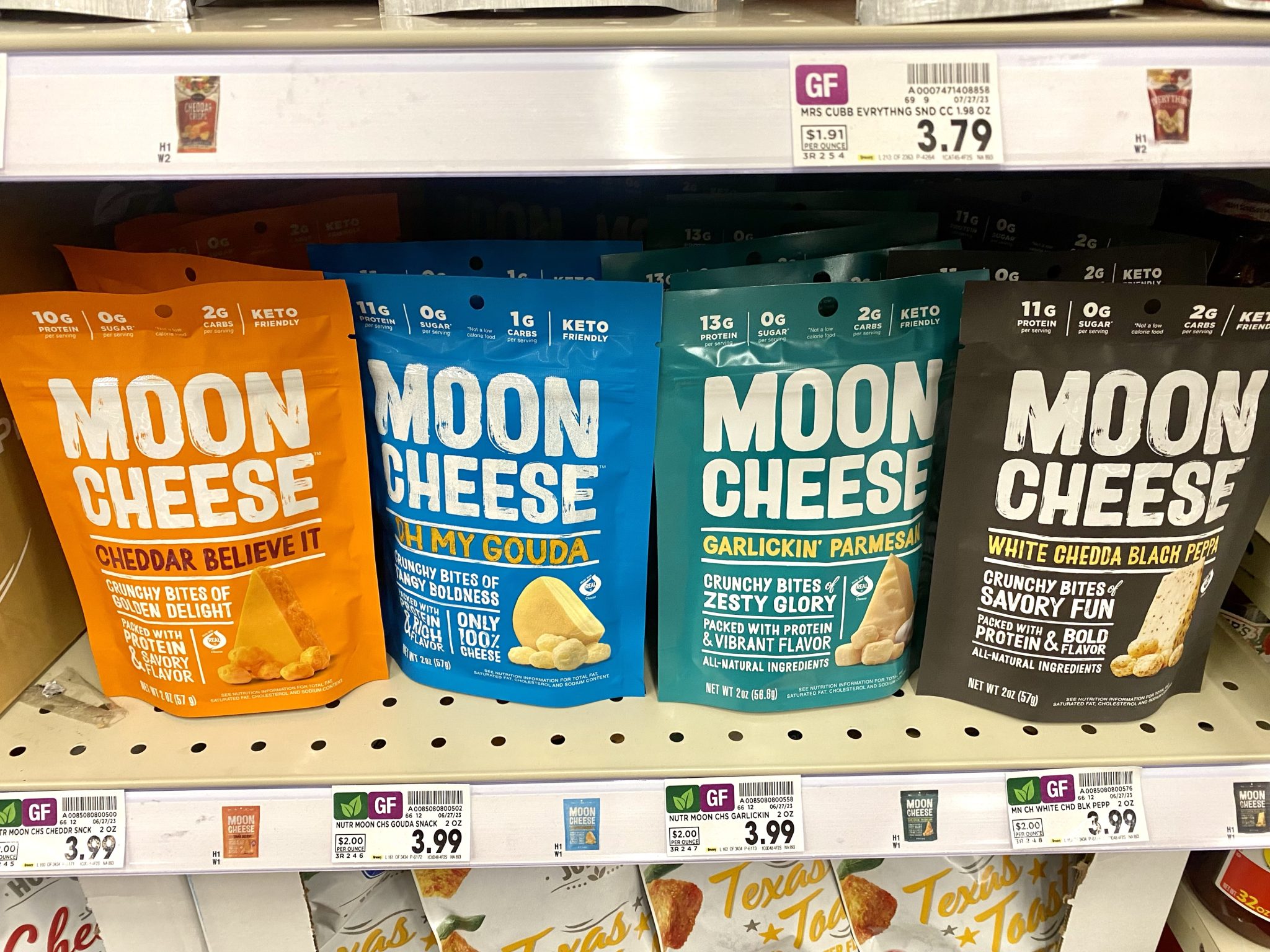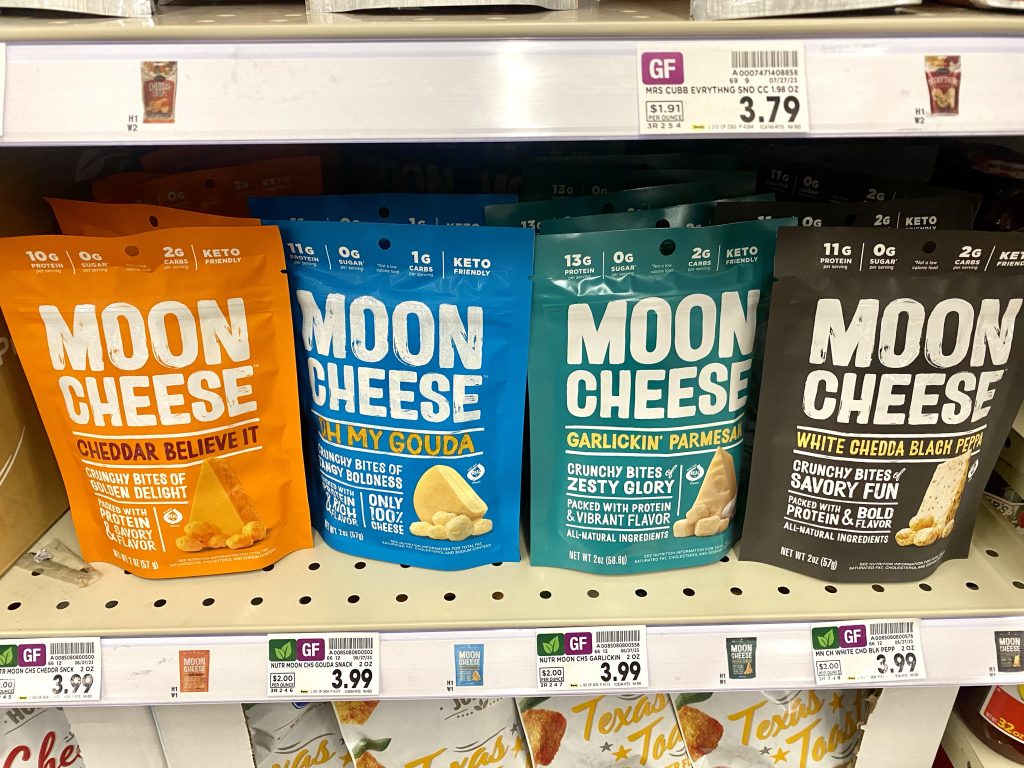 When you are craving a crispy, savory, and low-carb snack, give Moon Cheese a try. Kroger carries a variety of flavors.
Pancake Mix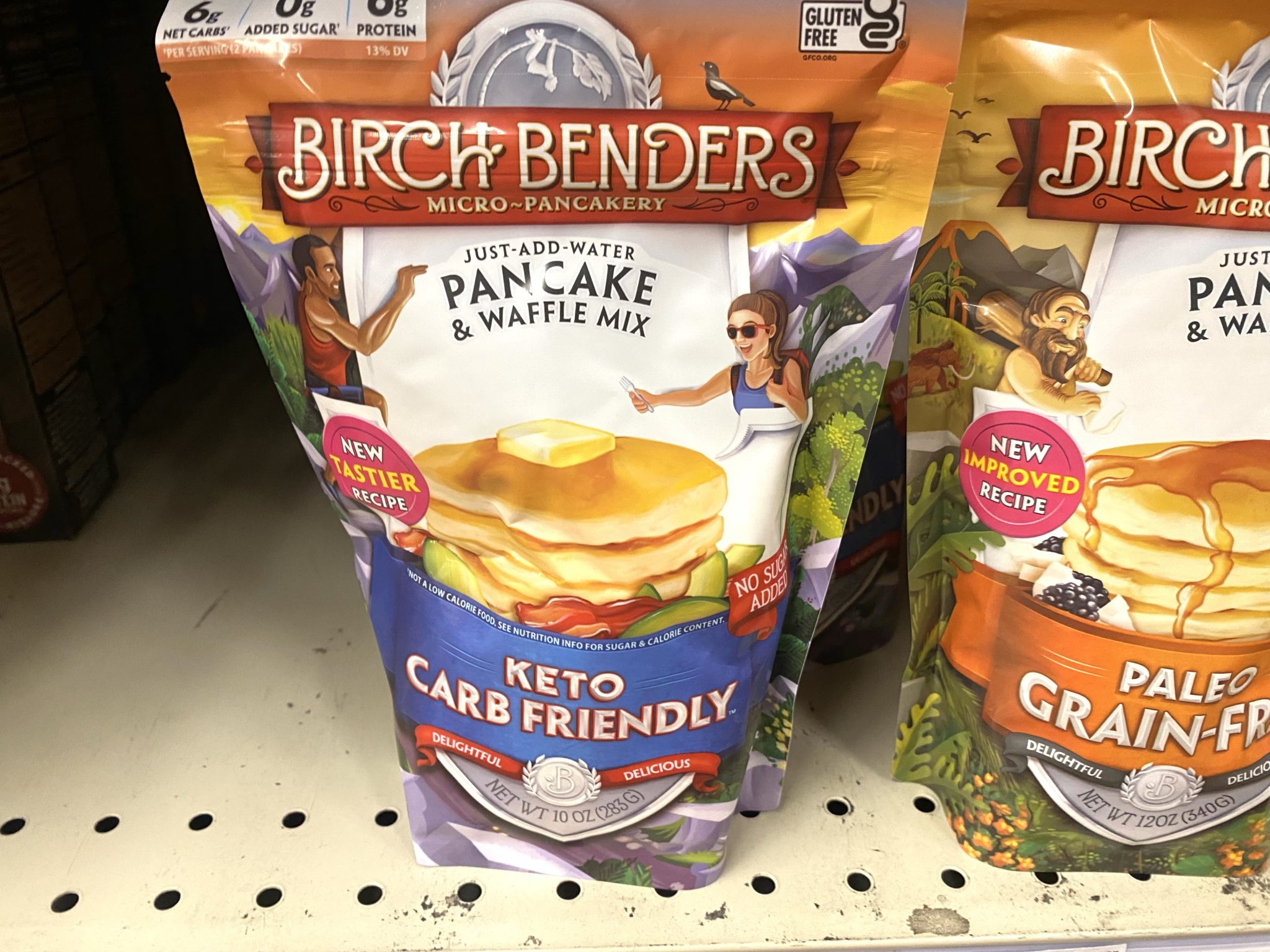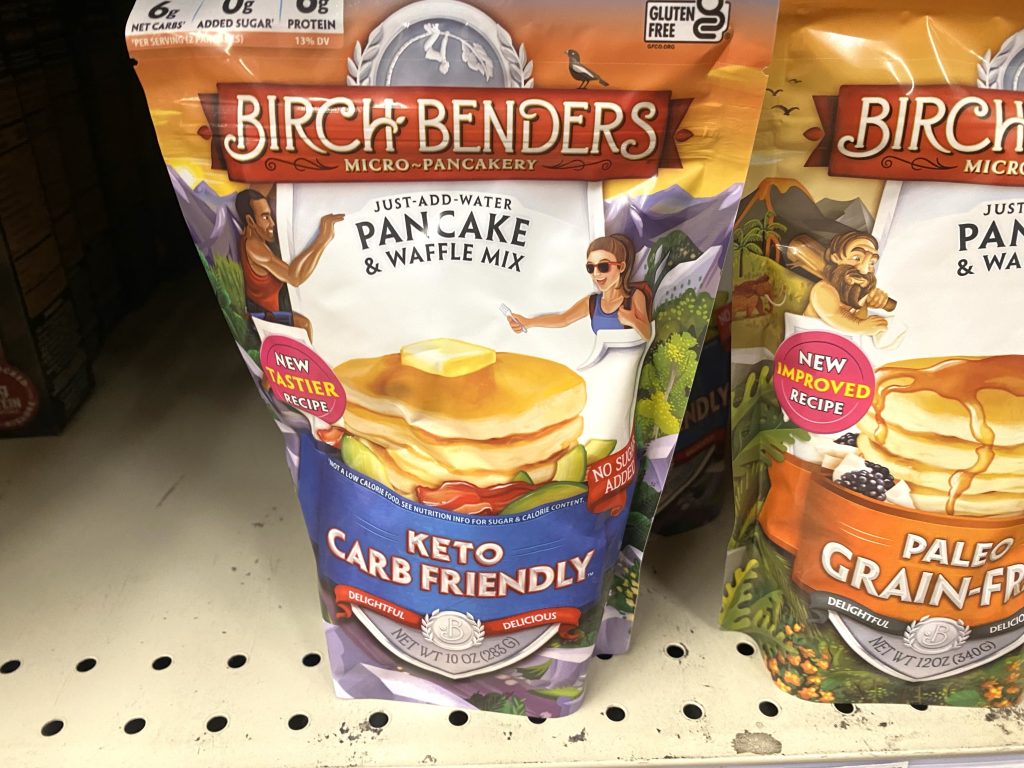 Birch Benders pancake and waffle mix is keto-friendly and free of added sugars, requiring only water to prepare.
Ketchup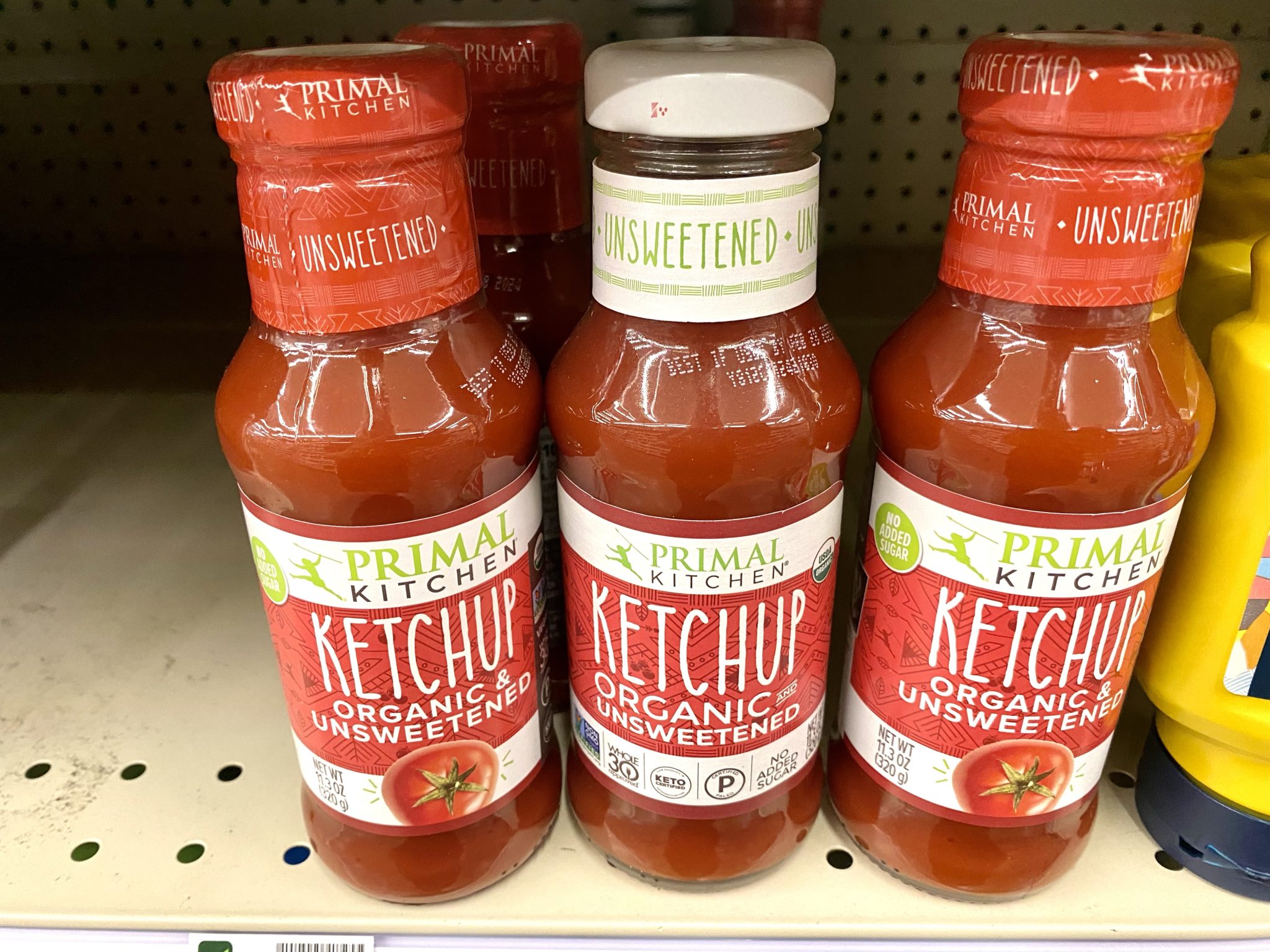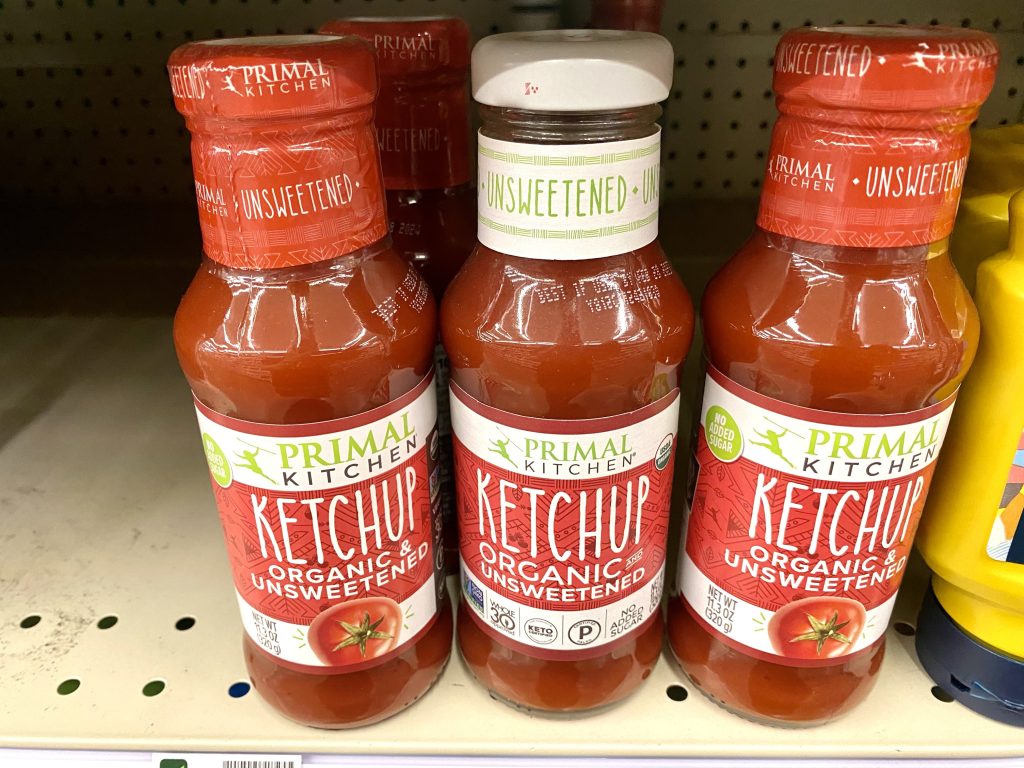 You don't have to miss ketchup on keto. Kroger has several great options. Primal Kitchen ketchup is unsweetened, keto-certified, and Whole 30-approved.
Mayonnaise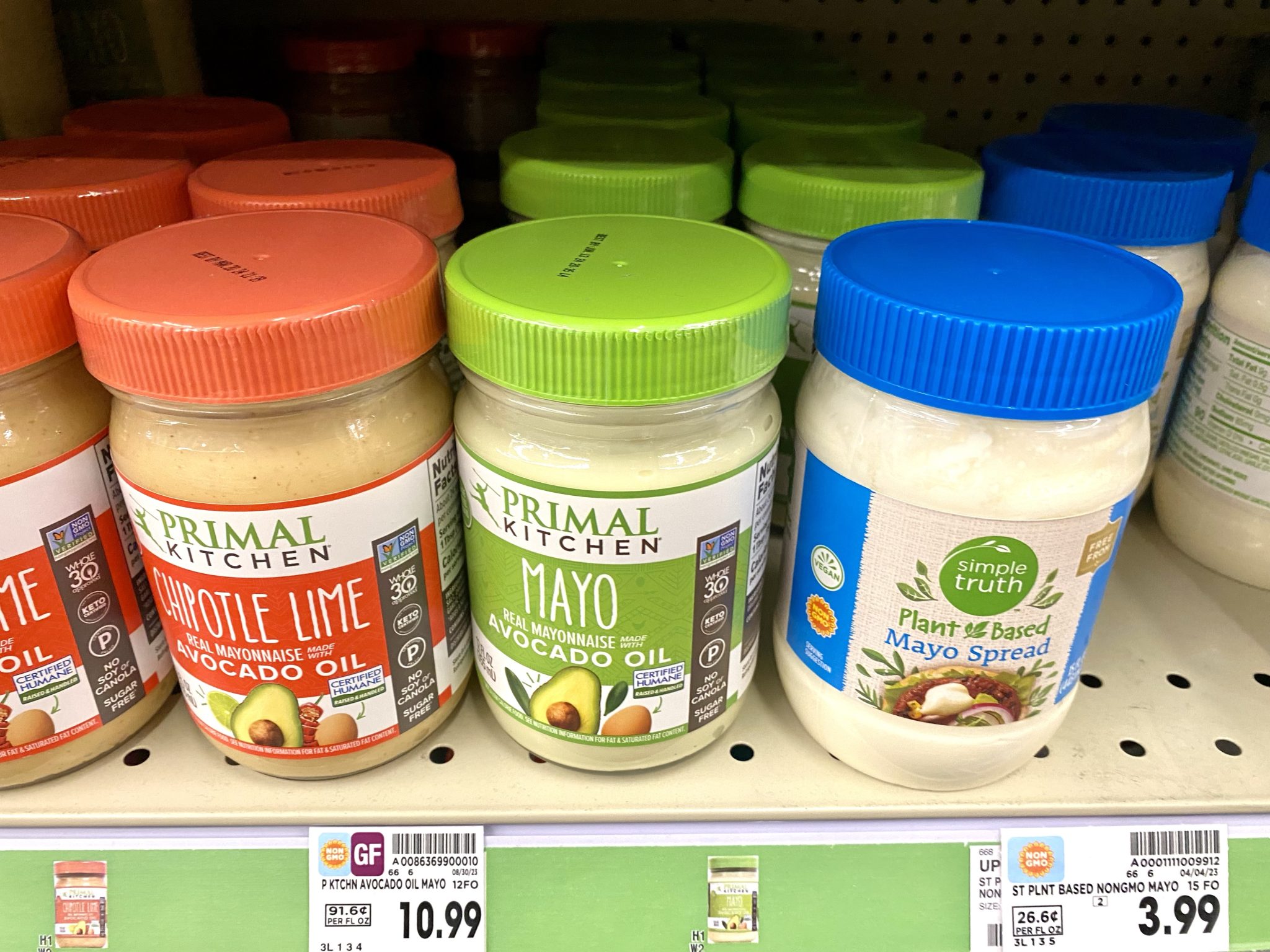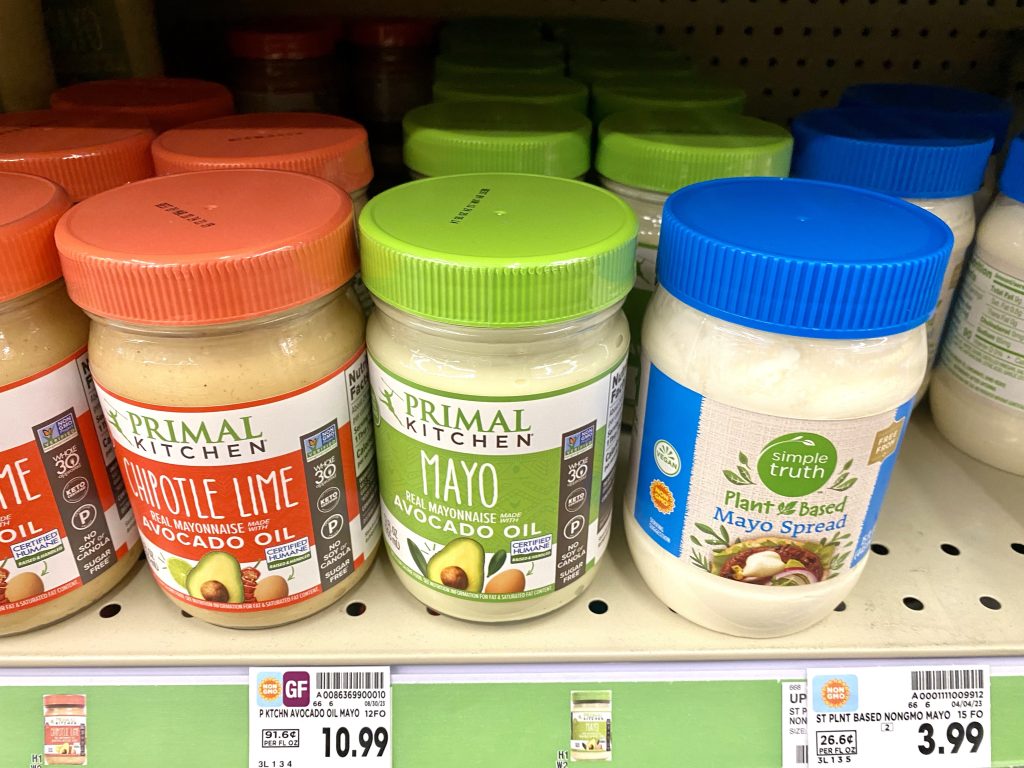 Kroger offers a wide variety of mayo, including keto-friendly options made with avocado and no hydrogenated oils.
Chocolate Chips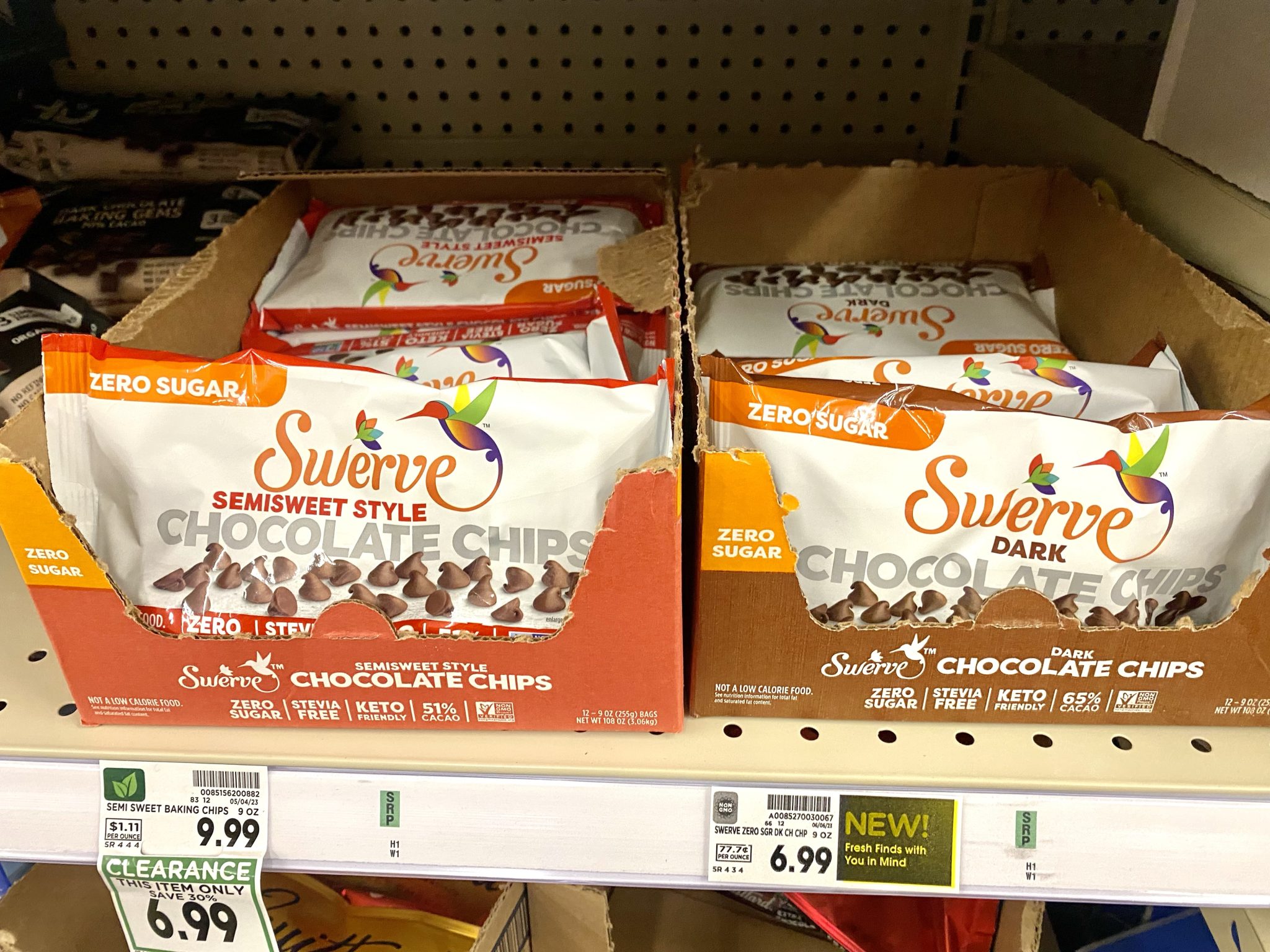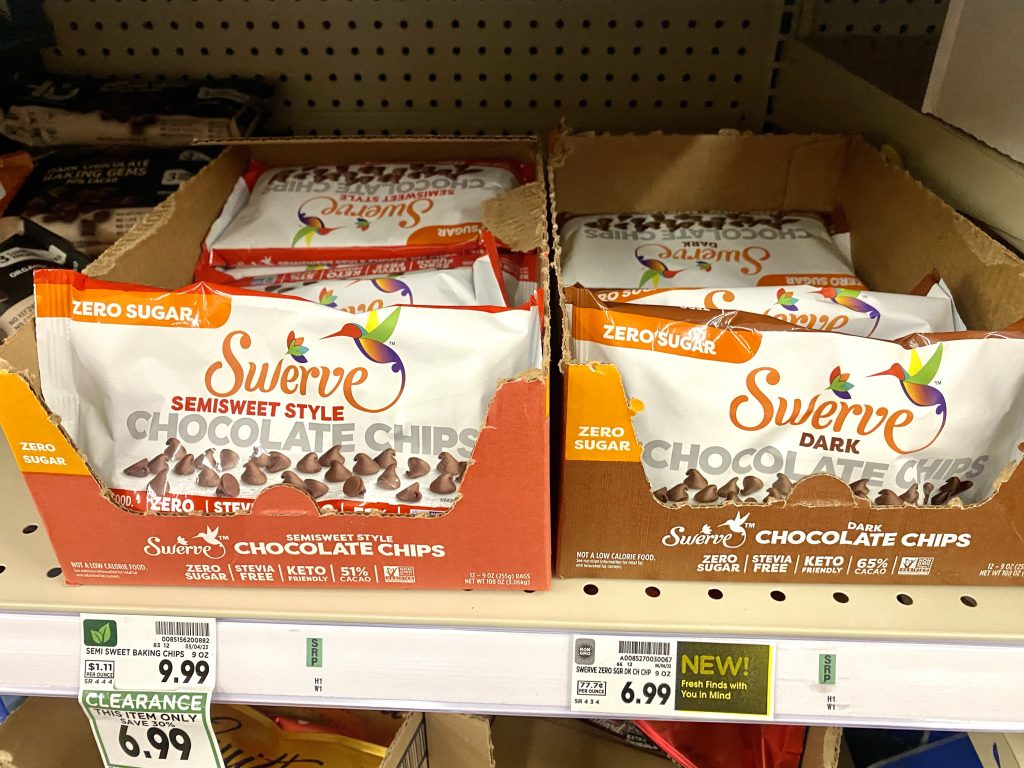 Swerve's zero-sugar chocolate chips come in dark and semisweet chocolate, making them perfect for creating keto-friendly desserts.
Protein Chips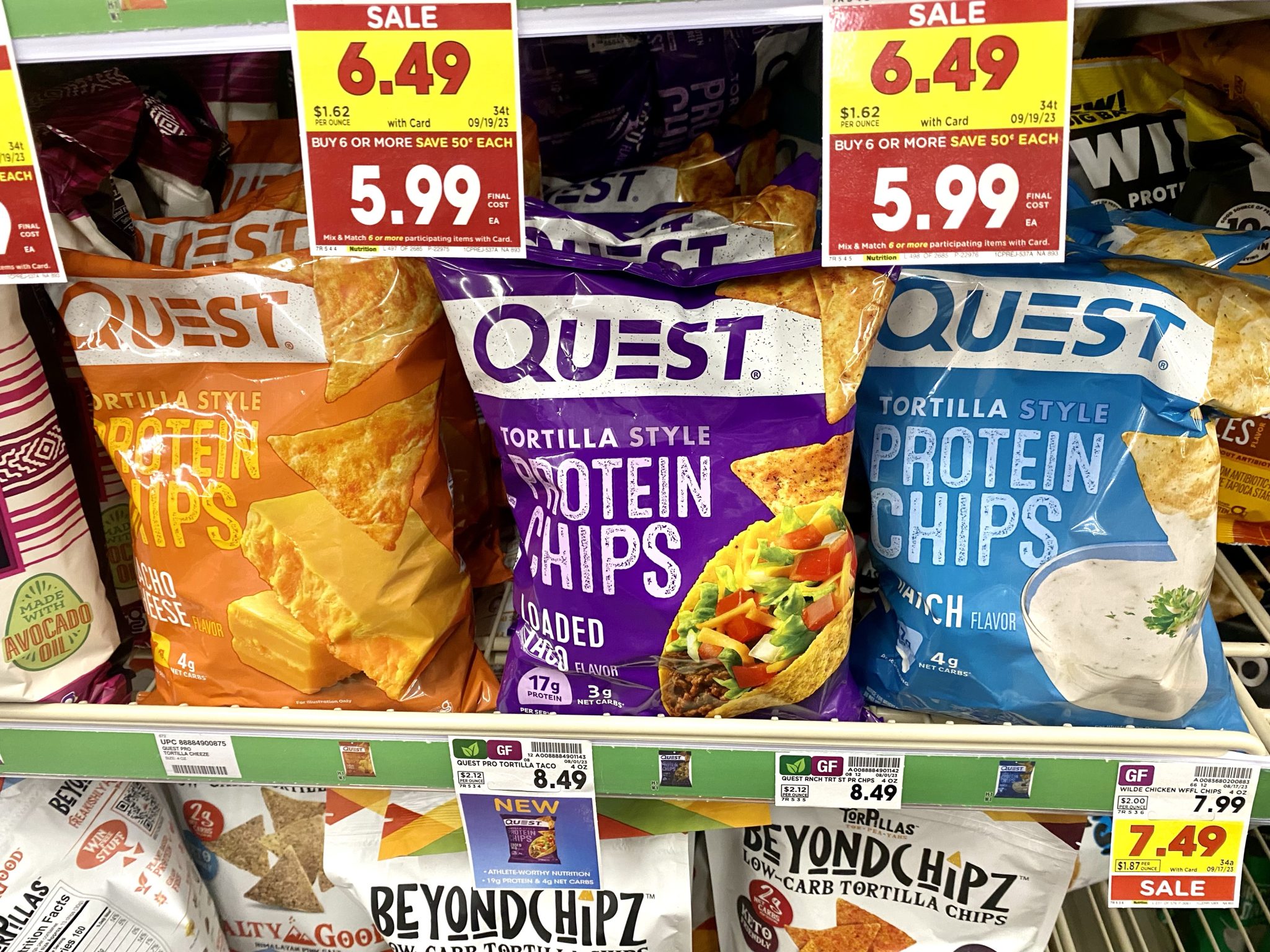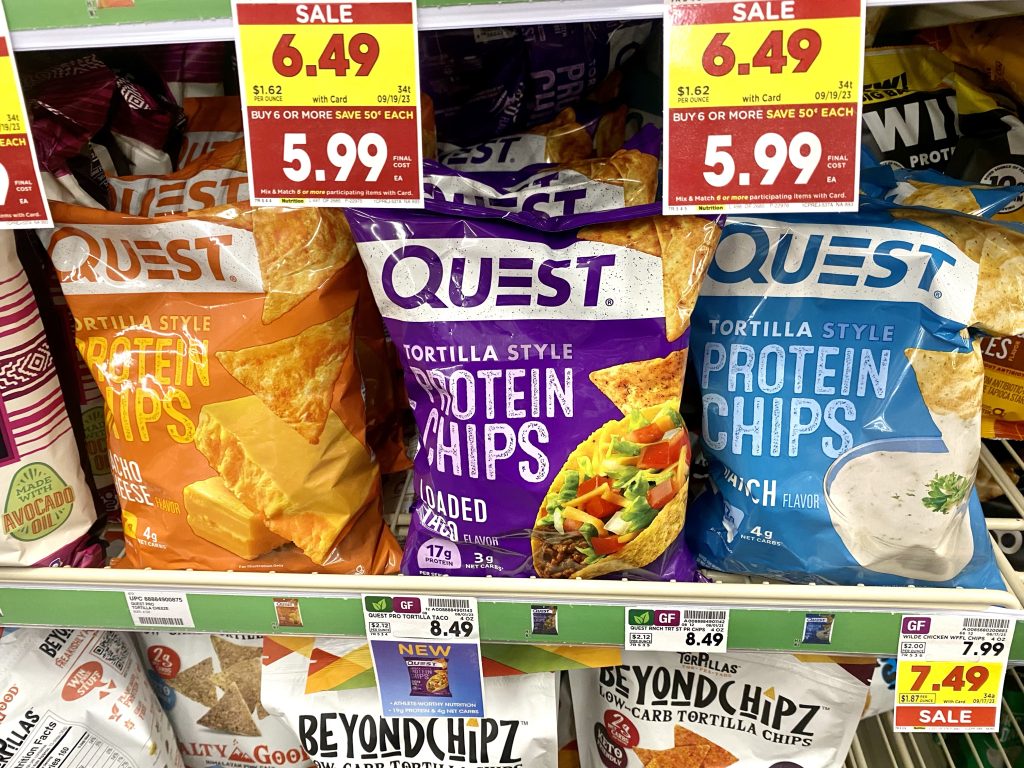 Quest protein chips are low-carb and come in a variety of flavors. They are perfect for pairing with soups, salads, and keto sandwiches.
Marinara Sauce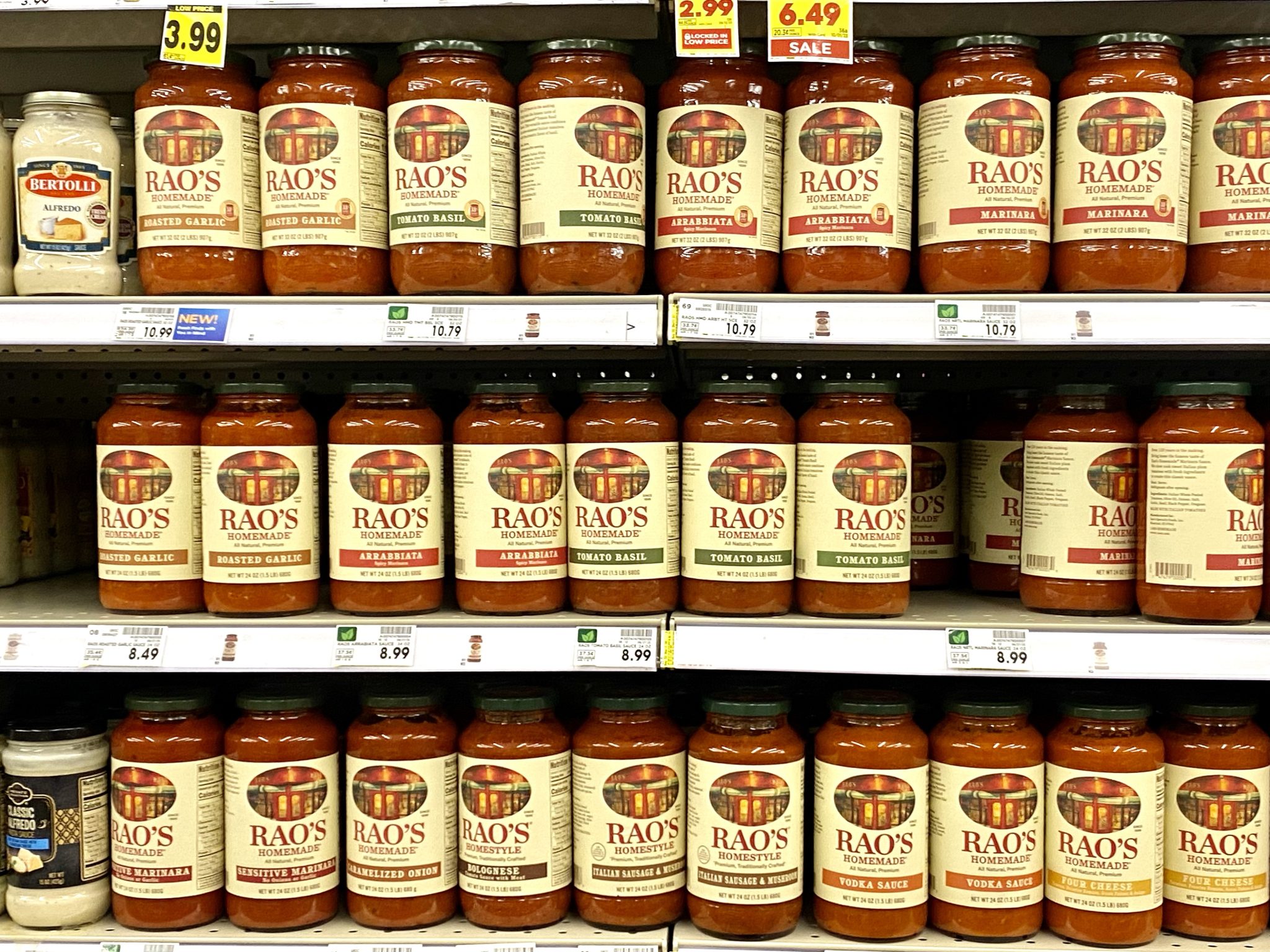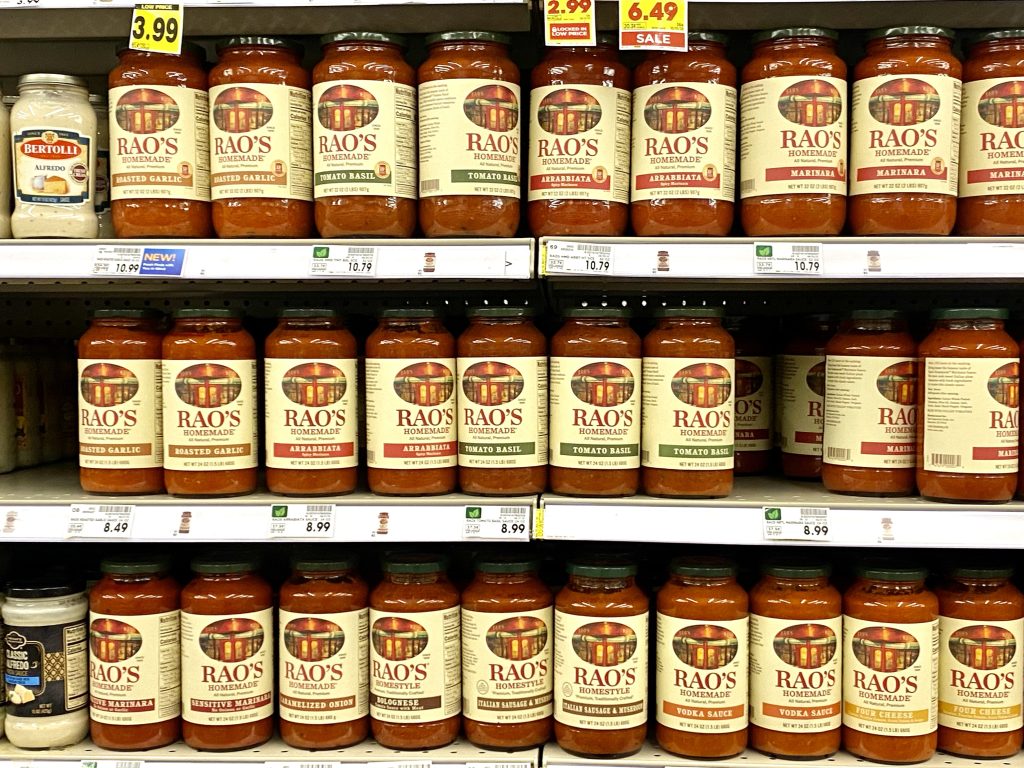 Rao's Marinara sauce is popular among those following a keto lifestyle due to its simple ingredients, and zero added sugars, resulting in fewer carbs. Try in Cheesy Lasagna Soup.
Publix Low Carb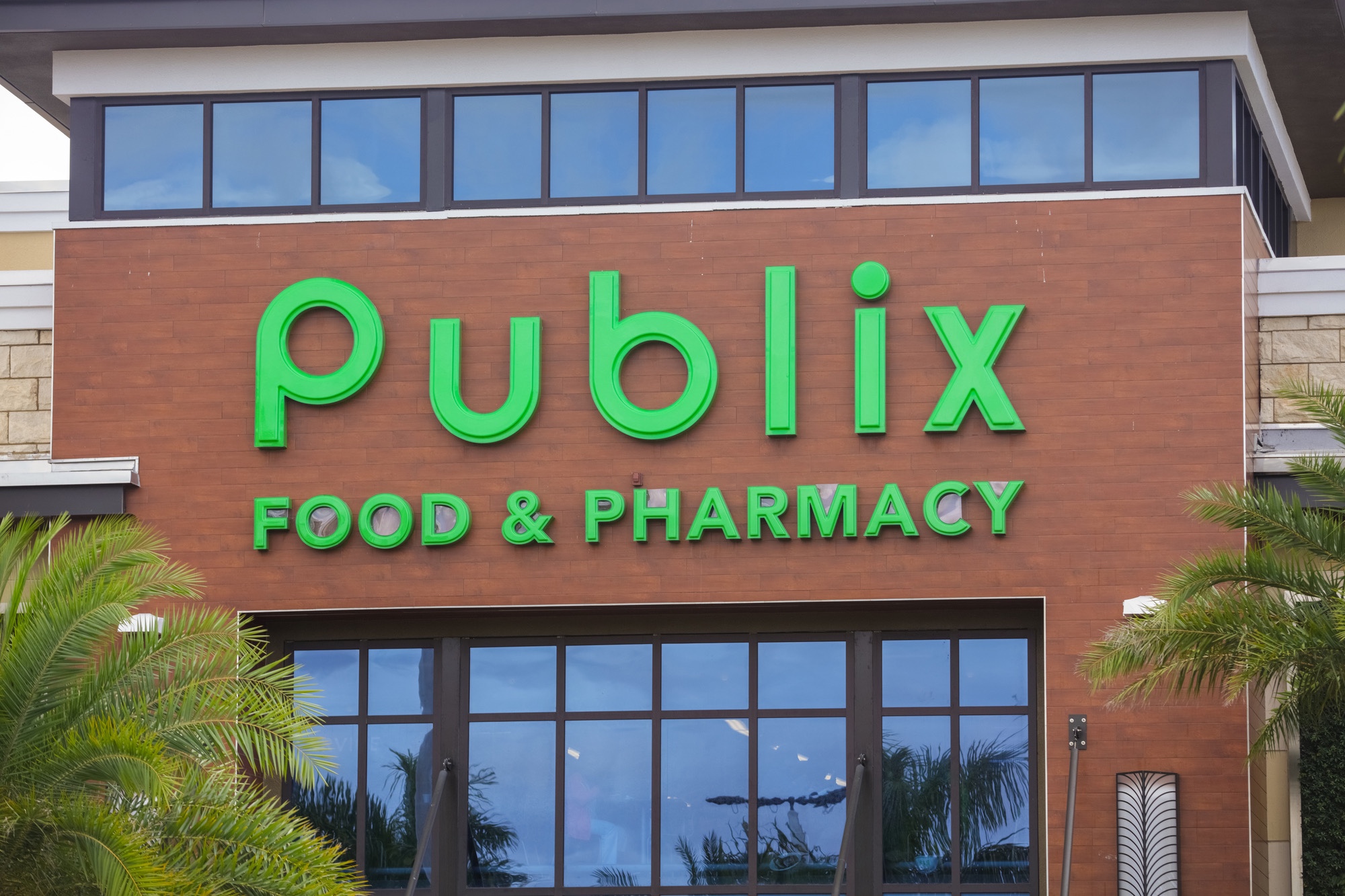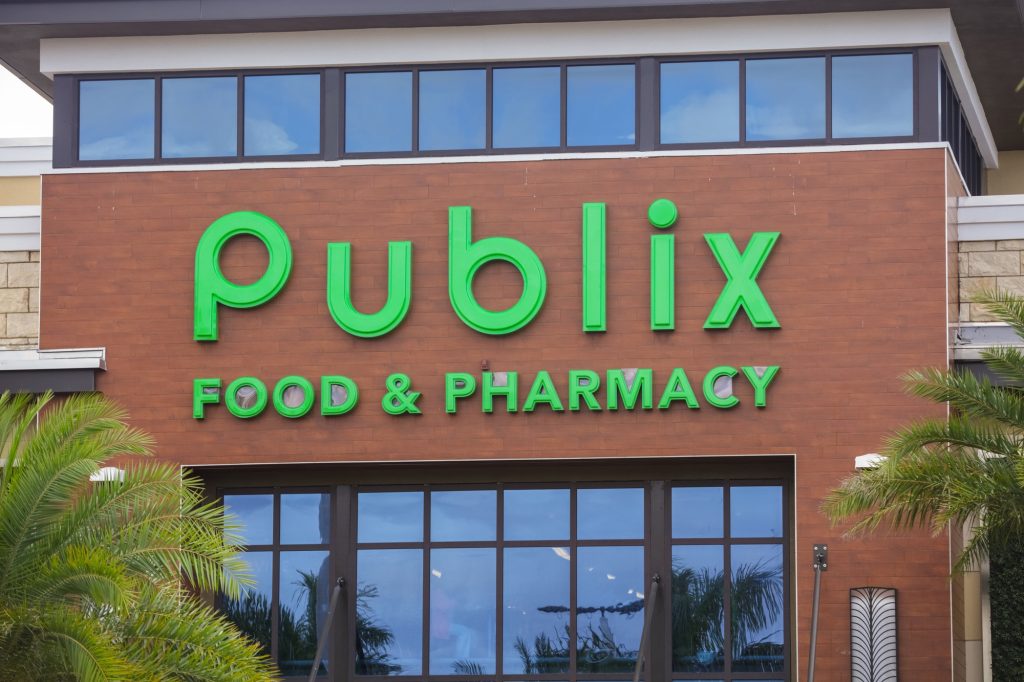 25 Best Great Low Carb Finds at Publix
Trader Joe's Low Carb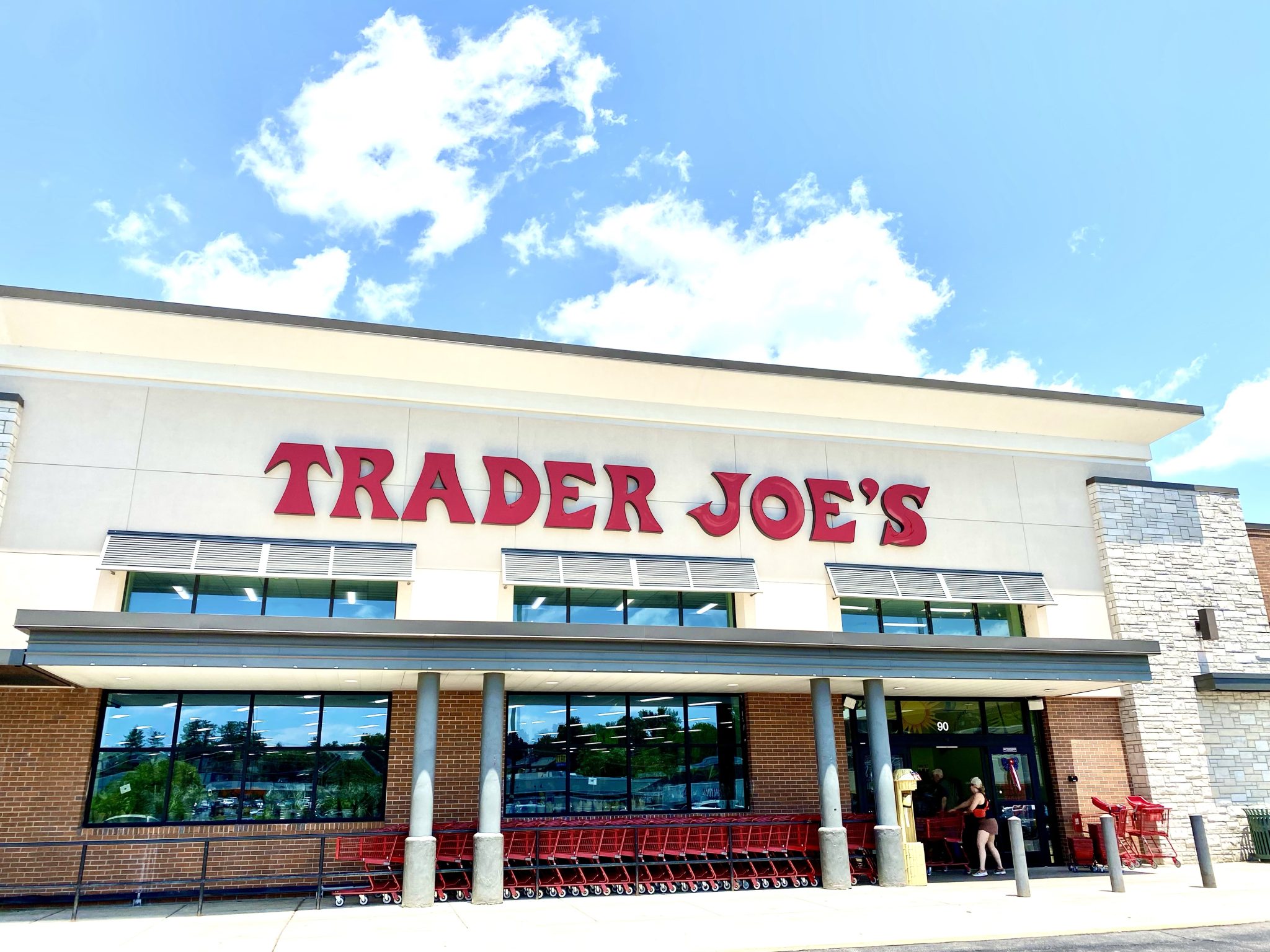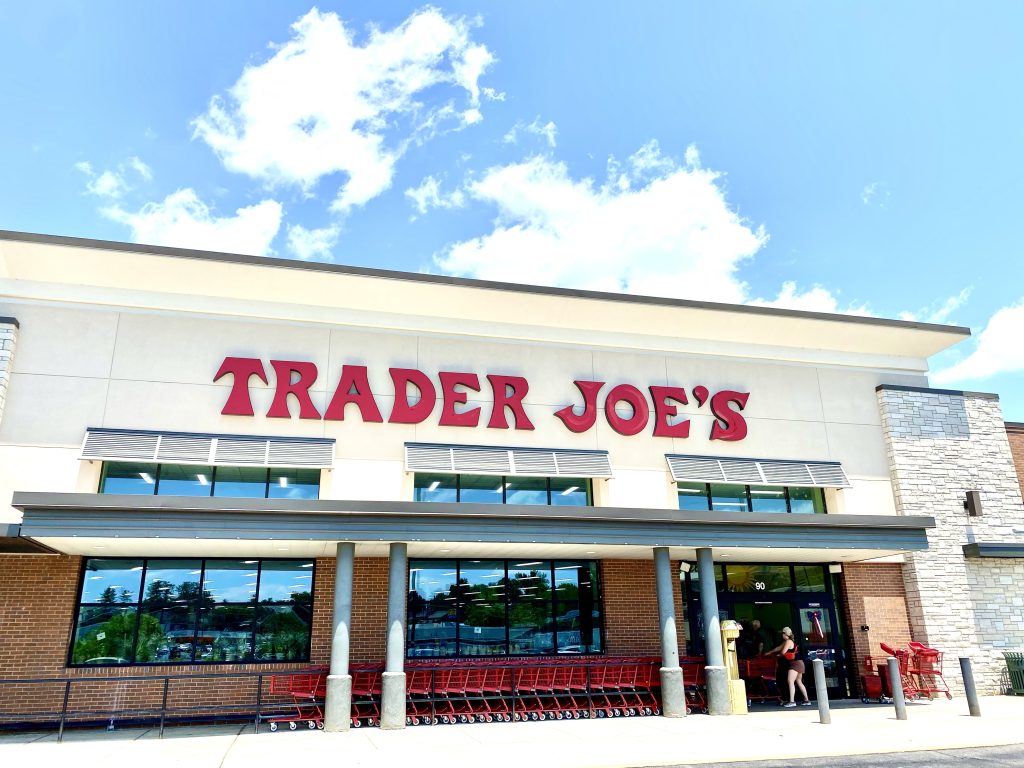 Over 25 Fantastic Low Carb Finds at Trader Joe's
Target Low Carb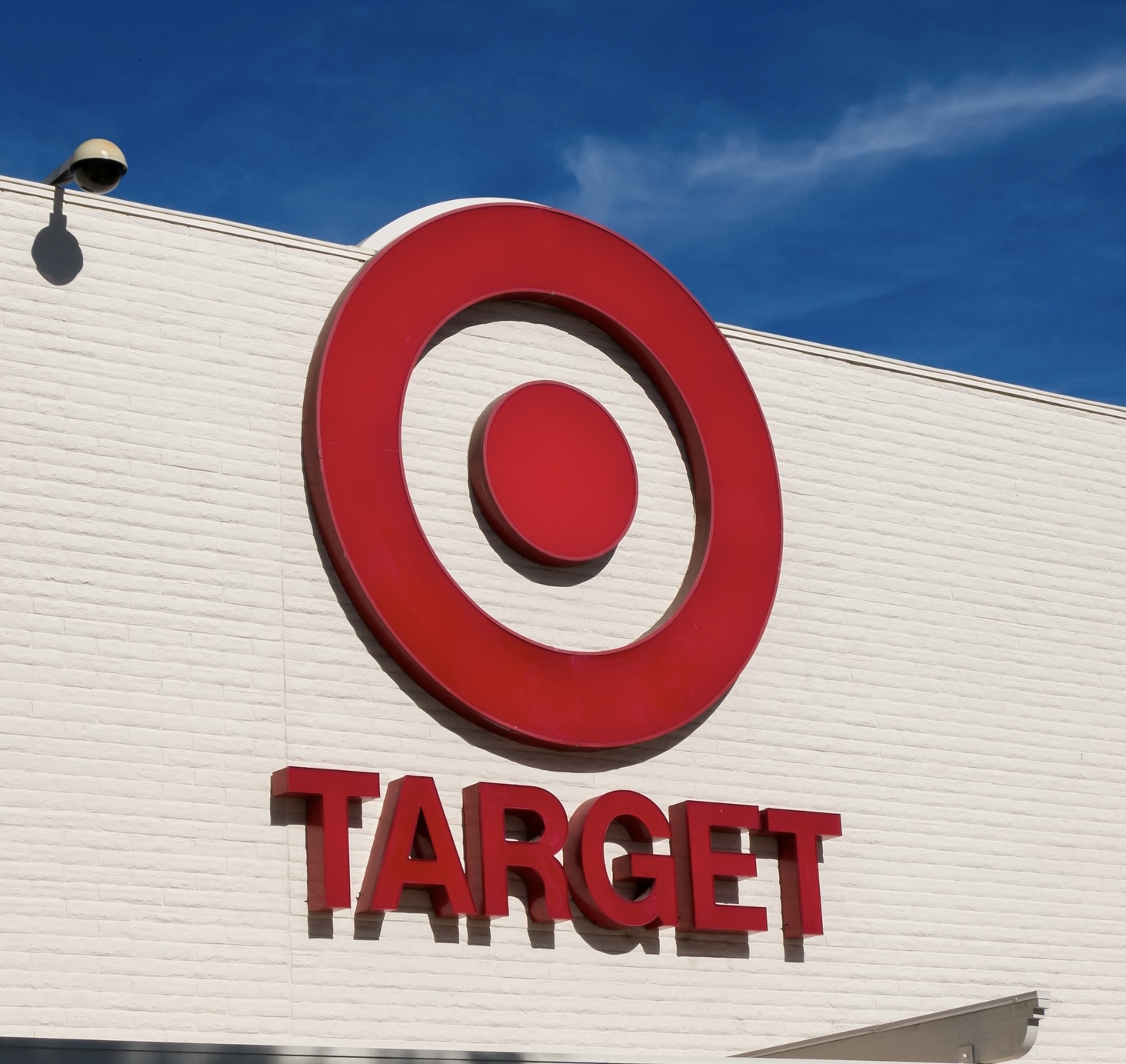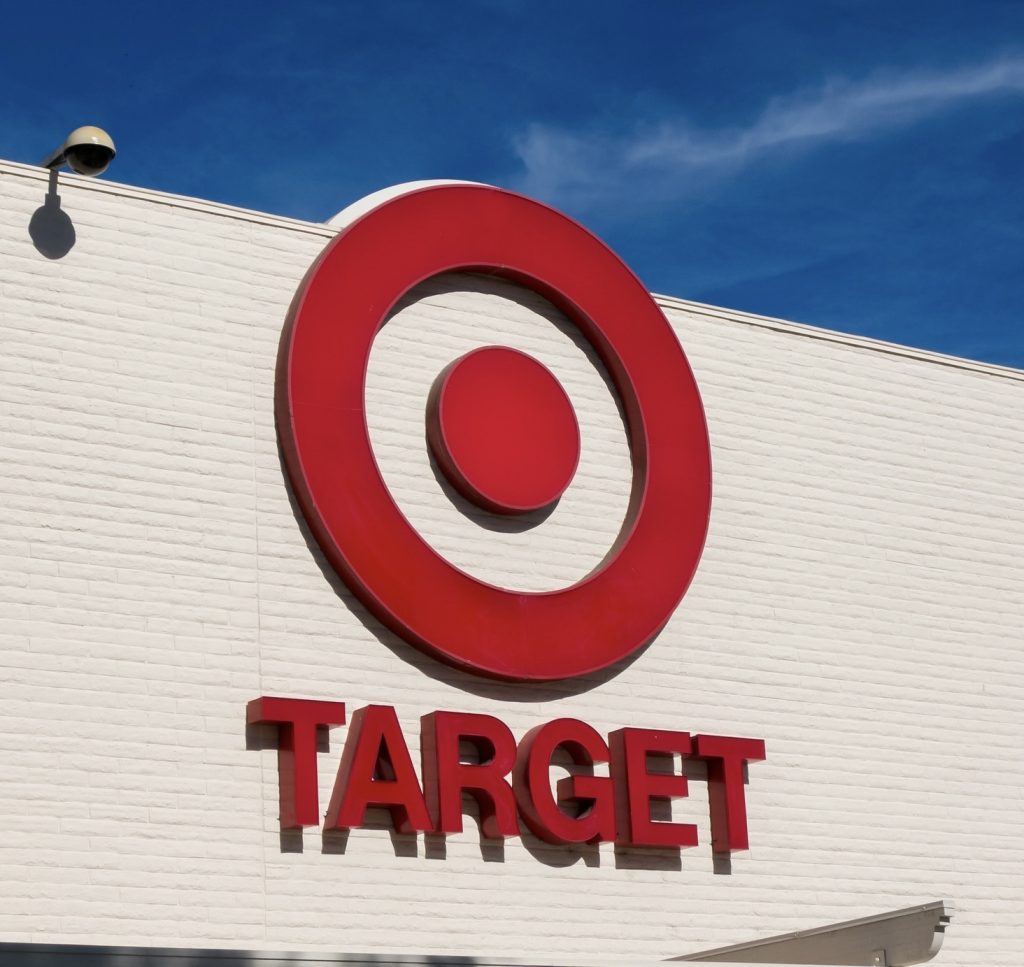 Costco Low Carb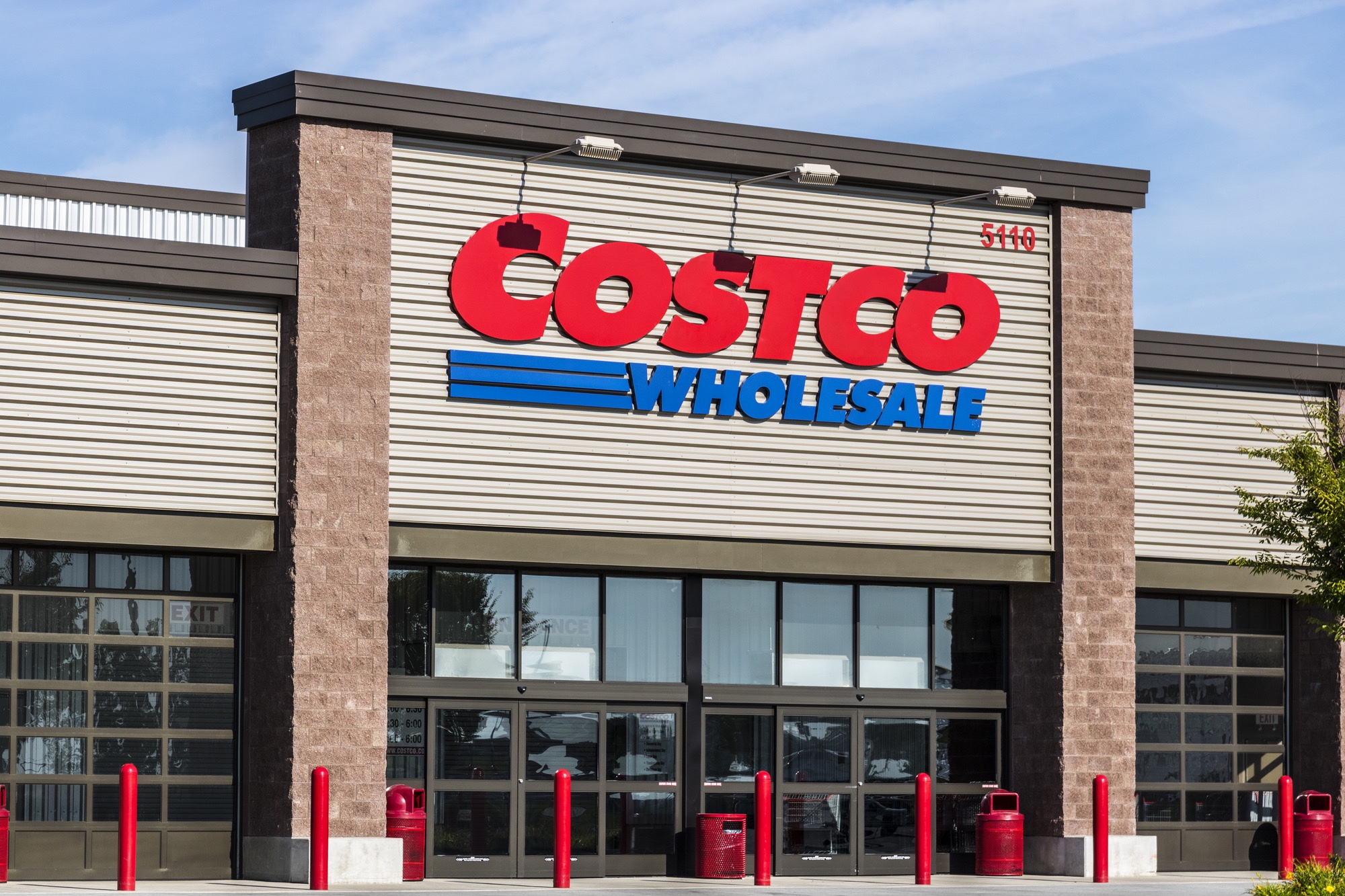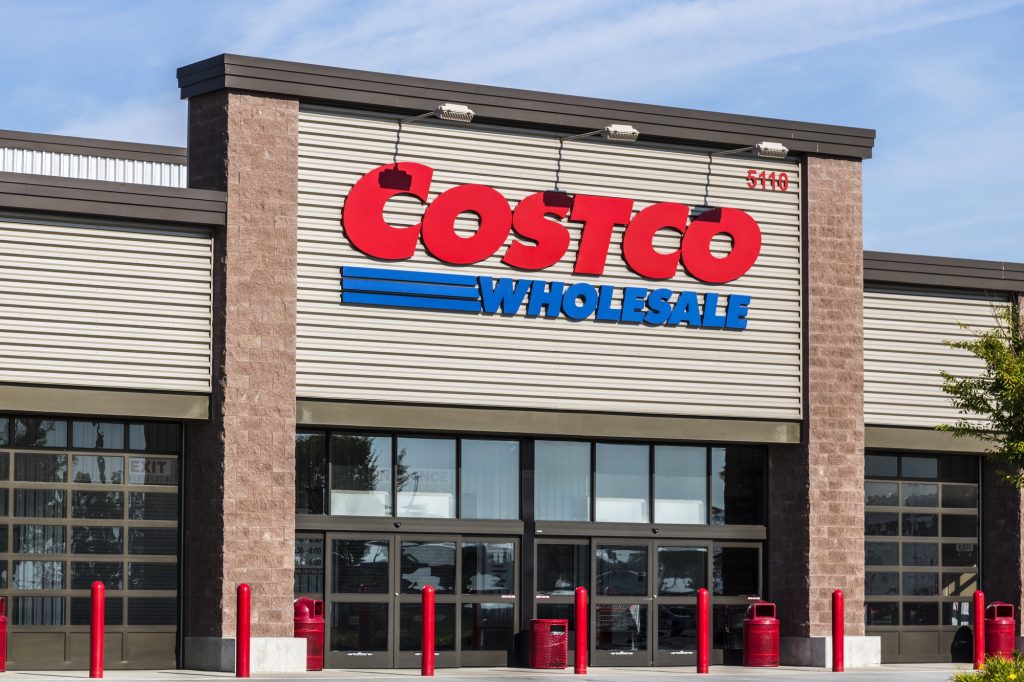 Over 50 Amazing Low Carb Finds at Costco
Sam's Club Low Carb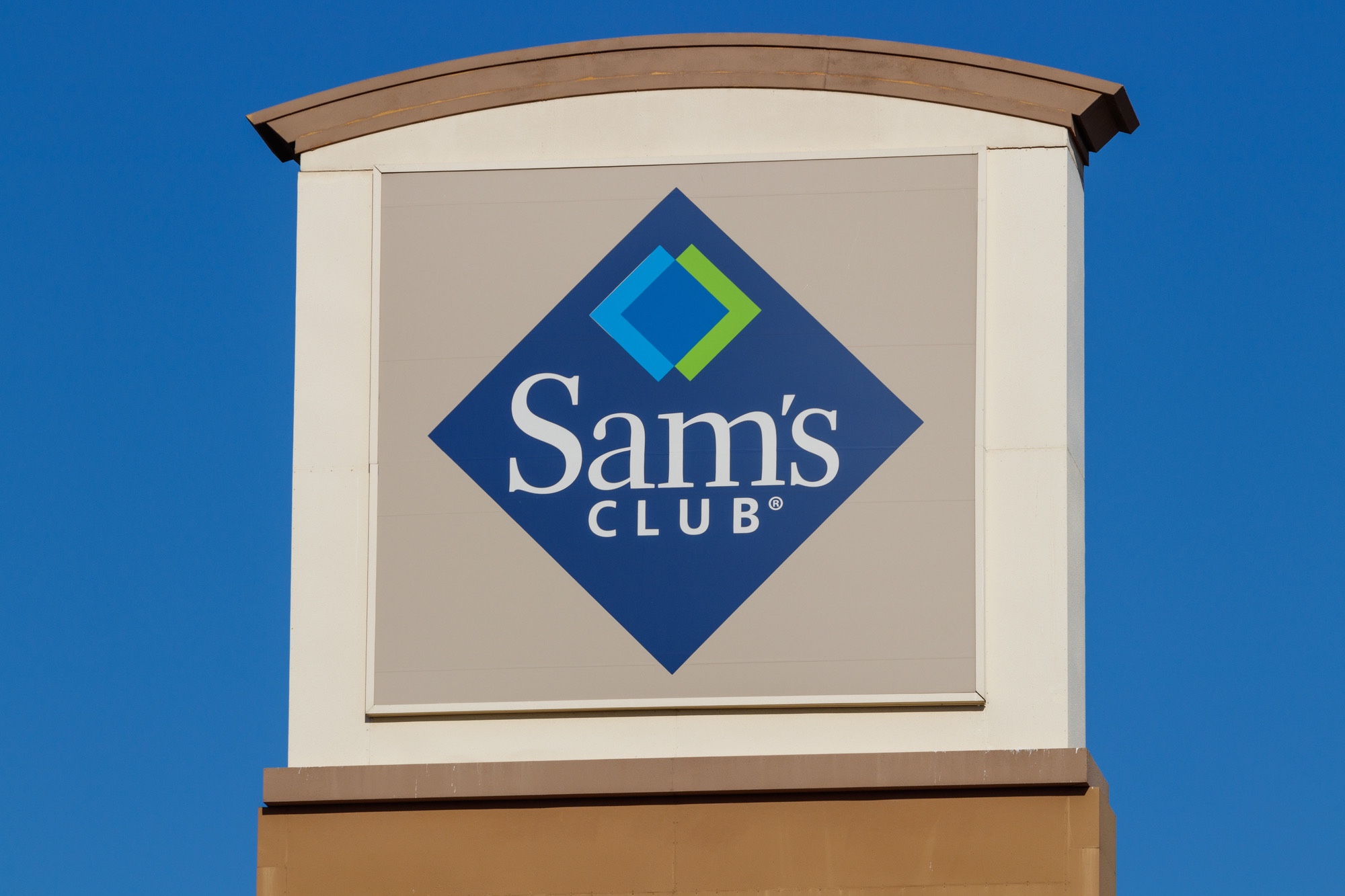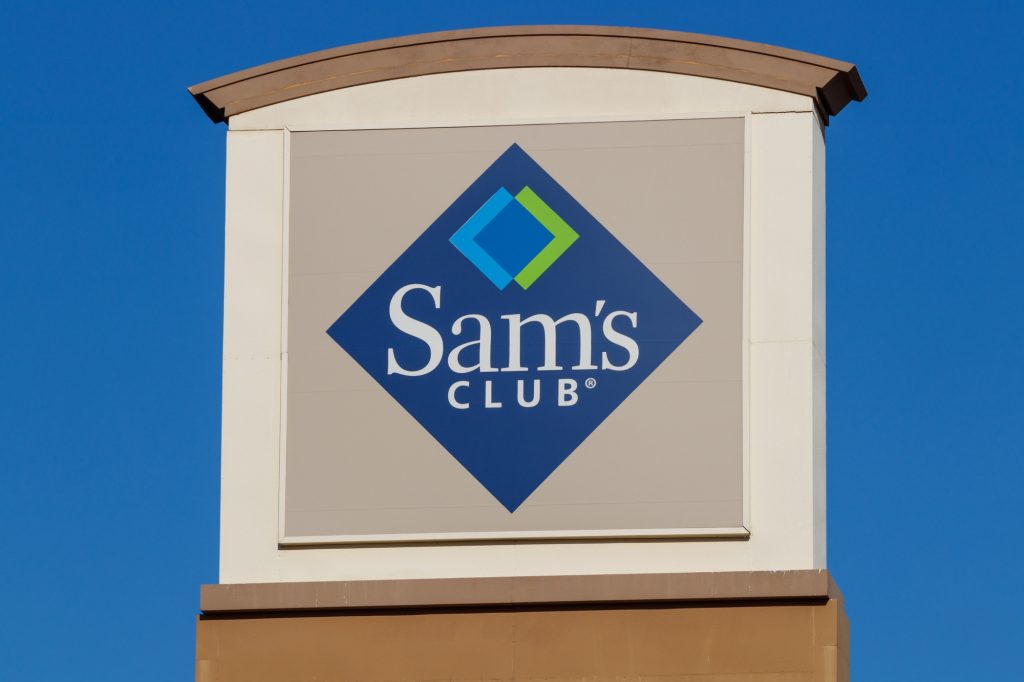 30 Irresistible Low Carb Finds at Sam's Club
Author: Natasha Newton (Natasha's Southern Flavor)
Natasha is the founder of Natasha's Southern Flavor. She has a passion for sharing delicious family friendly low-carb recipes that are easy to make and use readily accessible ingredients. Natasha has published three bestselling cookbooks. Her books and recipes have been featured by CNET, Delish, Mindbodygreen, Parade and Women's Health. She enjoys traveling and spending time with her husband, two adult children, and three furbabies.
Read more about Natasha here.