Costco Low Carb: 53 Great Finds
This post may contain affiliate links.
Costco, the popular membership warehouse club, is an excellent place for keto and low-carb enthusiasts to find and purchase their favorite foods that align with their healthy lifestyles. Here are 53 of our best Costco finds!
Keto Cereal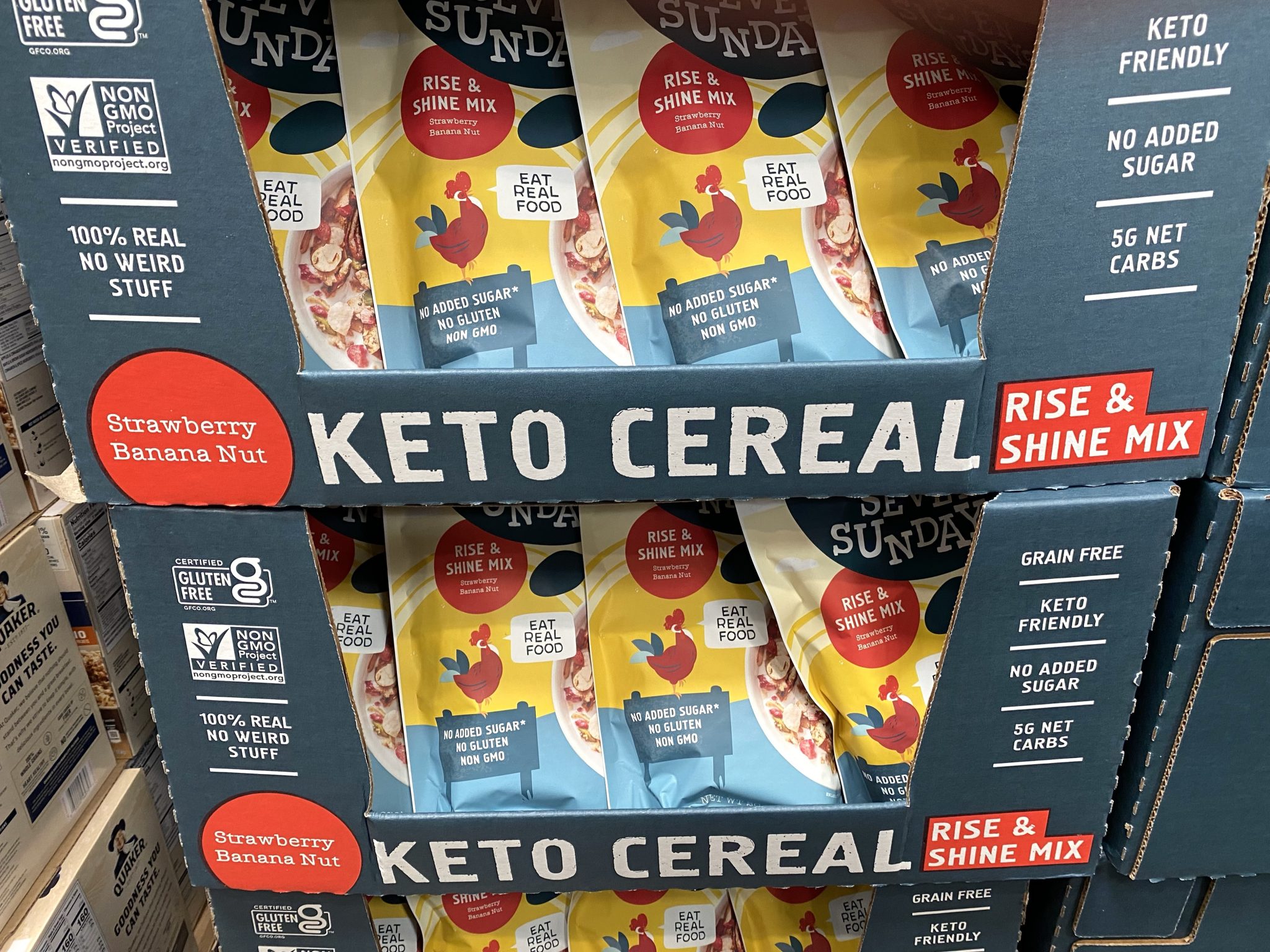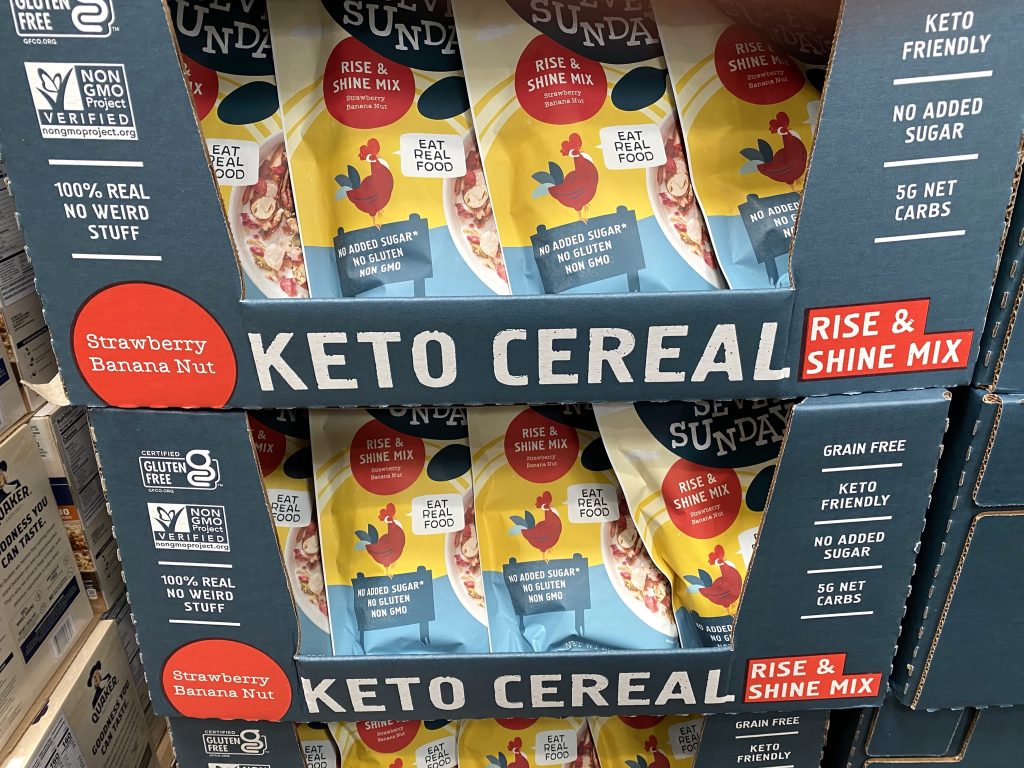 Seven Sundays keto-friendly, grain-free, not sugar-added cereal. Only 5 net carbs.
Beef Sticks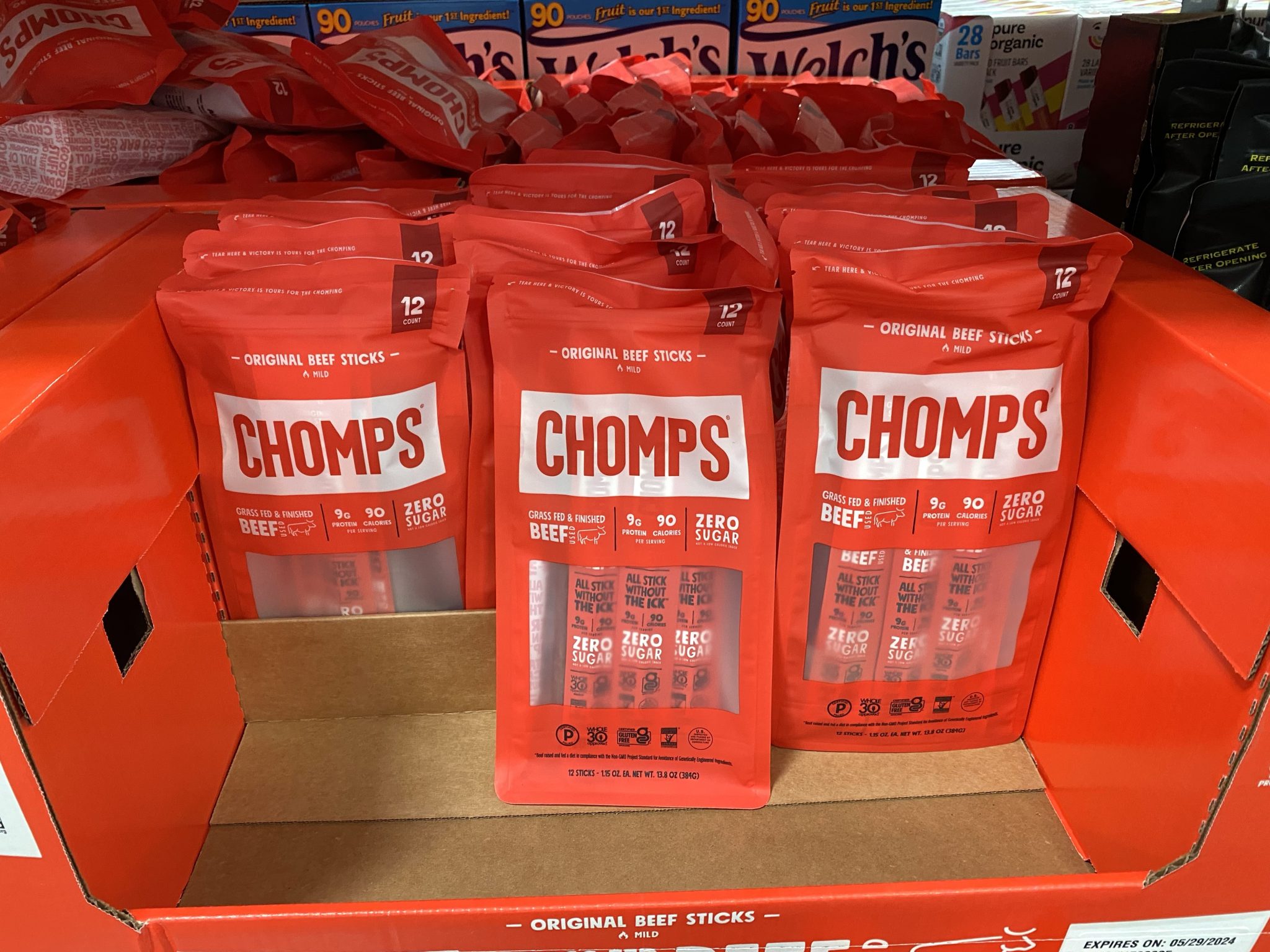 Chomps original beef sticks, zero sugar and carbs. They're also whole 30 approved.
Keto Snack Mix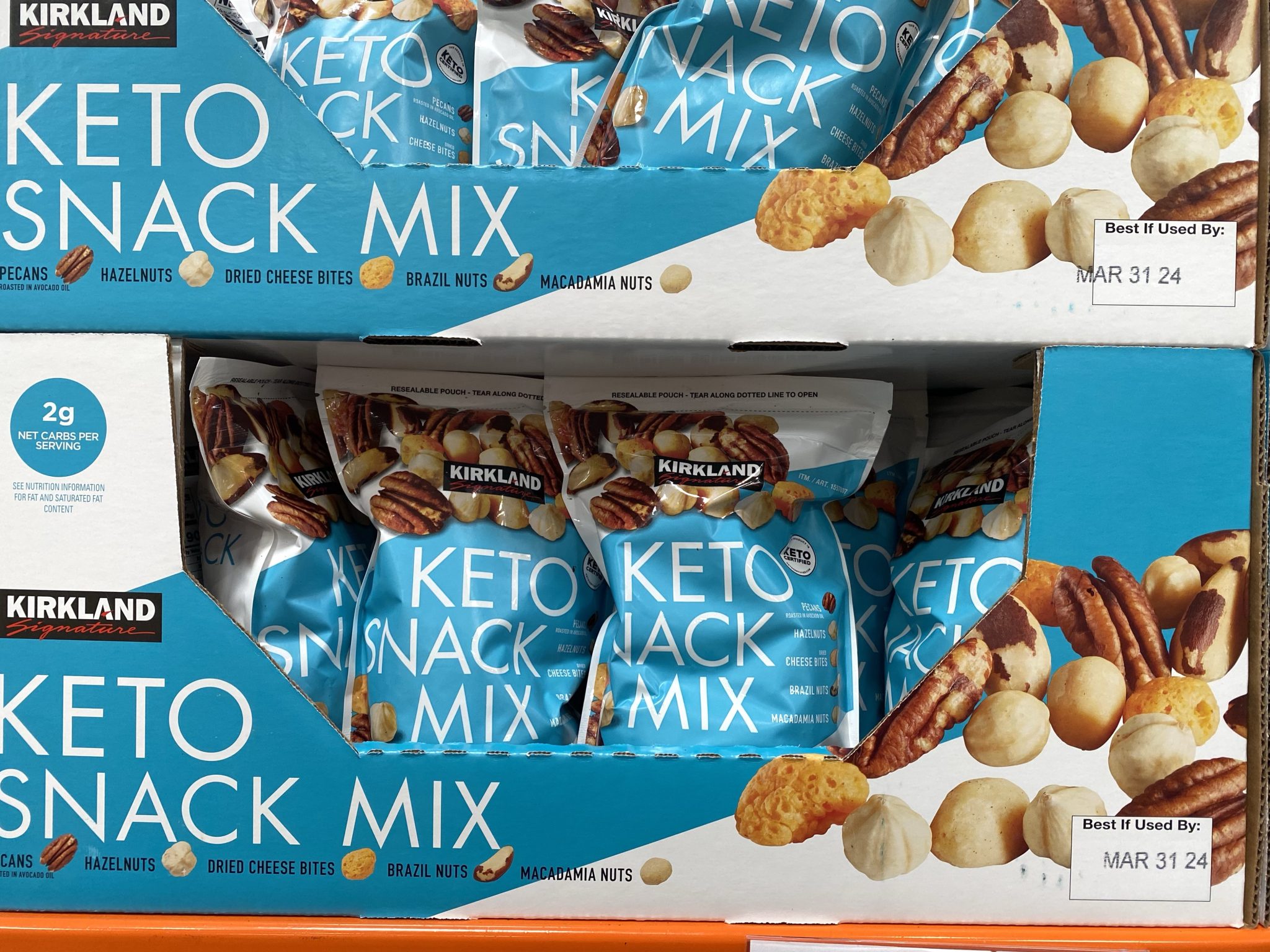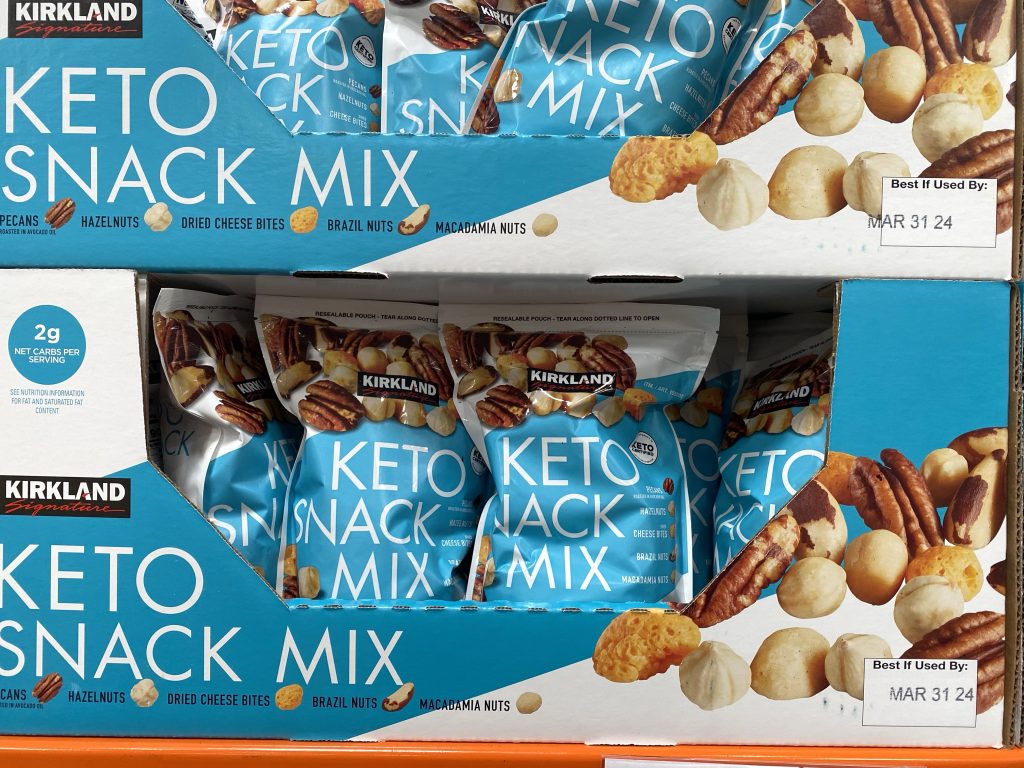 Costco Kirkland brand Keto snack mix for a salty treat. 2 net carbs per serving.
Keto Bar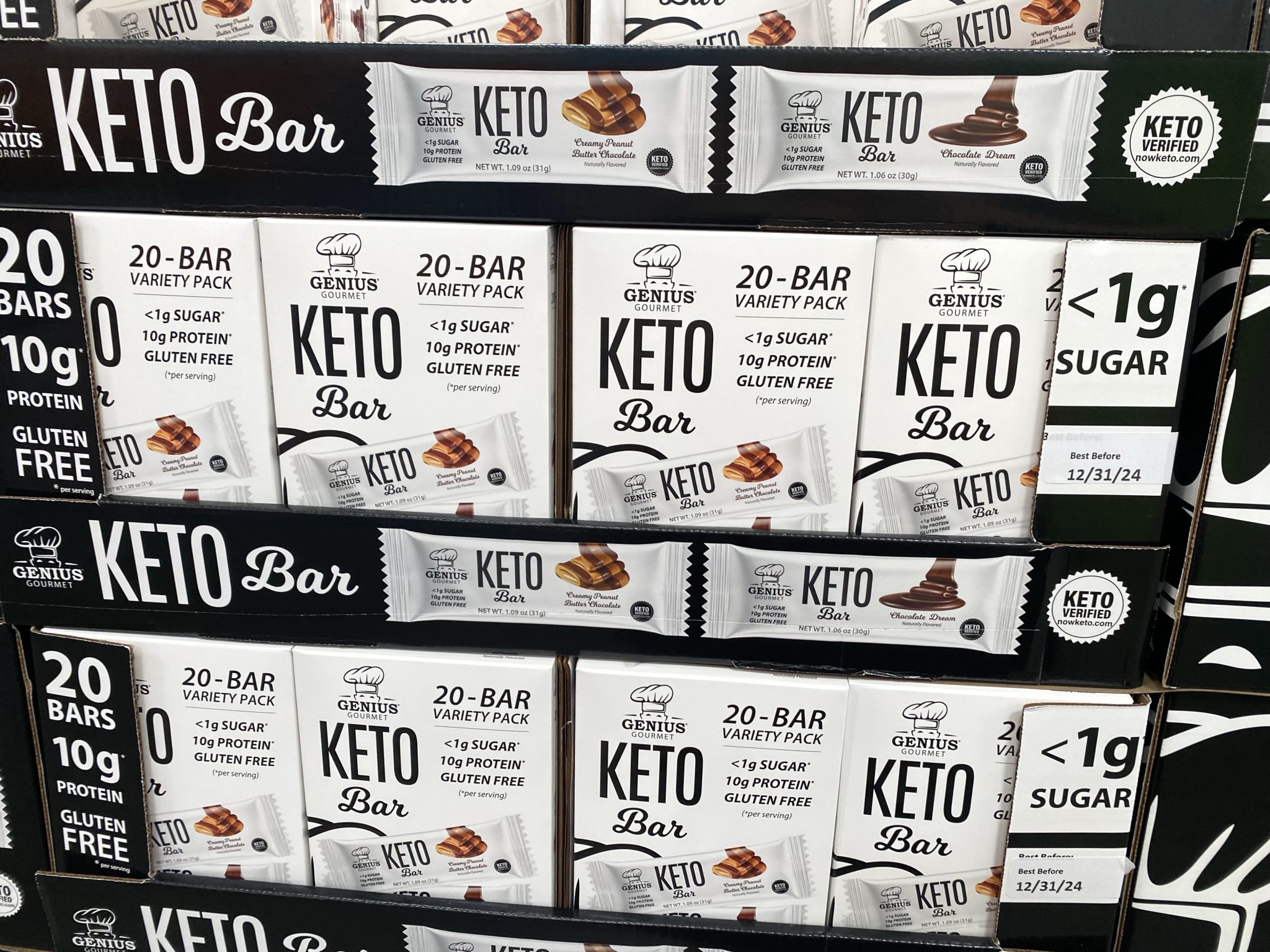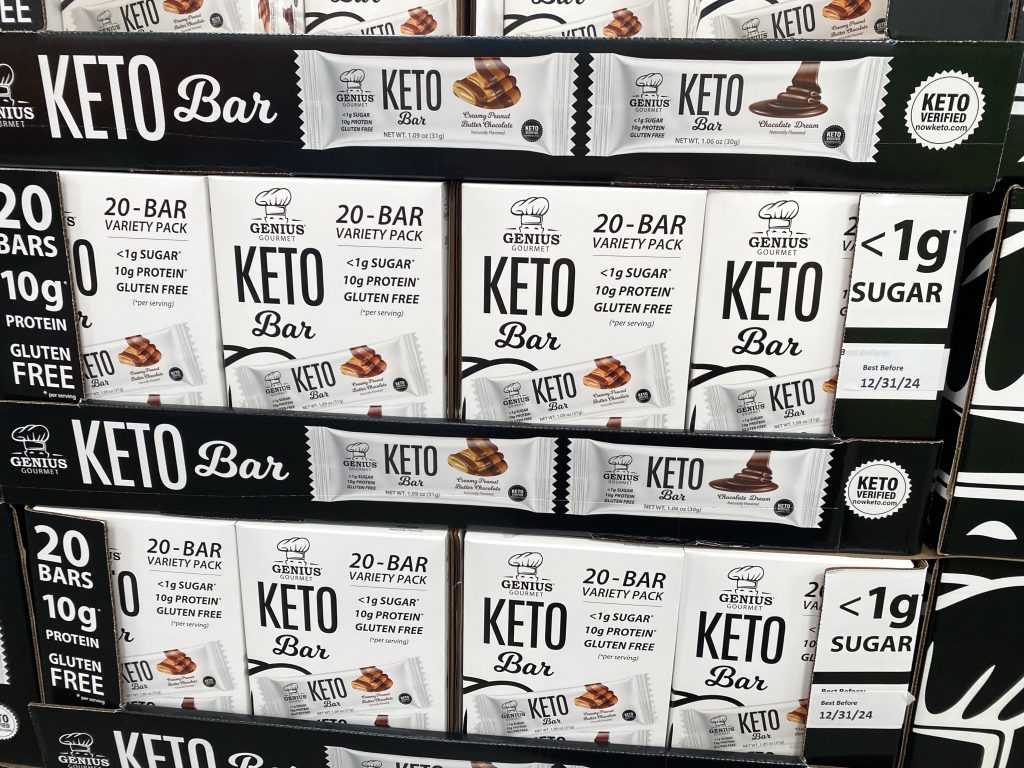 These bars are Keto-friendly, contain 10 grams of protein, are gluten-free, and have less than 1 gram of sugar.
Protein Shakes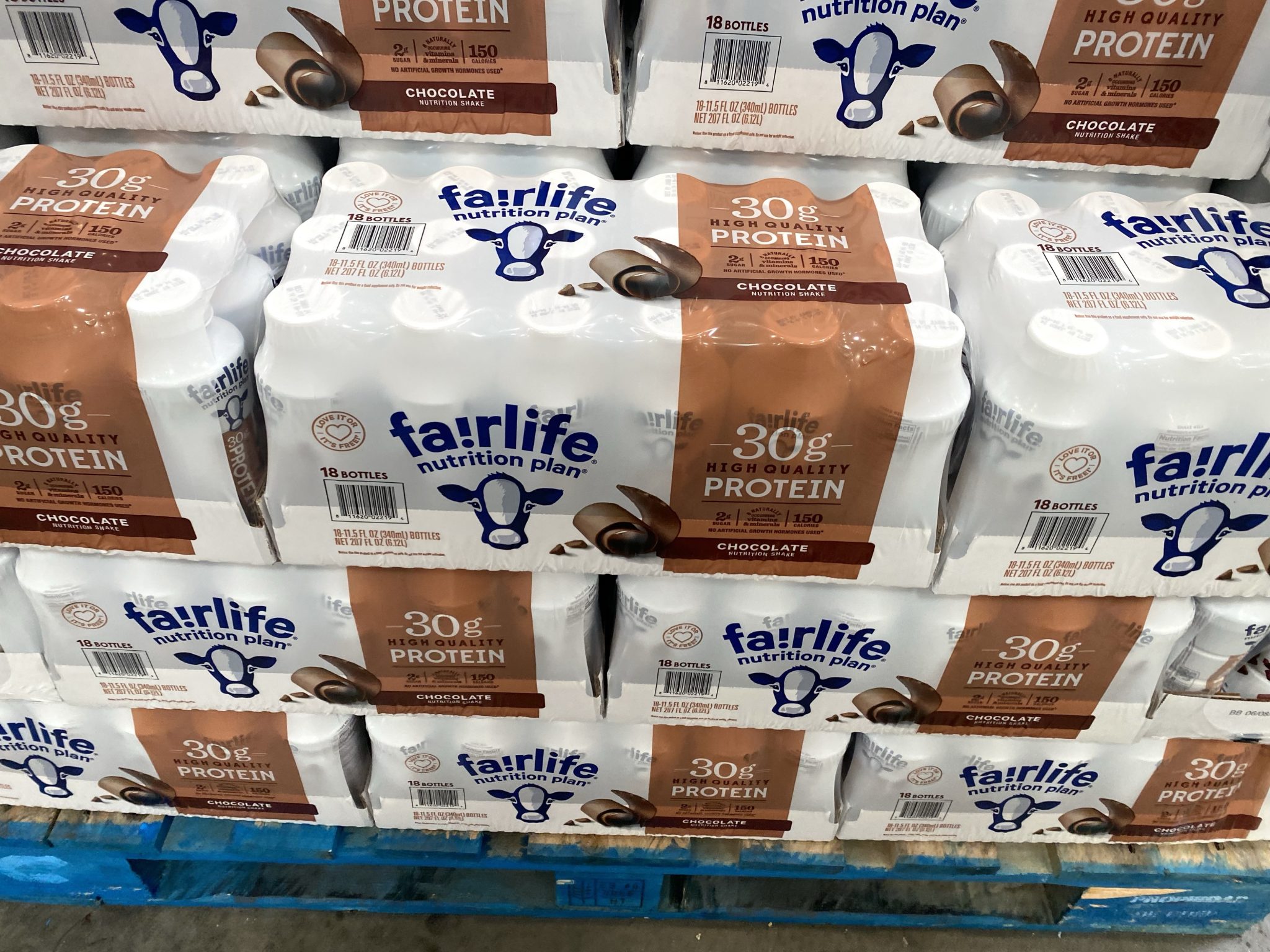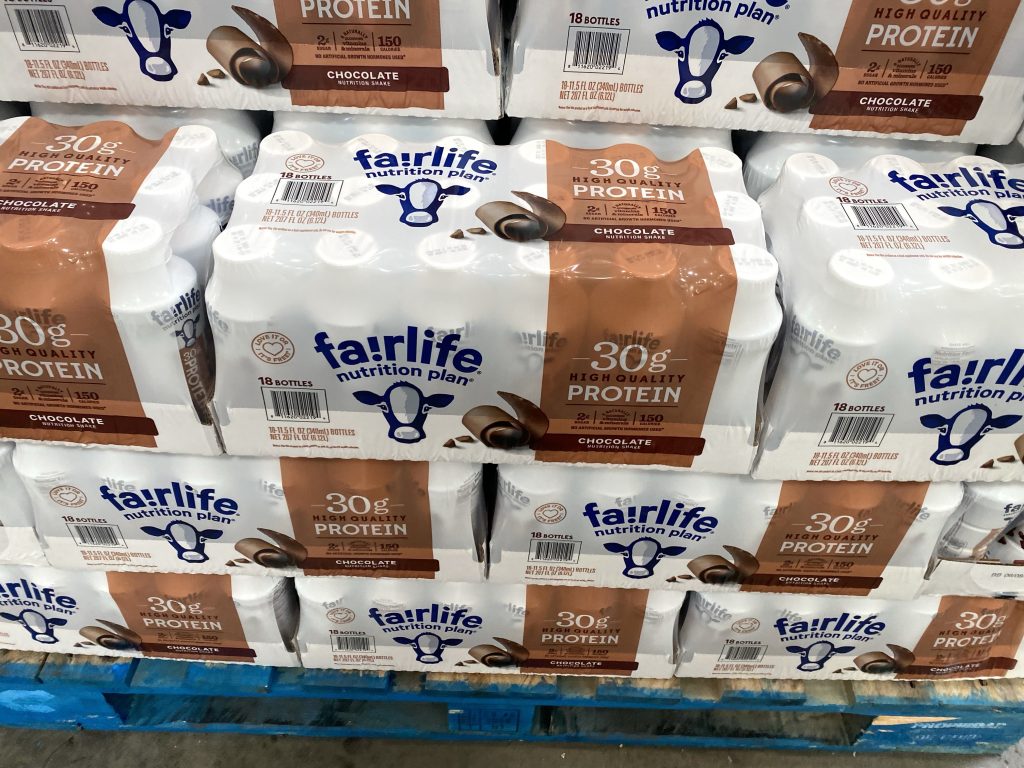 The very popular Fairlife Protein shakes with 30 grams of protein and low carbs.
Protein Bars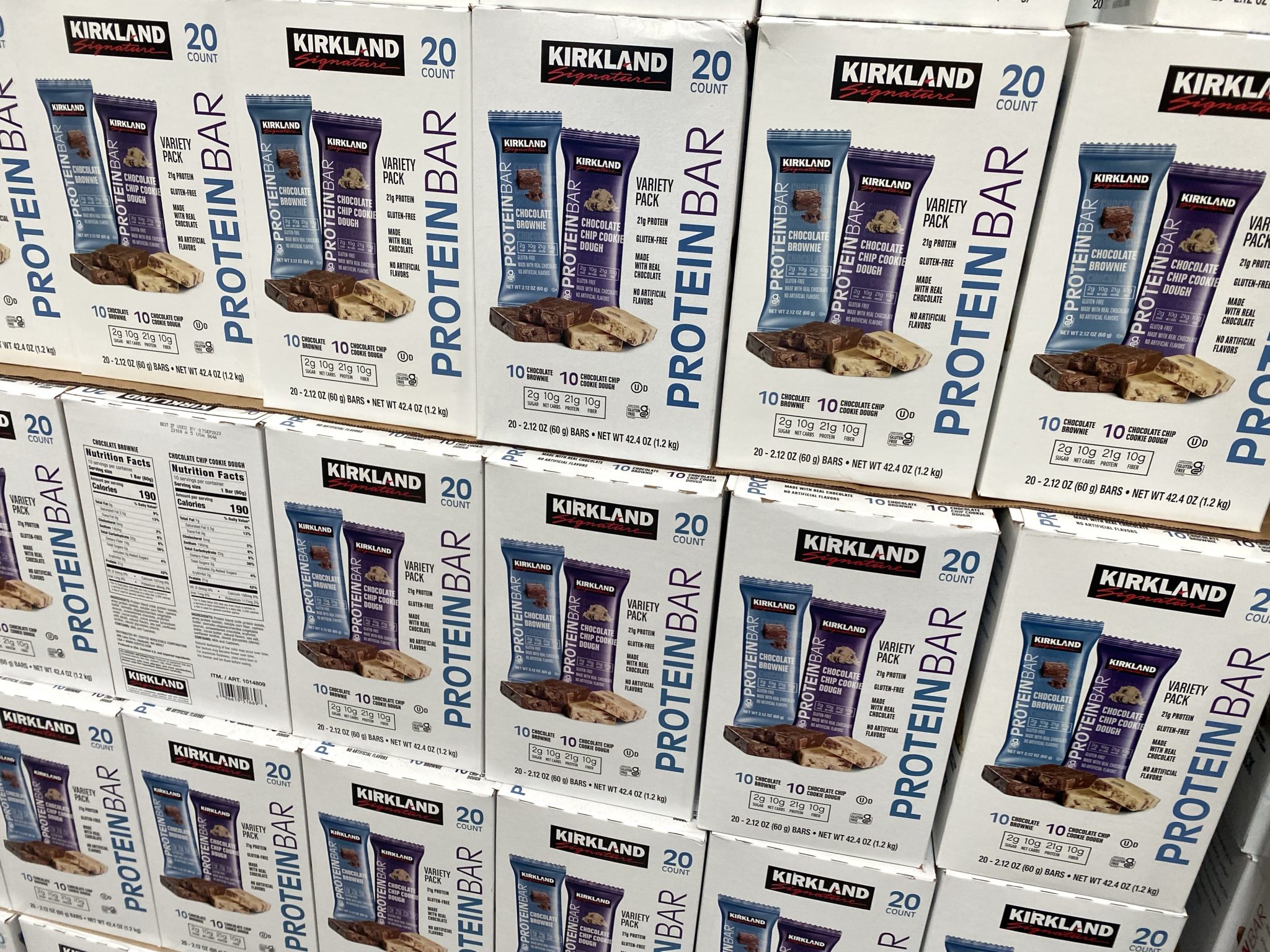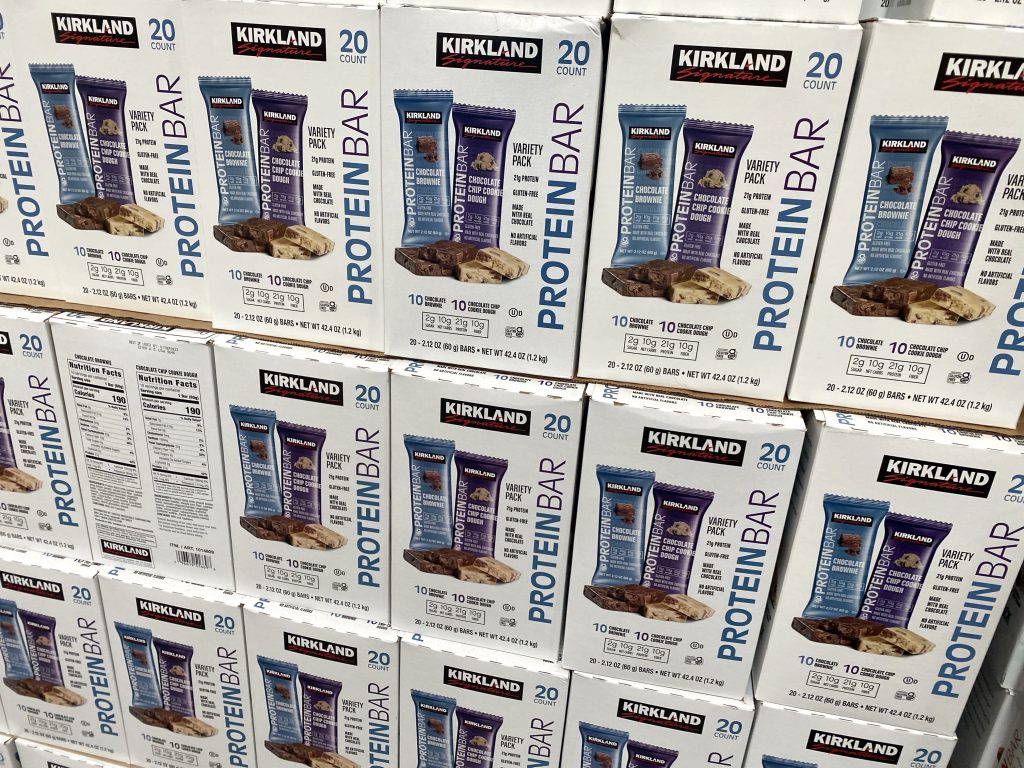 Kirkland brand protein bars are similar to Quest bars. They are low-carb and high-protein.
Low Carb Tortillas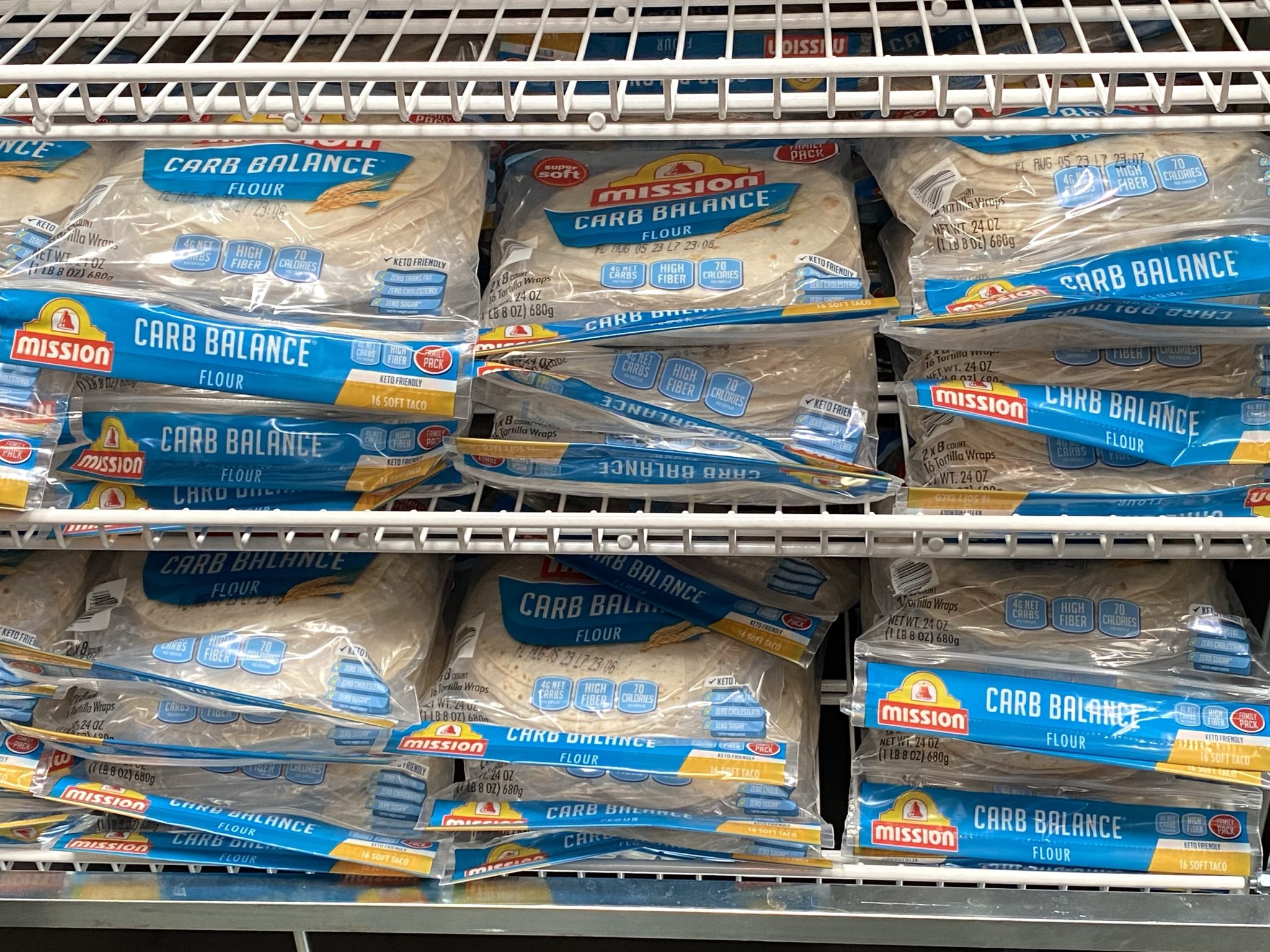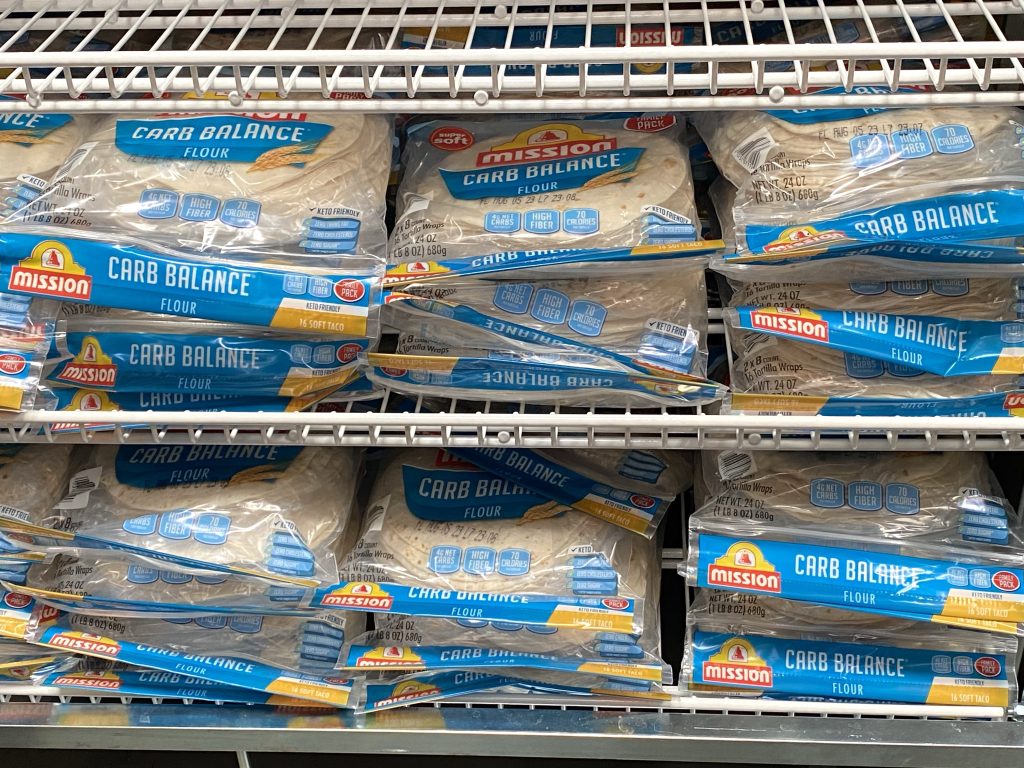 Mission Carb Balance tortillas are low in carbs and taste like regular tortillas.
Mayonnaise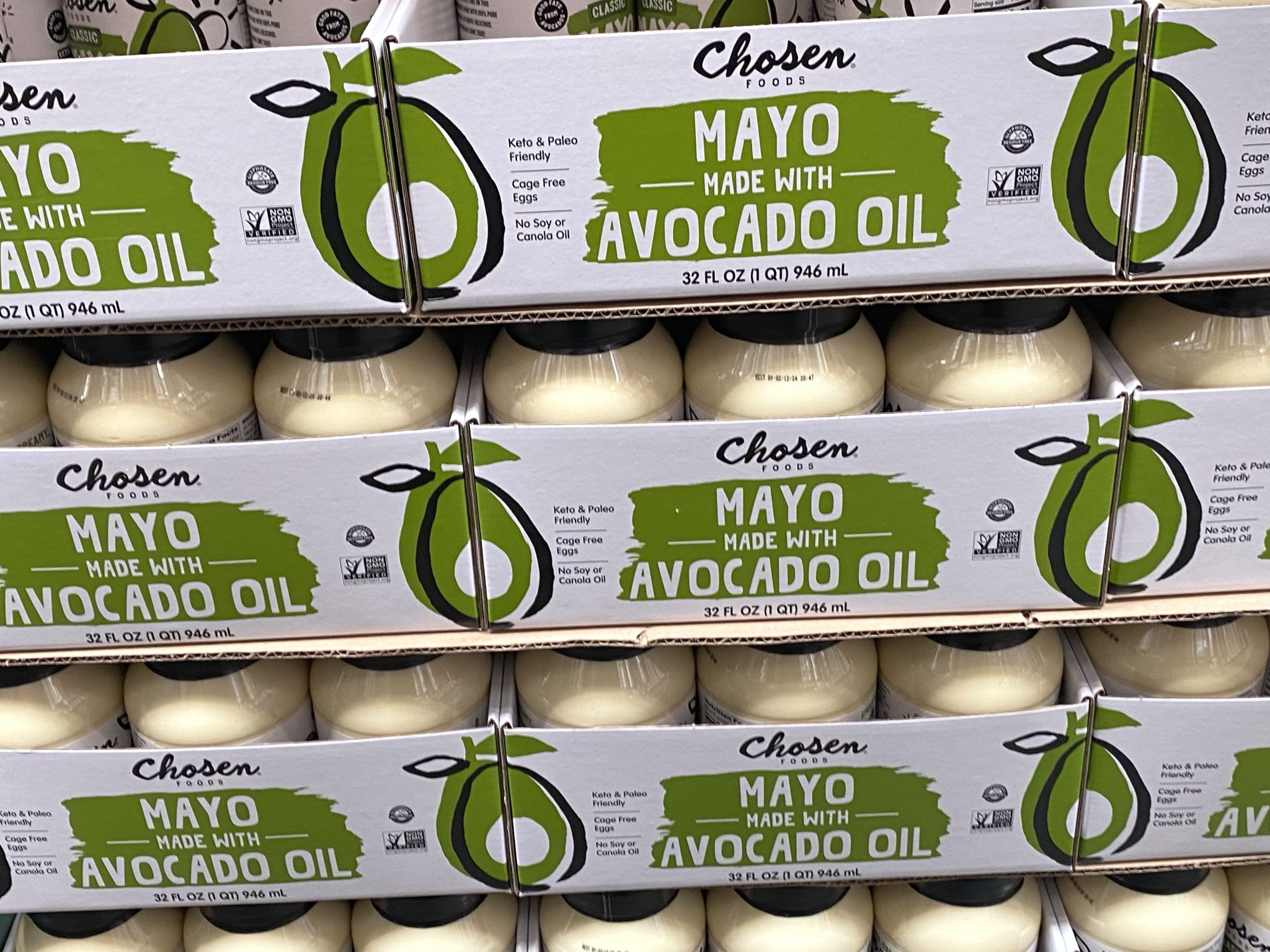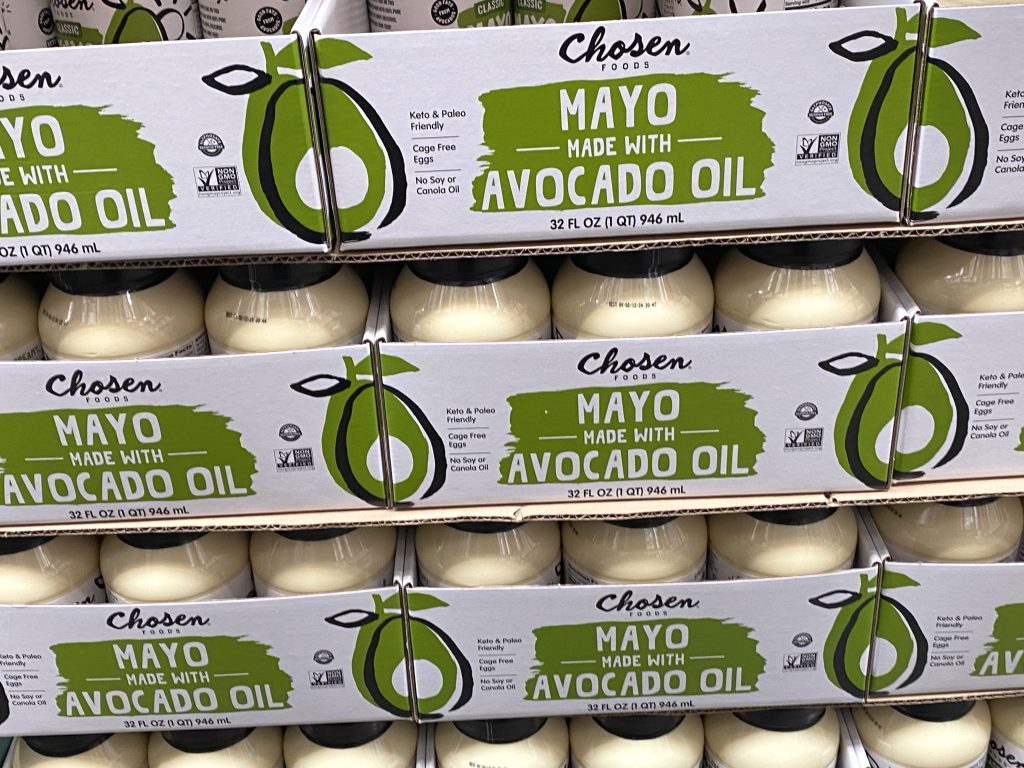 Chosen avocado mayo made with avocado oil is keto and paleo-friendly.
Keto Friendly Cereal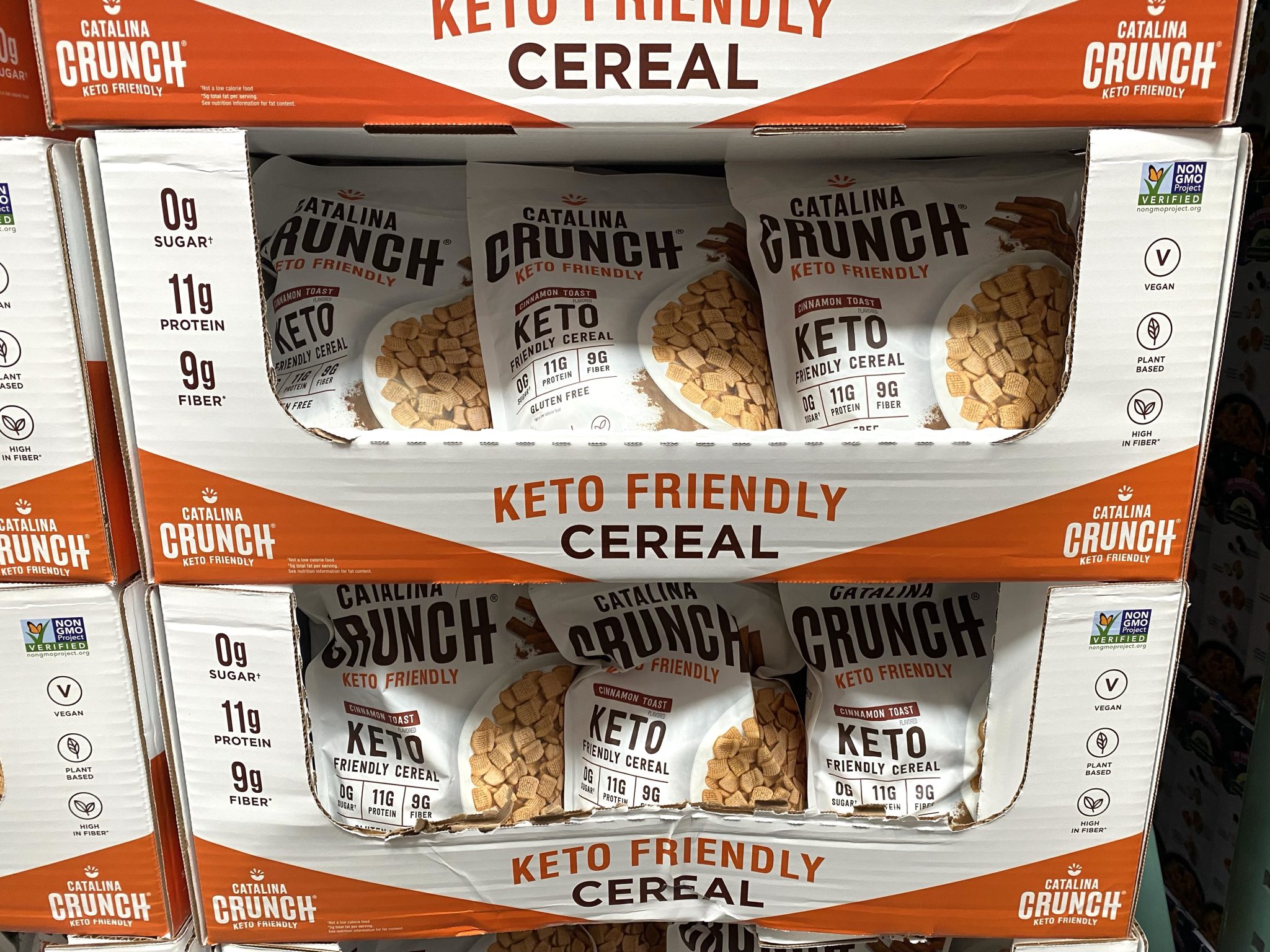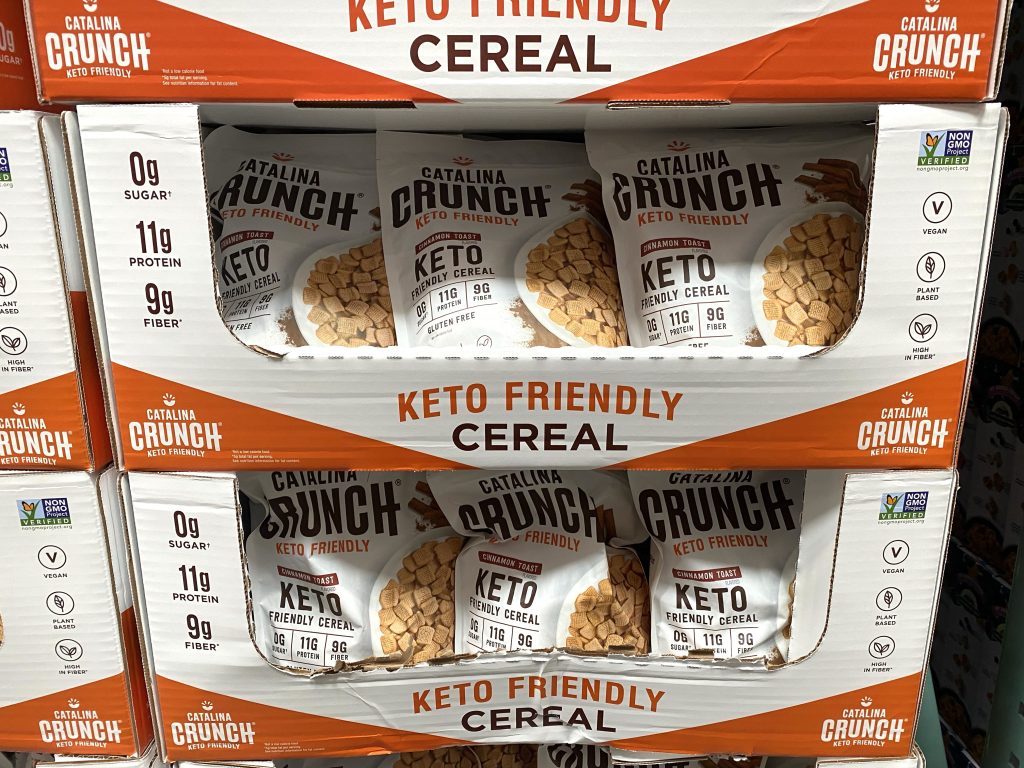 Catalina Crunch Cereal has zero sugar and 11 grams of protein. And 9 grams of fiber. It's also vegan and plant-based.
Sweetener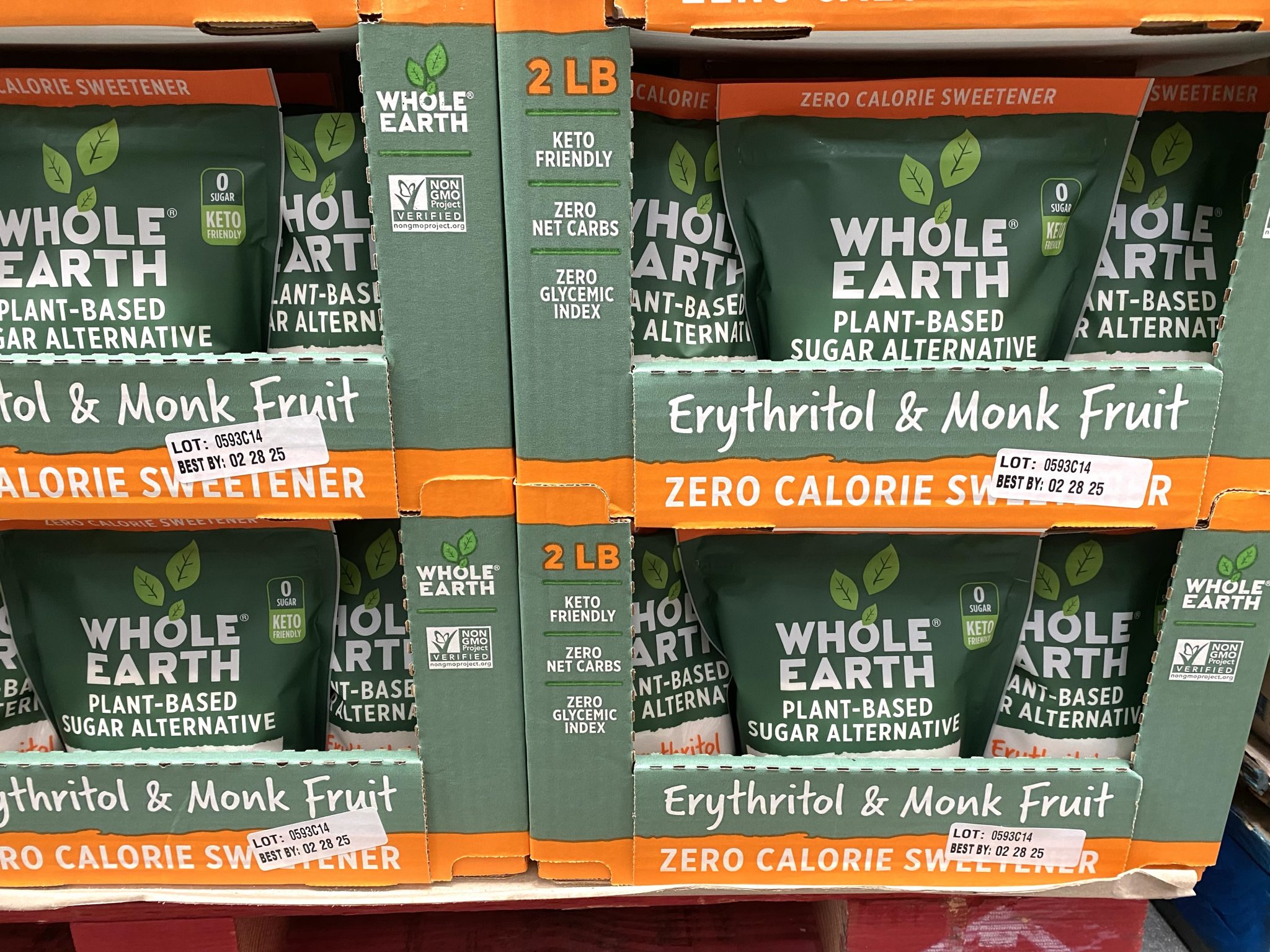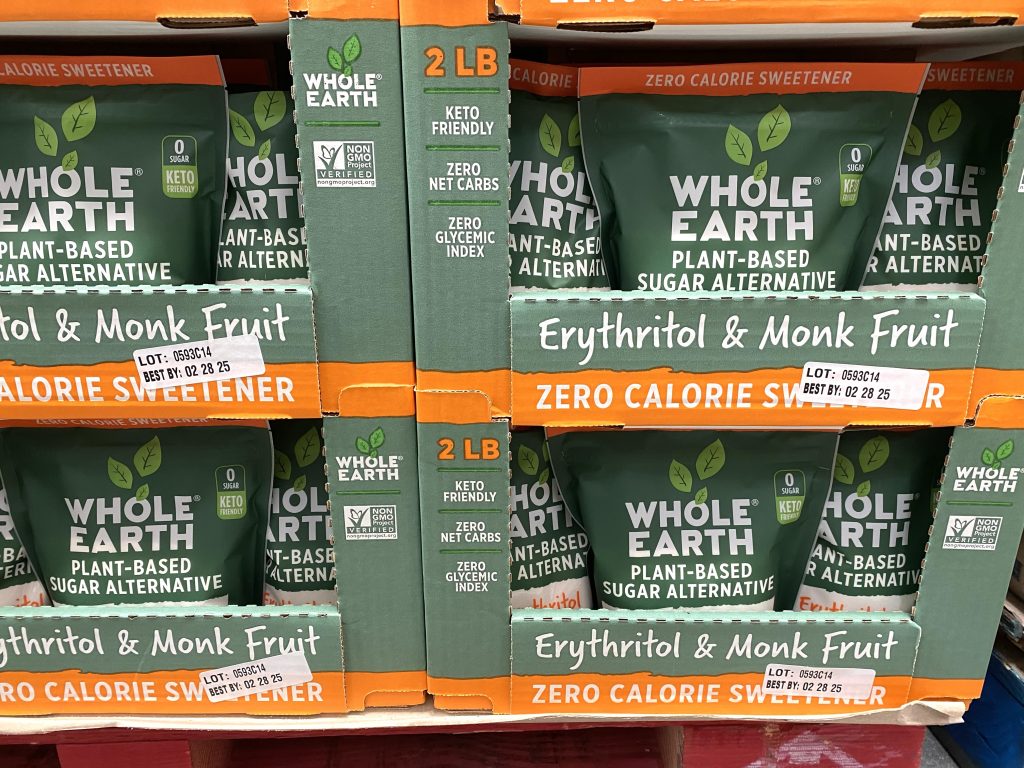 Whole Earth Plant-Based sugar alternative is a combination of erythritol and monk fruit. It's a keto-friendly, zero-carb zero sugar sweetener.
Granola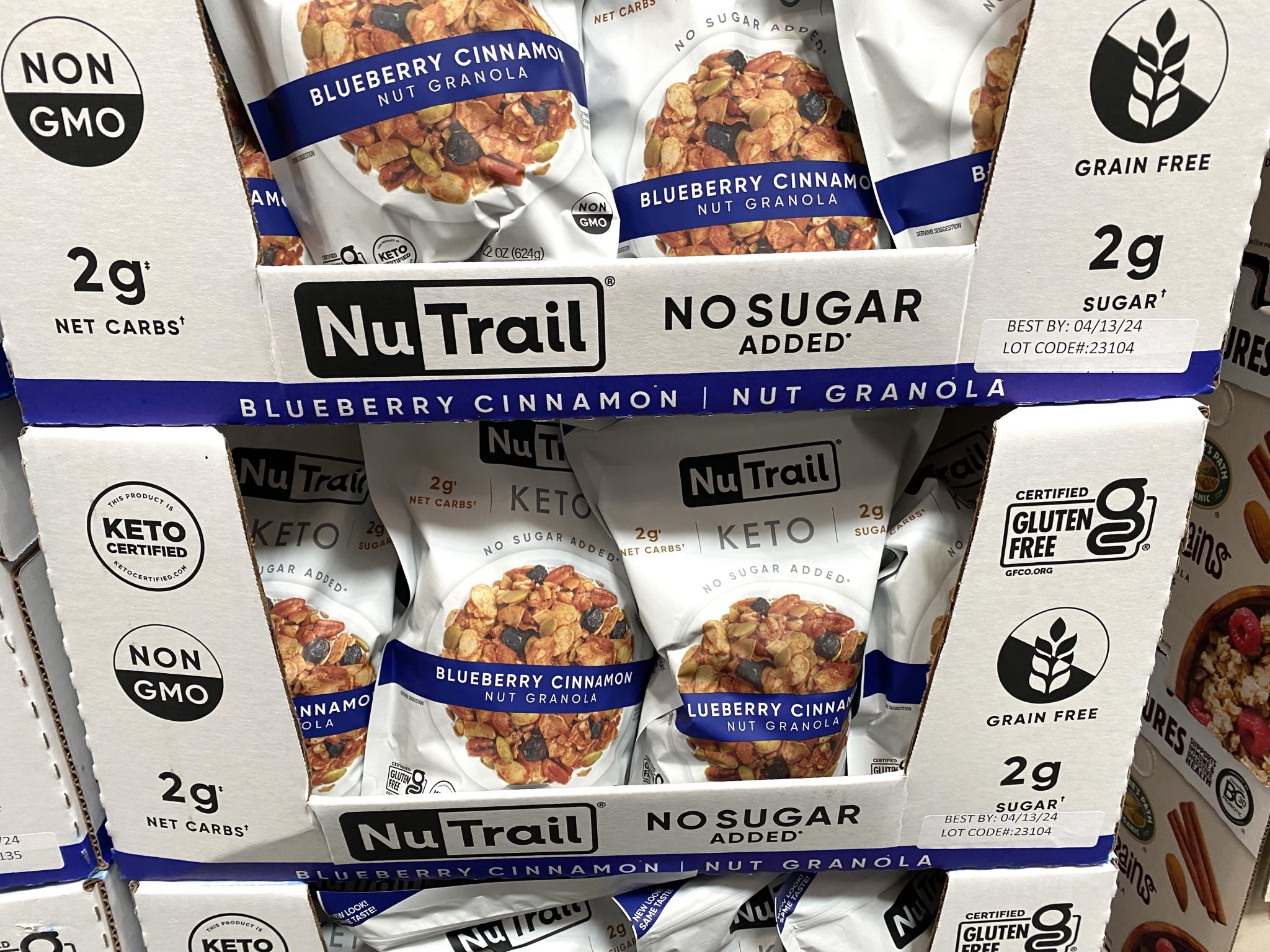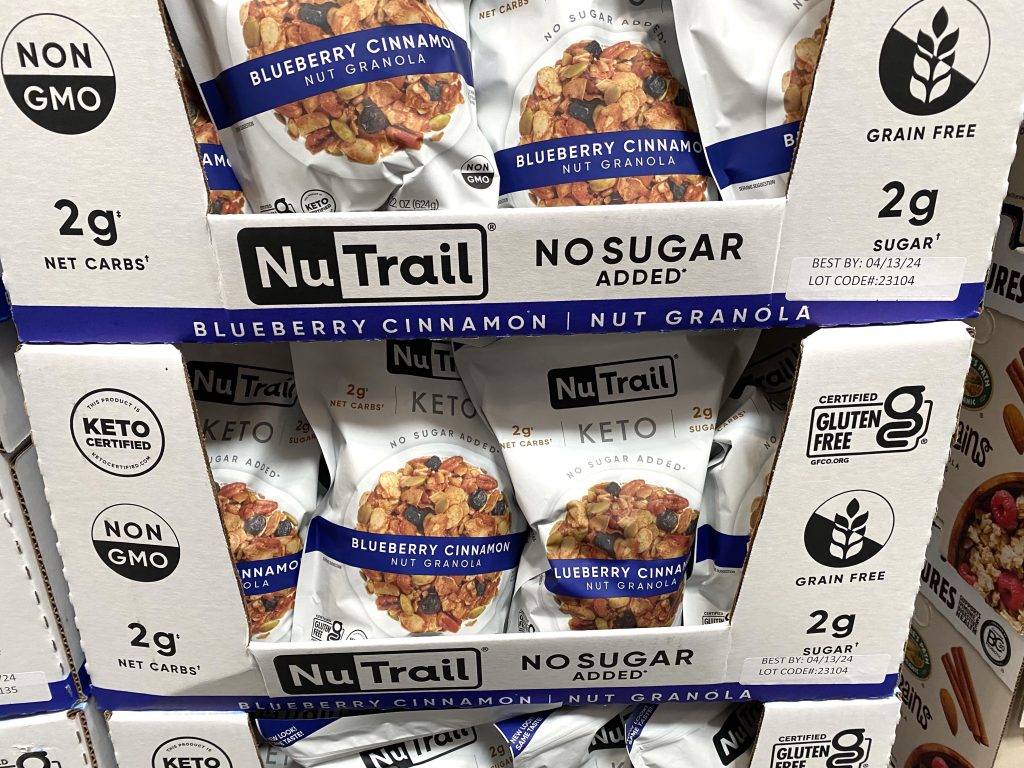 NuTrail Nut Granola is gluten-free, non-GMO, and keto certified. It has only 2 grams of sure and 2 net carbs.
Almond Flour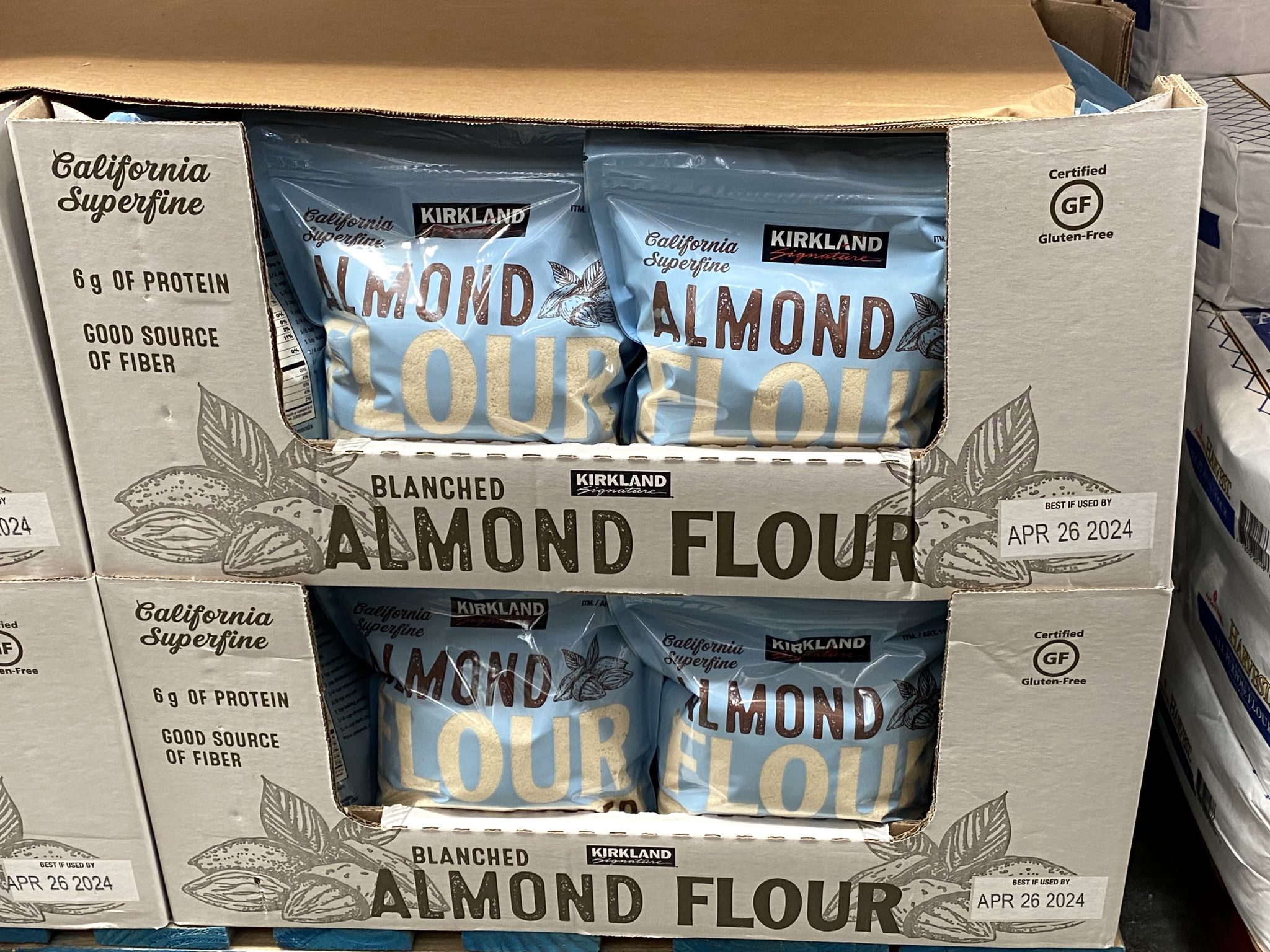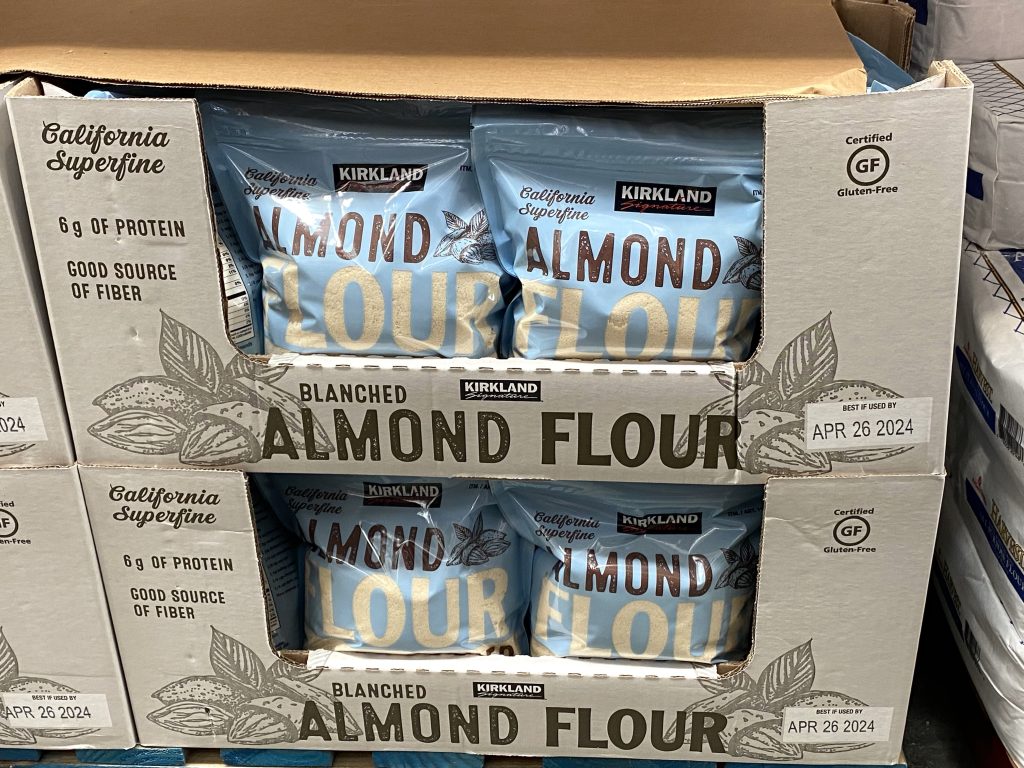 Costco's Kirkland Almond flour is ground superfine and is perfect for low carb baked goods. Try it in these Southern Keto Drop Biscuits.
Butter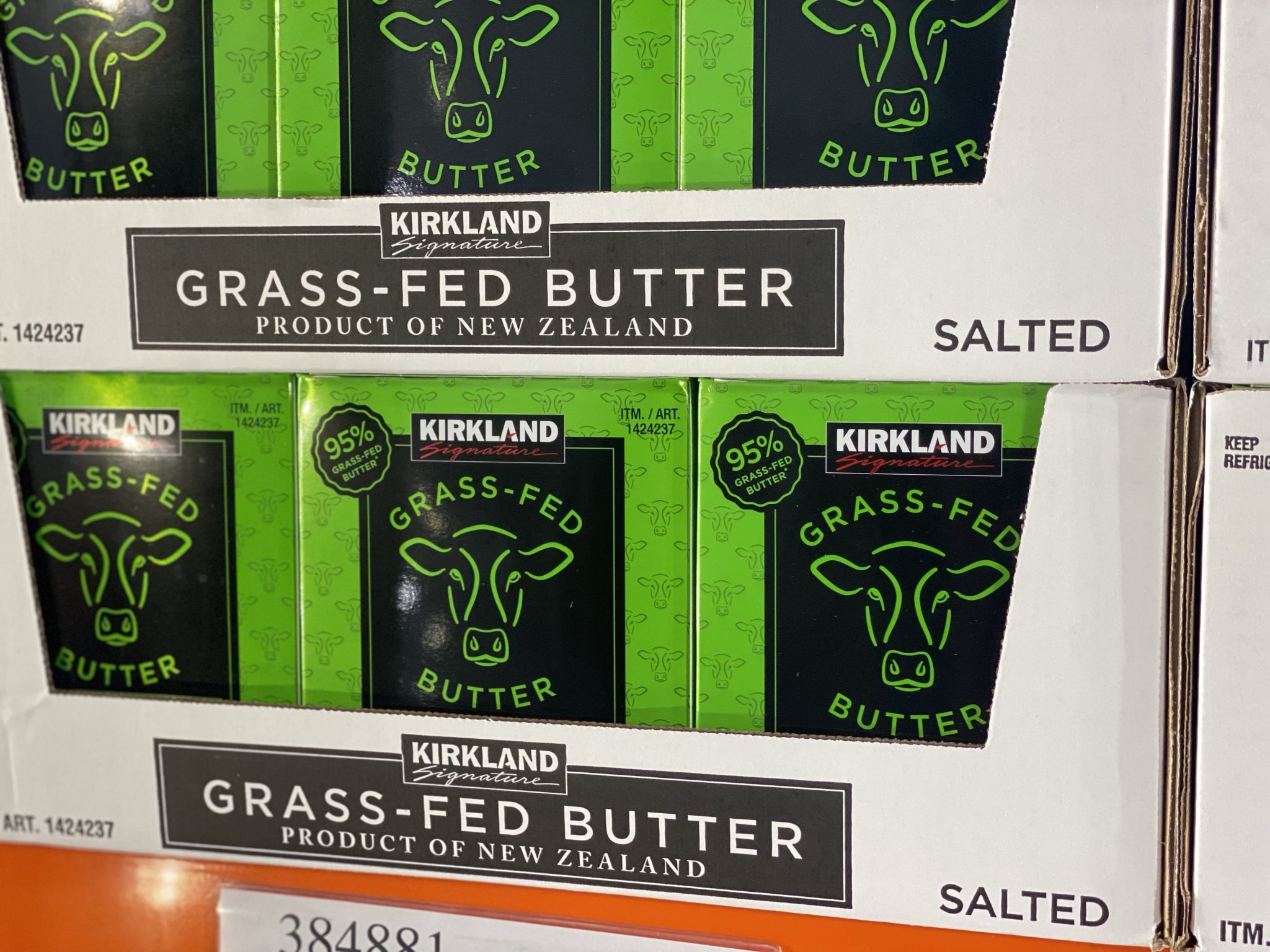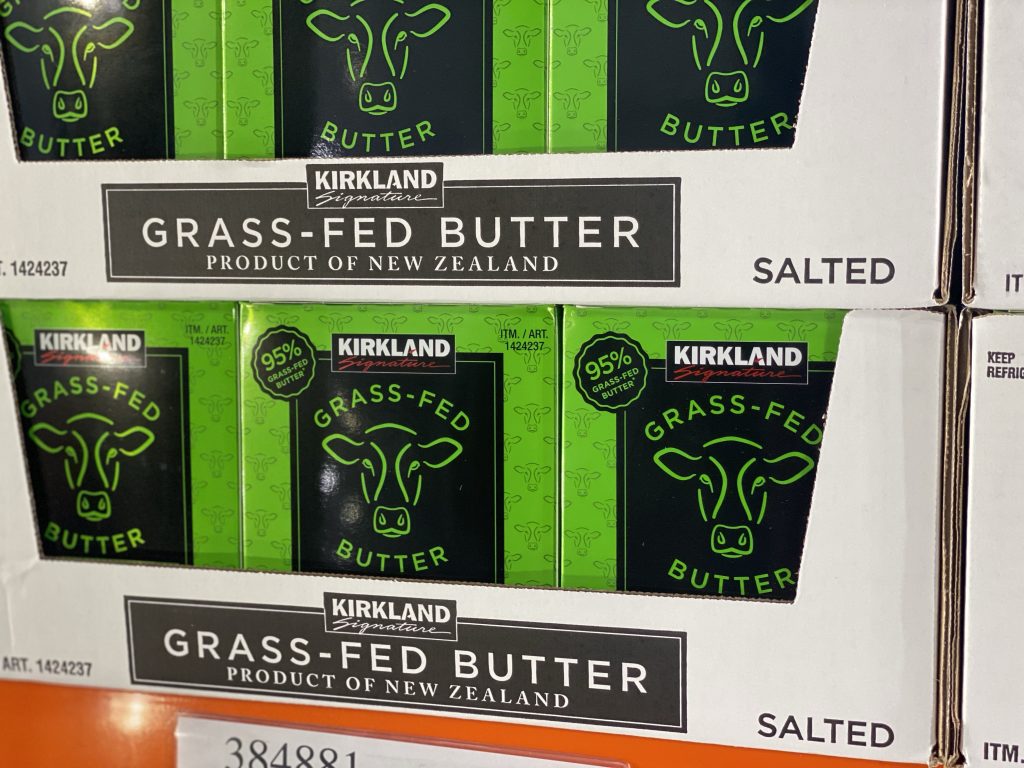 Costco's Kirkland Grass-fed butter is comparable in price and taste to the famous Kerrygold butter.
Breakfast Sandwiches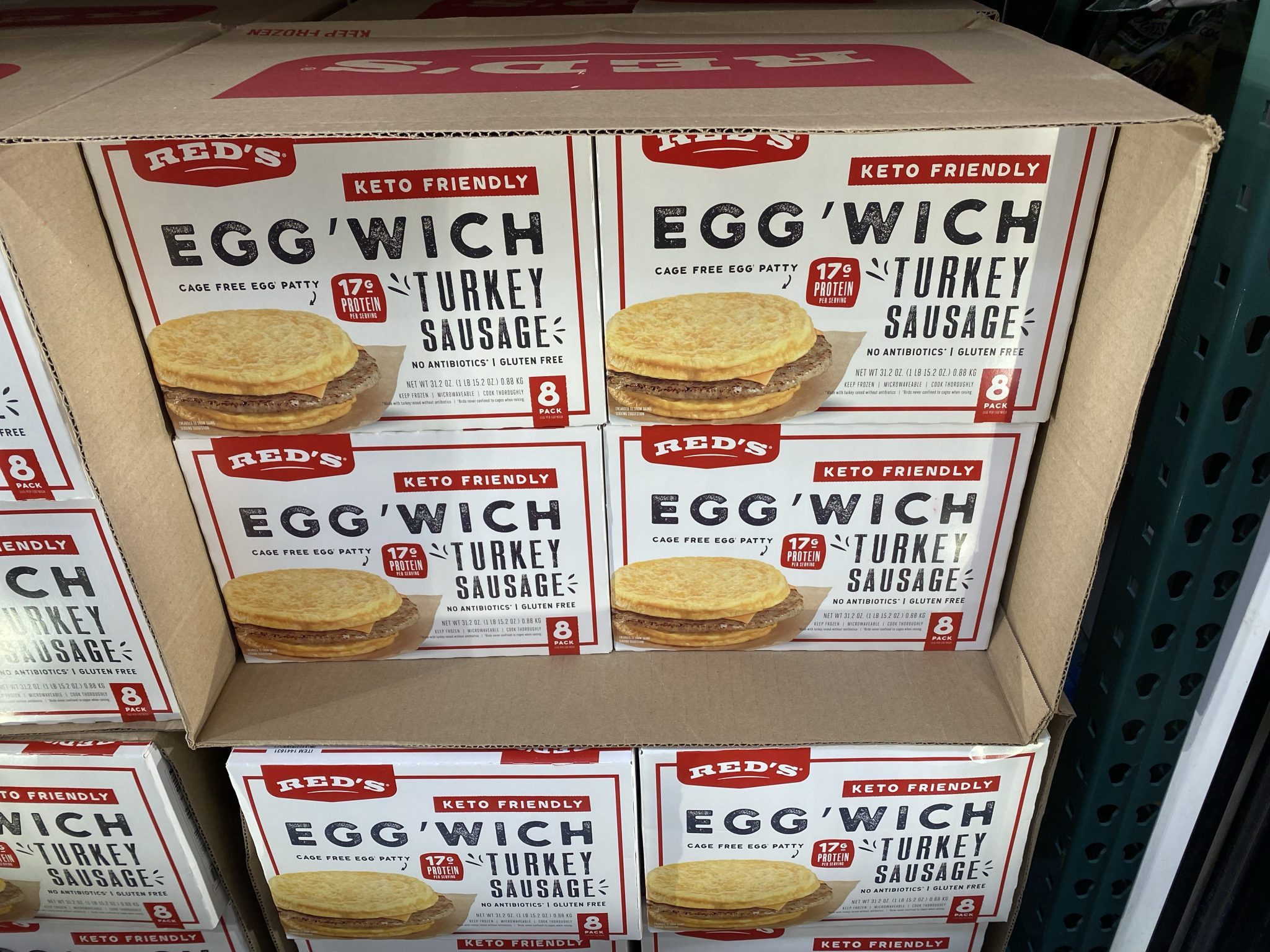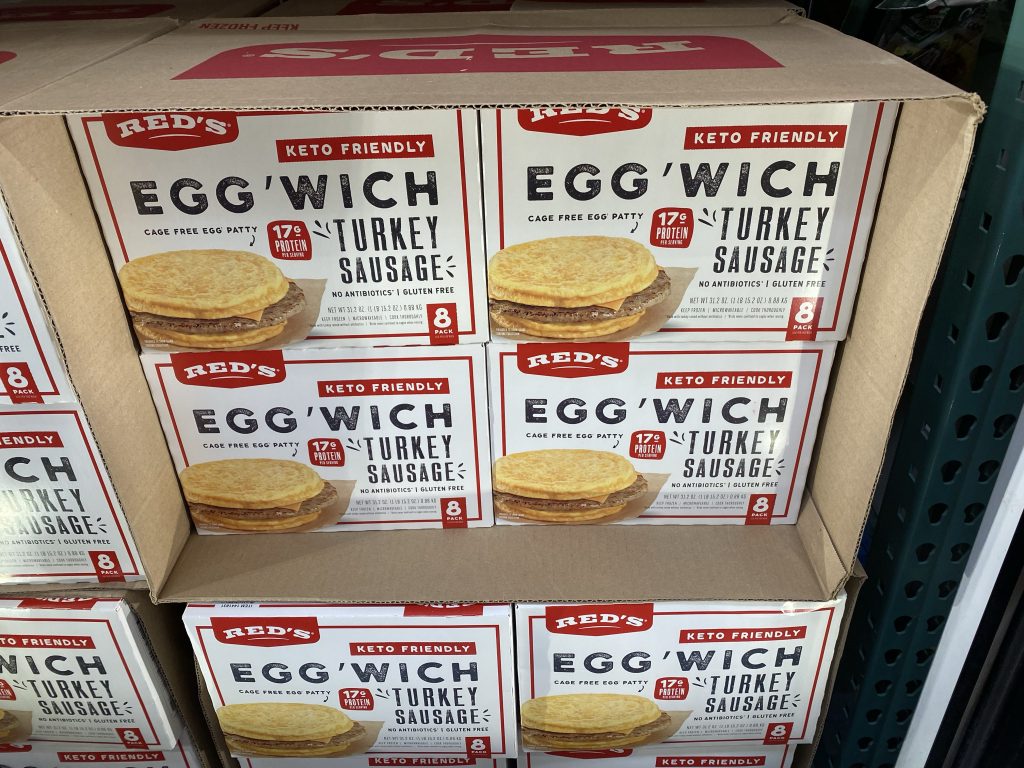 Egg'wich breakfast sandwiches use eggs for the bread. They are keto-friendly and have 17 grams of protein.
Chicken Enchiladas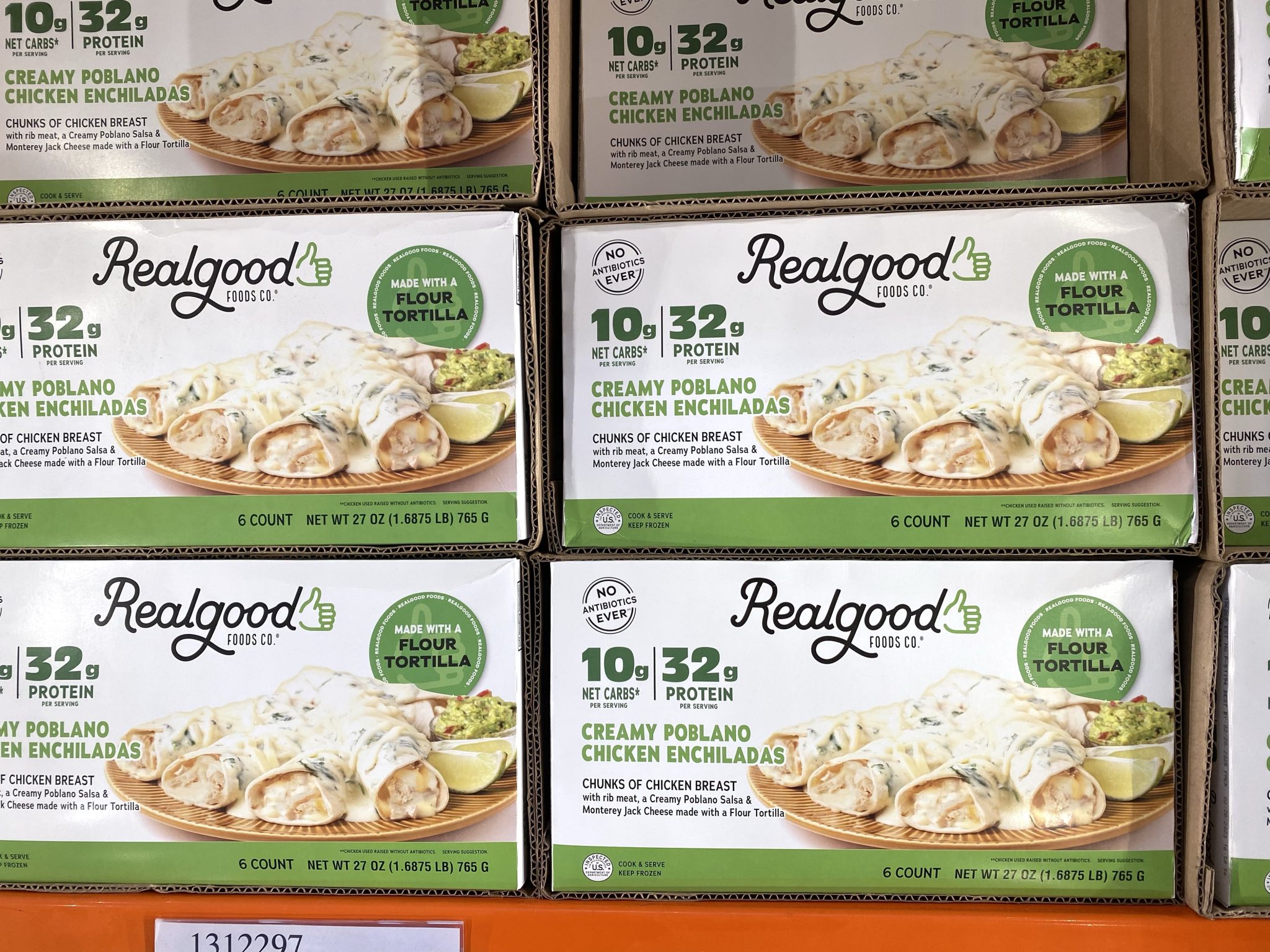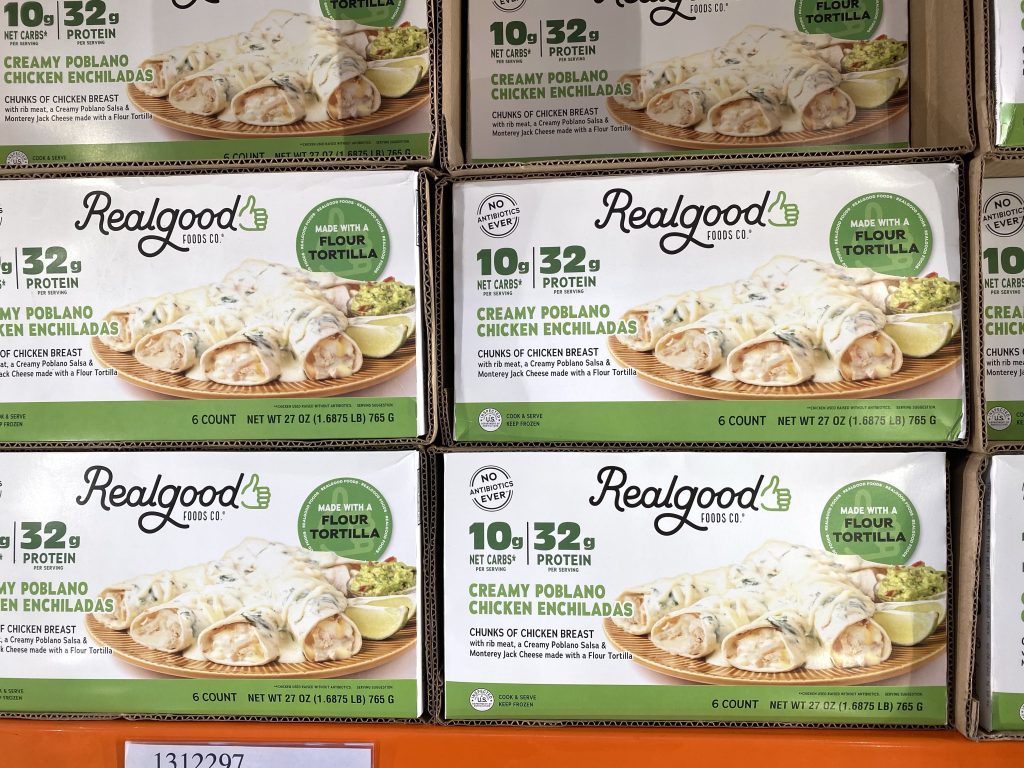 Realgood Foods Cream Poblano Chicken Enchiladas are high in protein, 32 grams and 10 net carbs per serving.
Miracle Noodles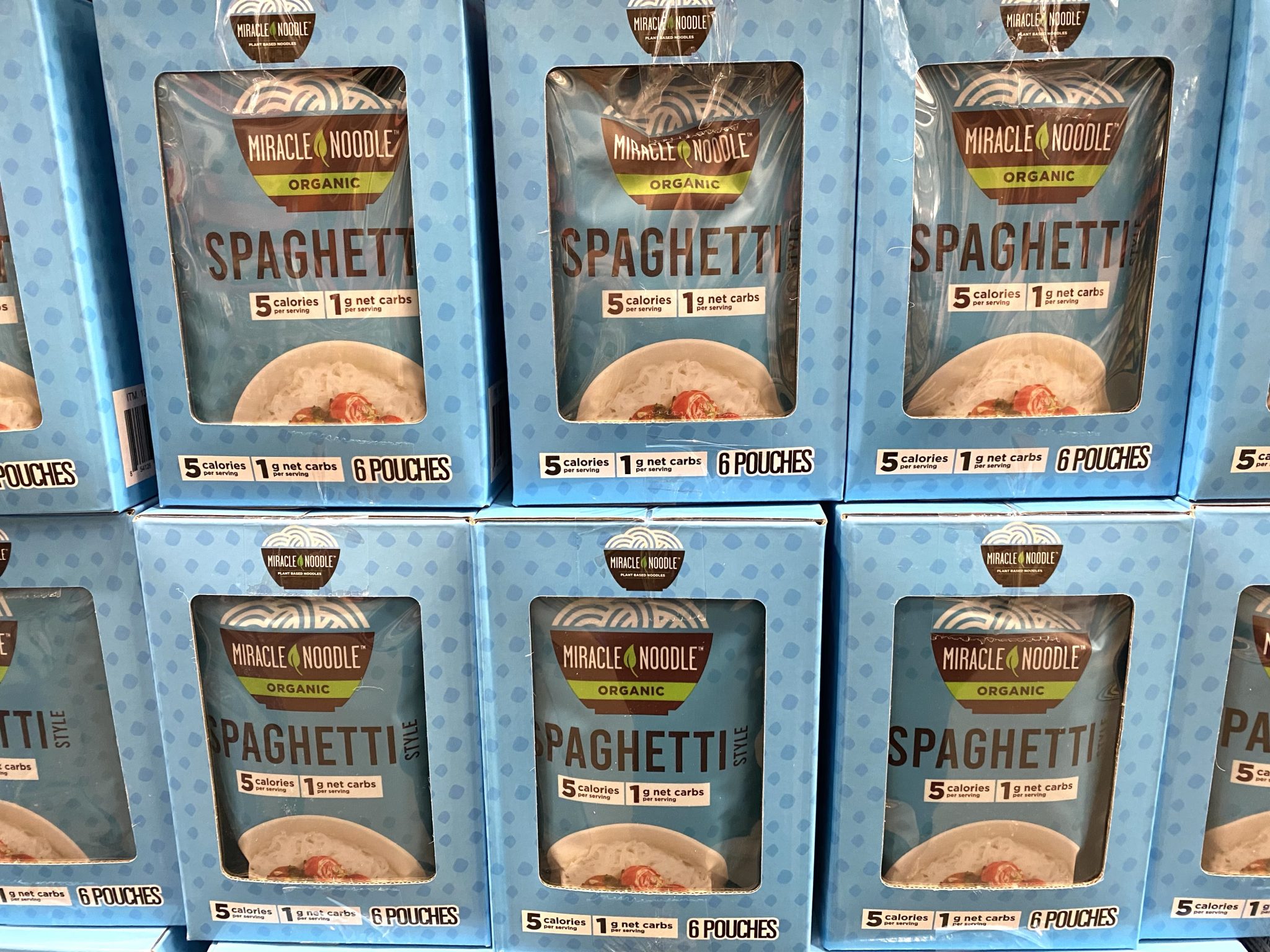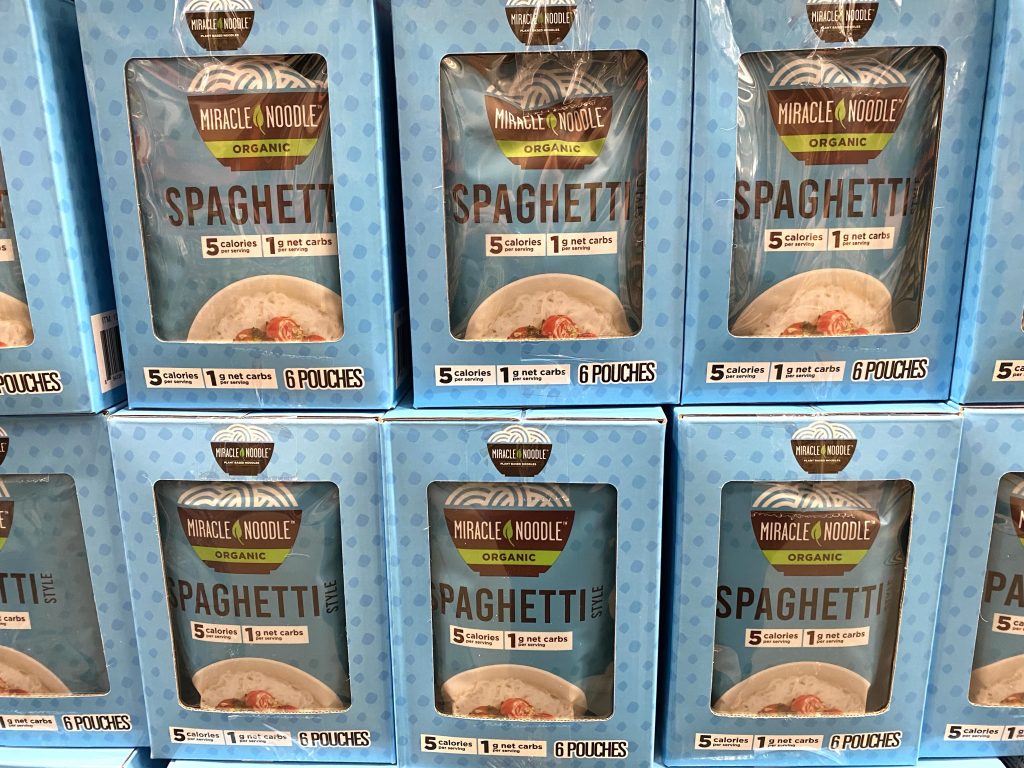 Miracle Noodle Organic Spaghetti is low in calories: 5 calories and only 1 net carb per serving.
Salmon Dip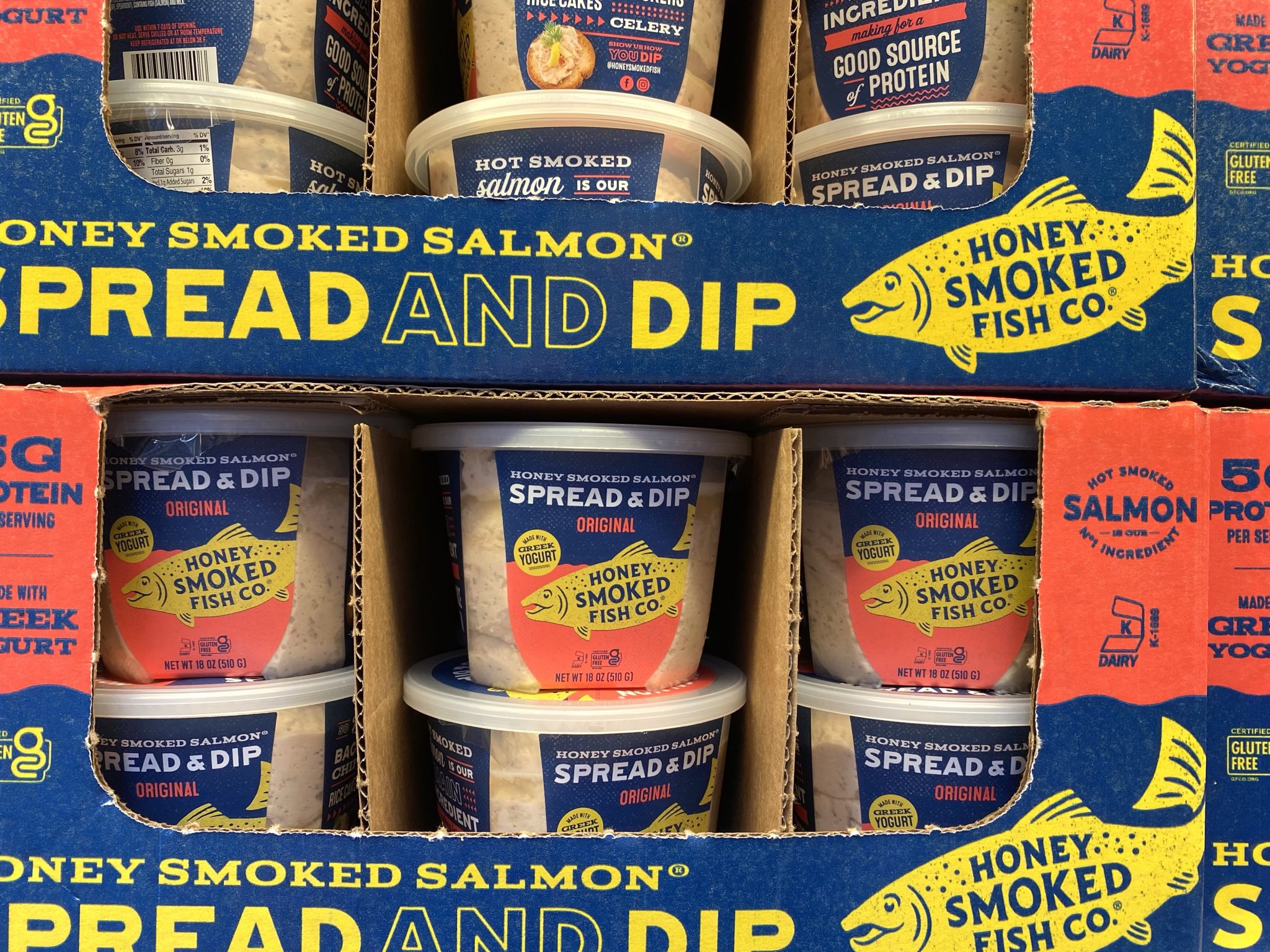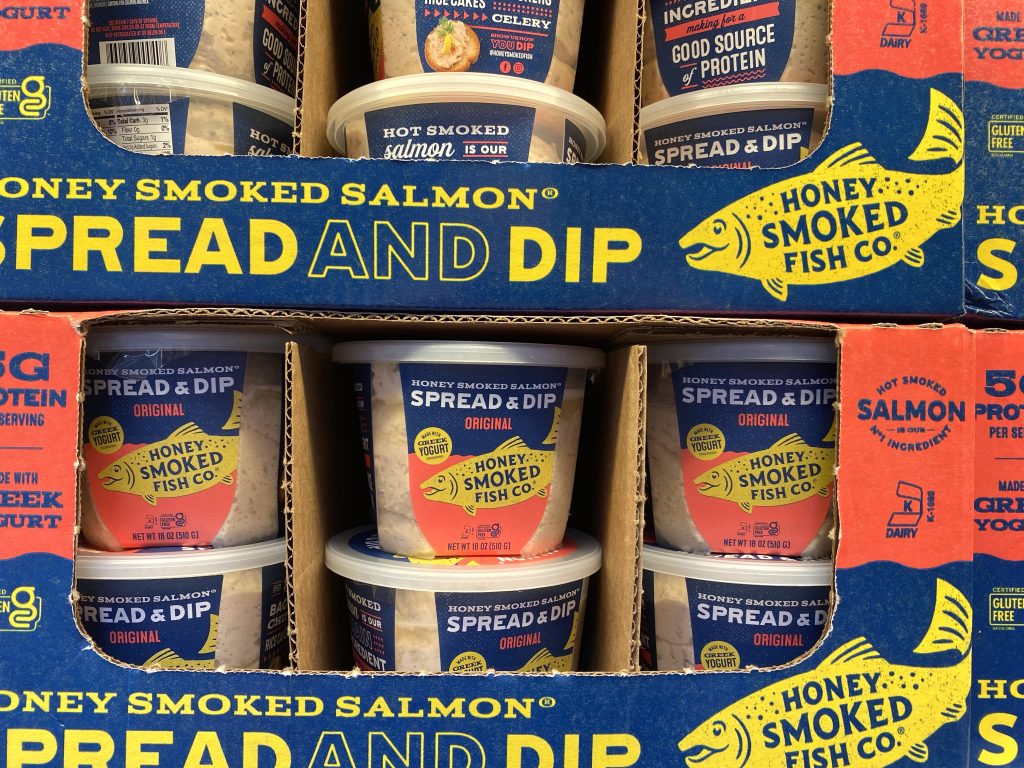 Honey Smoked Fish Co. Smoked Salmon Spread and Dip is made with Greek yogurt and has 2 net carbs per serving.
Keto Bread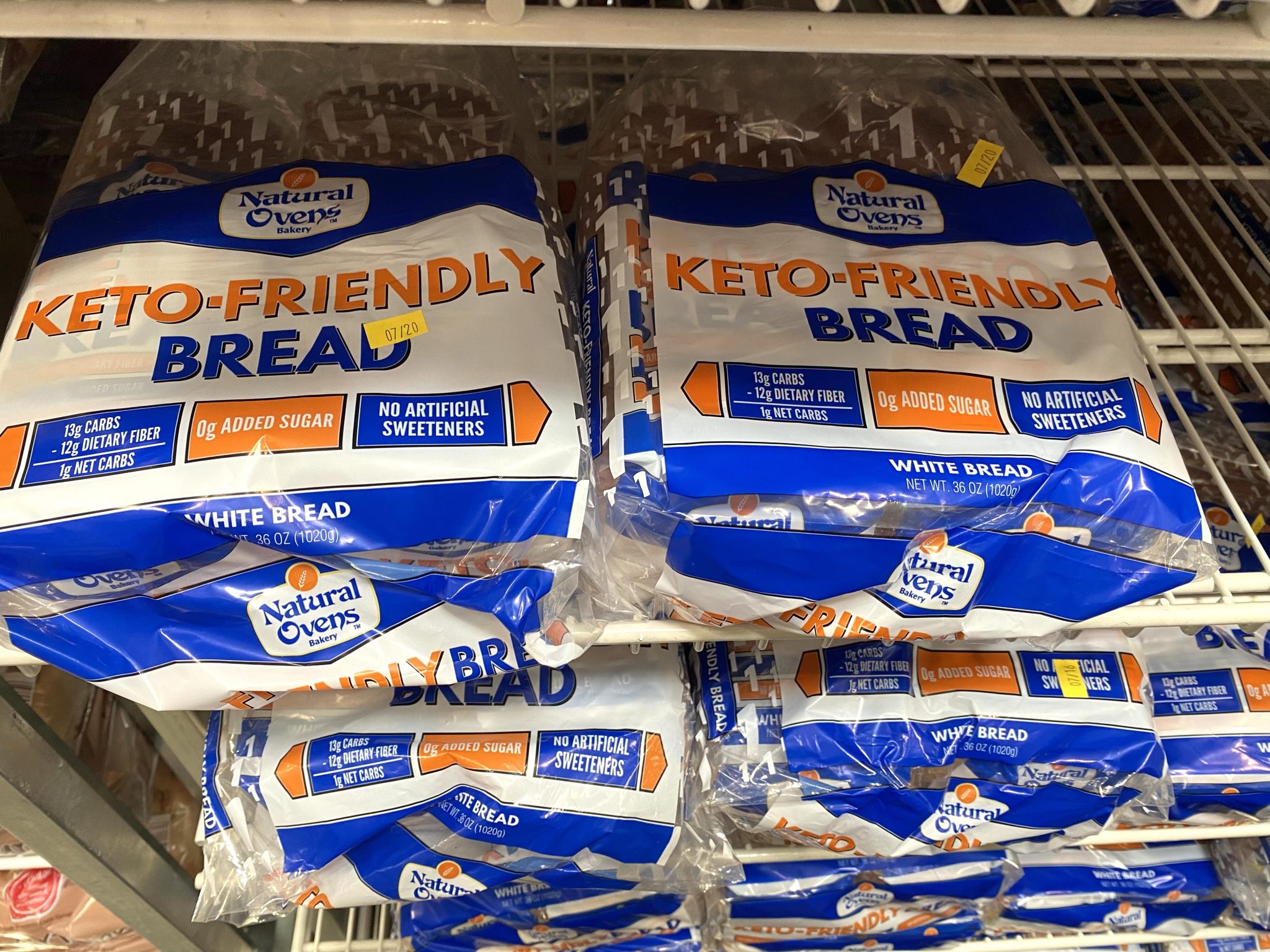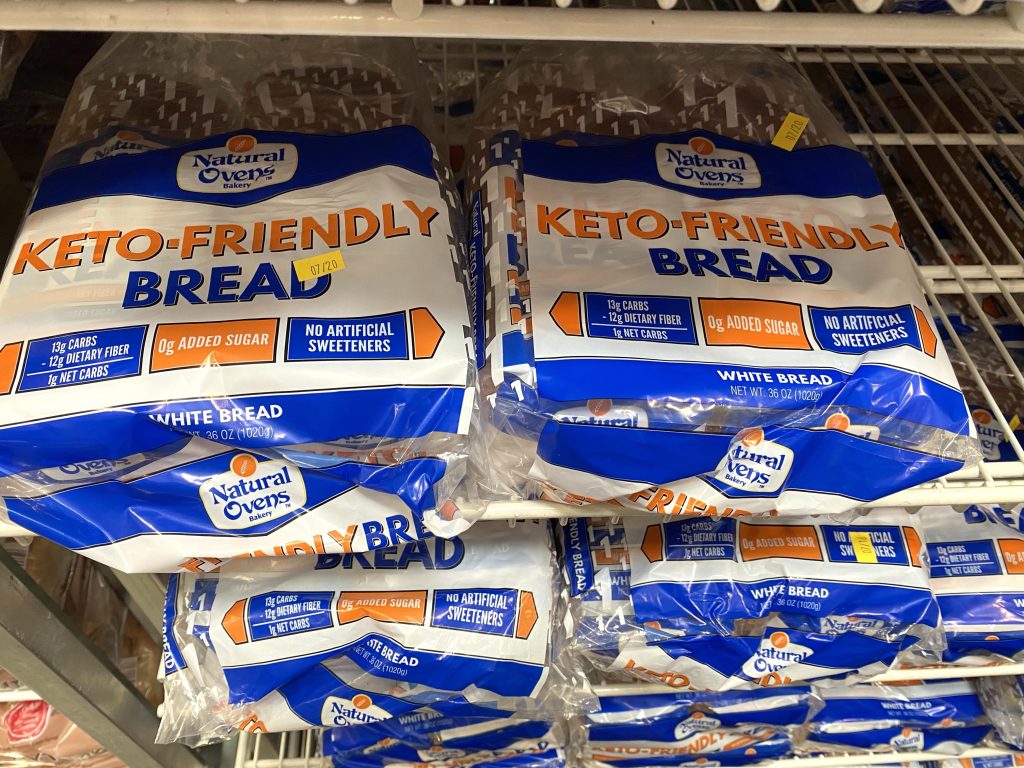 Natural Ovens Keto-friendly bread has 1 net carb per slice. It contains no artificial sweeteners.
Sous Vide Egg Bites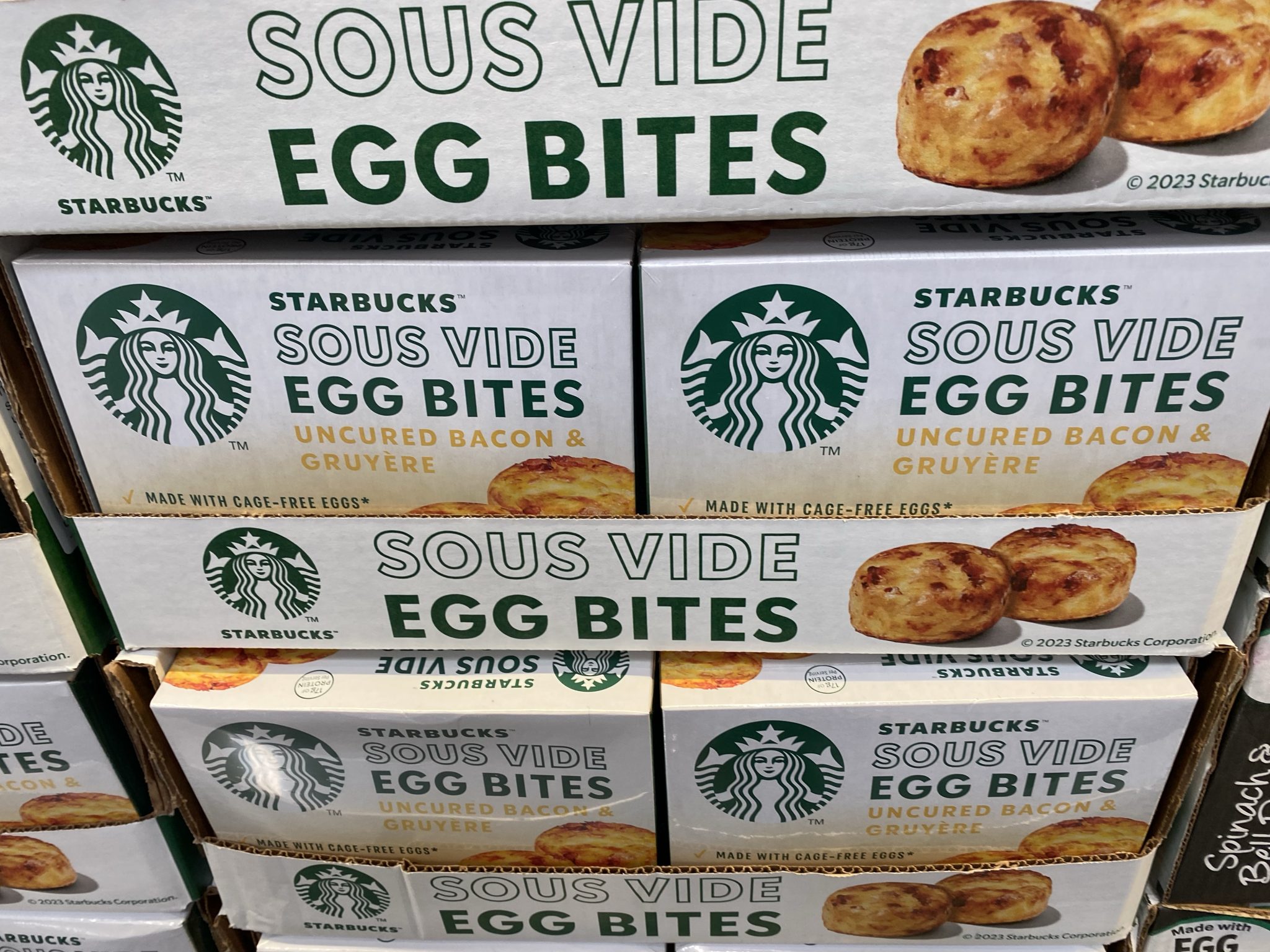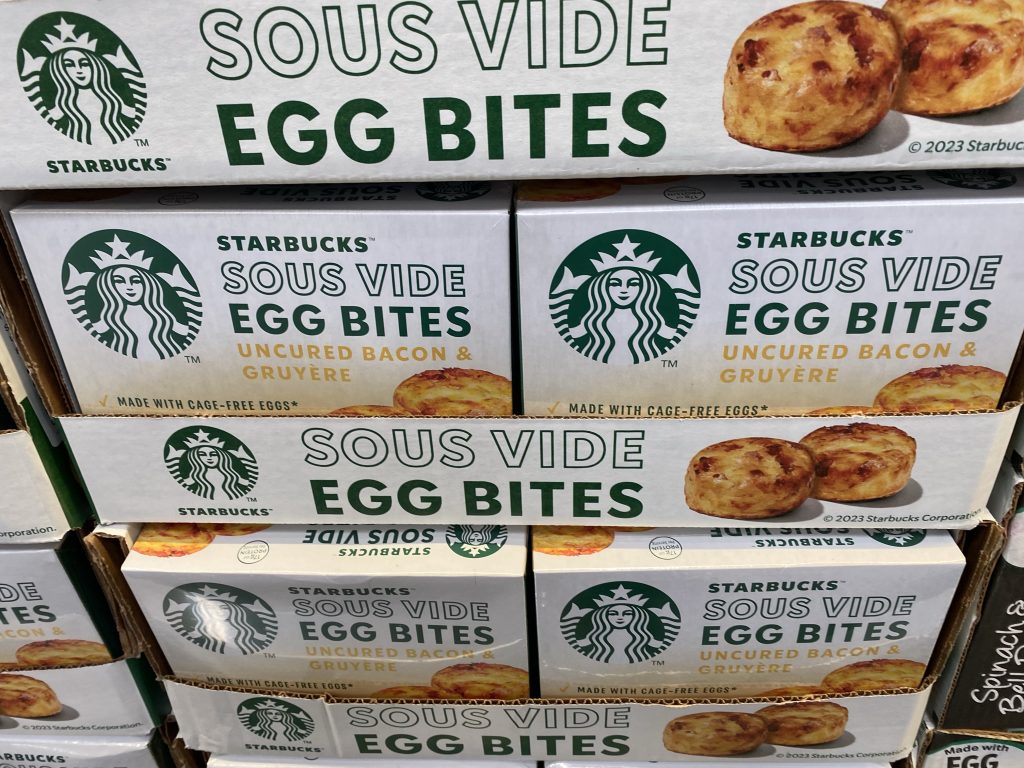 The ever-popular Starbucks Egg Bites are now available in the grocery store. They have 8 net carbs for 2 egg bites.
Pimento Cheese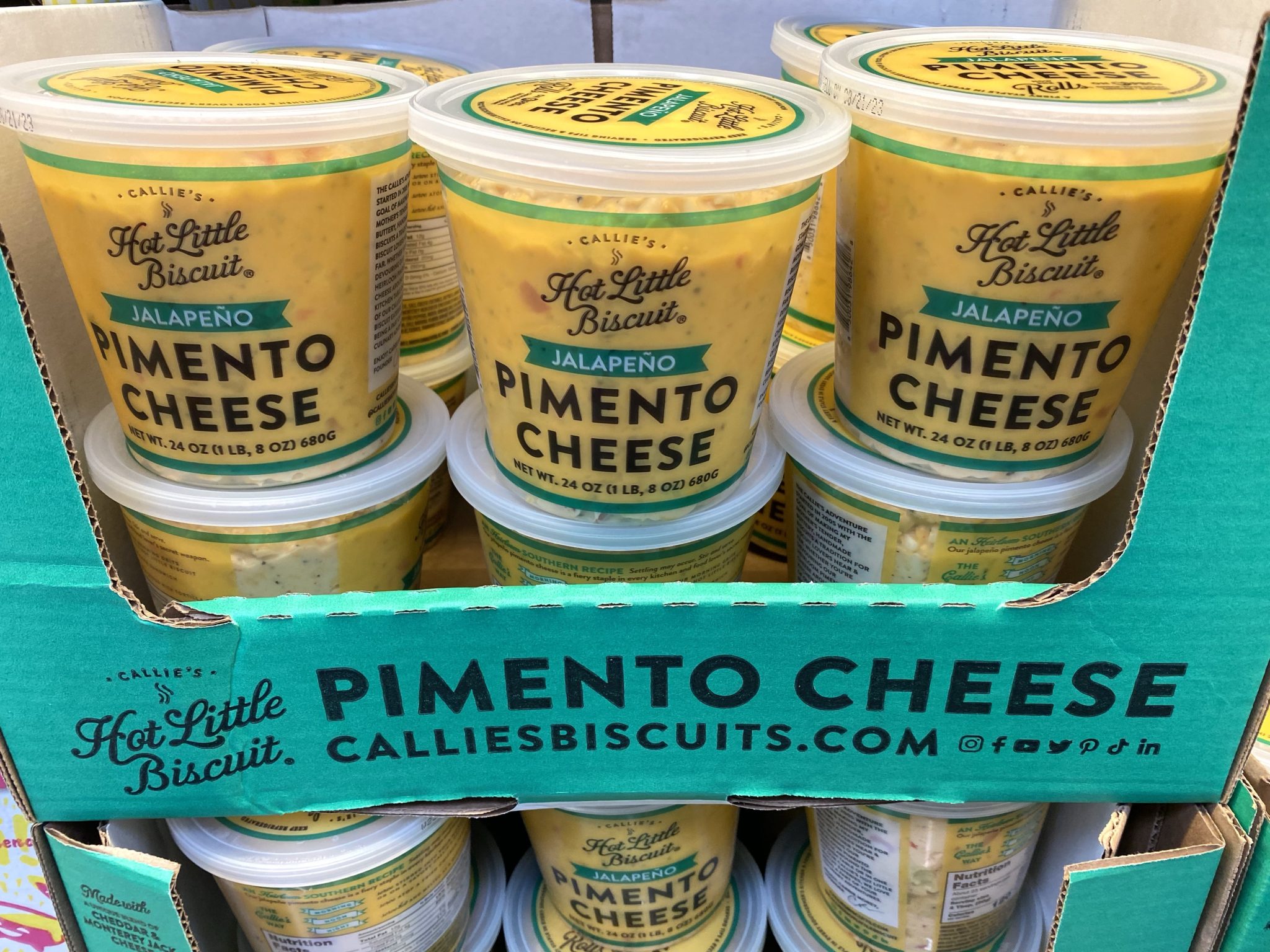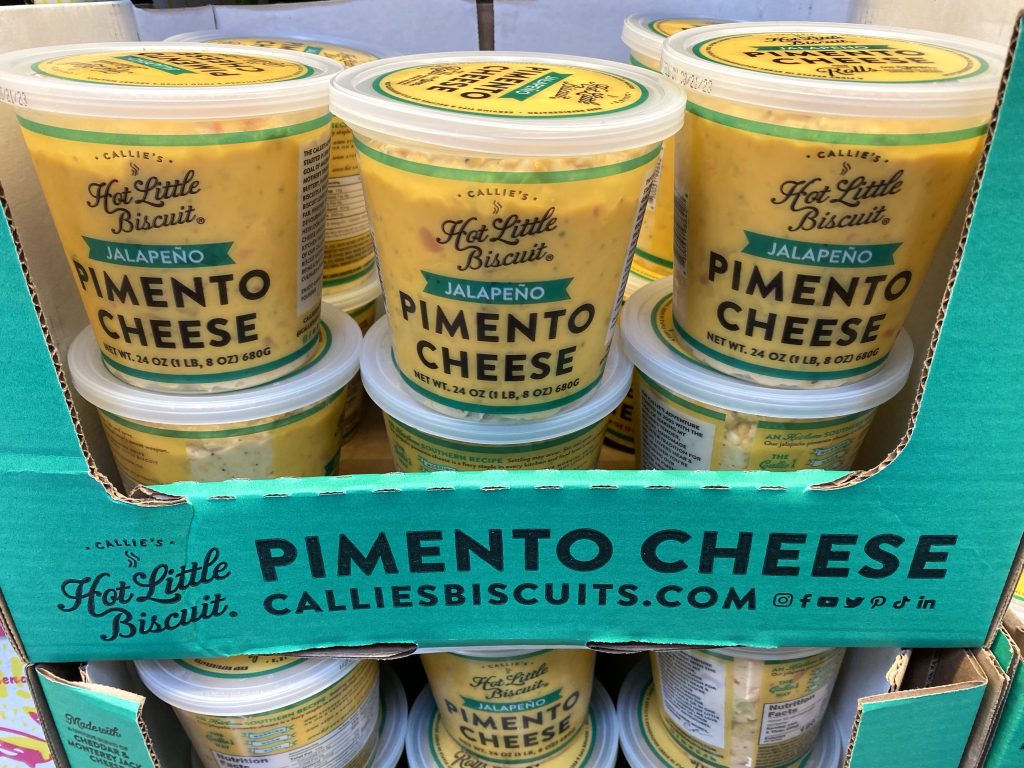 Hot Little, Biscuit Pimento Cheese, comes in original and jalapeno flavors. It's a traditional deli pimento cheese with 1 carb per serving.
Salsa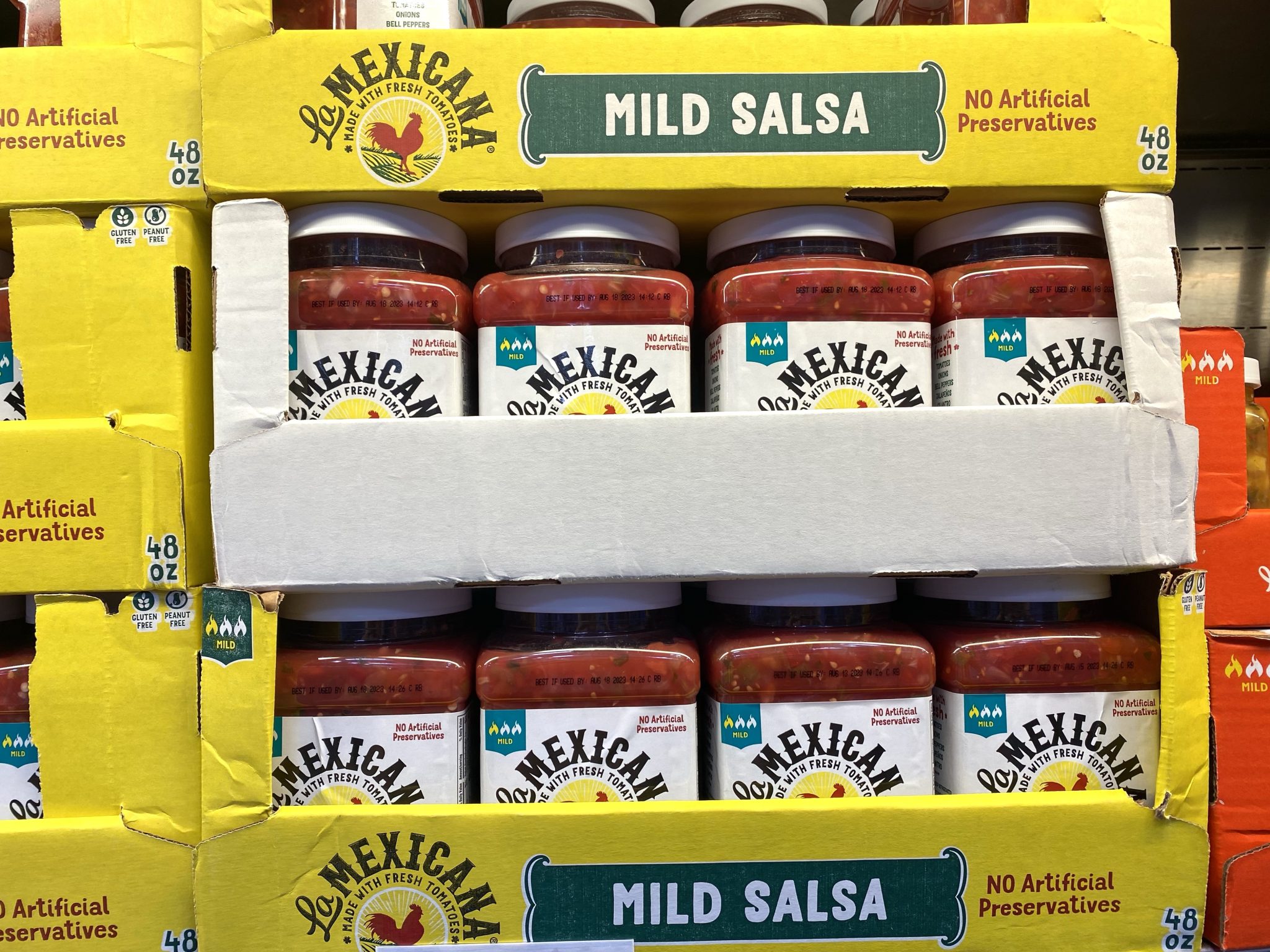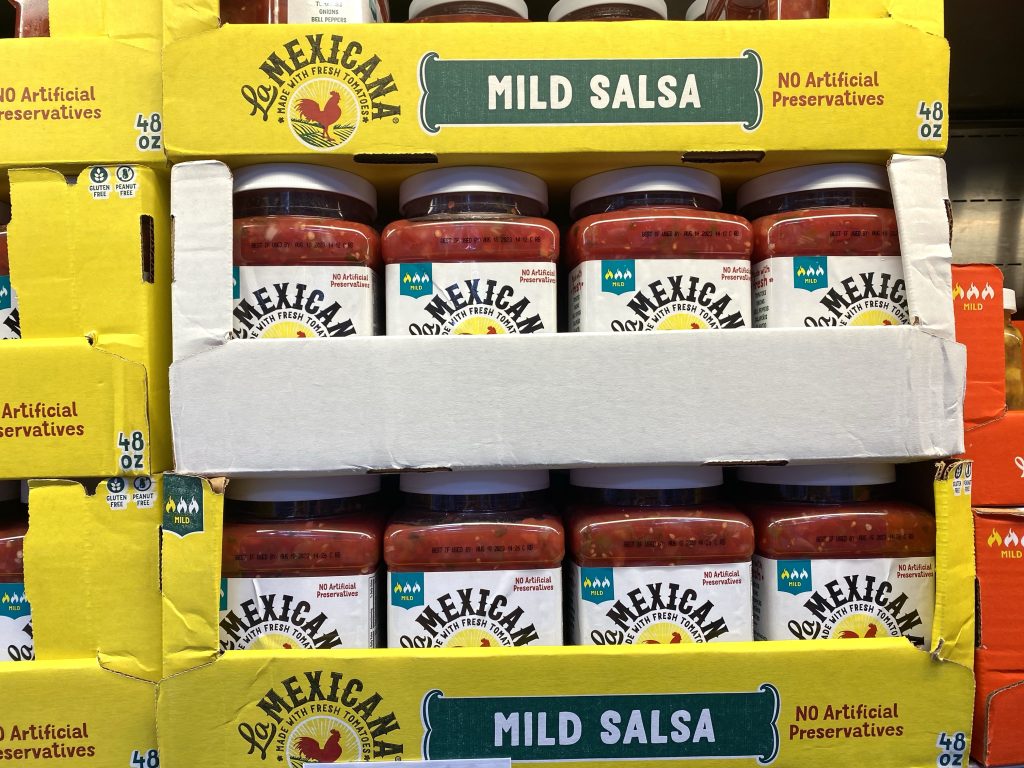 La Mexicana salsa is a deli fresh salsa sold in the refrigerated section of Costco. It has 1 carb per serving.
Bacon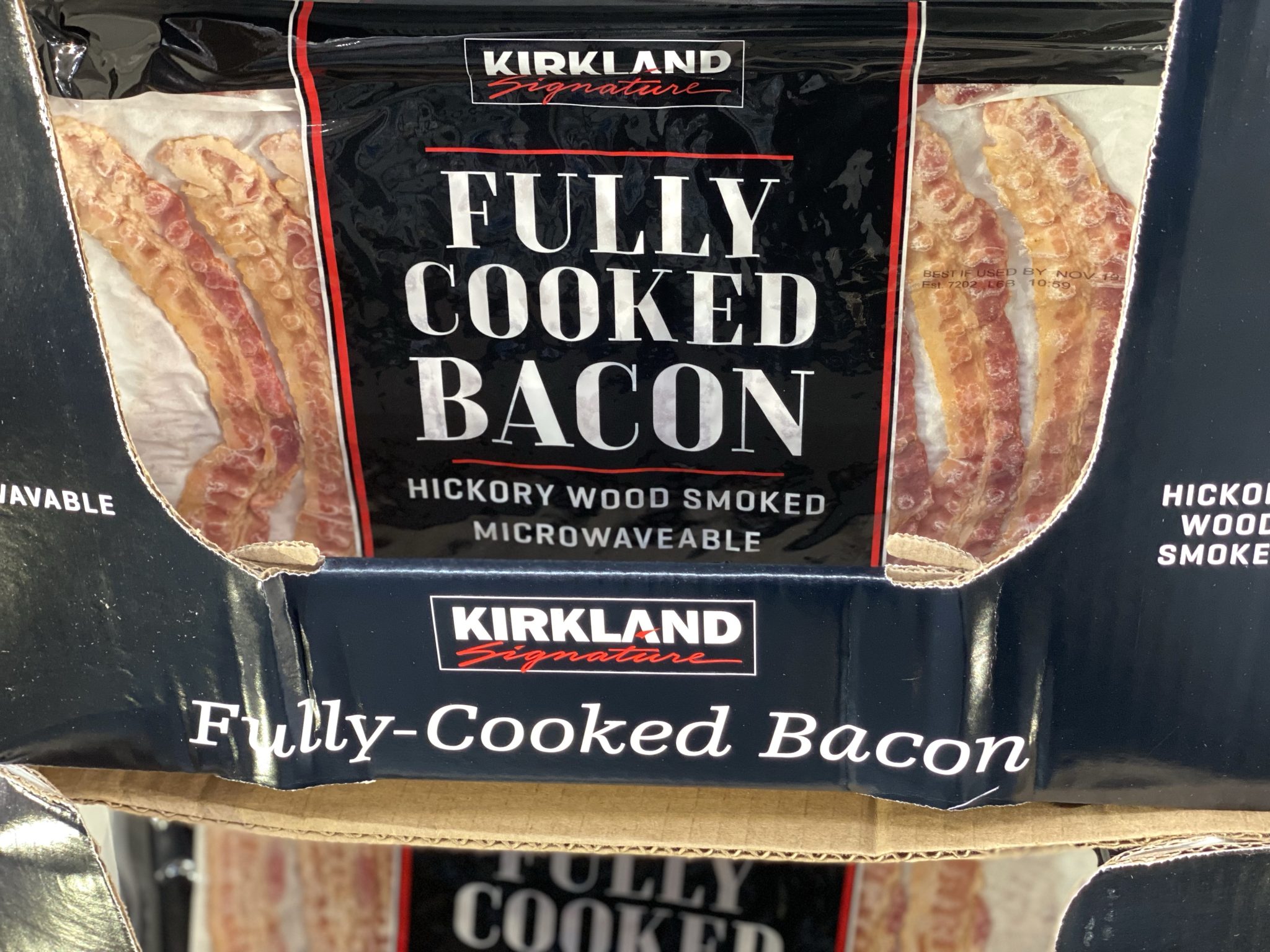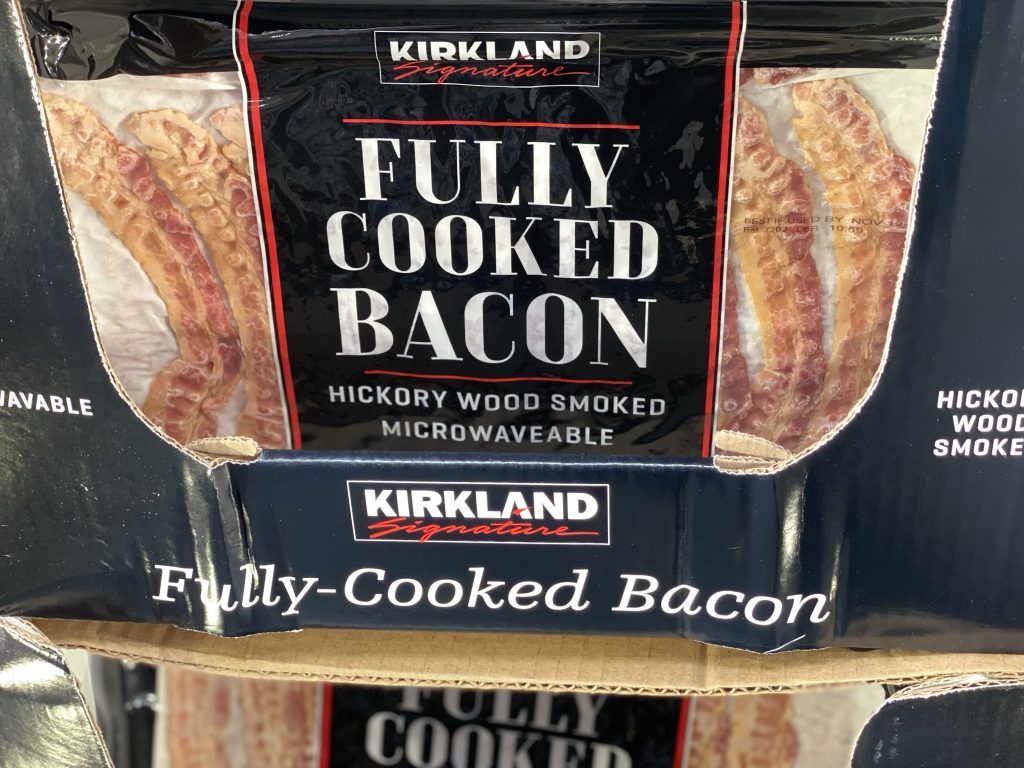 Kirkland fully cooked bacon is perfect for busy mornings. It's hickory smoked and low carb.
Dips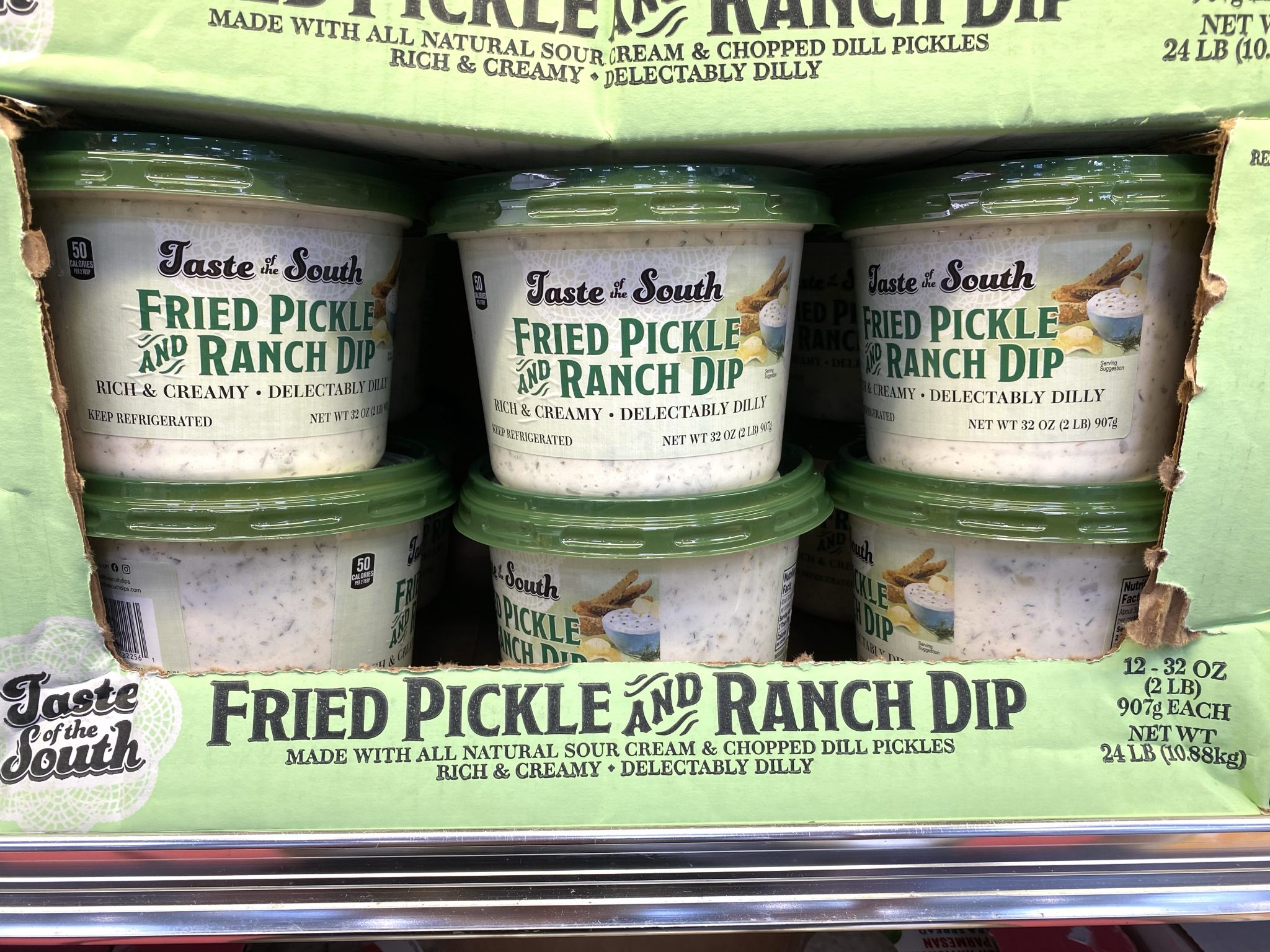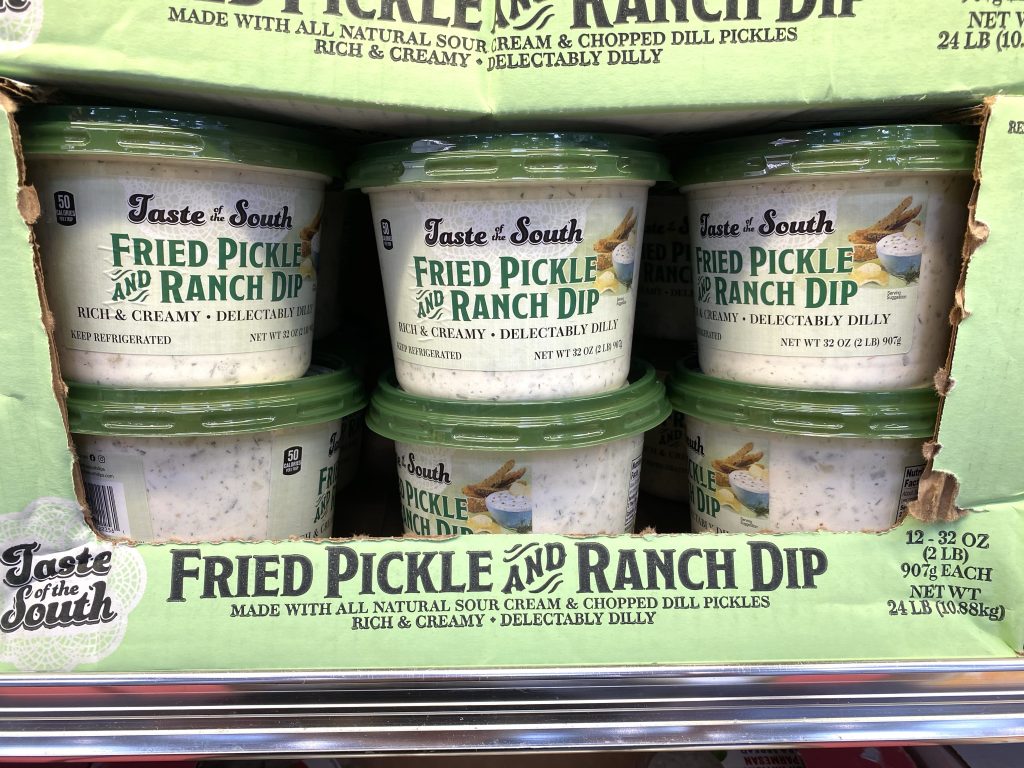 Costco offers a range of dips, including the low-carb and rich Taste of the South Fried Dill Pickle Dip.
Smoke Sausage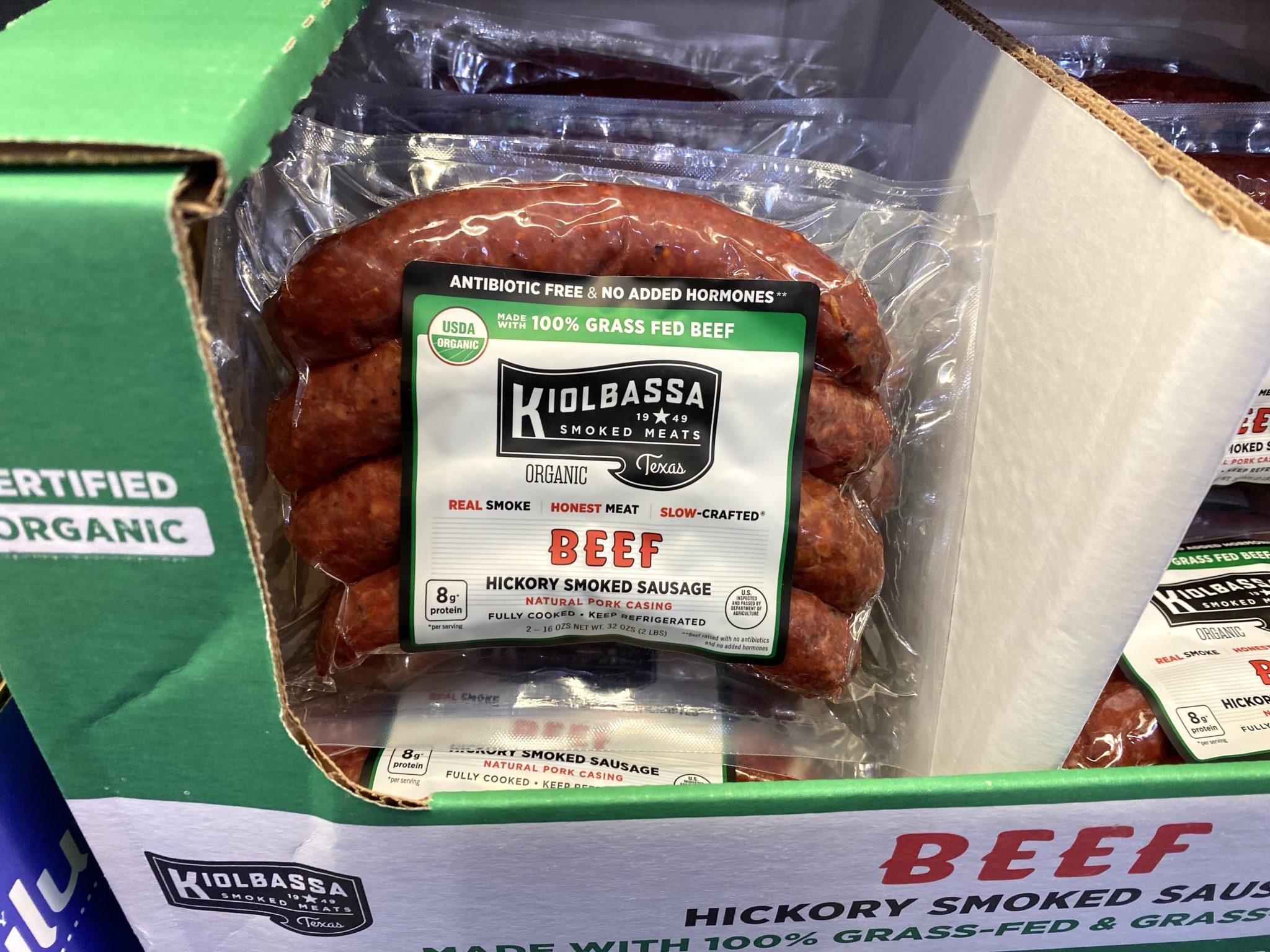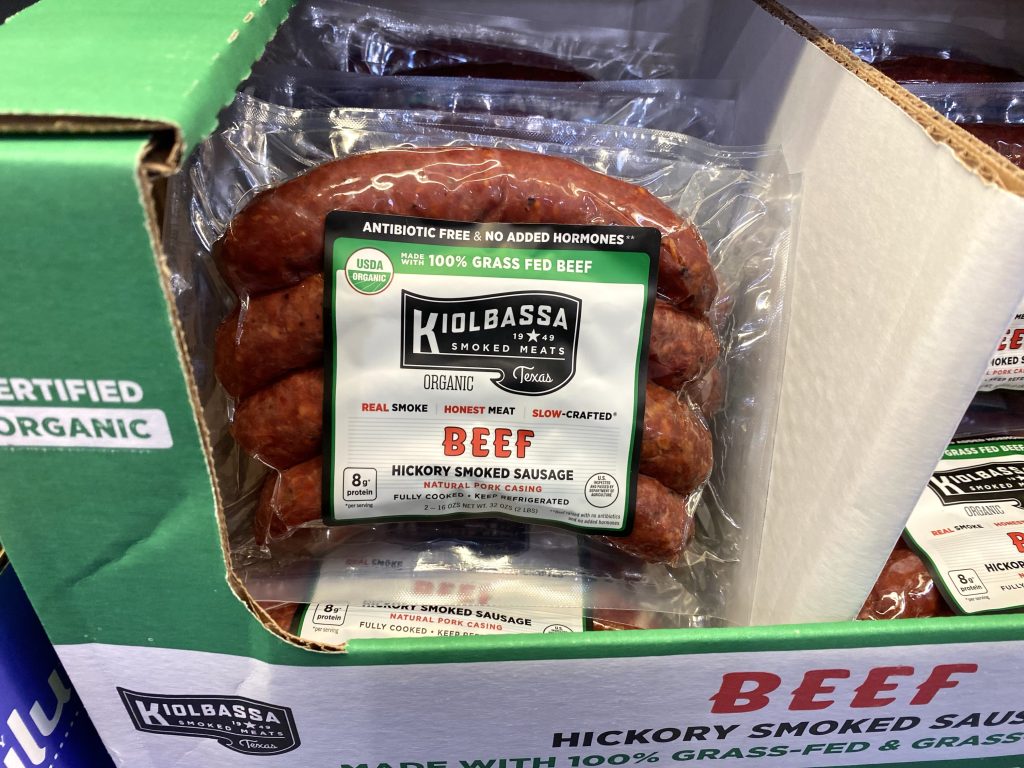 Kiolbassa beef hickory smoked sausage is 100% grass-fed, certified organic, and low in carbs.
Egg Bites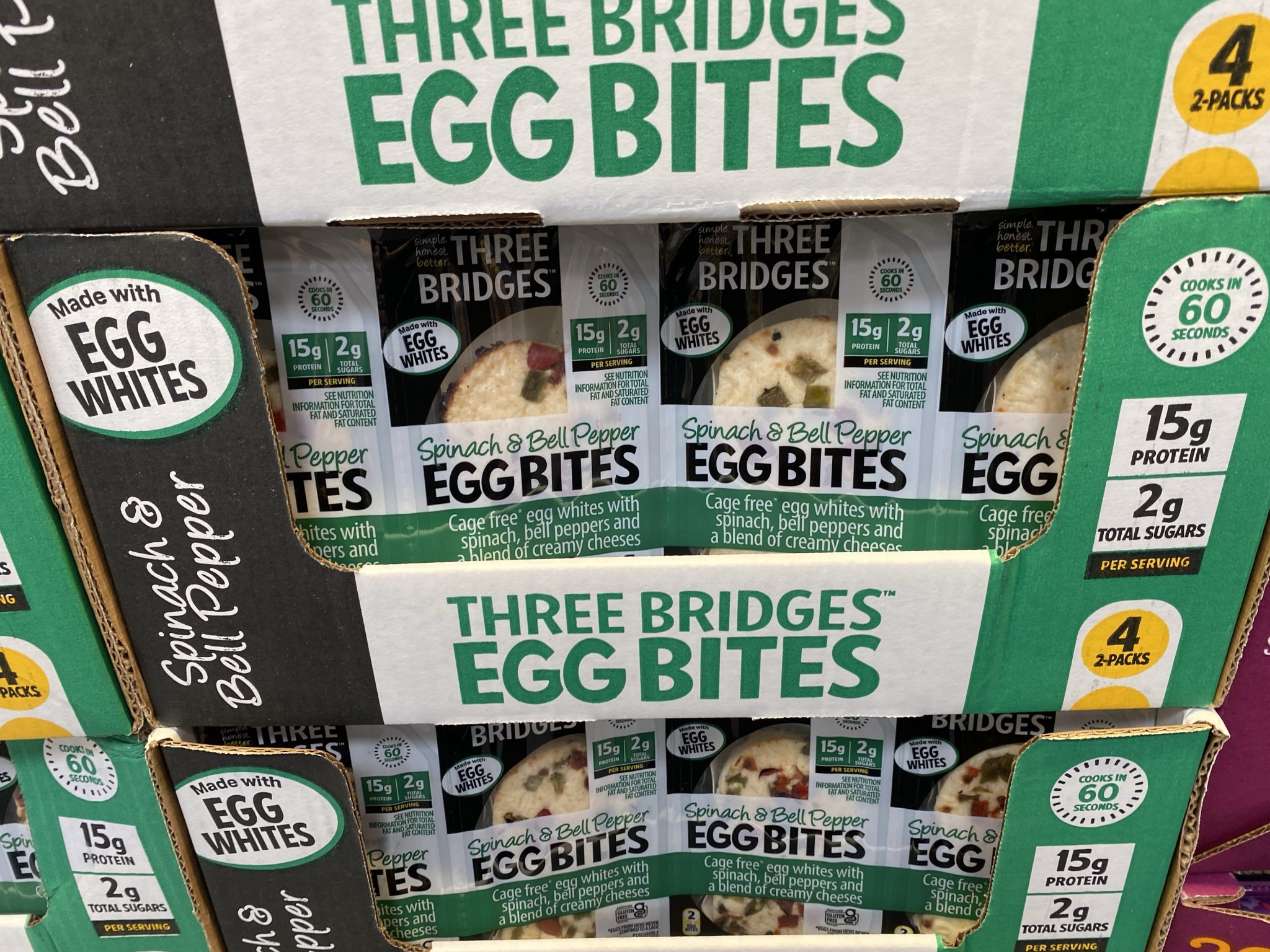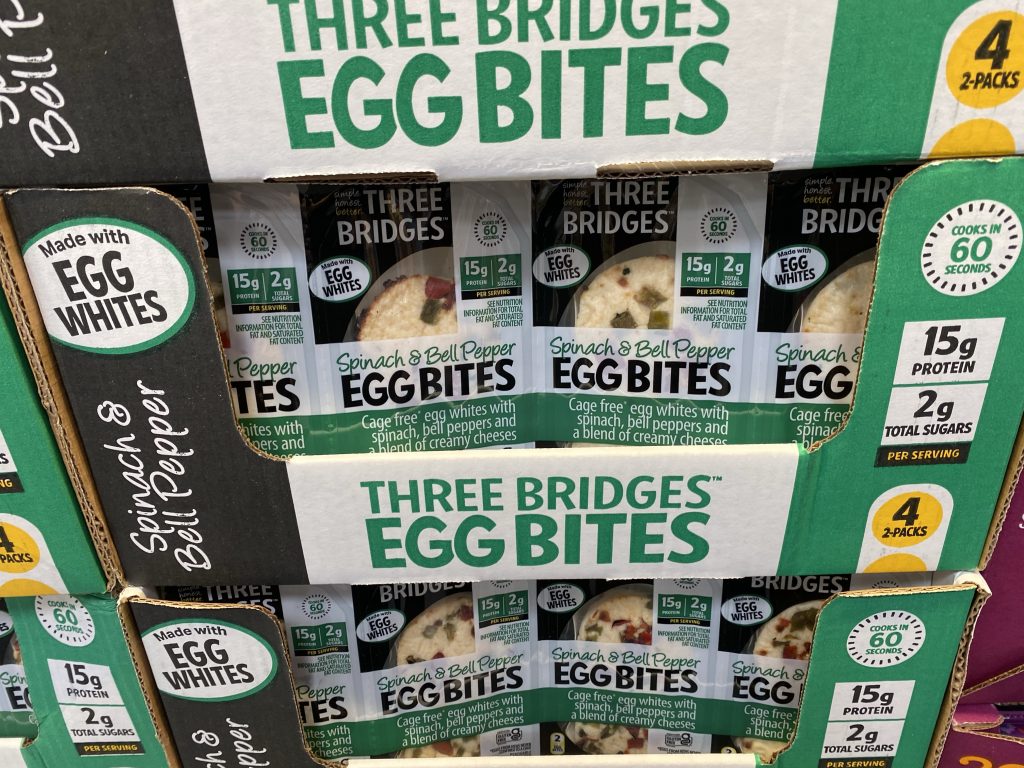 Three Bridges egg bites are high protein, low carb. They're a great substitute for the Starbucks egg bites.
Grilled Chicken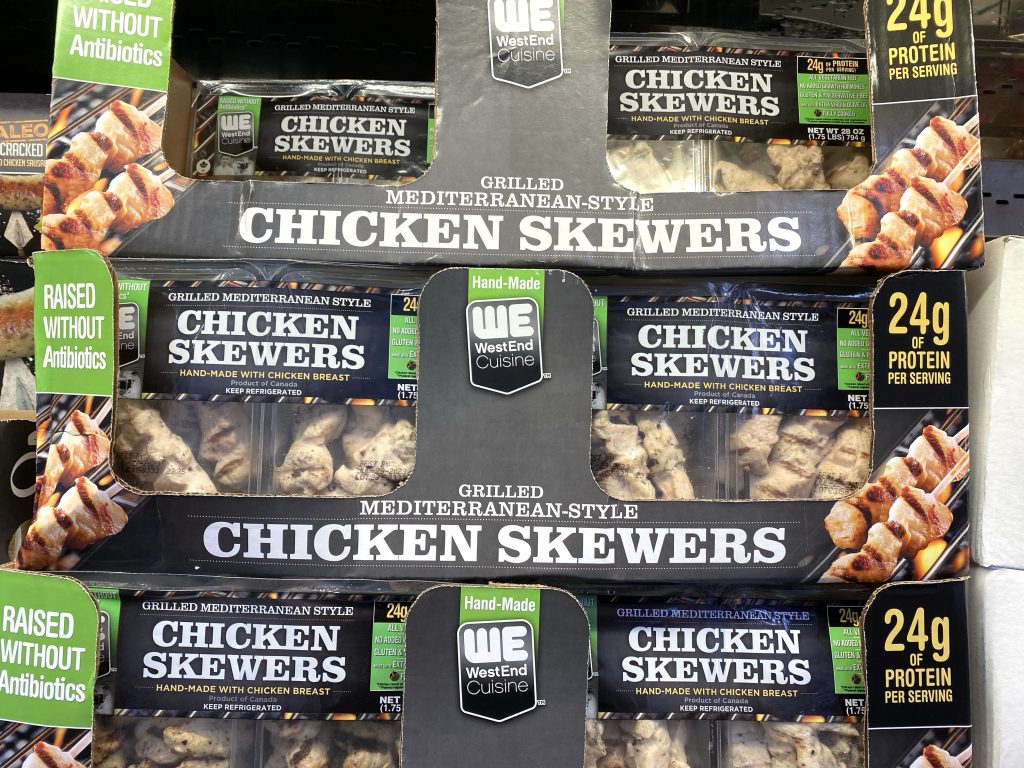 Pre-cooked grilled chicken skewers are ready to add to your recipes and salads for a quick meal. They have 24 grams of protein per serving.
Protein Shakes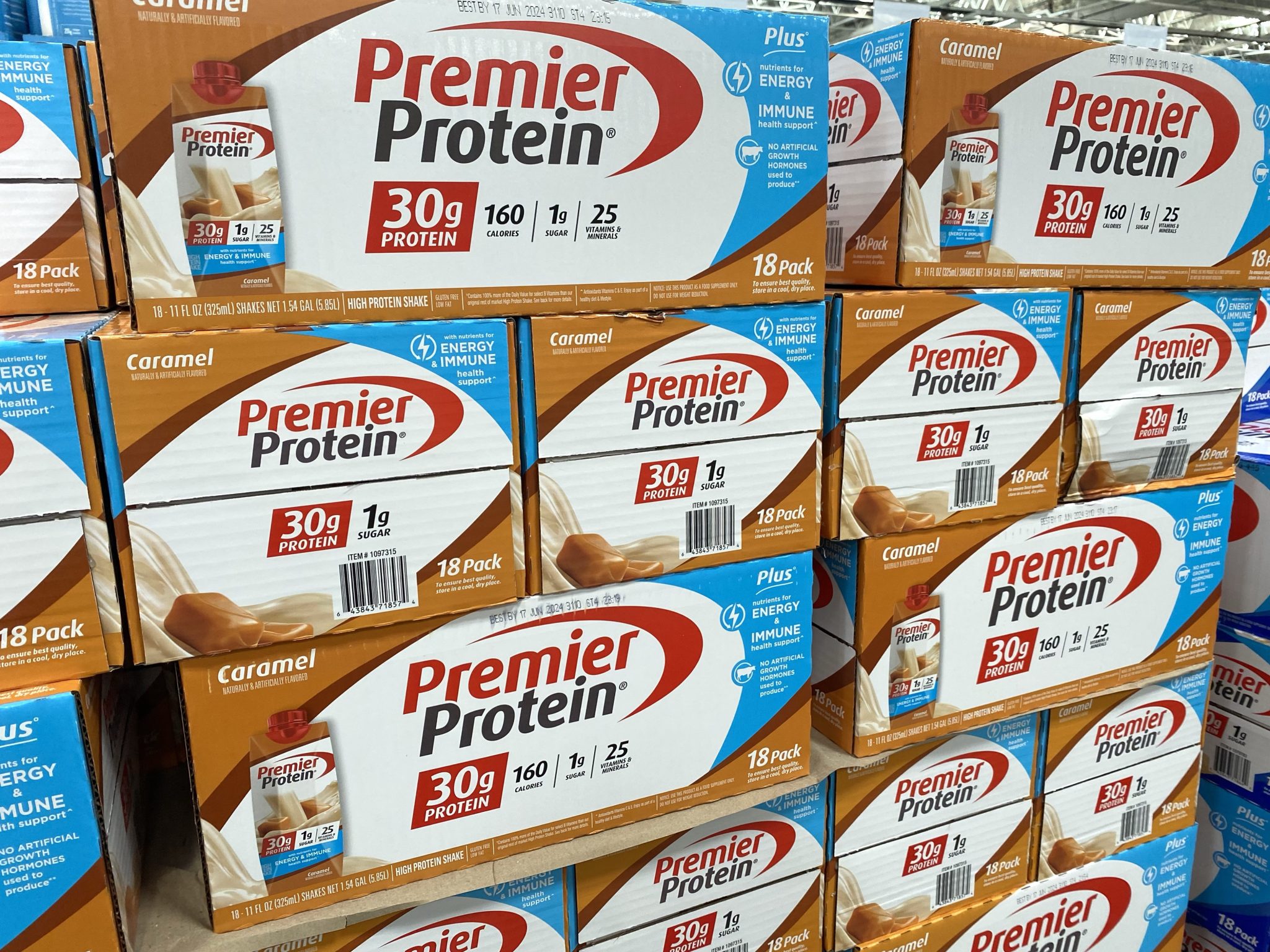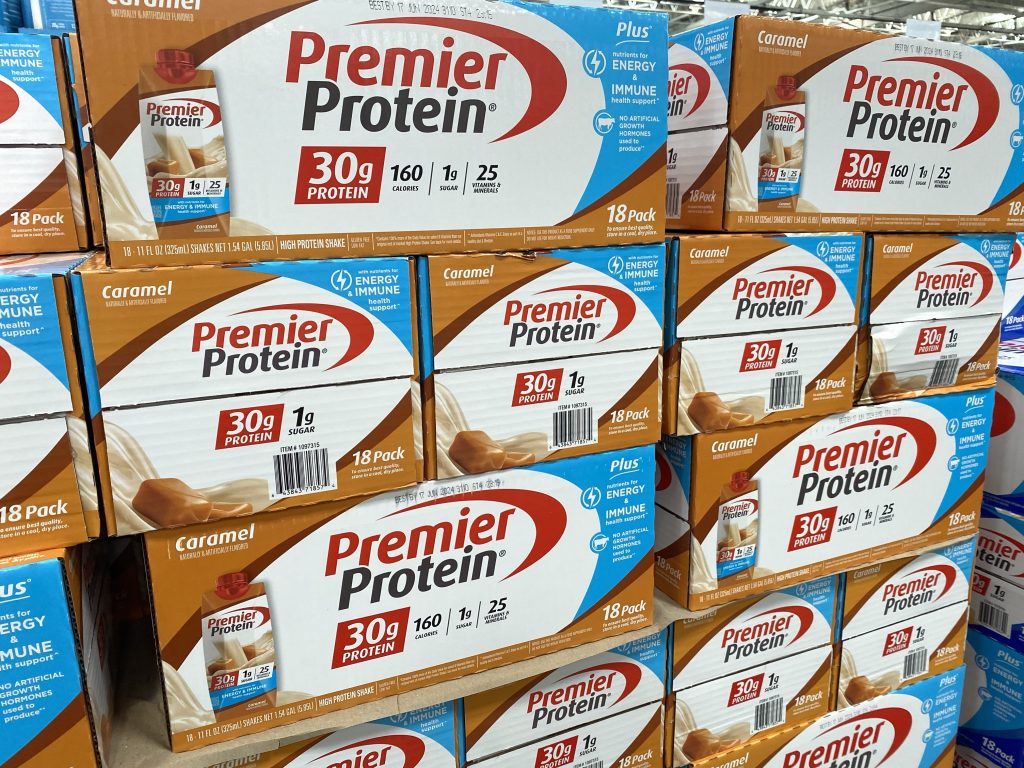 Costo carries a variety of protein shakes. Premier protein shakes are low-carb and have 30 grams of protein.
Pulled Pork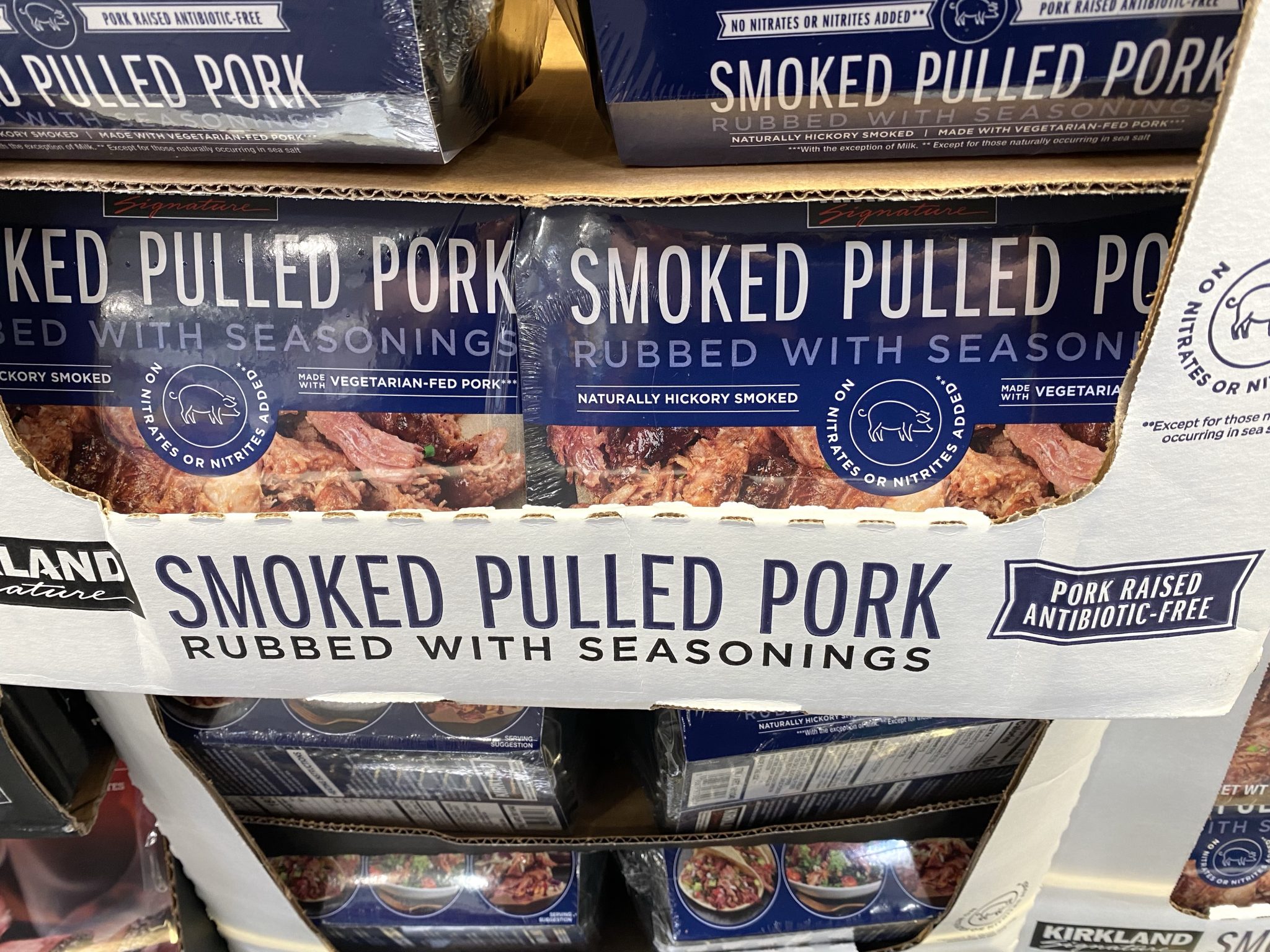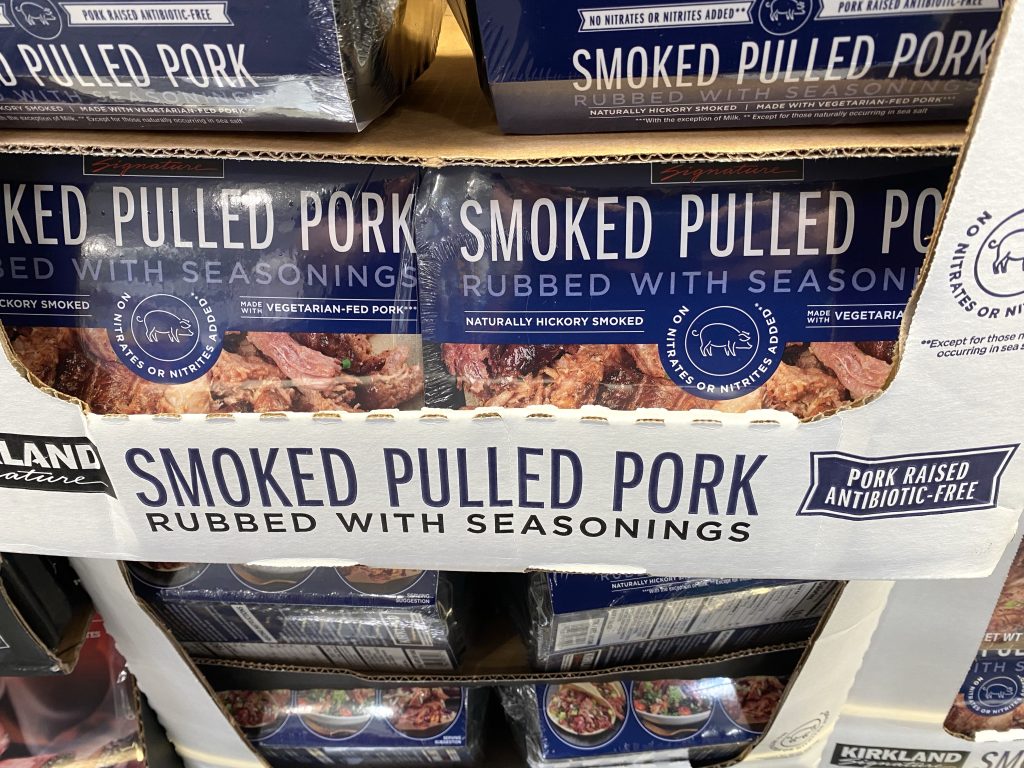 Costco Kirkland smoked pulled pork rubbed with seasonings is nitrate free and low in carbs.
Breaded Chicken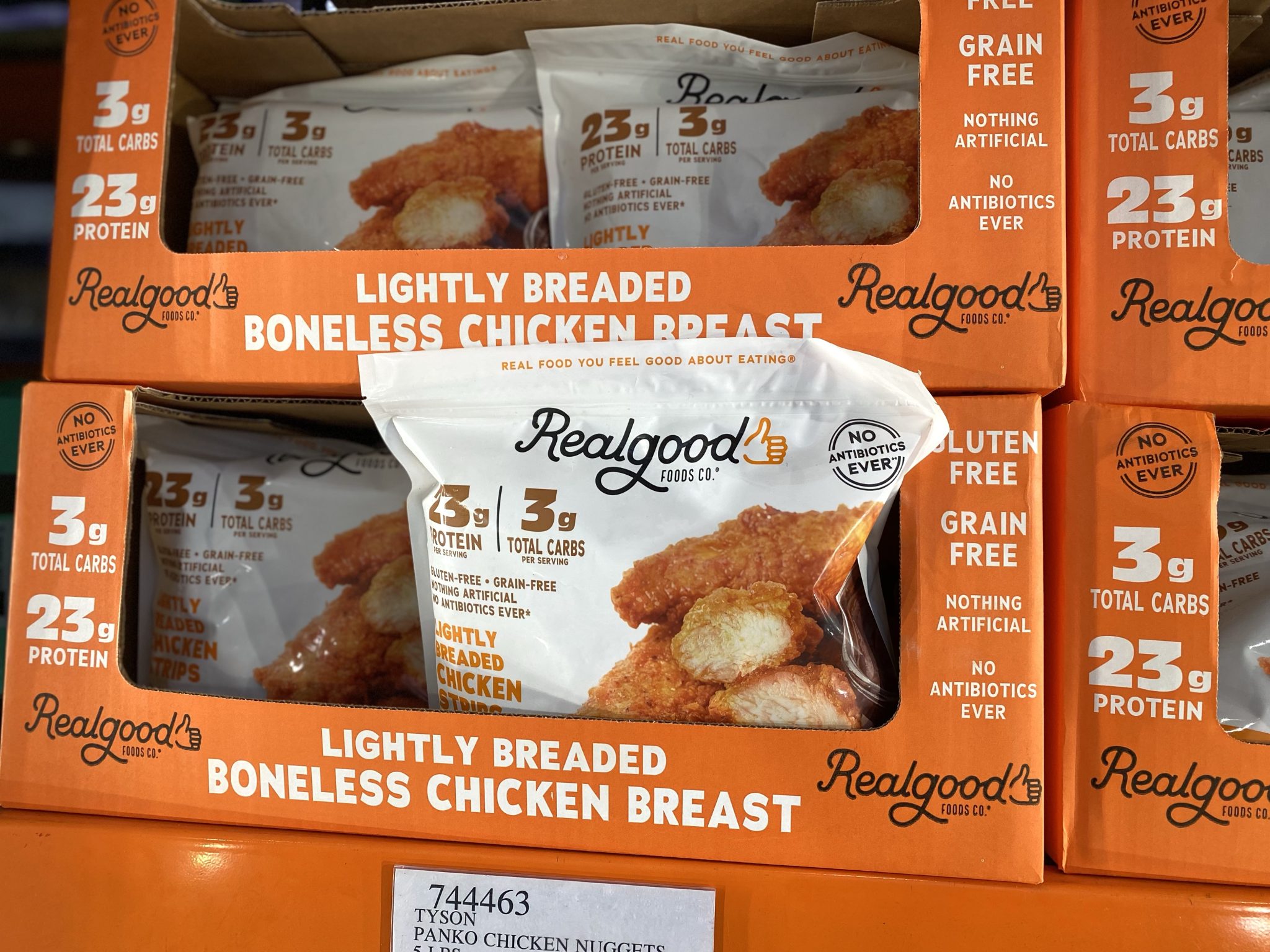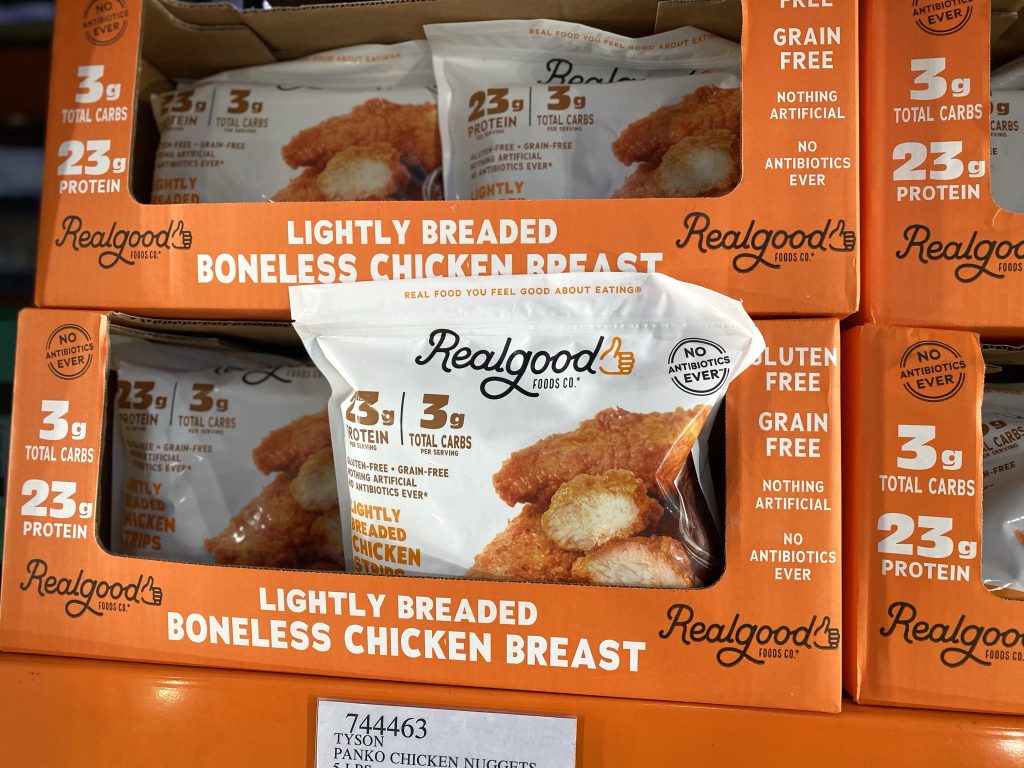 Realgood Foods lightly breaded boneless chicken breasts are high in protein. And have 3 net carbs per serving. They are grain-free and gluten-free.
Cheese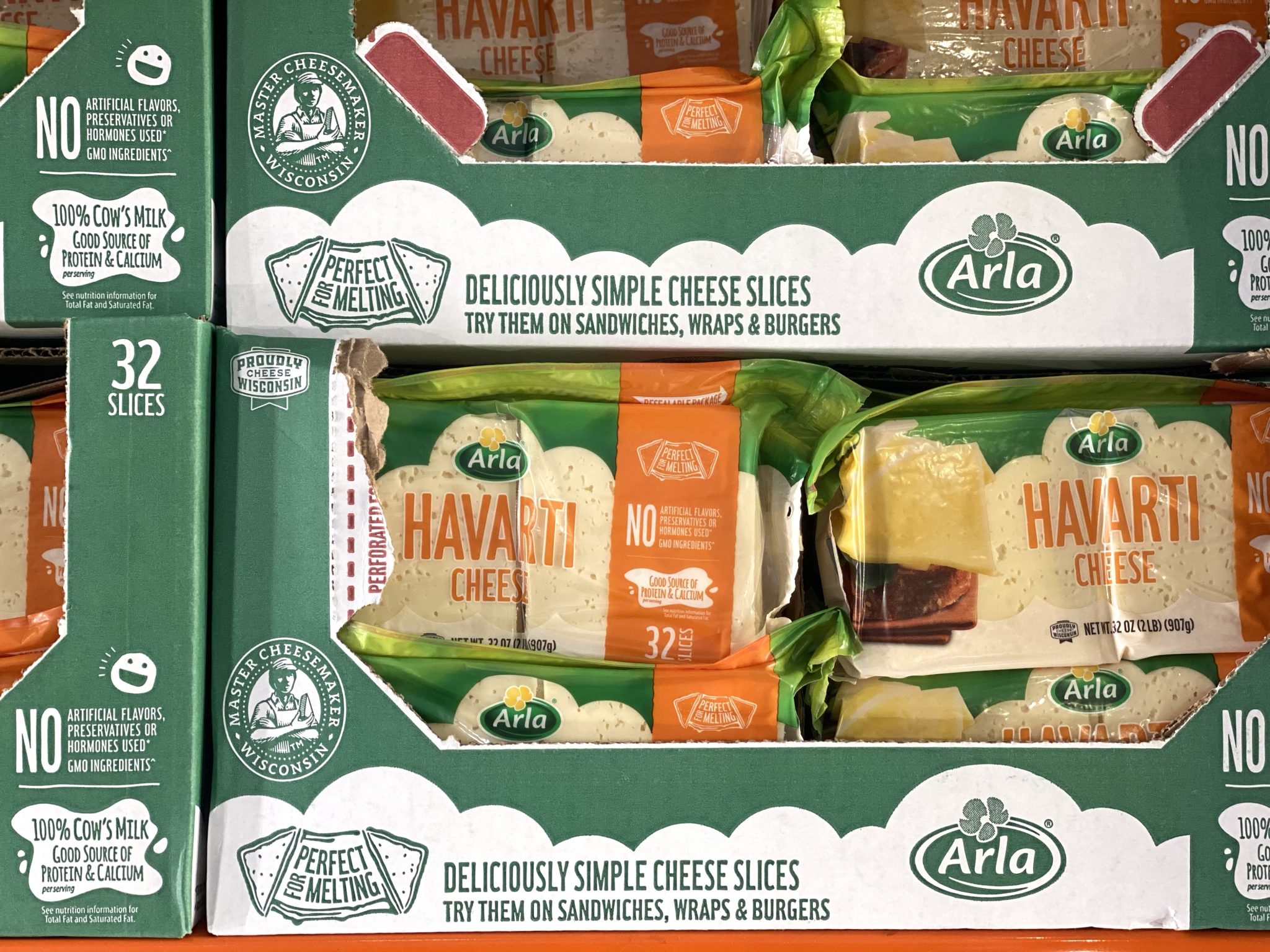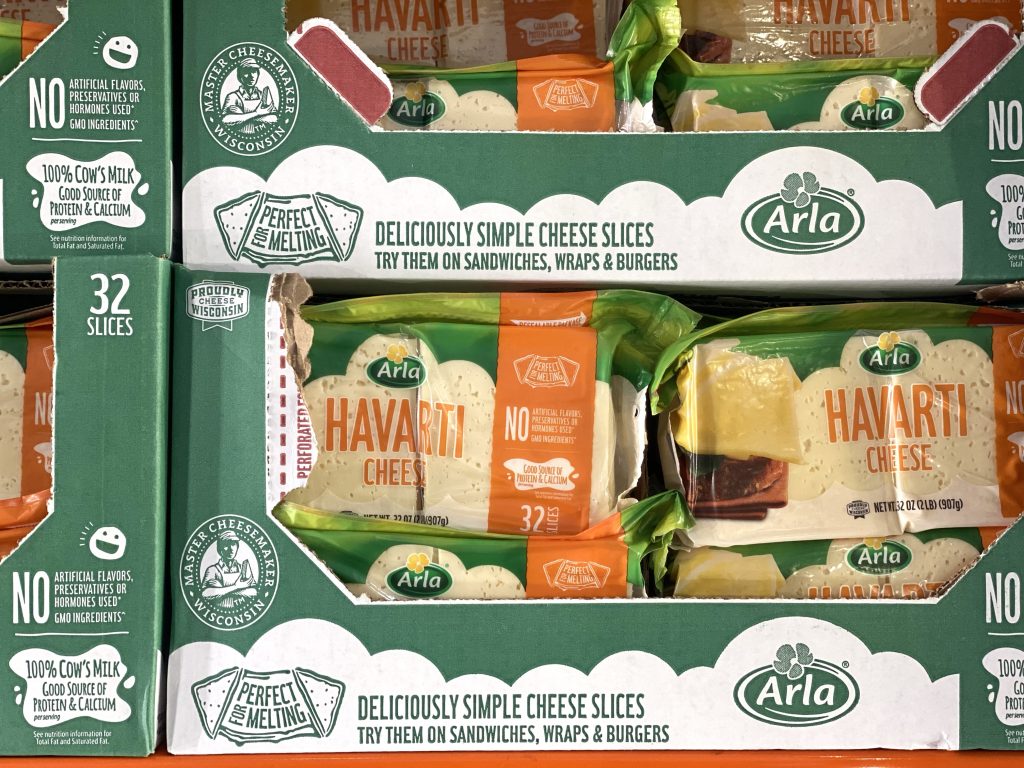 Costco offers a vast selection of cheeses, including cheddar, brie, and Havarti.
Pickles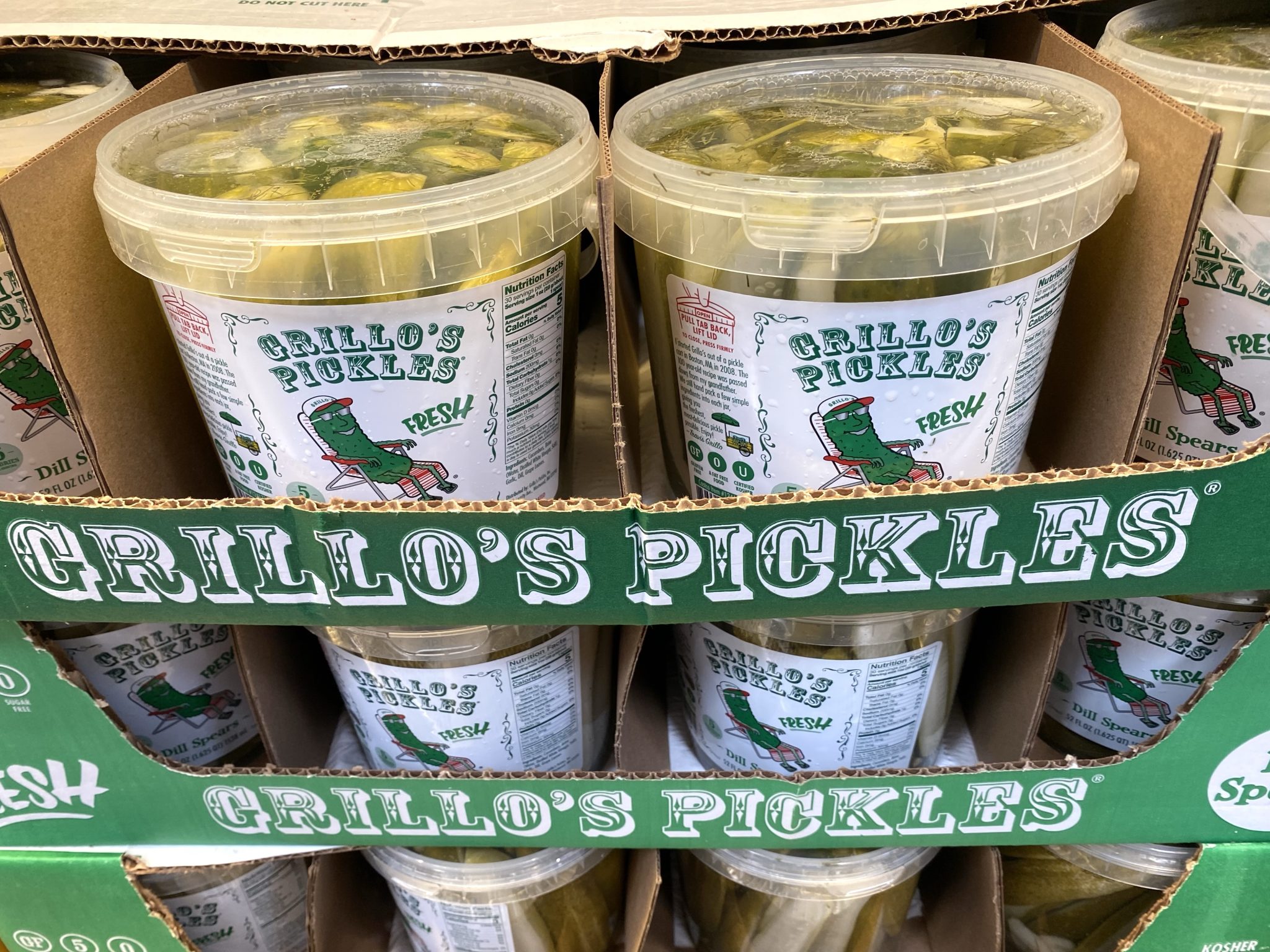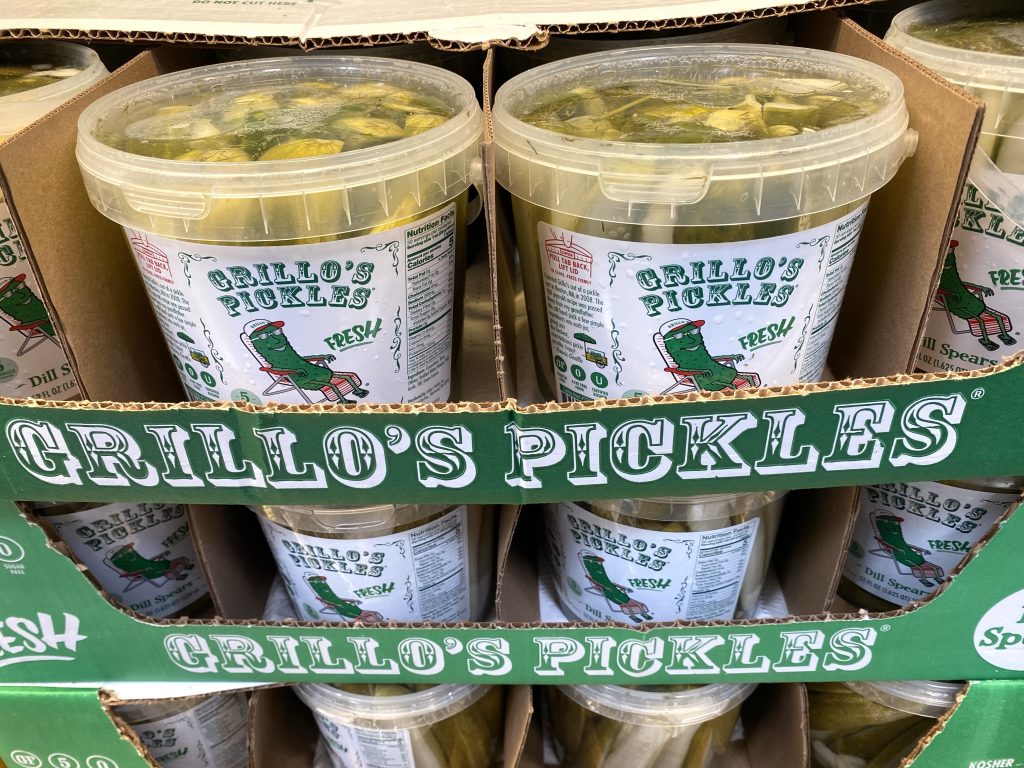 Grillo's Fresh Pickles are popular among dill pickle lovers. They are made cold, shipped cold and sold cold – and artificial preservatives free.
If you're a Dill pickle fan, try this Copycat Costo Dill Pickle Chopped Salad!
Avocado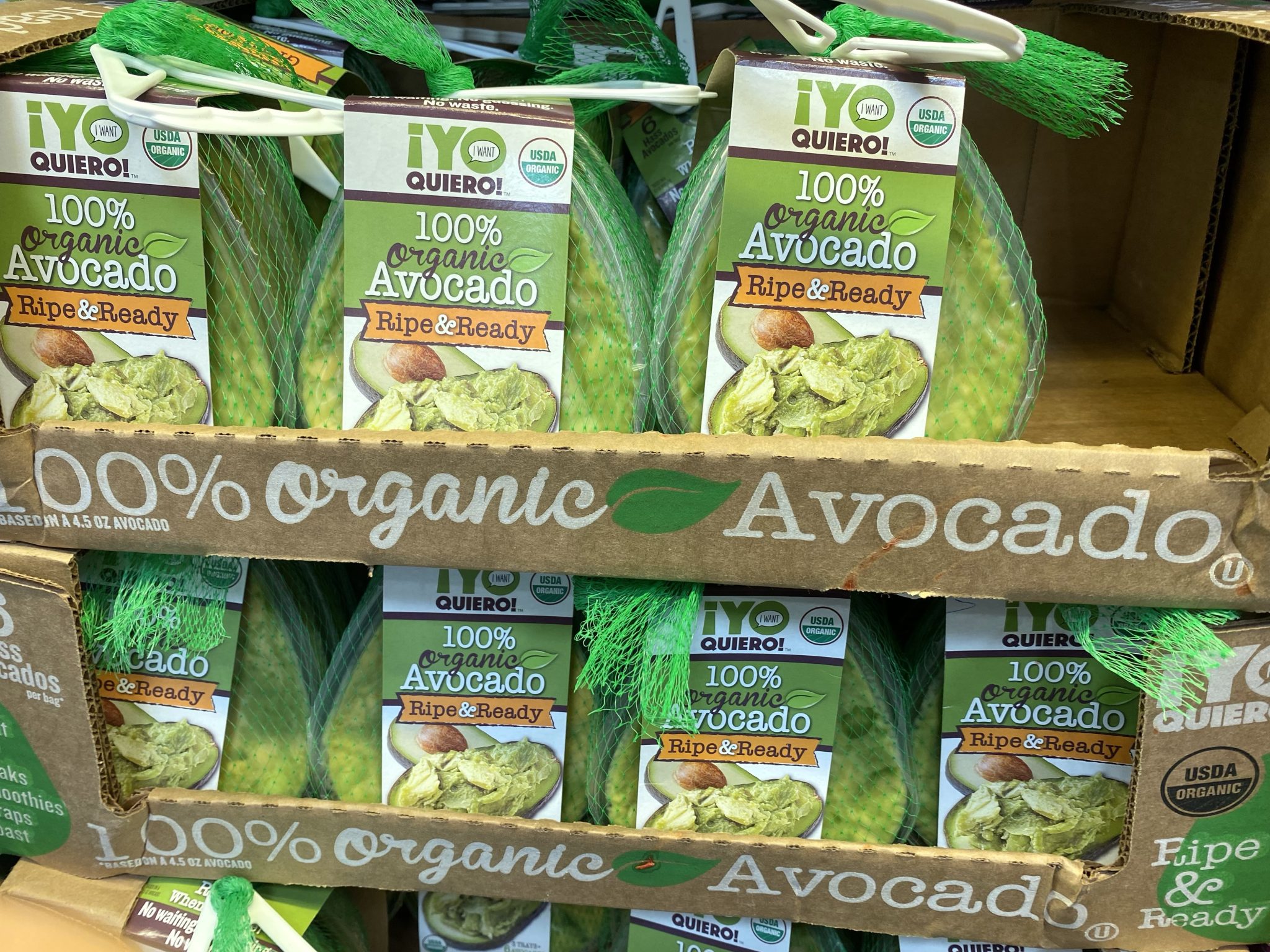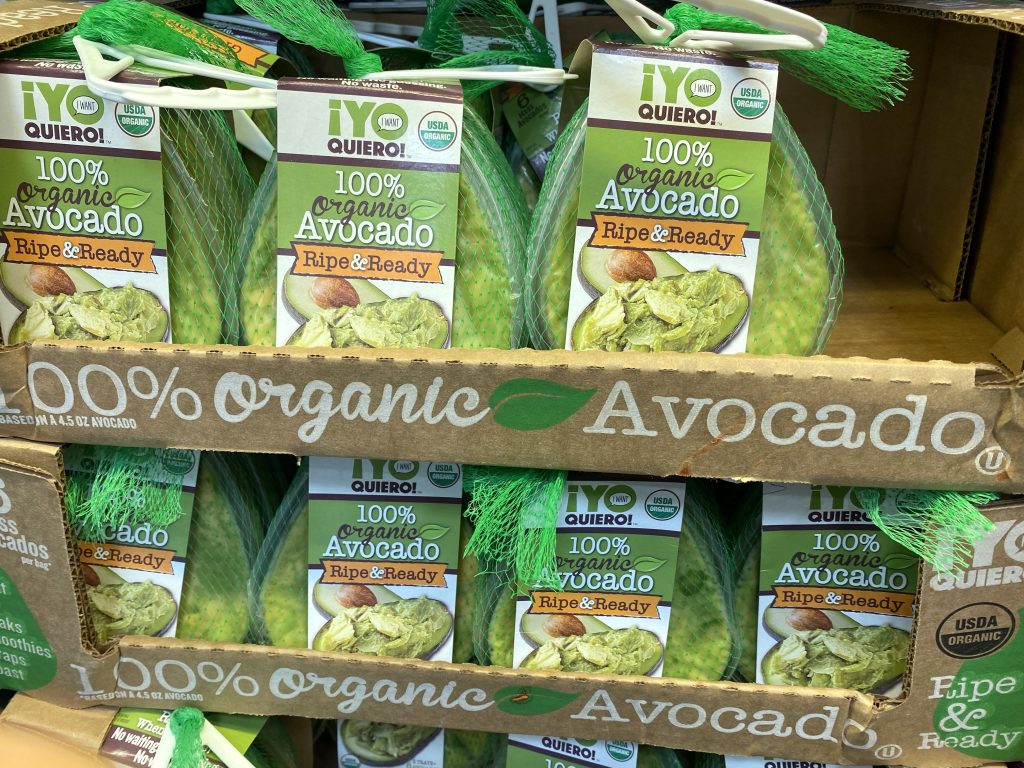 Enjoy 100% ripe and ready avocado without the hassle of cutting or waiting for fresh avocado to ripen!
Polish Sausage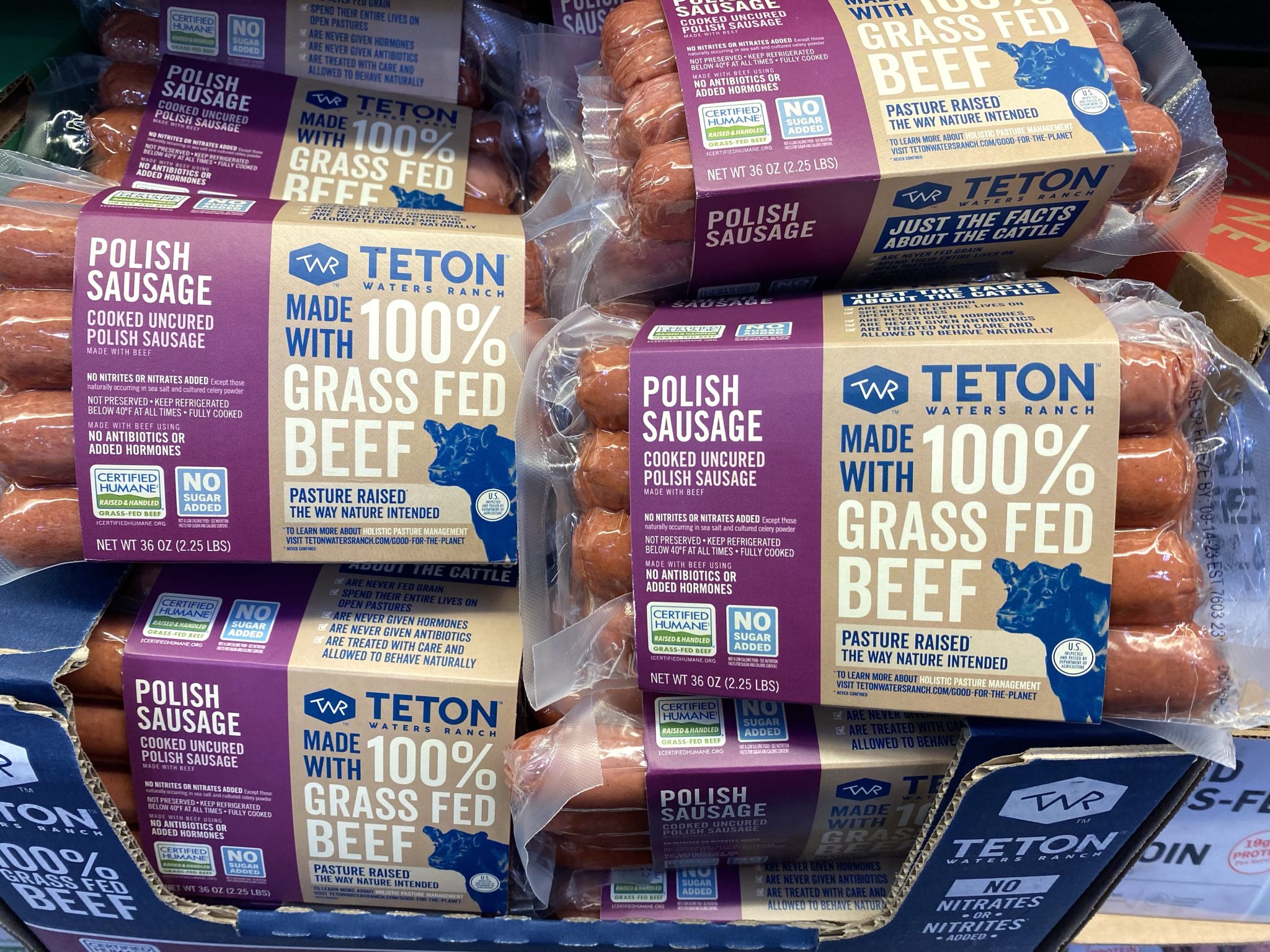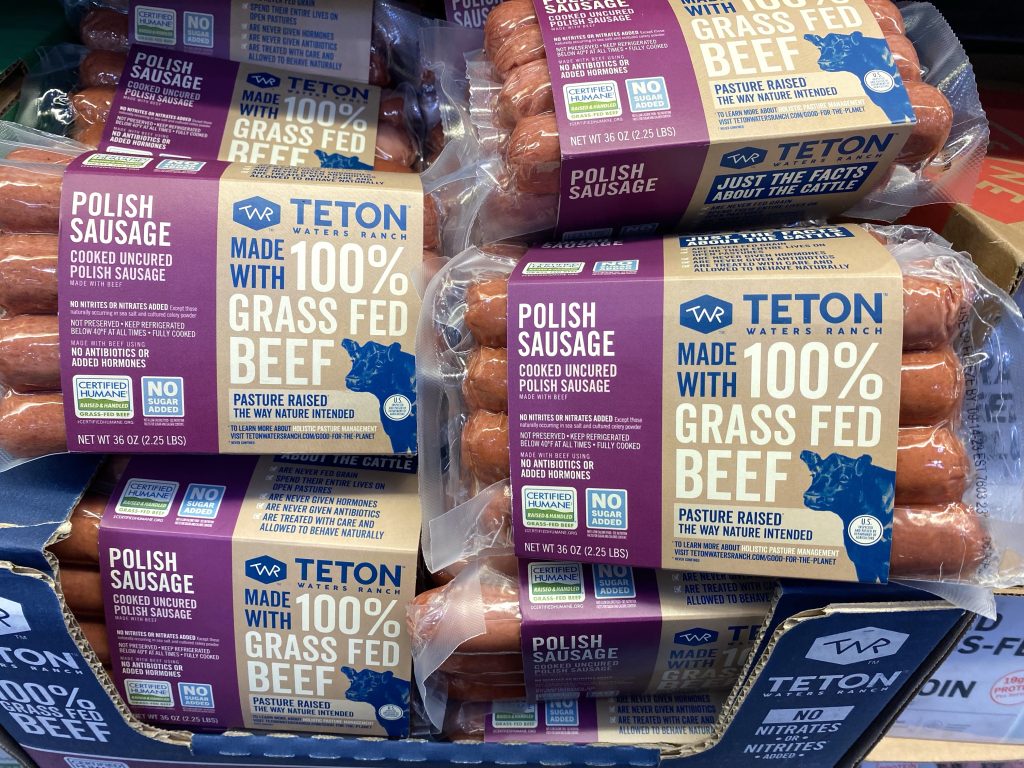 Low Carb Teton Polish sausages are made with 100% grass-fed beef. They contain no nitrates and are no sugar added.
Cauliflower Rounds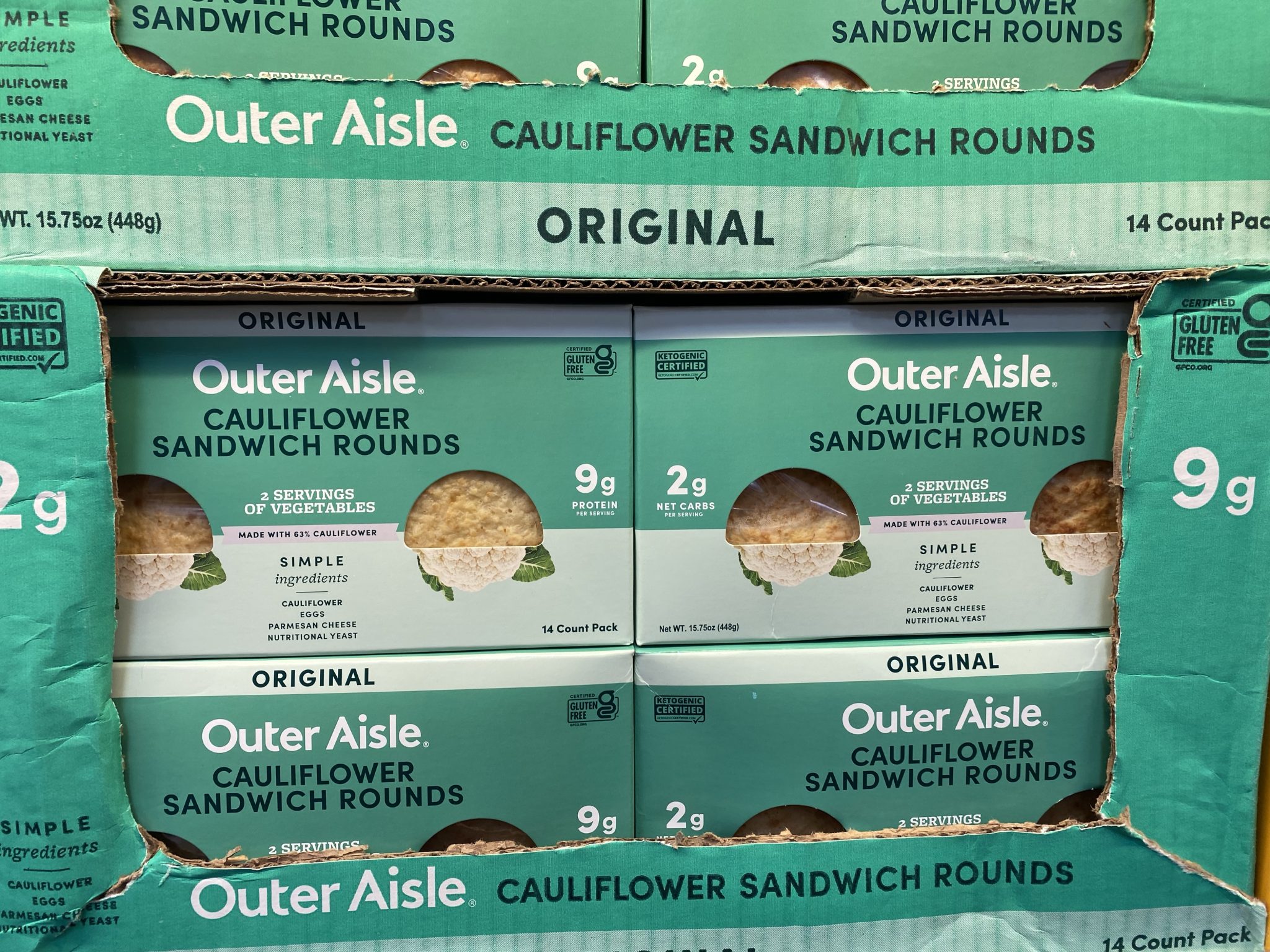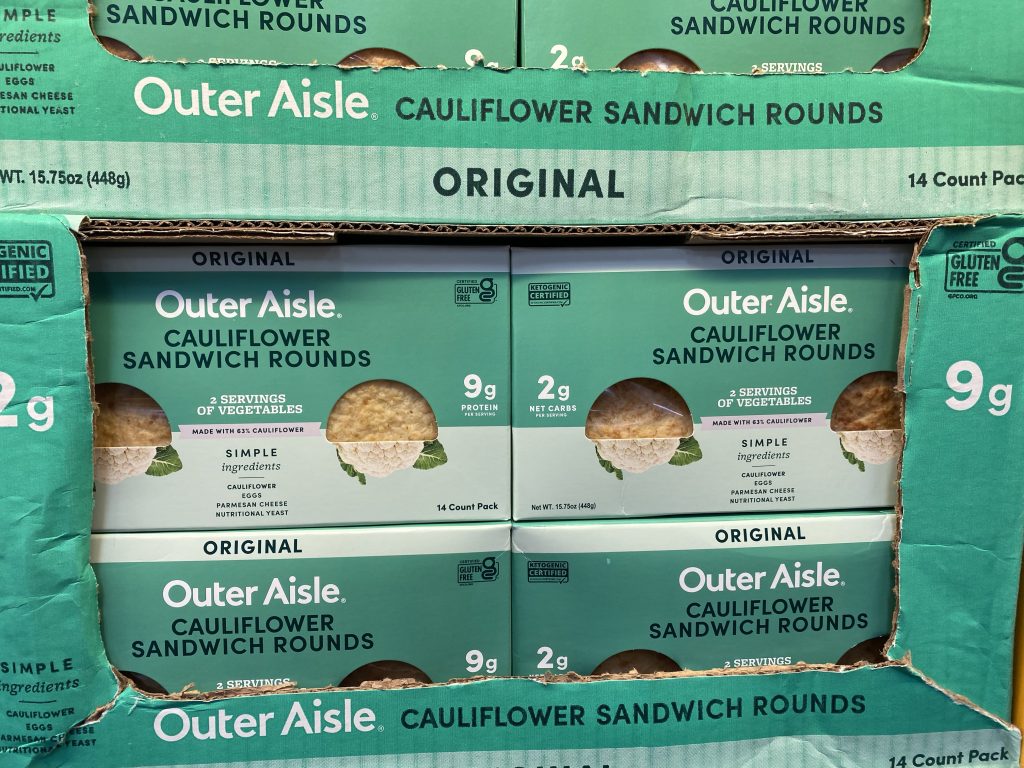 Outer Aisle Cauliflower sandwich rounds are low carb and high protein. They're great for making mini pizzas and grilled cheese sandwiches.
Salmon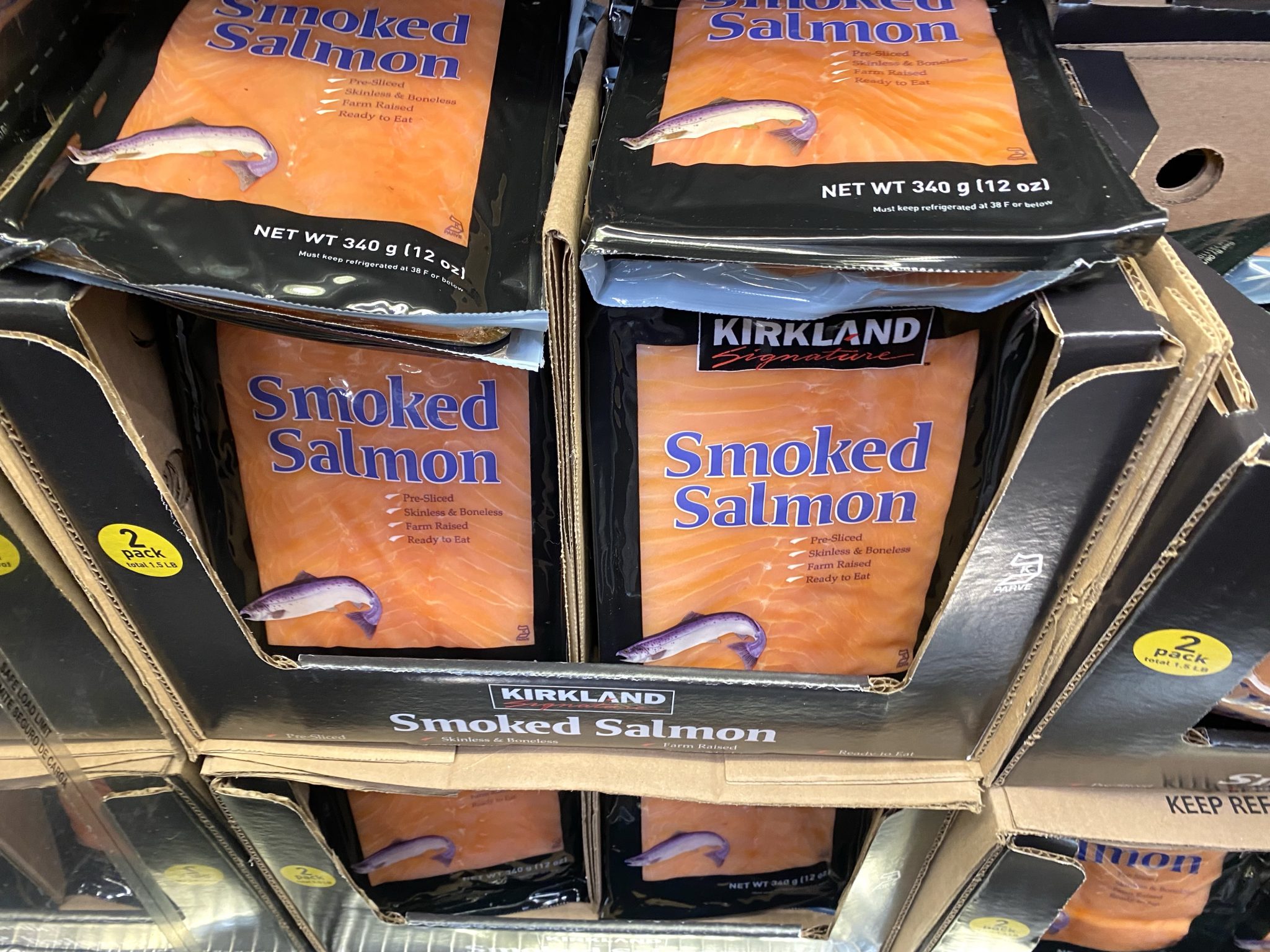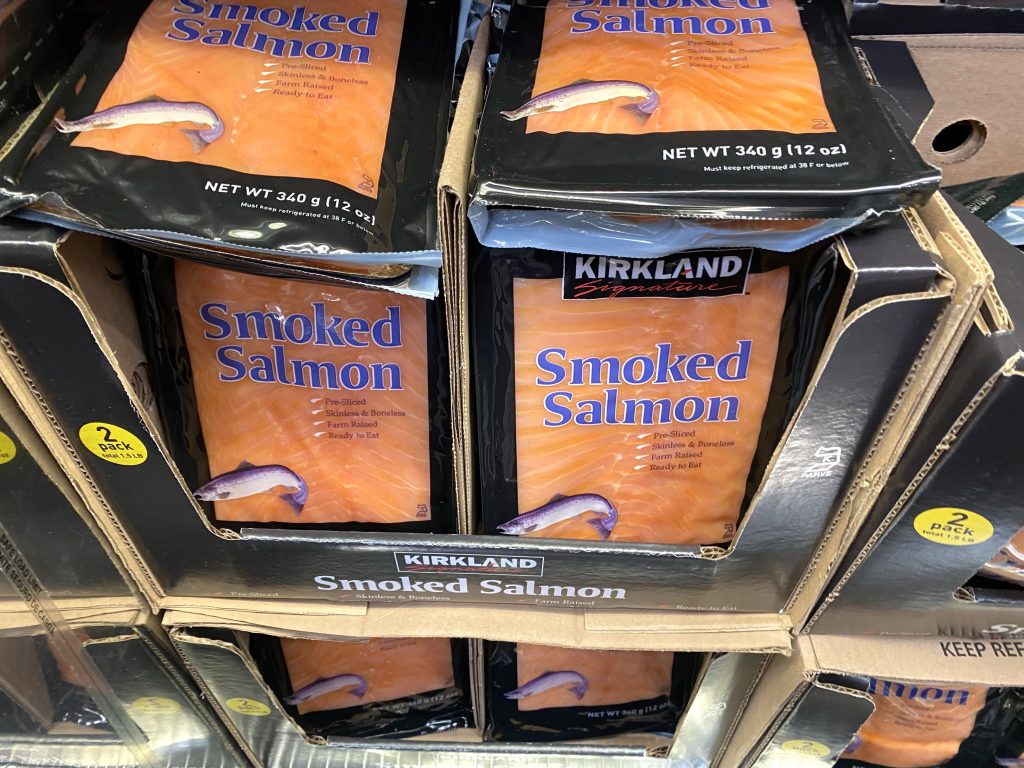 Kirkland smoked salmon is of high quality and priced excellently compared to other stores for the amount you get.
Chicken Sausages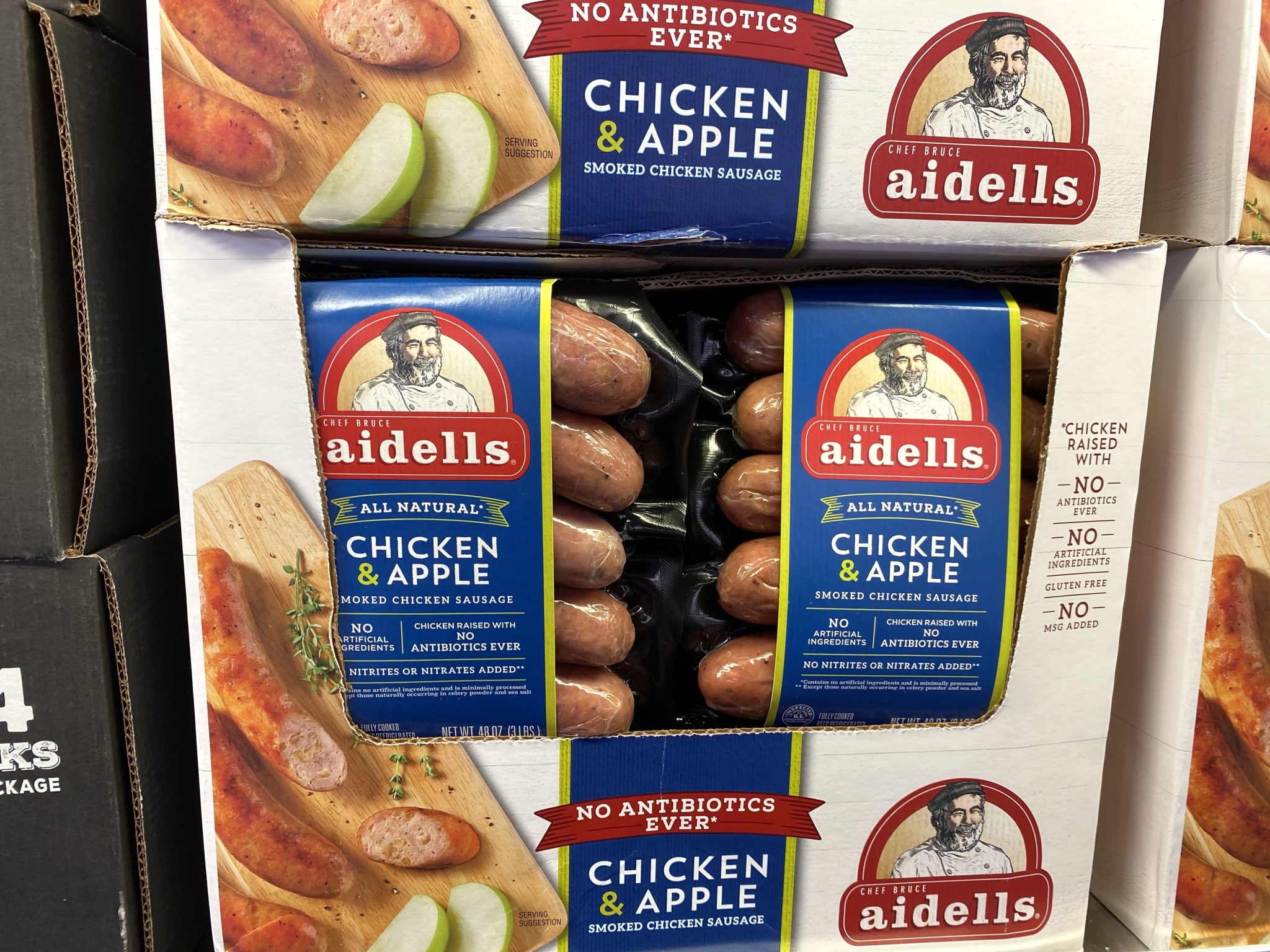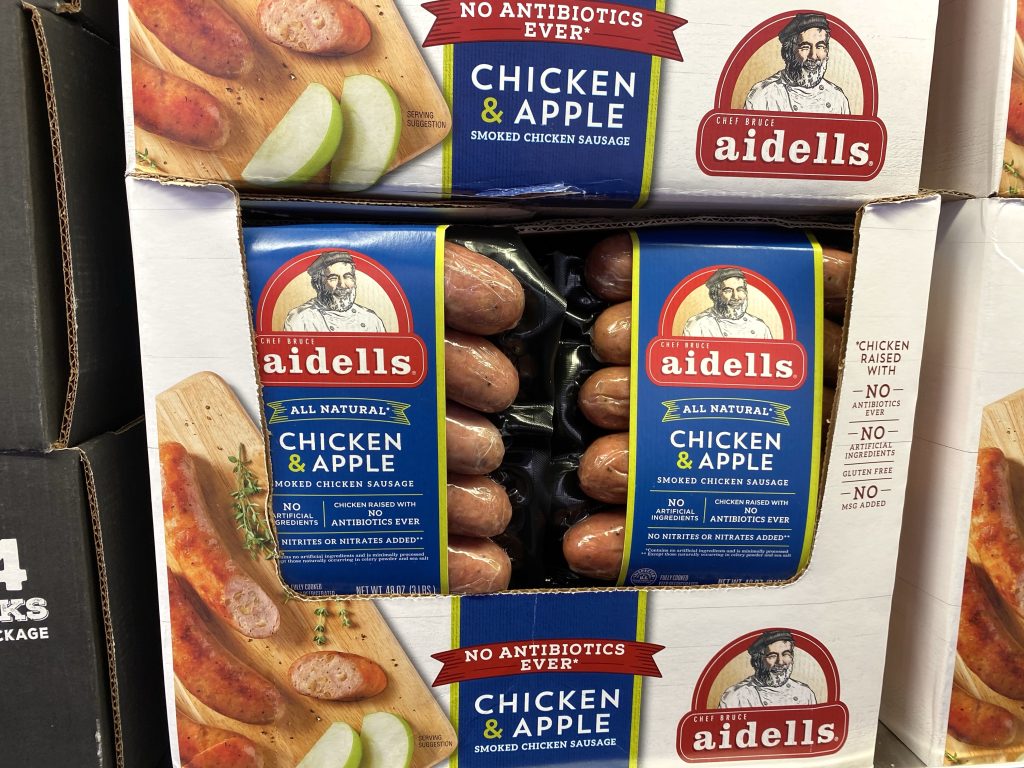 Aidells chicken and apple smoke chicken sausages contain no artificial ingredients or nitrites—They're low carb and gluten-free.
Chicken bites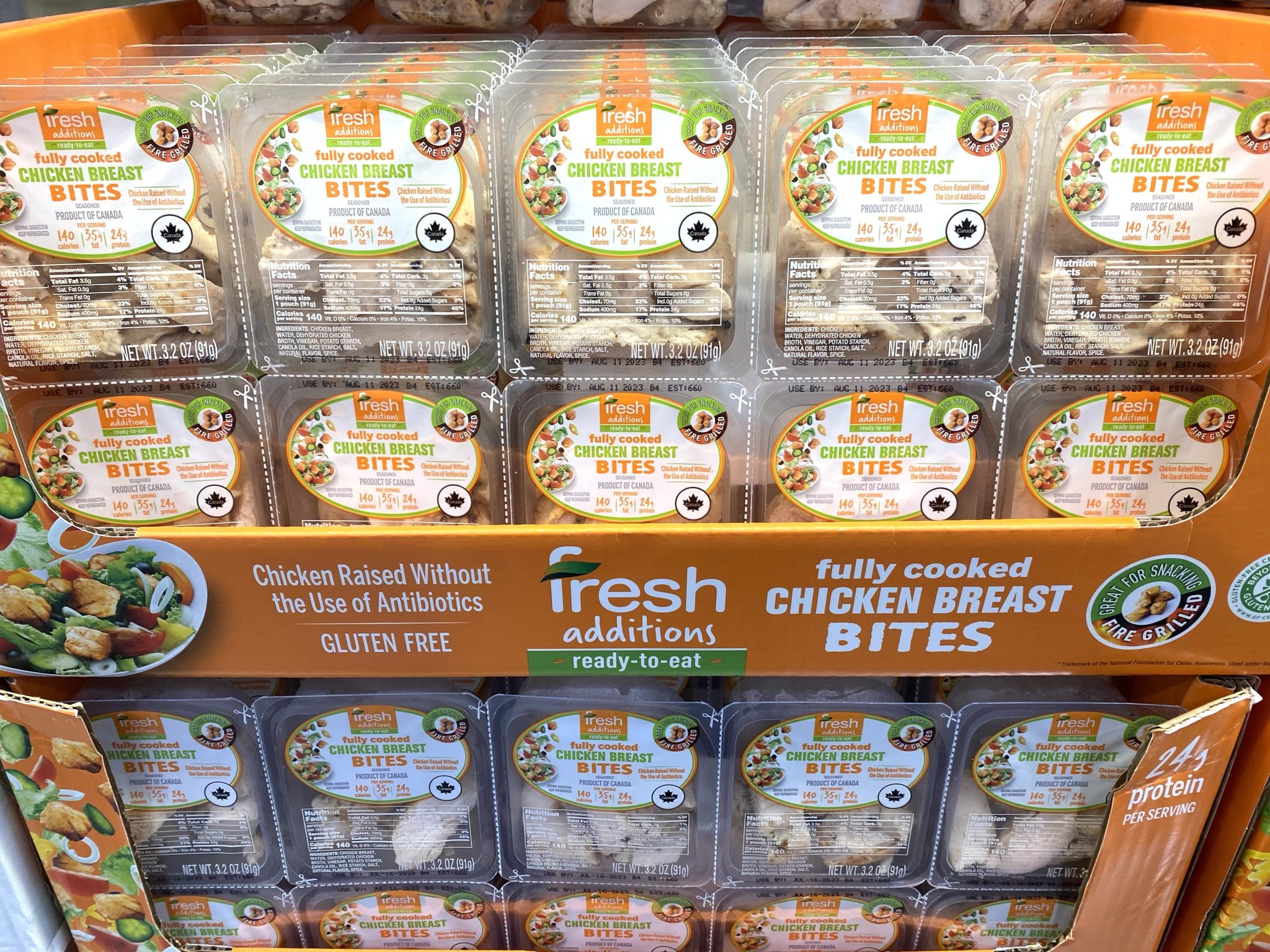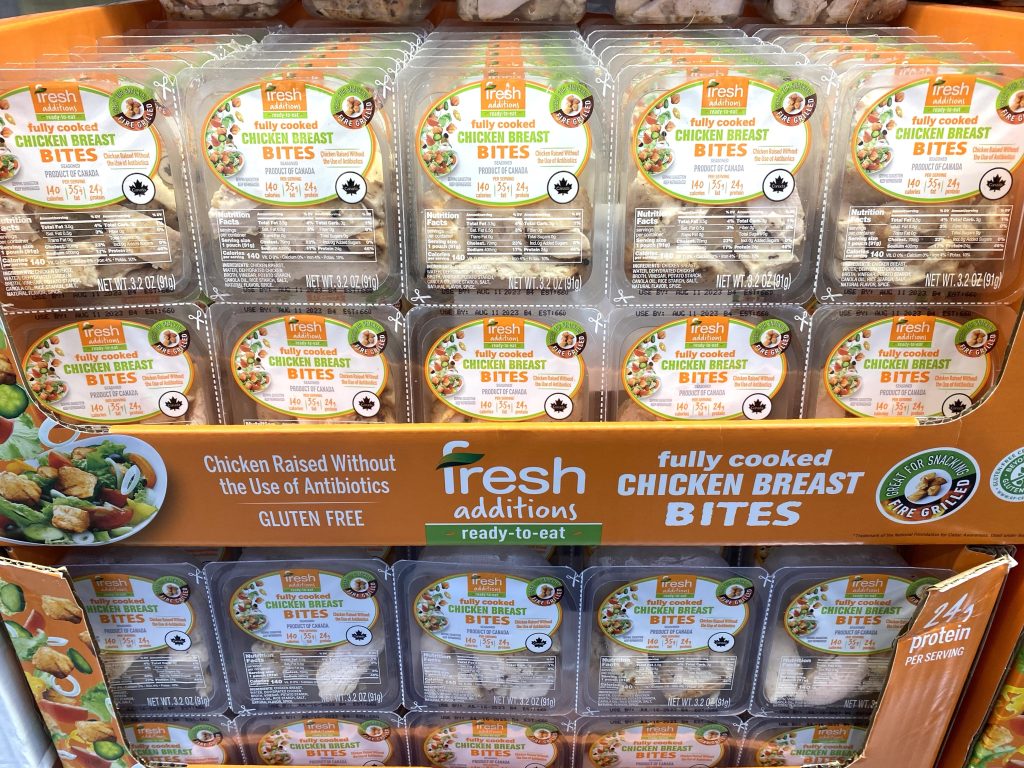 Fully cooked low-carb chicken bites come individually packaged, perfect for lunch boxes and salads.
Cheese Crisps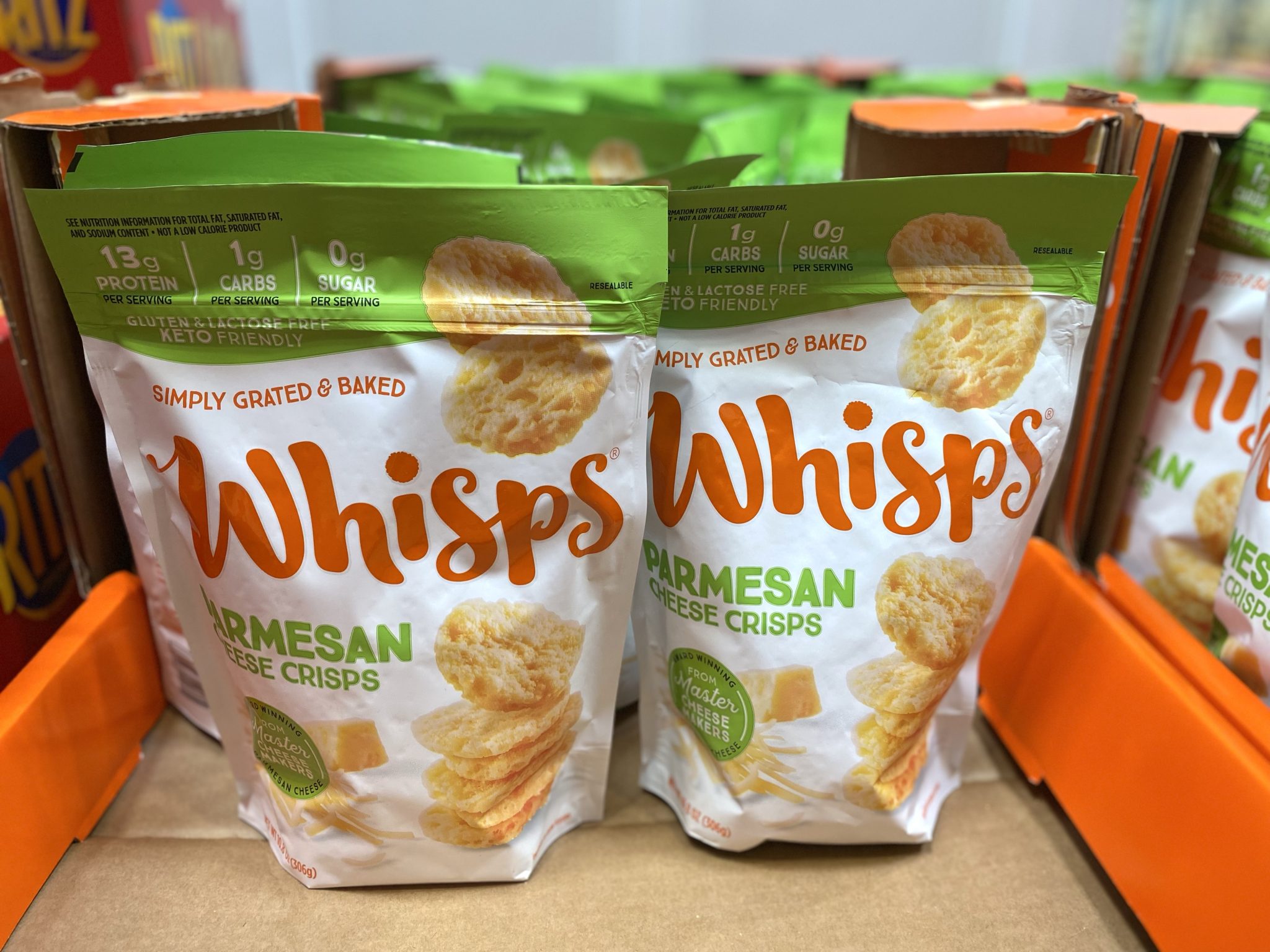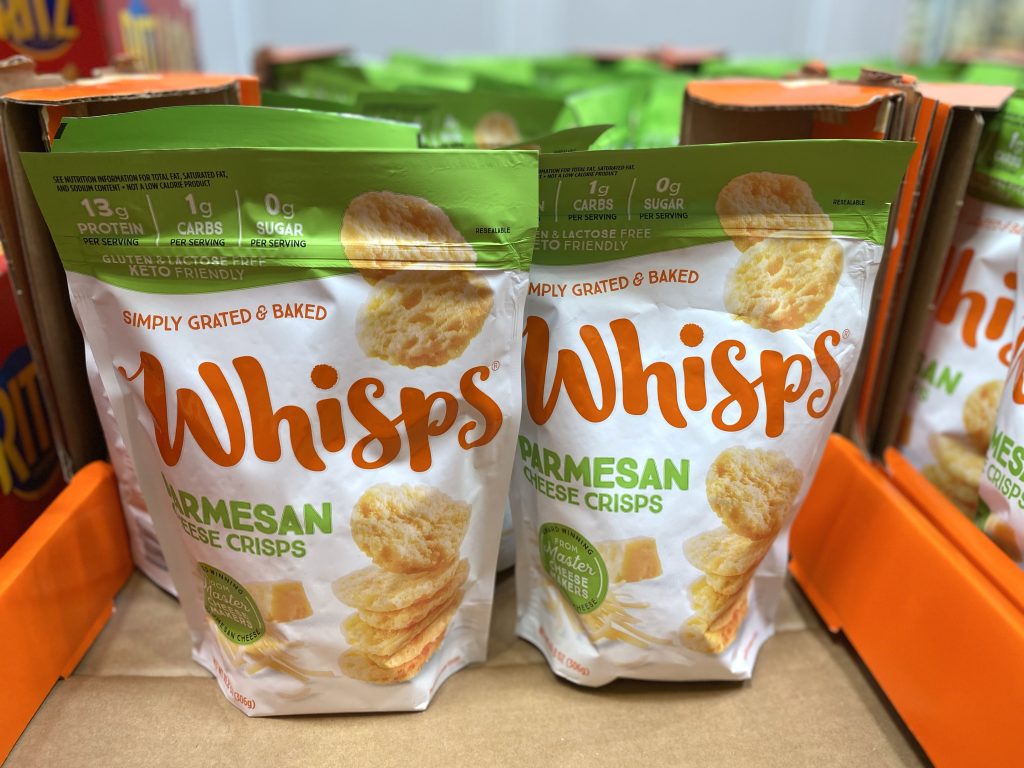 Cheese whips are made with real parmesan cheese and have only 1 carb, the perfect low-carb, salty, crunchy snack.
Brats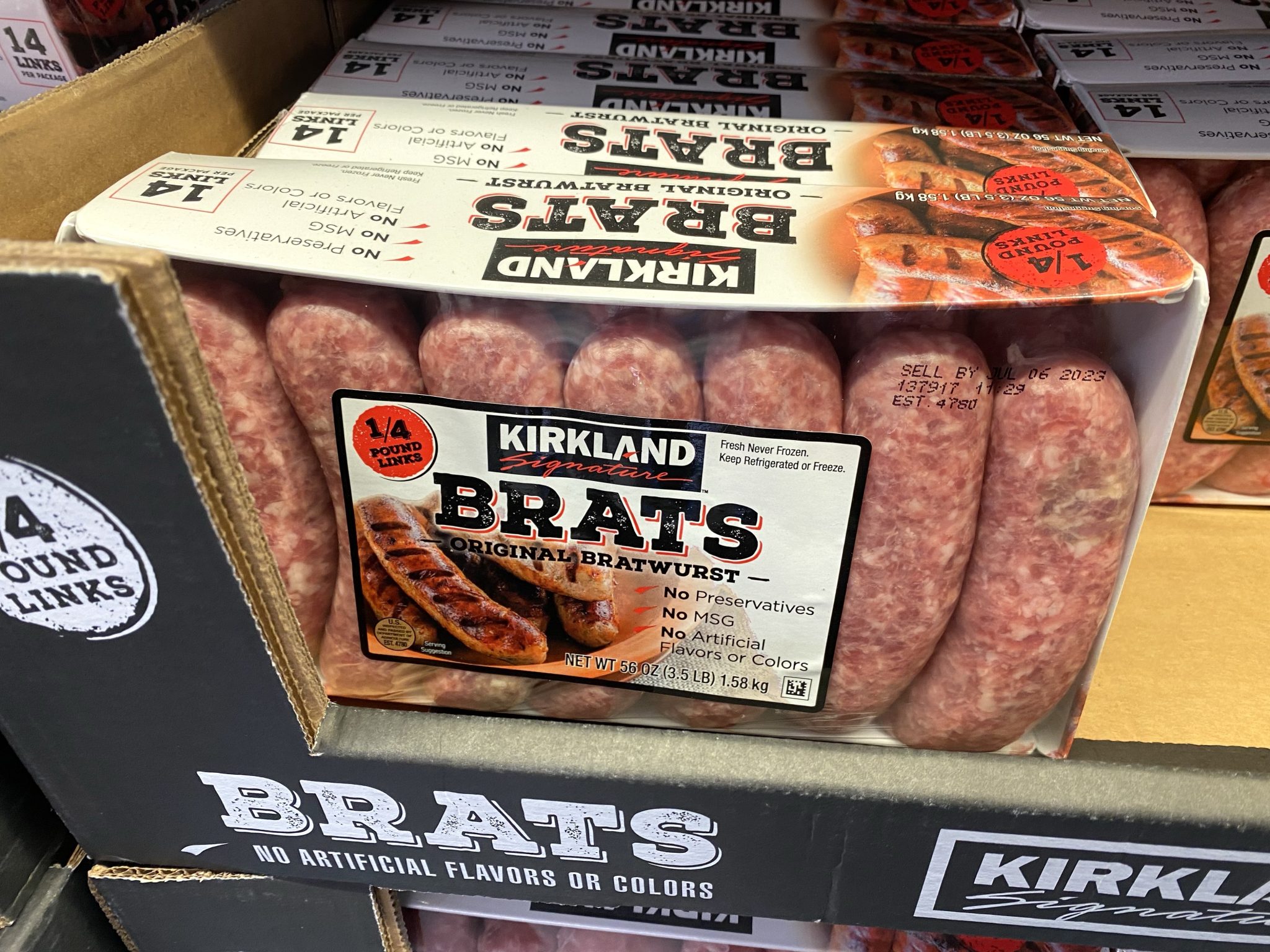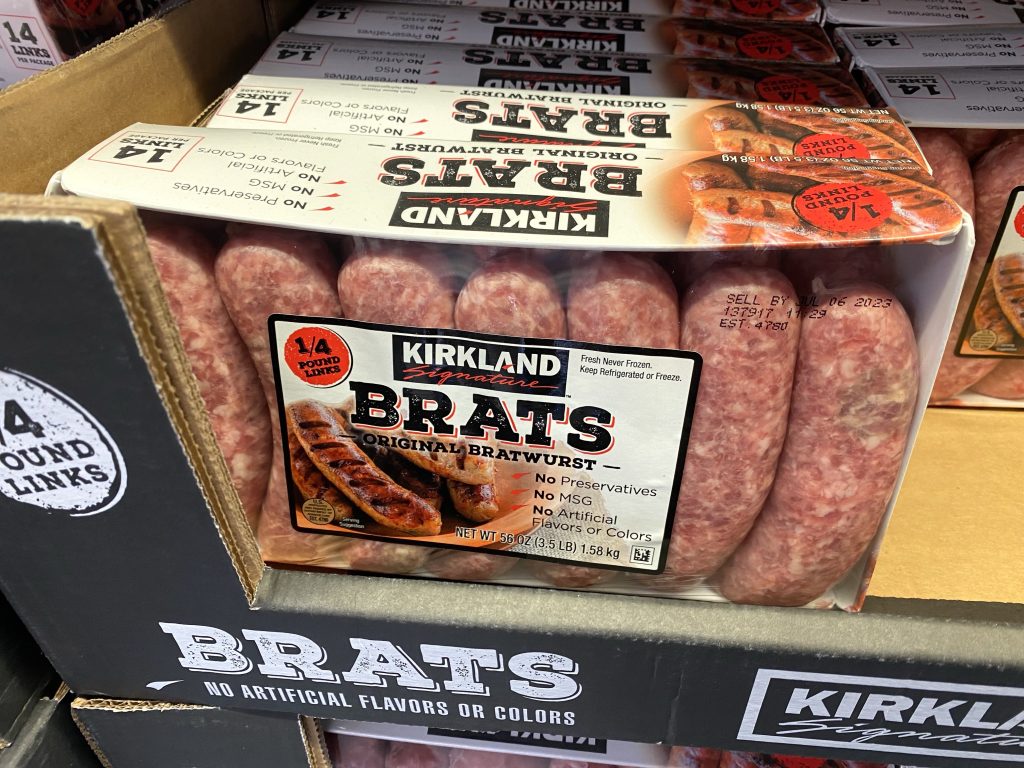 Kirkland brats for your summer cookouts. They're low-carb and contain no preservatives.
Barbacoa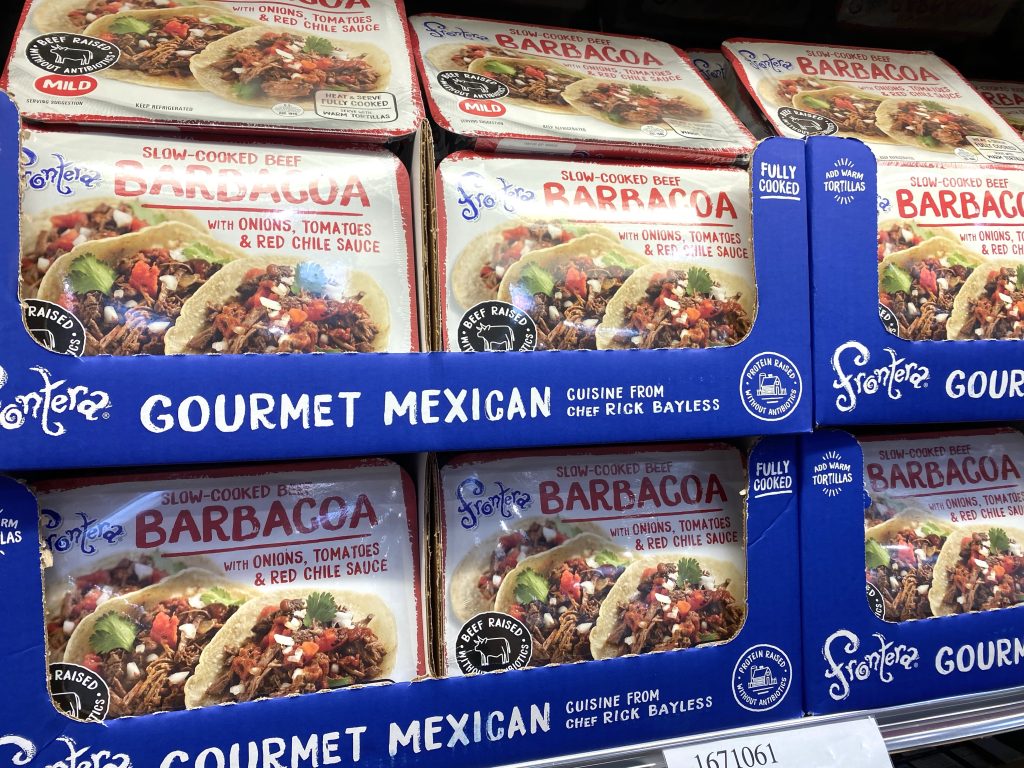 Barbacoa with onions, tomatoes and red chili sauce. Just heat and eat. It pairs perfectly with low-carb tortillas.
Beef Sticks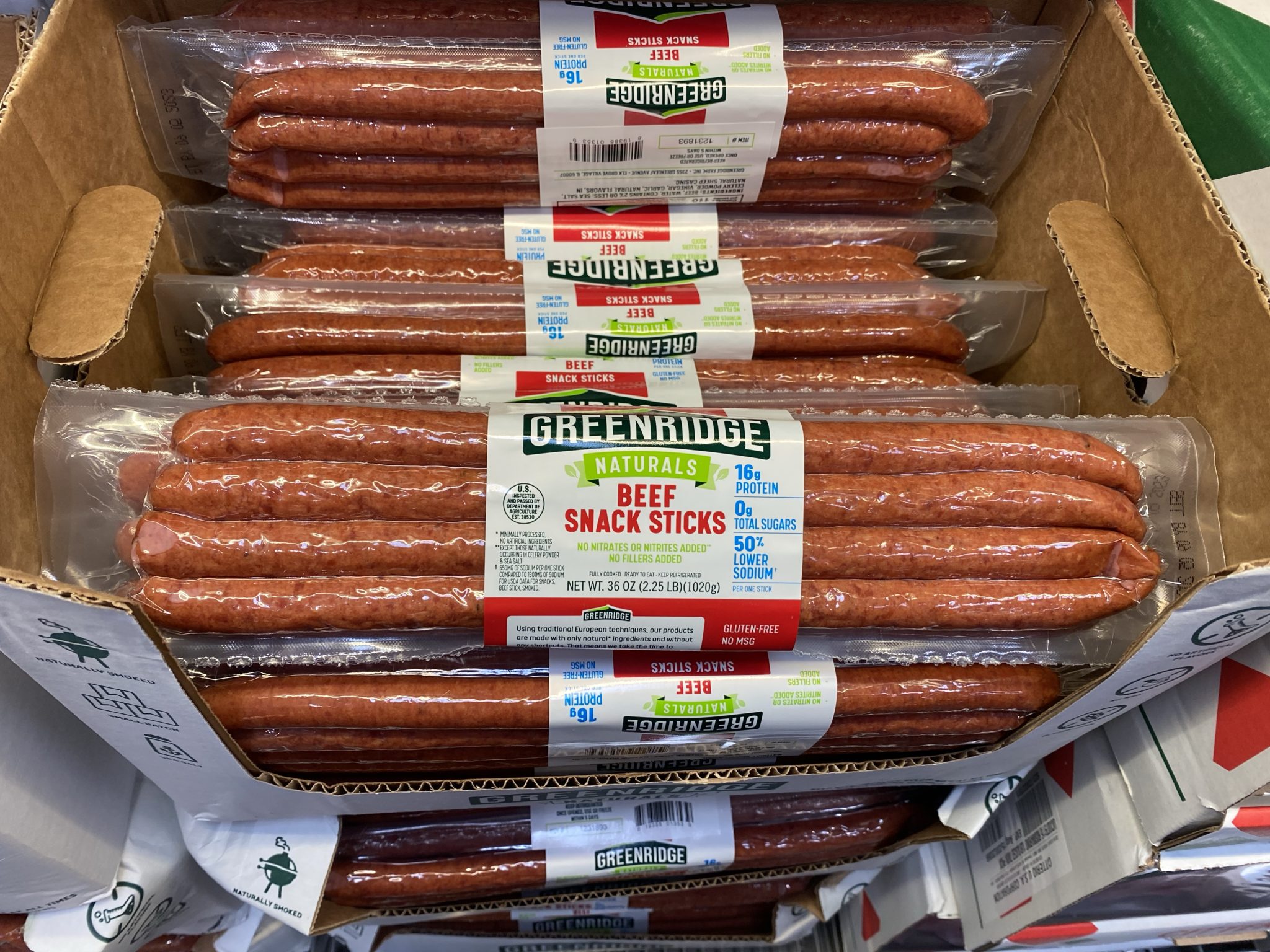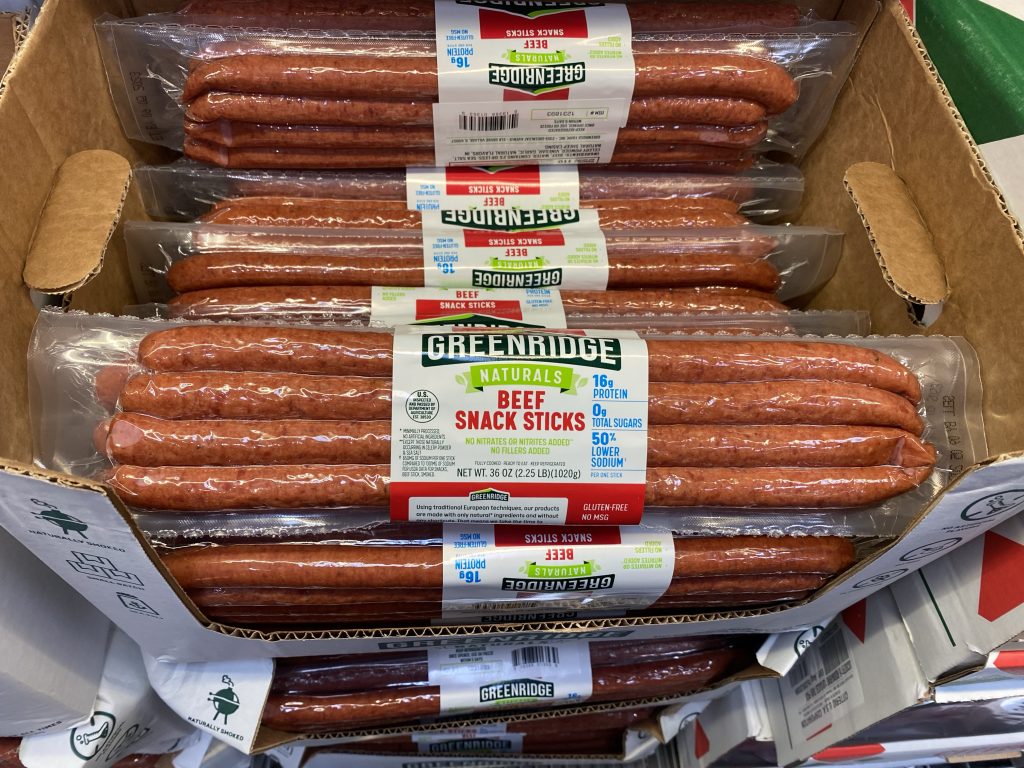 Greenridge beef snack sticks contain no fillers or nitrates. They have 16 grams of protein and 0 sugar. They are found in the refrigerated case at Costco.
Cilantro Sauce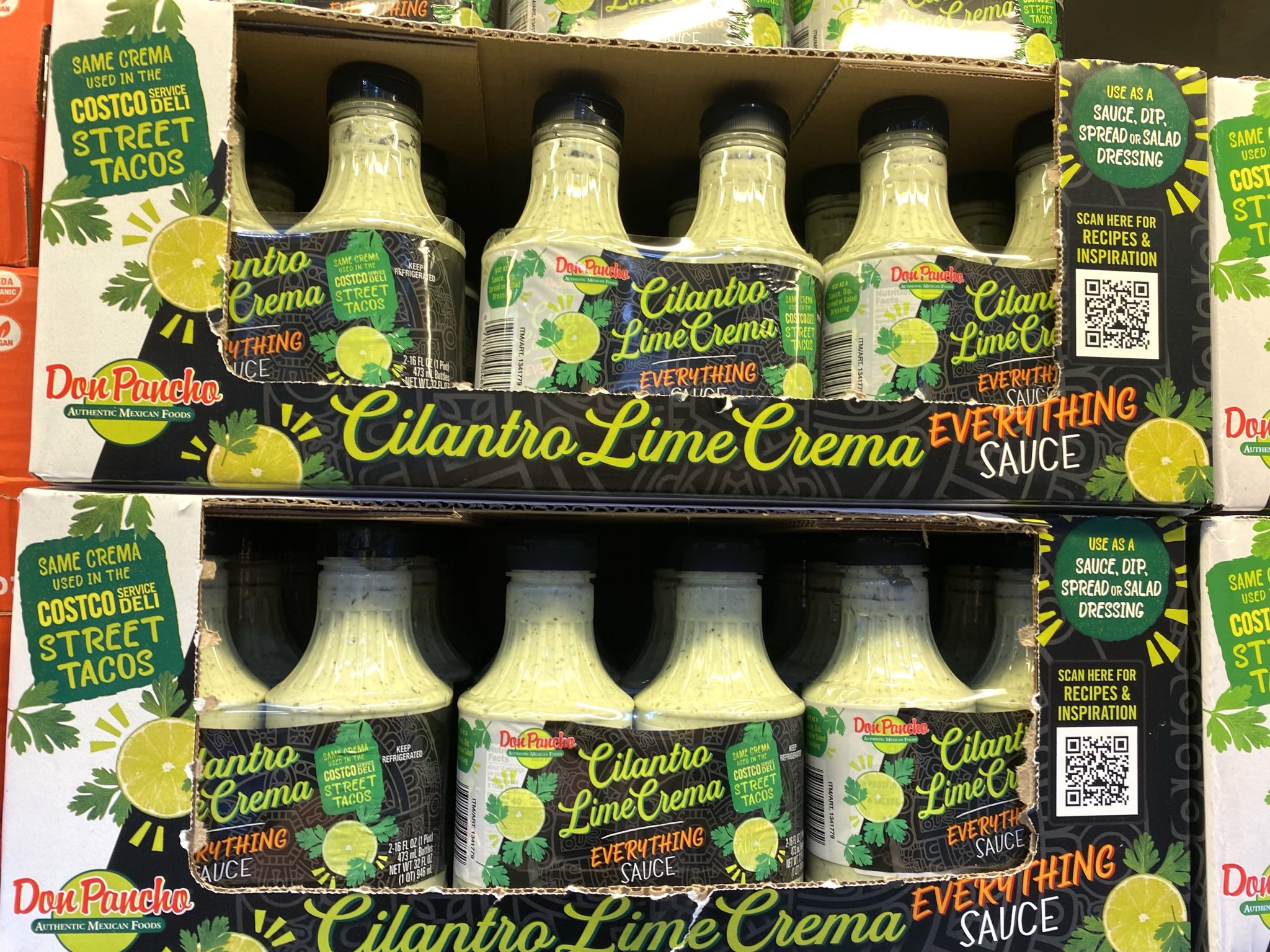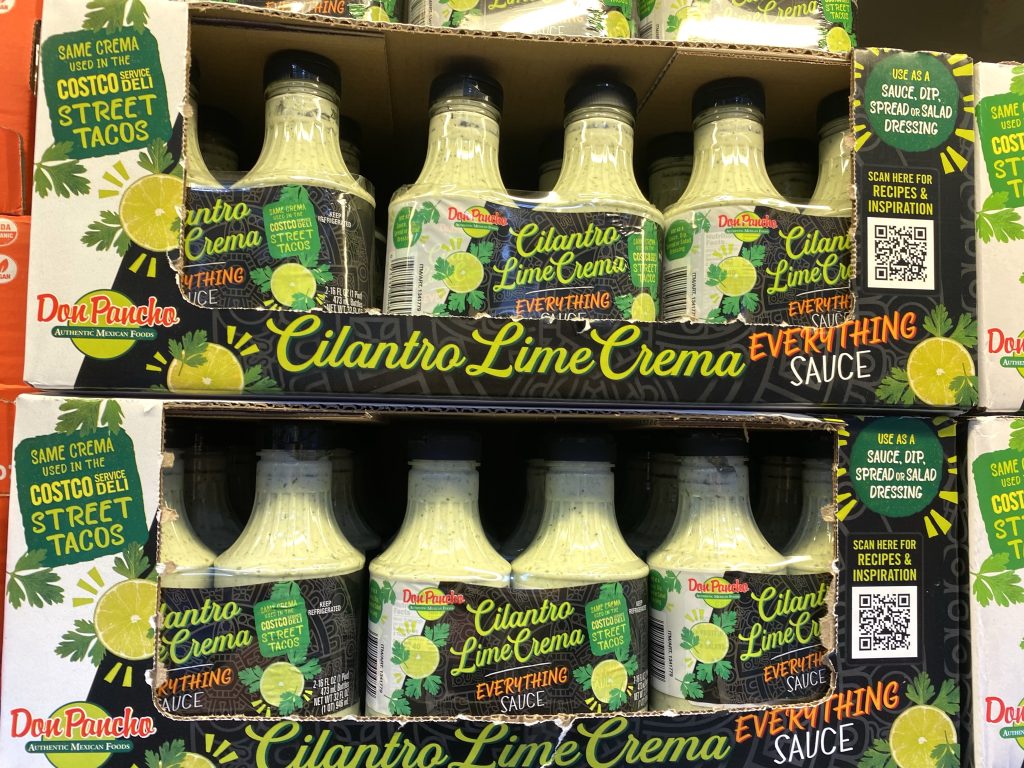 Don Pancho Cilantro Lime Creama everything sauce, because you'll want to put it on everthing! Use it as a dip, spread or salad dressing.
Salami Cheese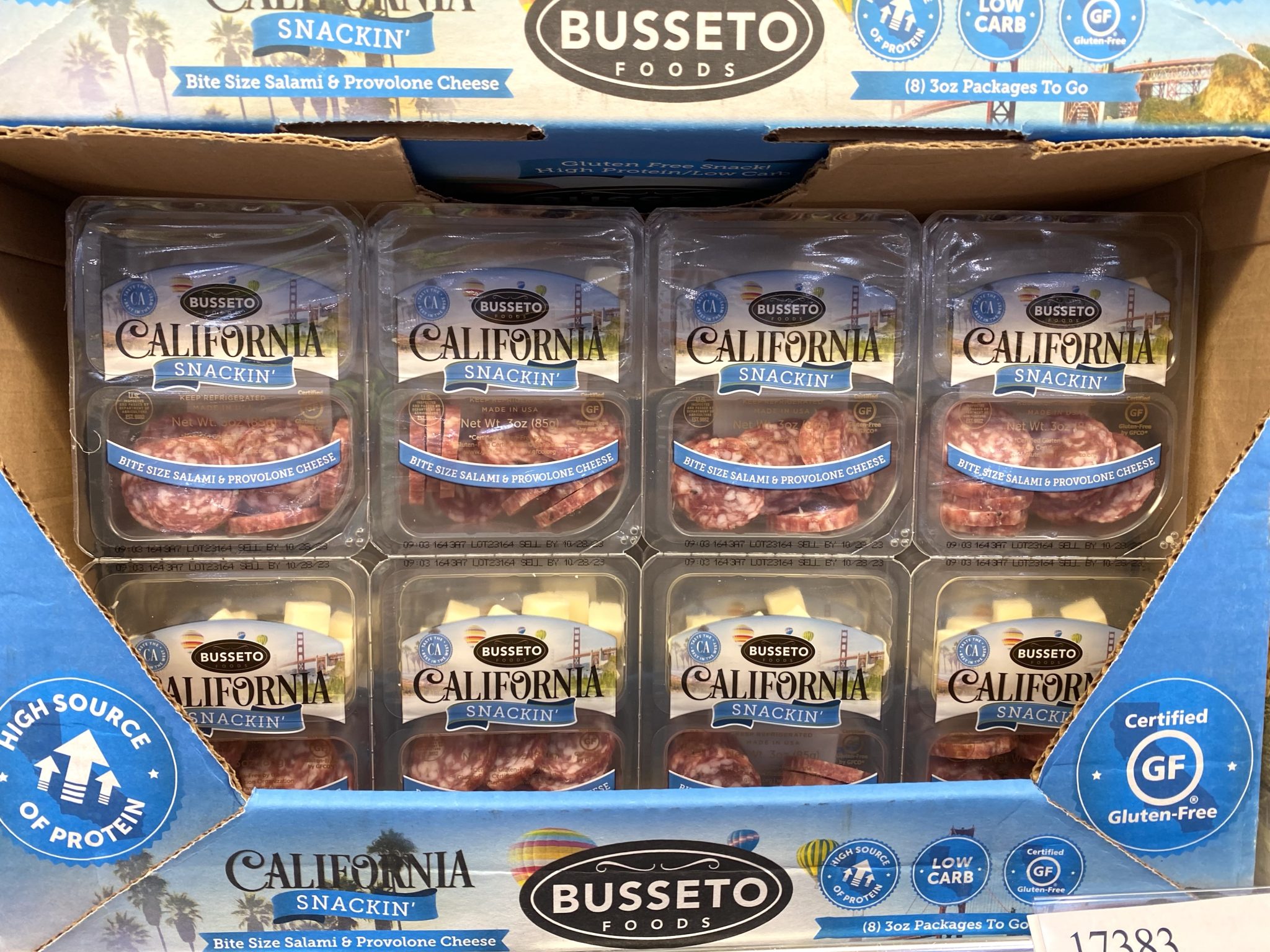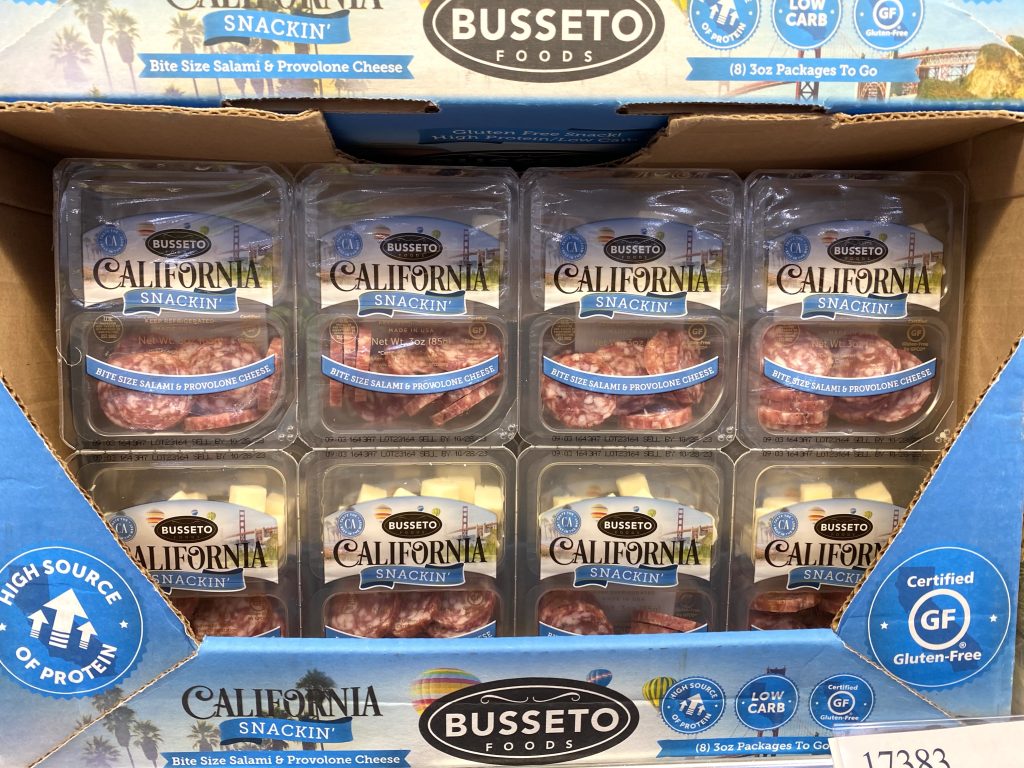 Salami and provolone cheese snacks are a great addition to any lunchbox. These snacks are both gluten-free and low-carb.
Pimento Chicken Sausages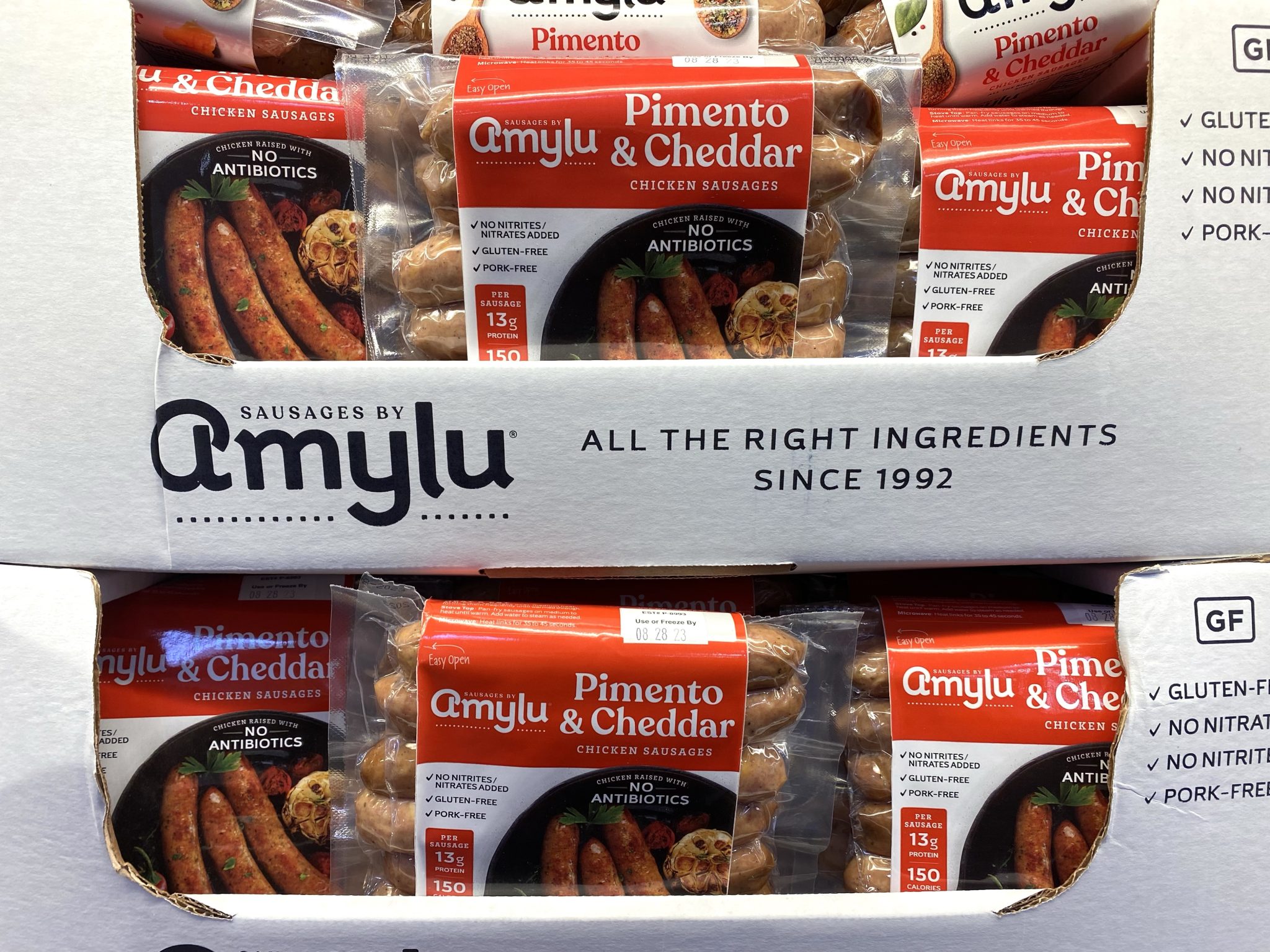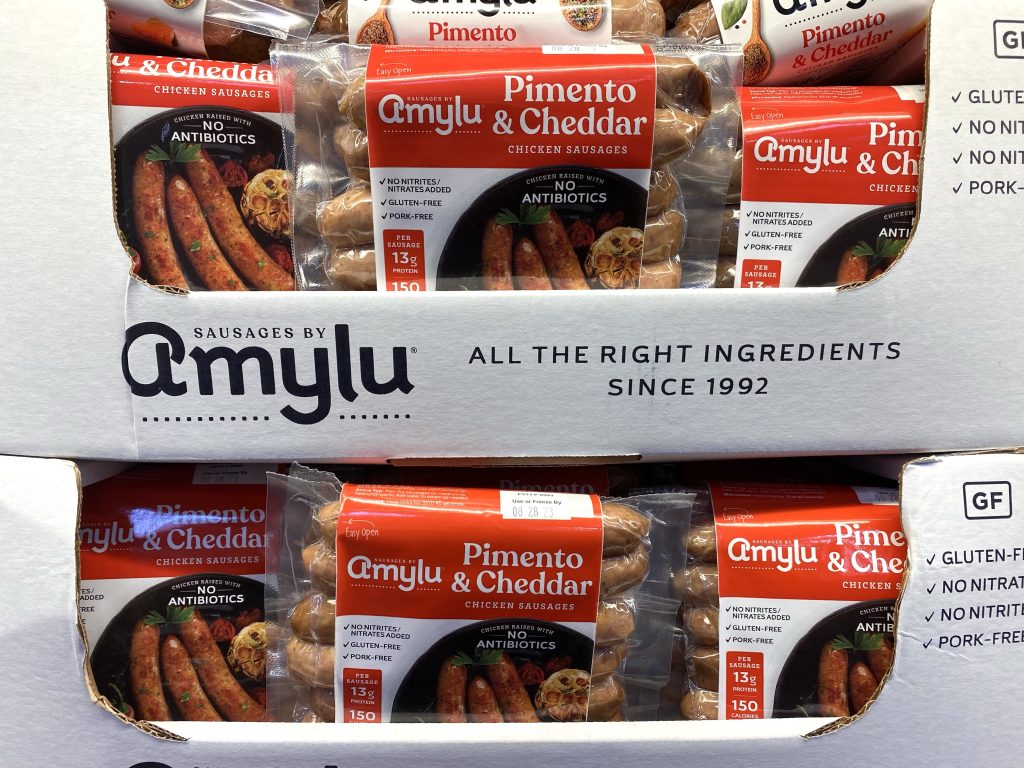 Amylu pimento & cheddar sausages are a unique combination of flavors. They're low-carb and contain and are gluten and nitrate free.
Beef Brisket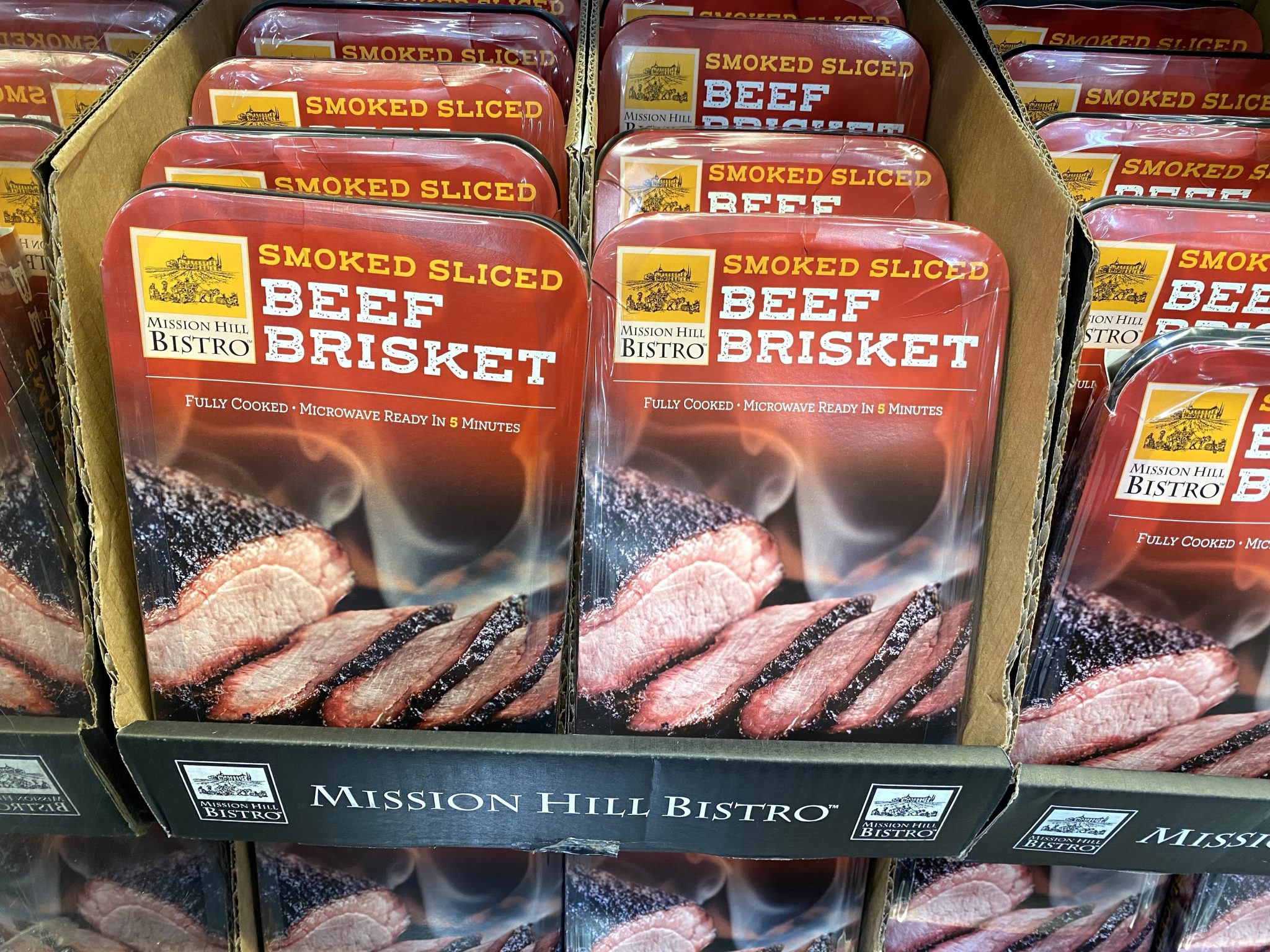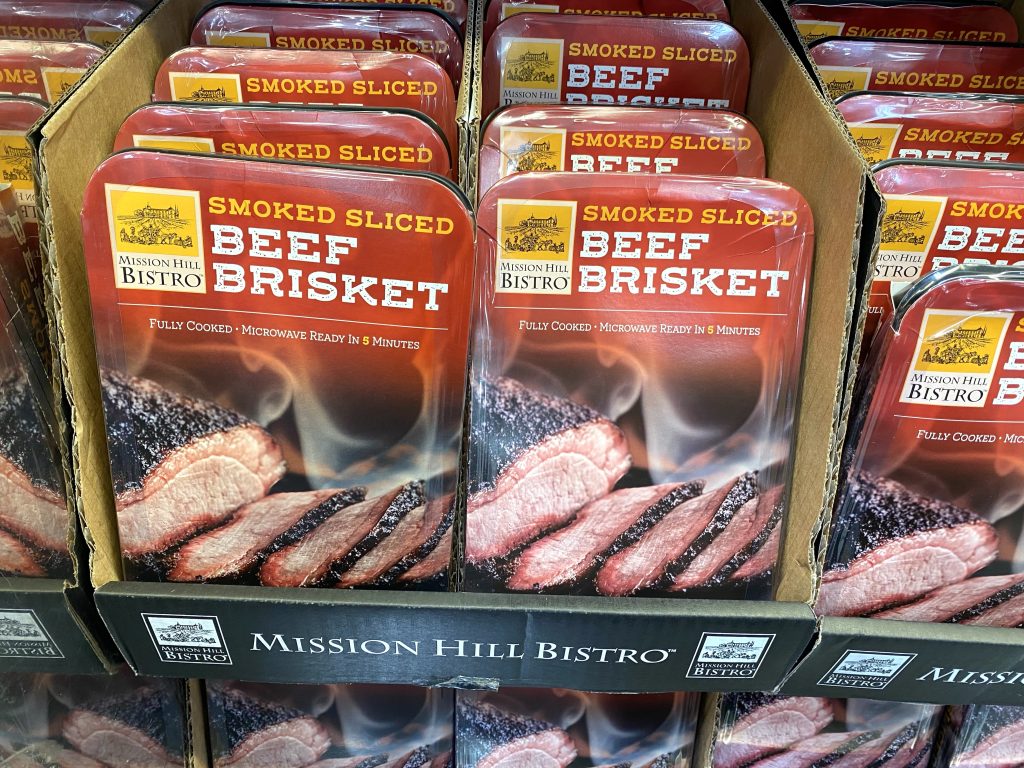 Fully cooked Mission Hill Bistro Smoked Beef Brisket is low carb and ready to eat in 5 minutes. Perfect for a quick weeknight meal.
Meat and Cheese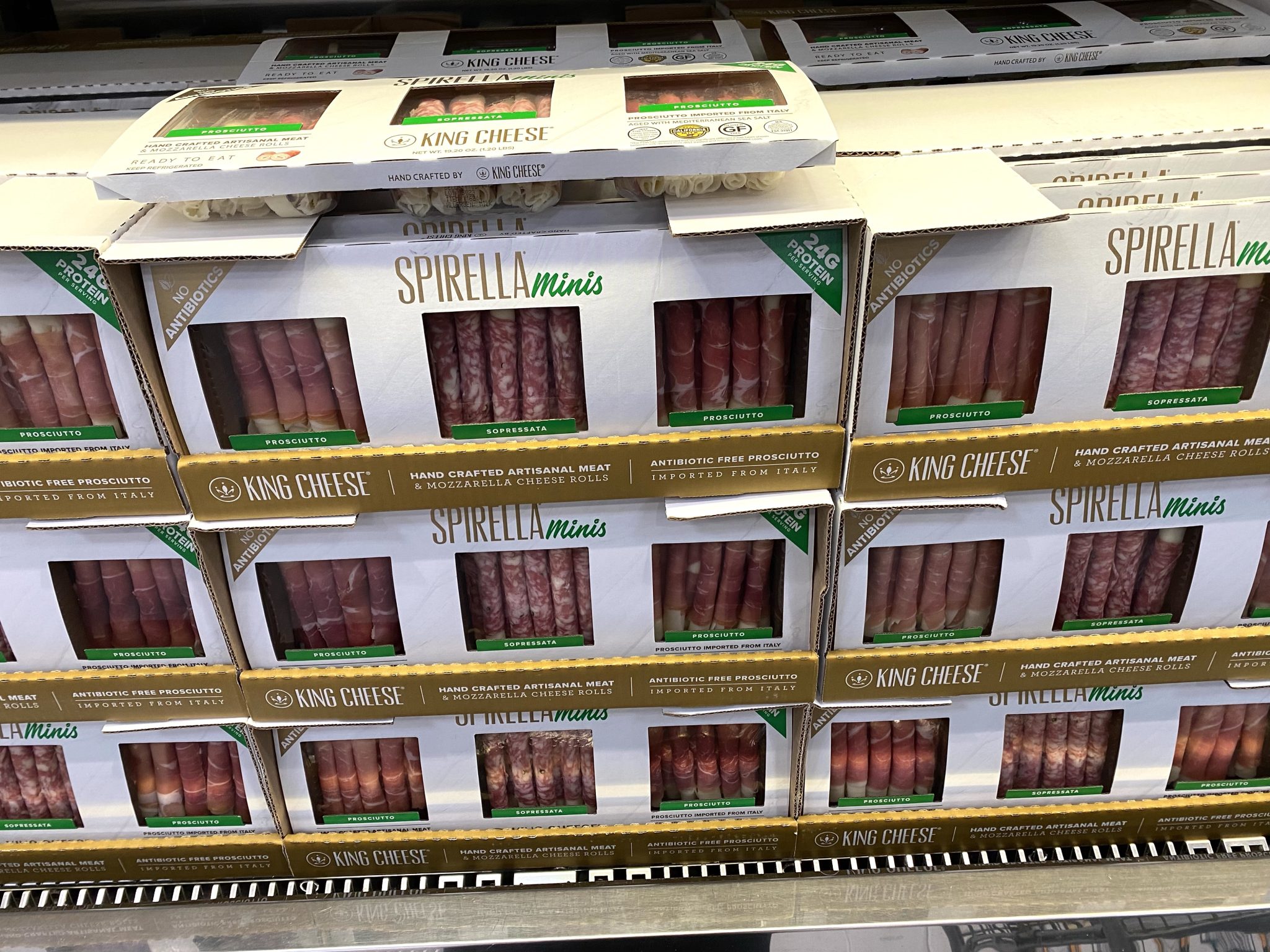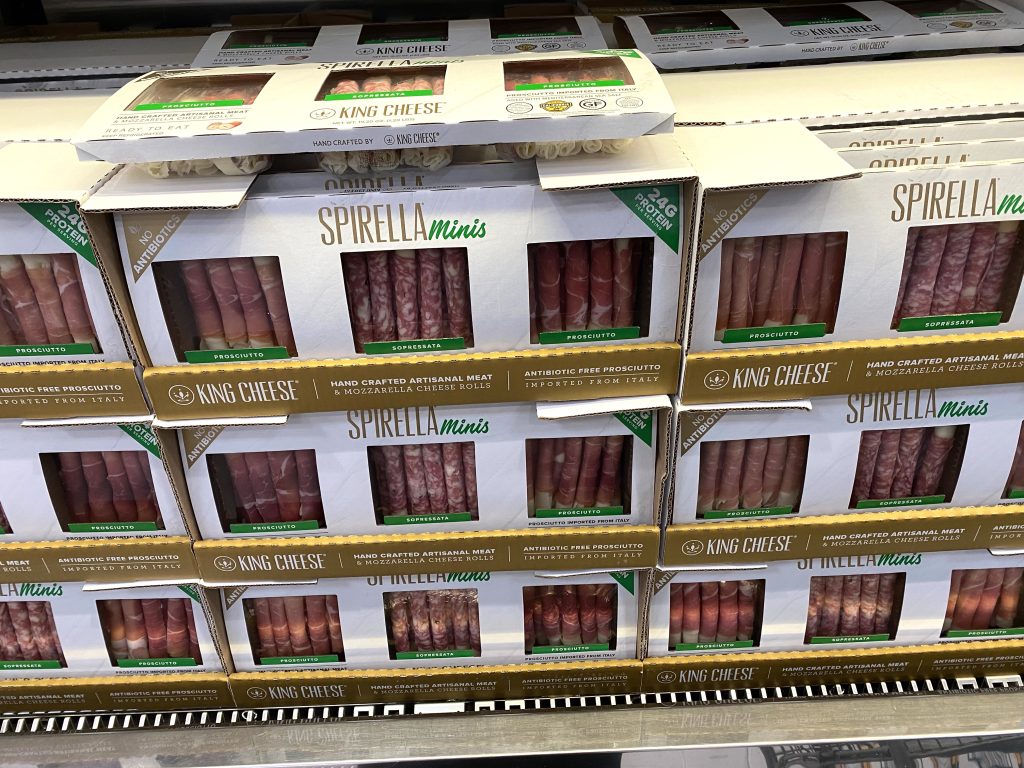 King Cheese mozzarella rolls with soppressata and prosciutto are gluten-free and low-carb. Great for a quick snack.
Spinach Dip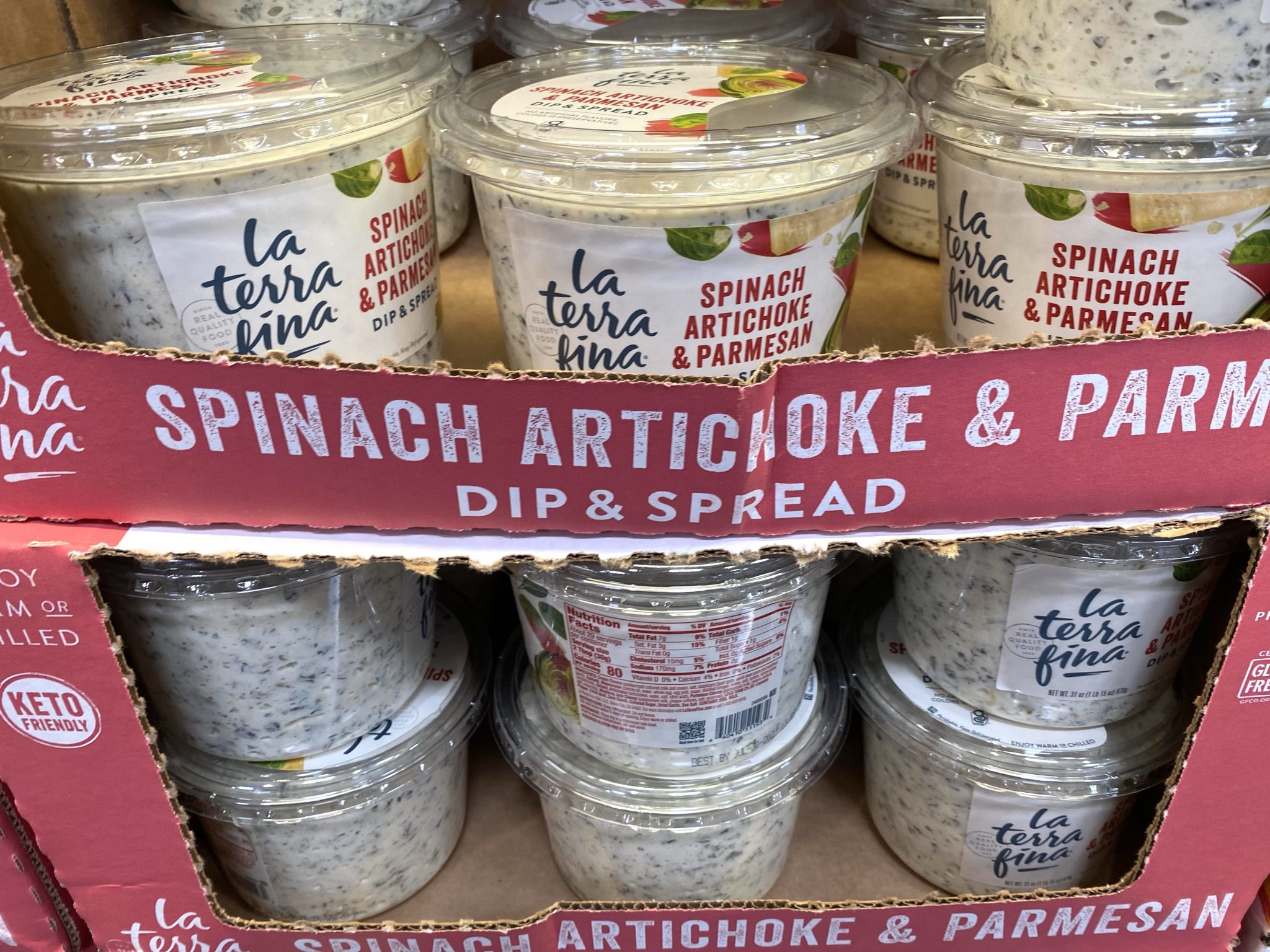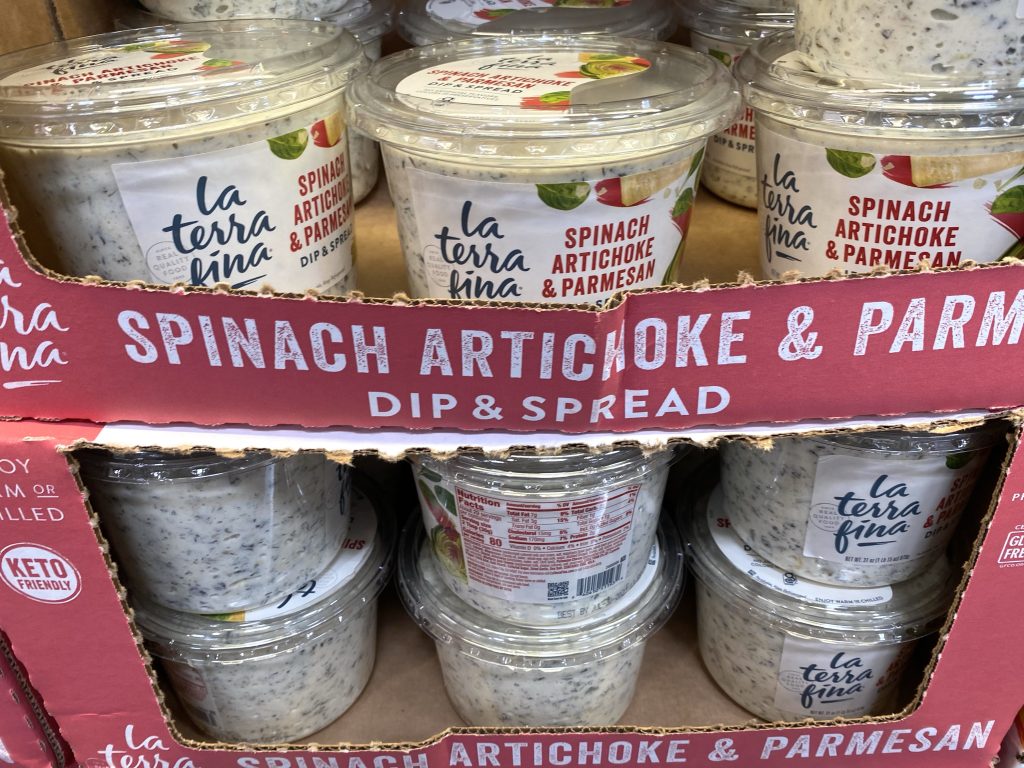 La terra fina, spinach artichoke dip, is low-carb and keto-friendly. It can be served hot or cold.
Marinara Sauce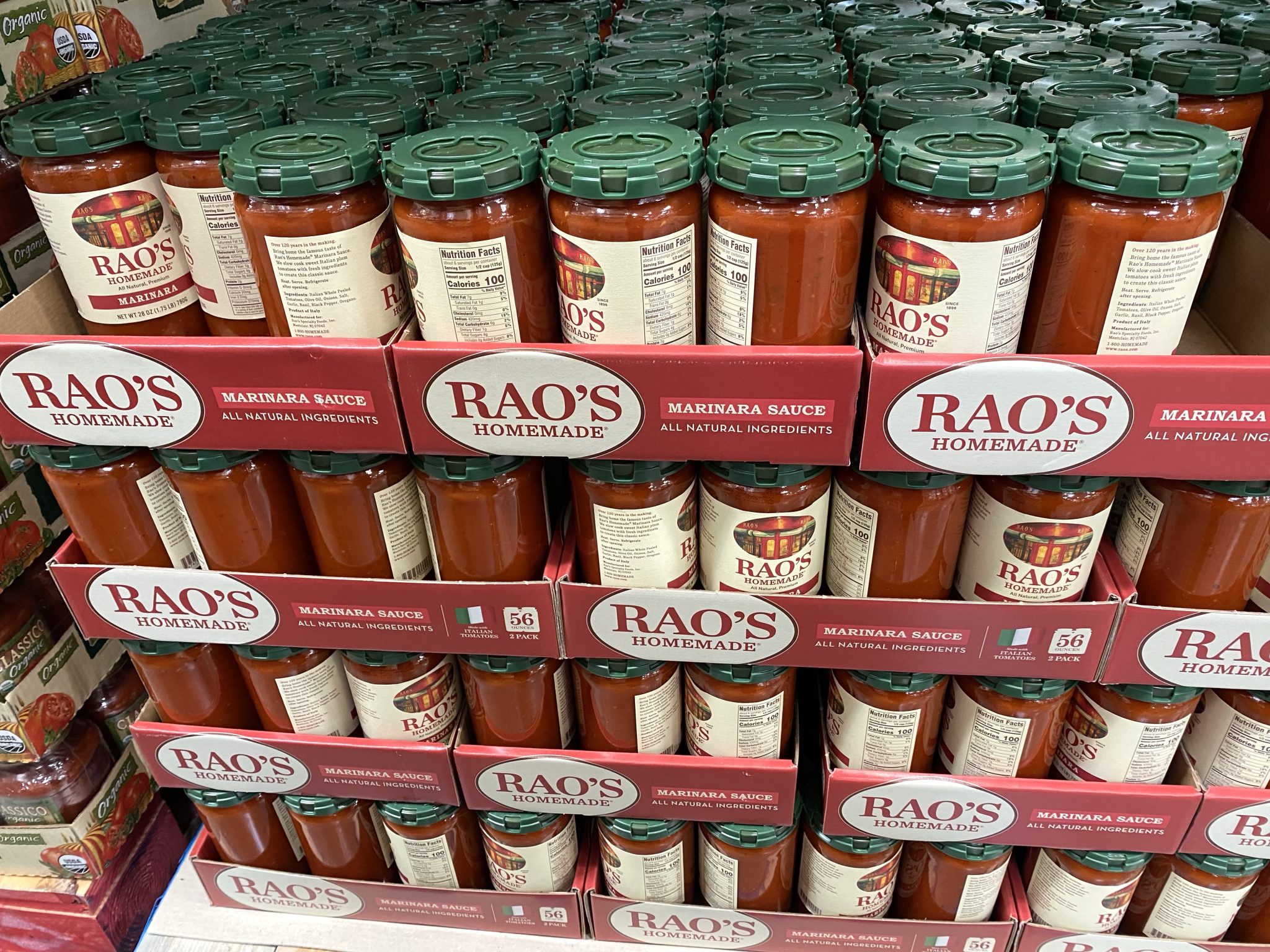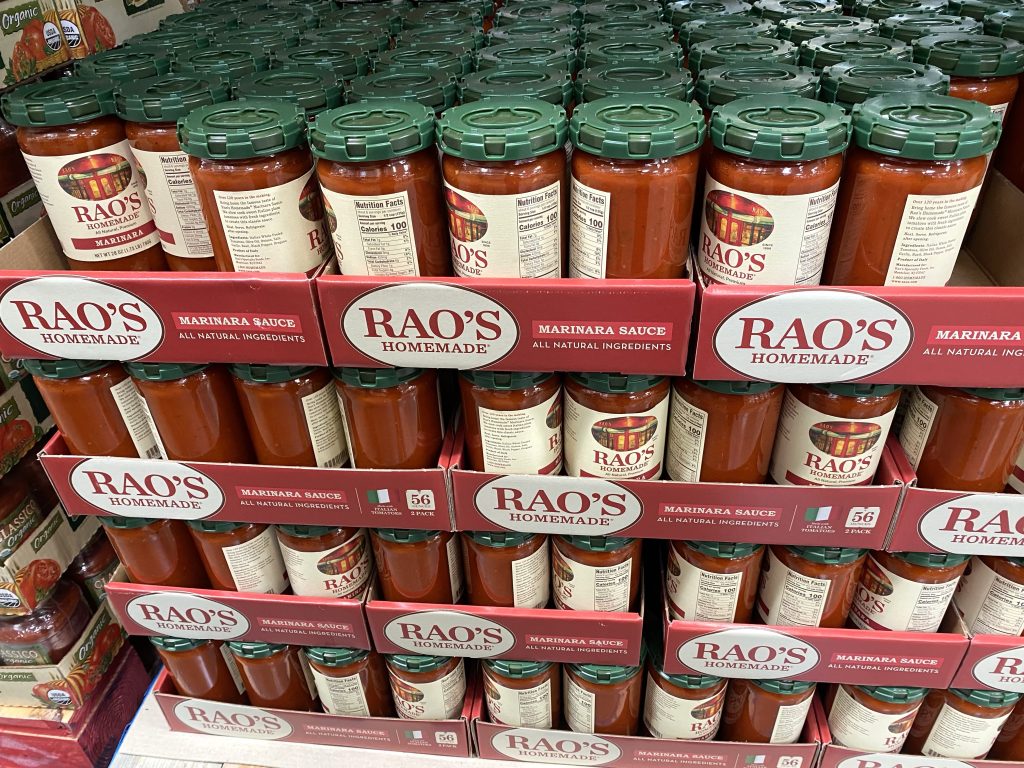 Rao's Marinara sauce comes in two packs at Costo, a better price than typical grocery stores. It's a popular marinara sauce among those who follow a low-carb lifestyle.
Protein Powder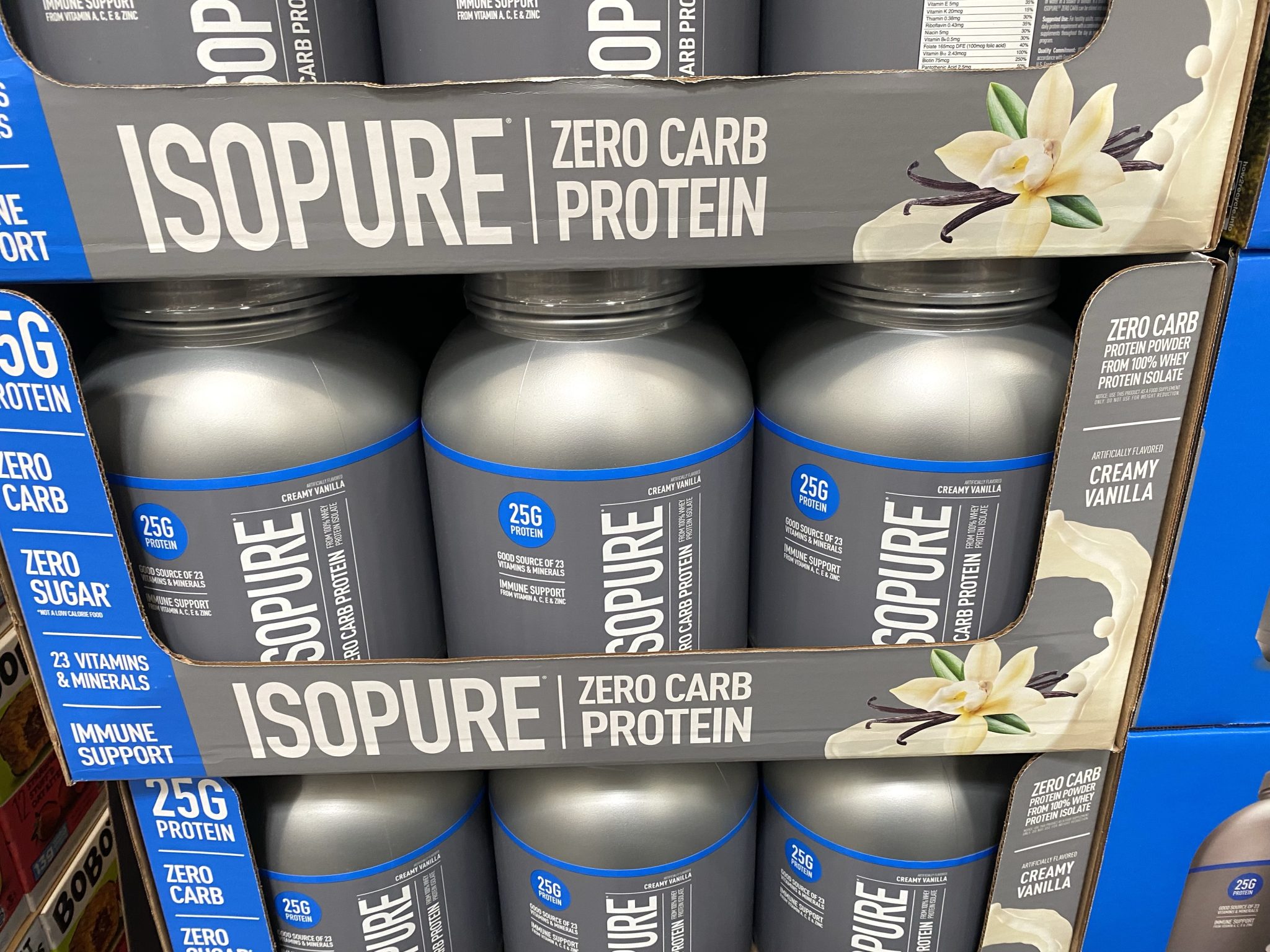 Costco carries a few protein powders. Isopure protein powder has 25 grams of protein and zero carbs and sugar. It comes in a creamy vanilla flavor.
Topo Chico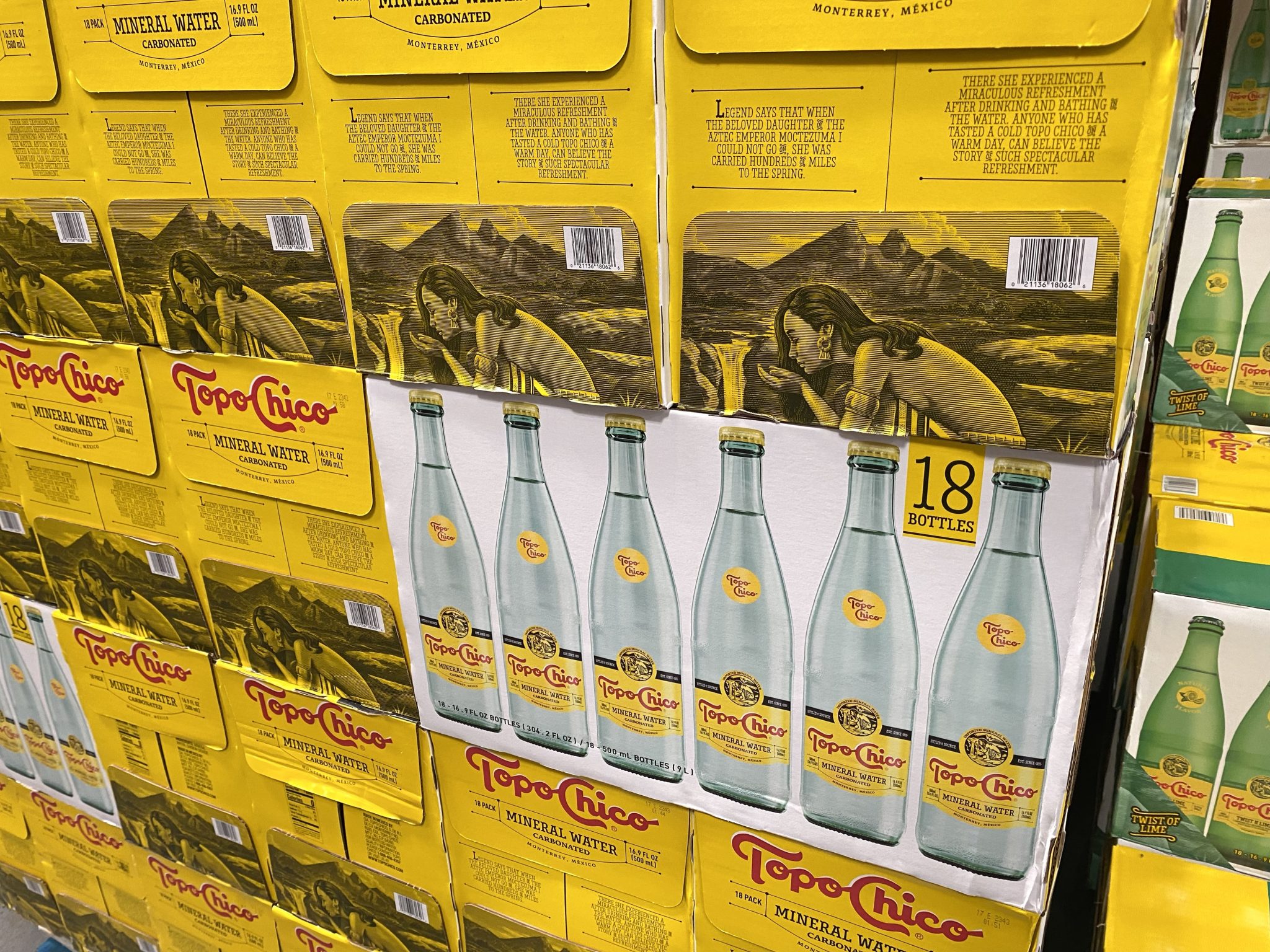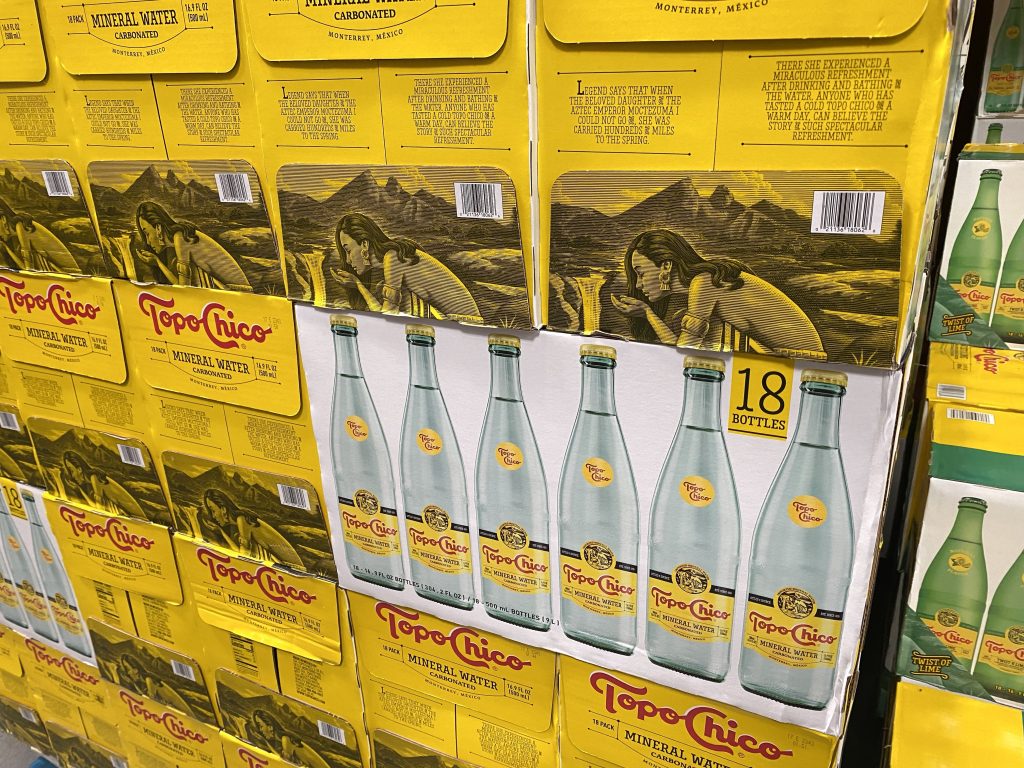 Topo Chico is highly sought-after mineral water from Mexico currently being sold at Costco. The best part about it is that it's naturally free of carbs.
Cooking Oil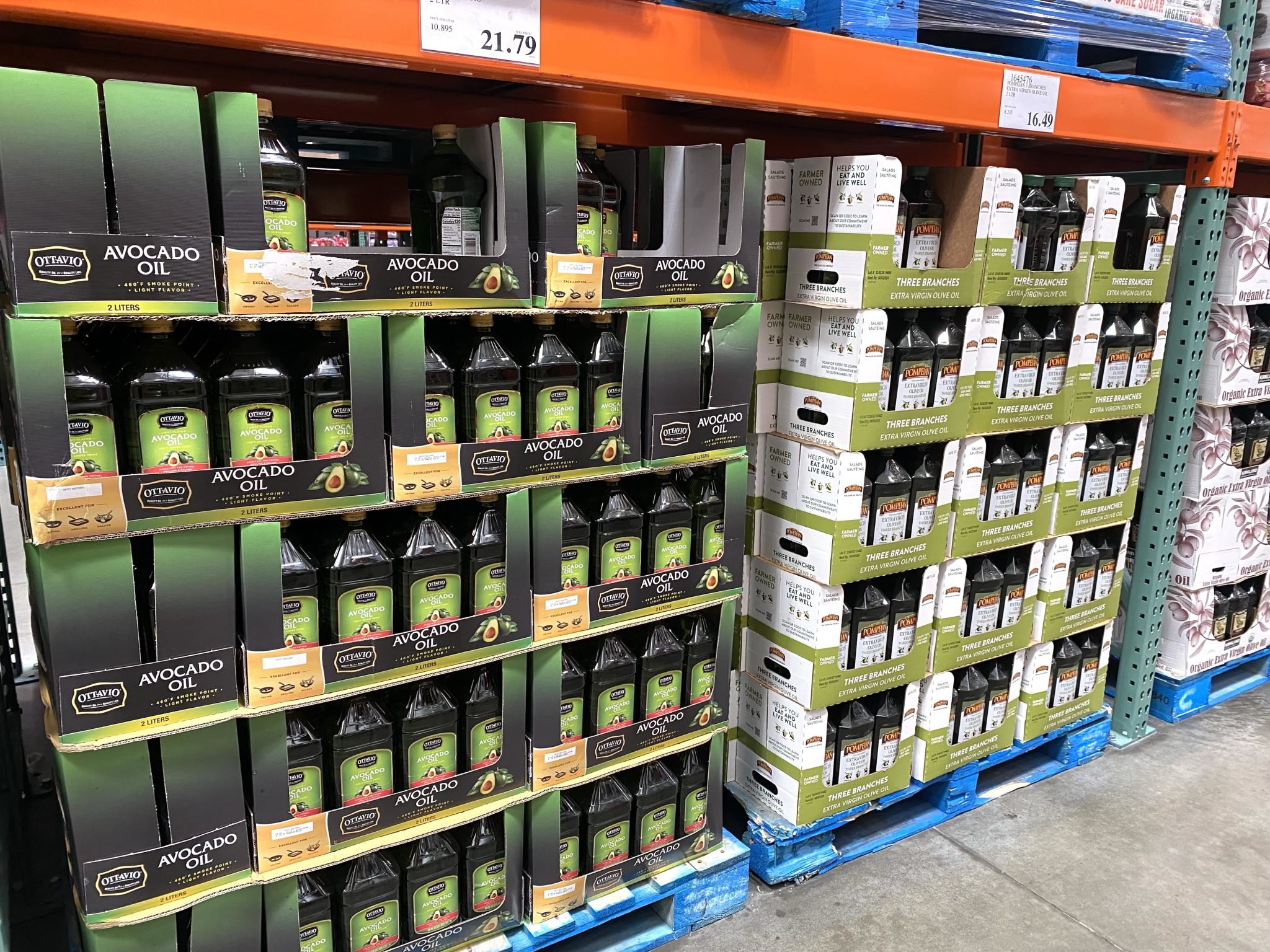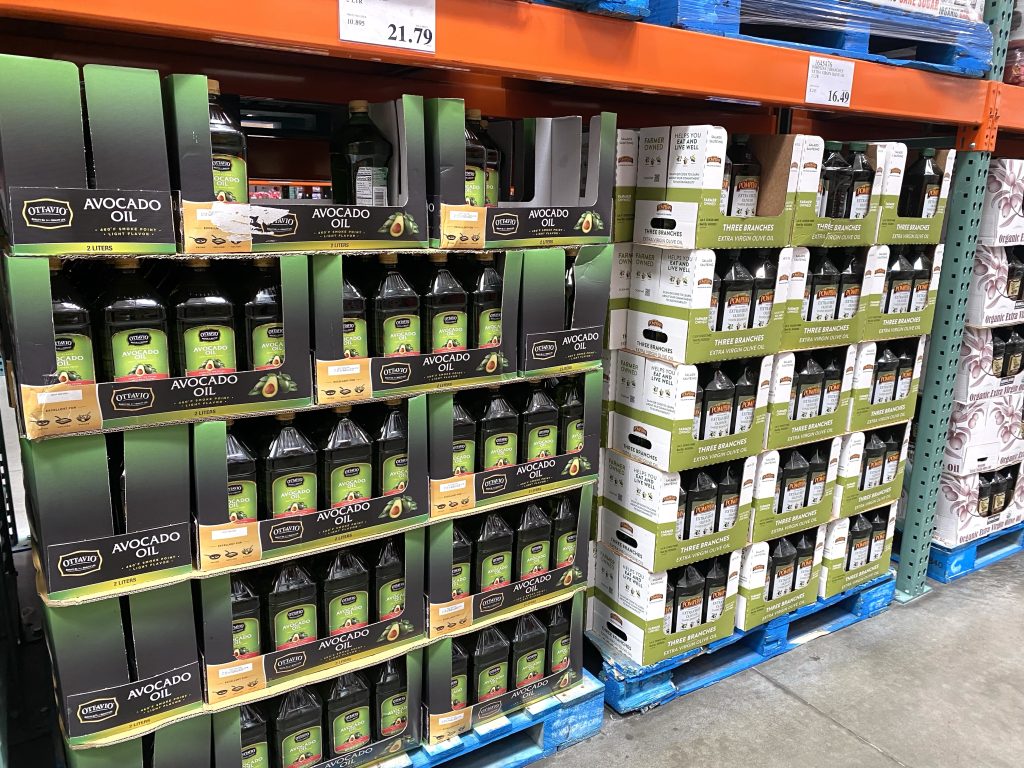 Costco offers a diverse selection of competitively priced, healthy cooking oils, including popular choices like avocado and olive oil.
Avocado Mash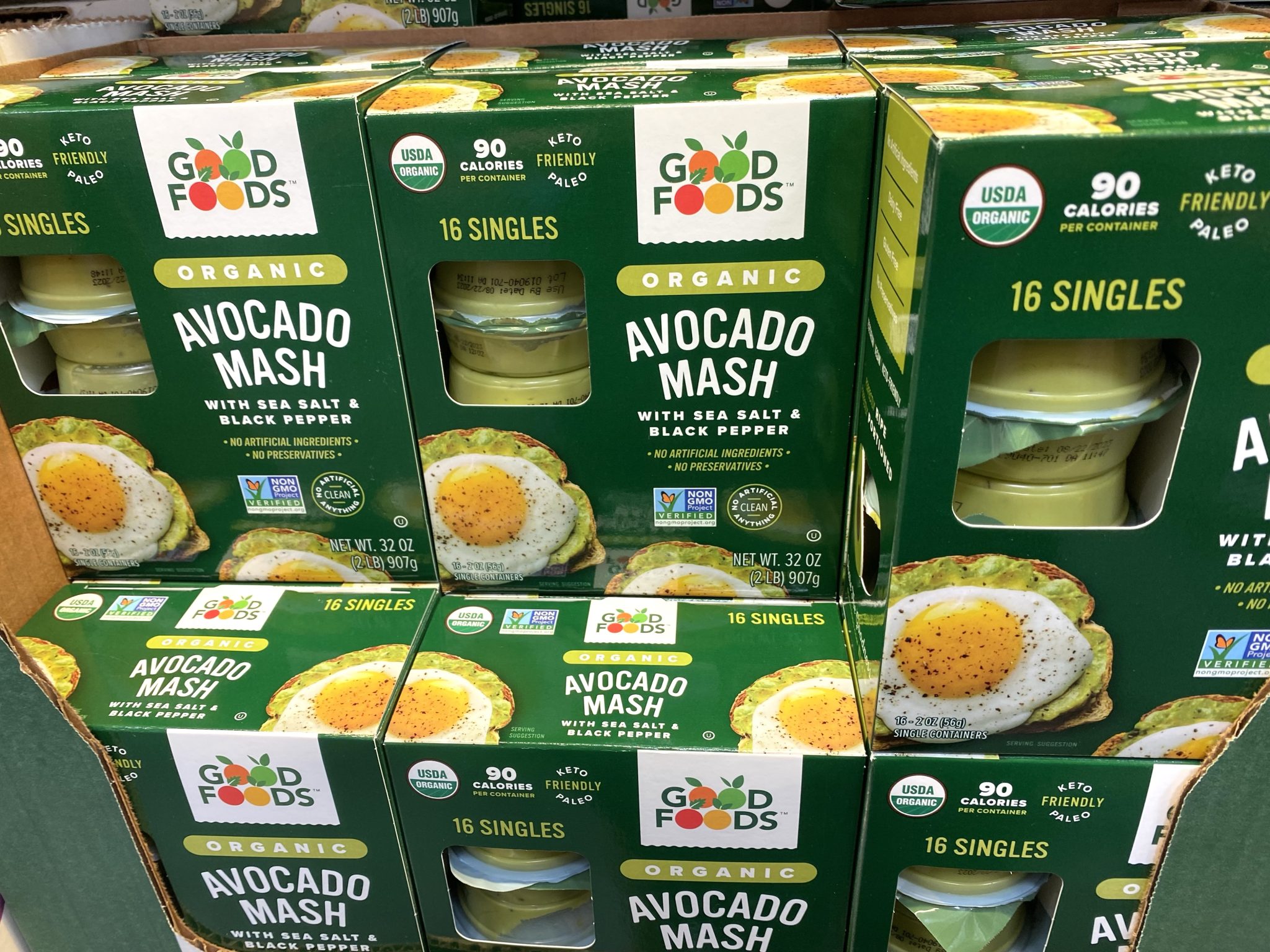 Good Foods' Organic Avocado Mash is seasoned perfectly with only sea salt and black pepper, making it keto and paleo-friendly.
Carnitas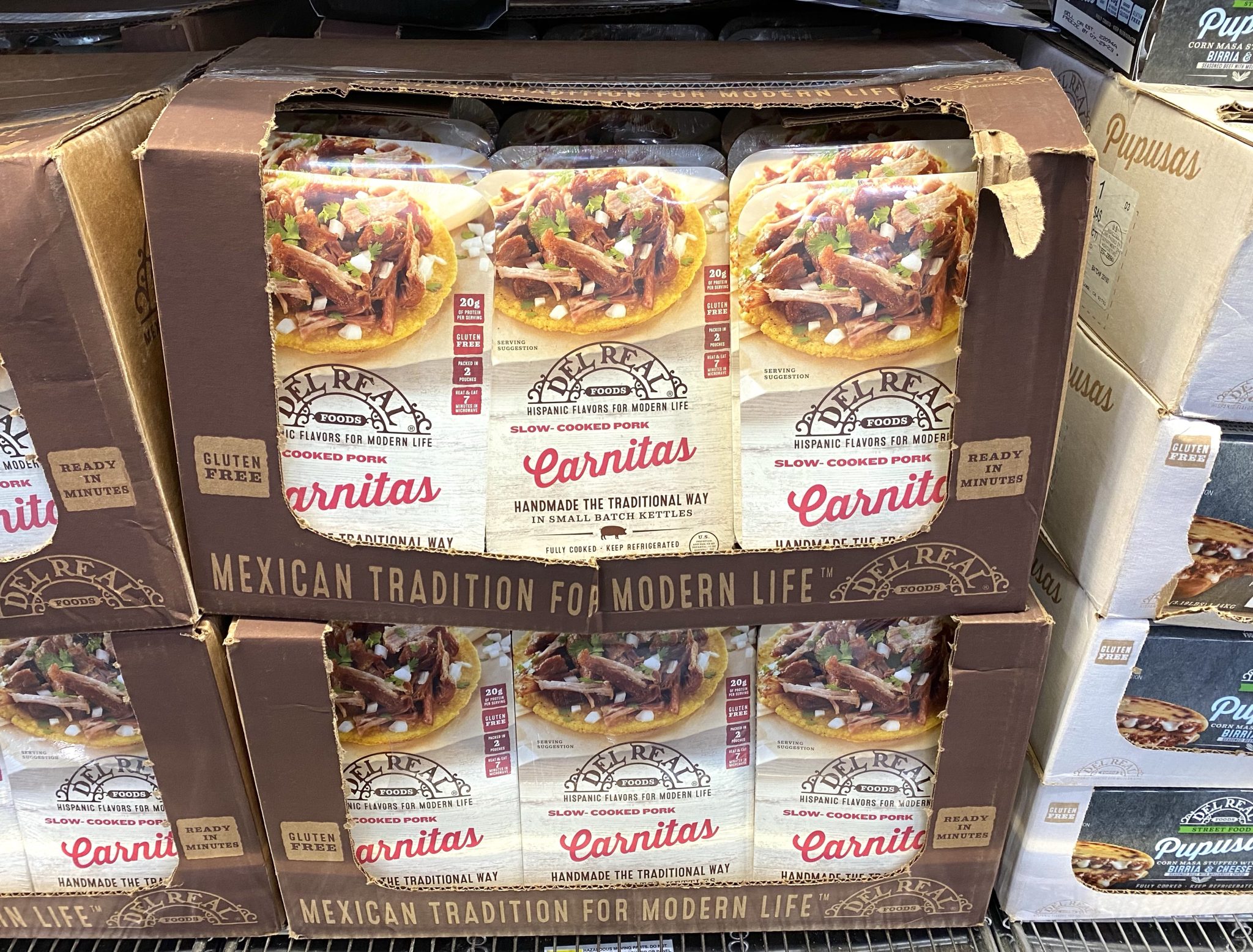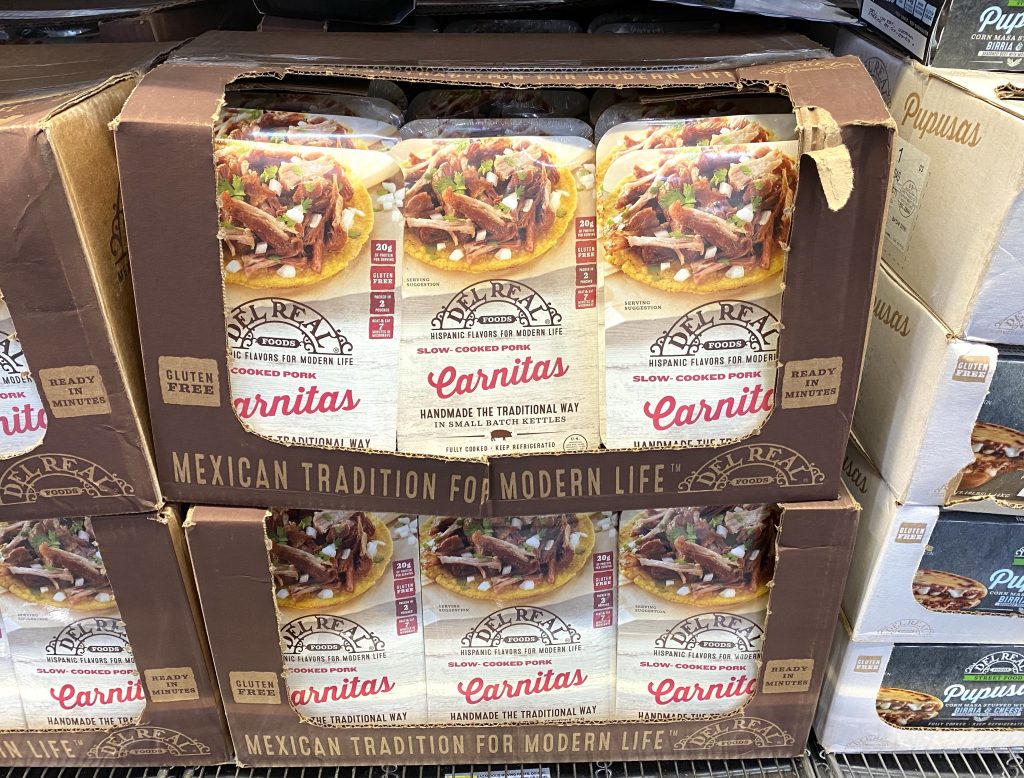 Del Real fully cooked Carnitas are low-carb and gluten-free. They're ready to eat in minutes.
Low Carb at Sam's Club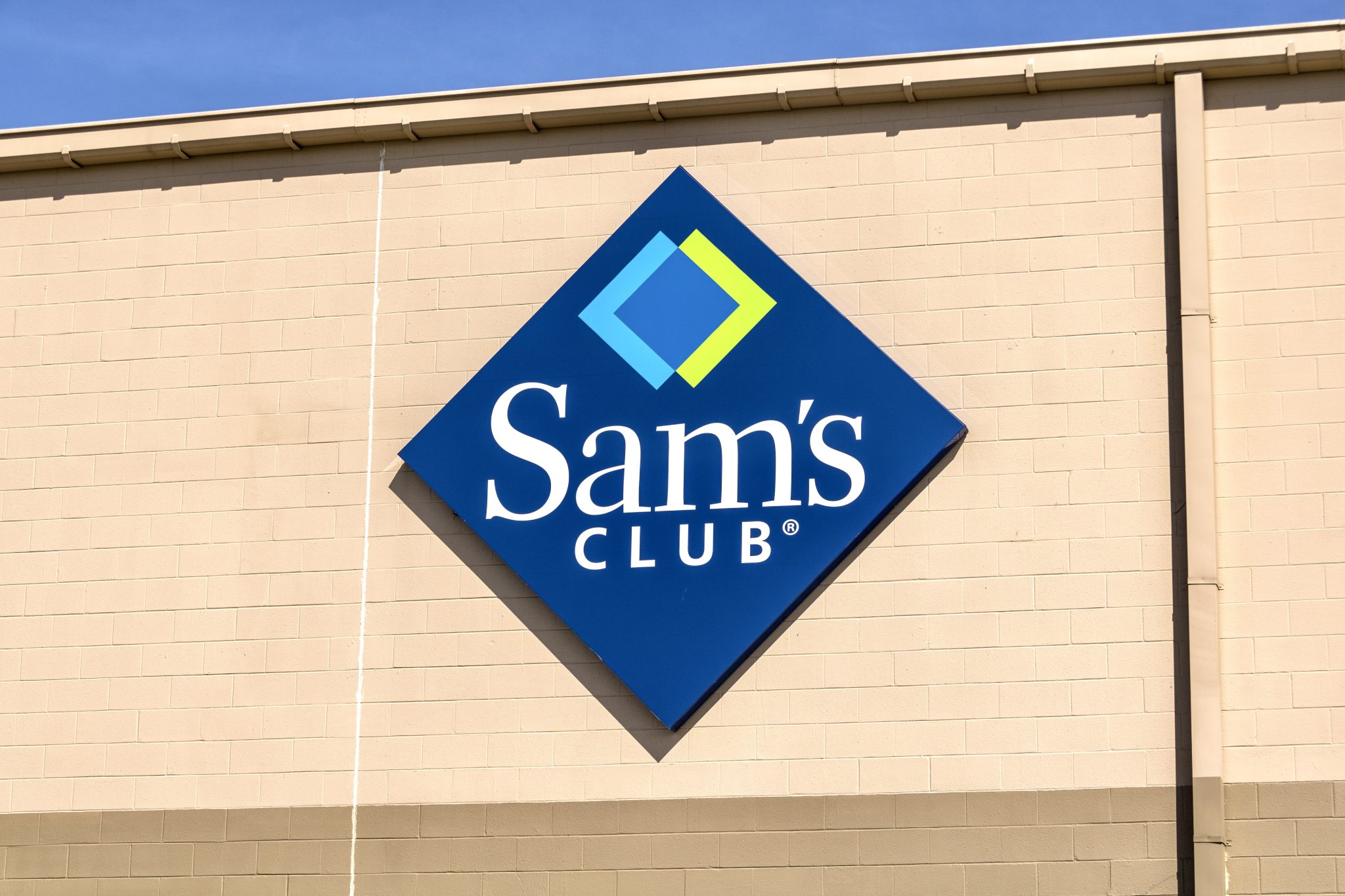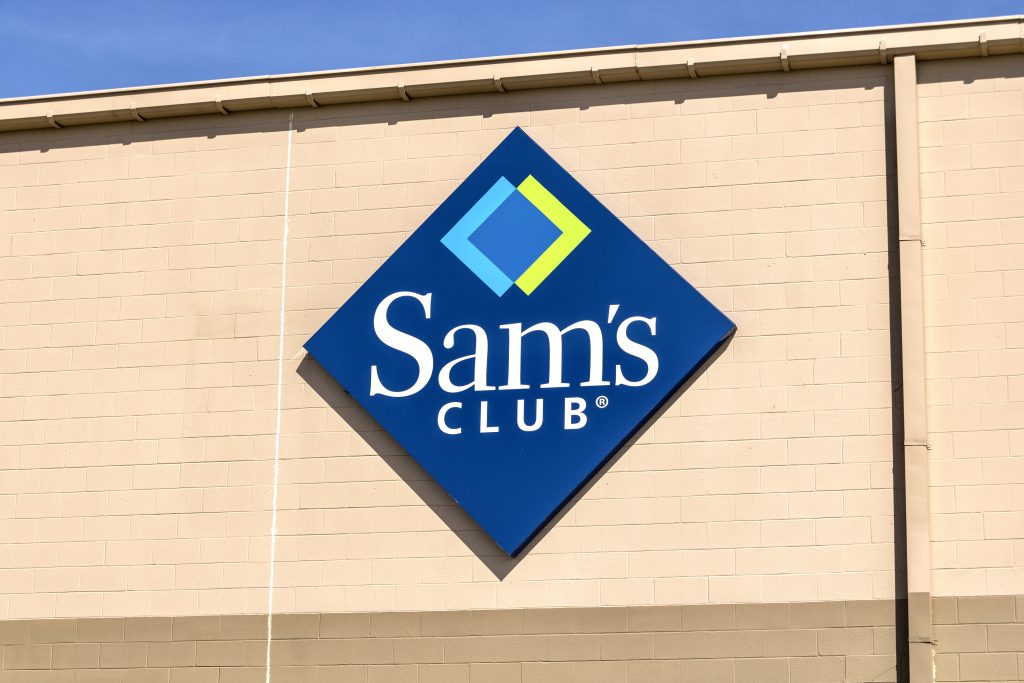 31 Amazing Low Carb and Keto Finds at Sam's Club
Low Carb at ALDI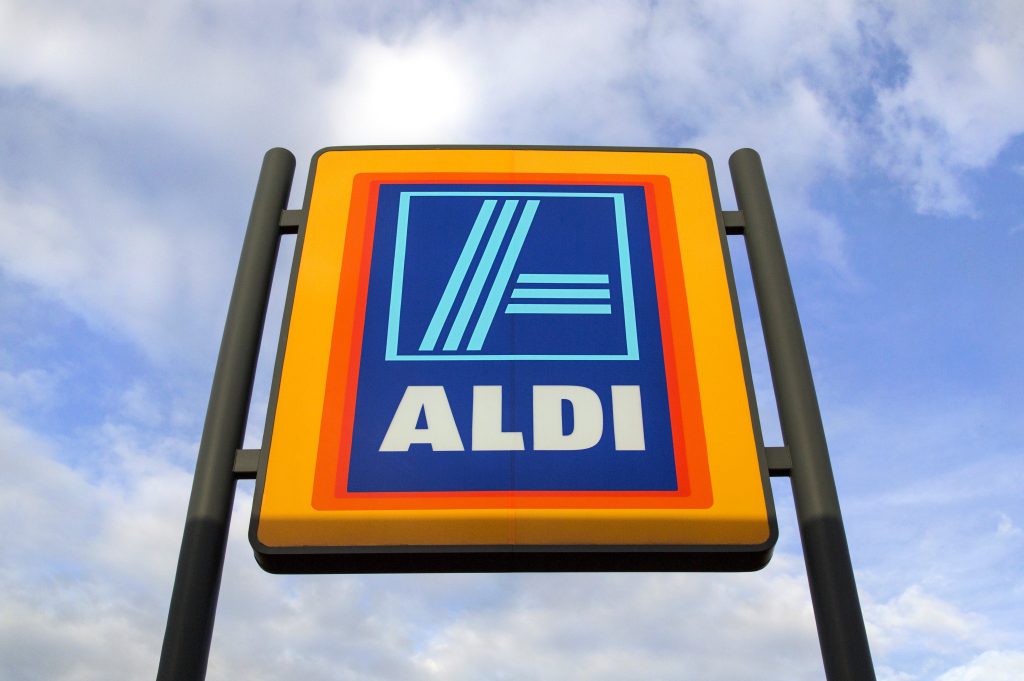 Aldi Low Carb: 25 Irresistible Finds
Low Carb at Trader Joe's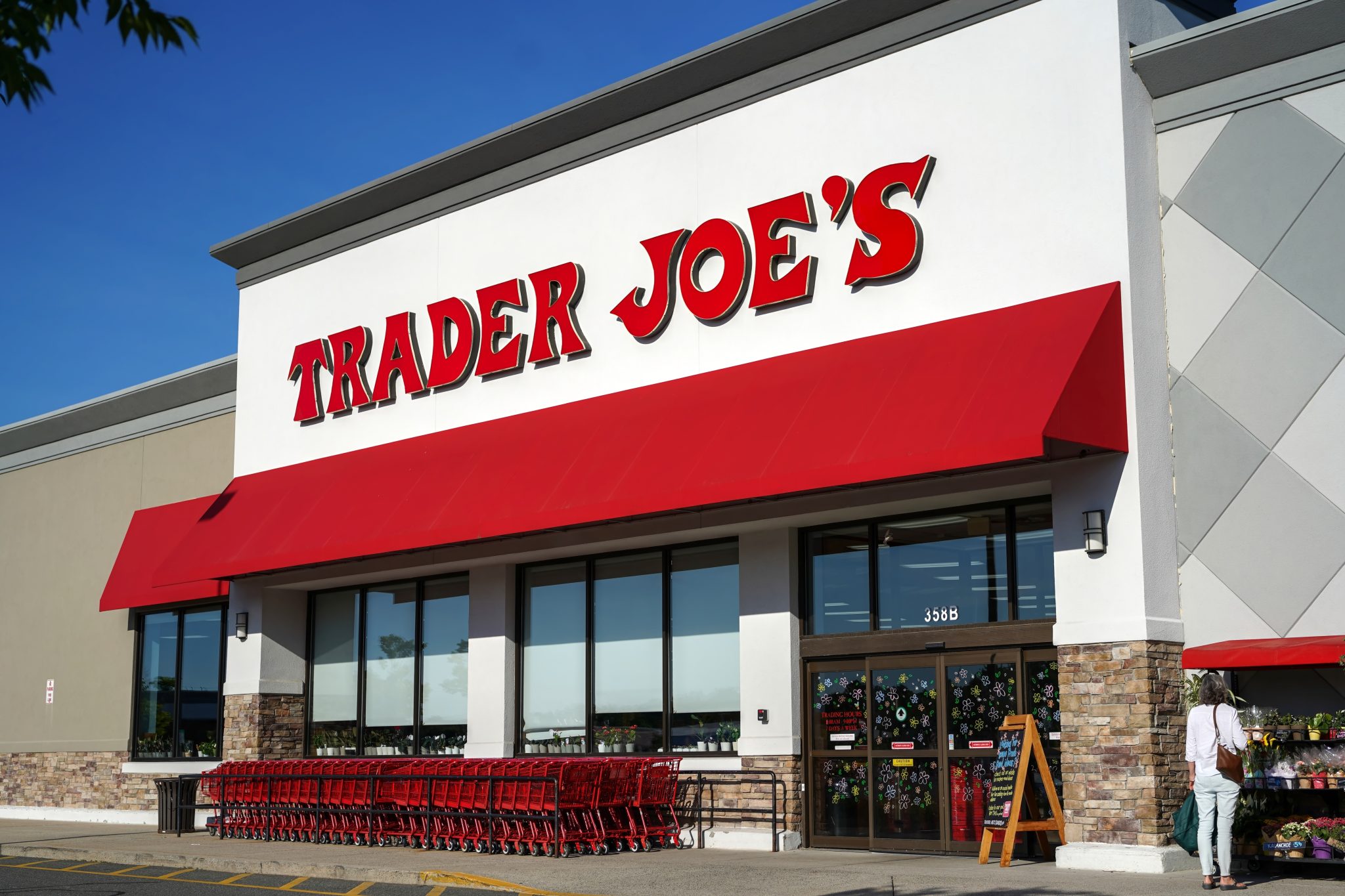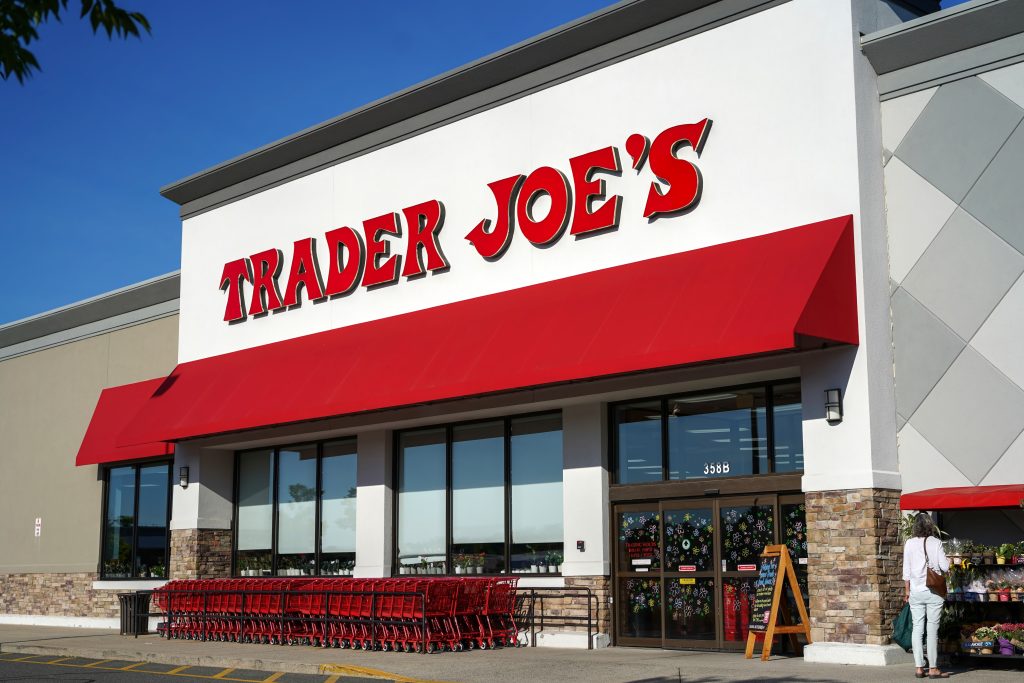 Trader Joe's Low Carb: 27 Fantastic Finds
Keto at Kroger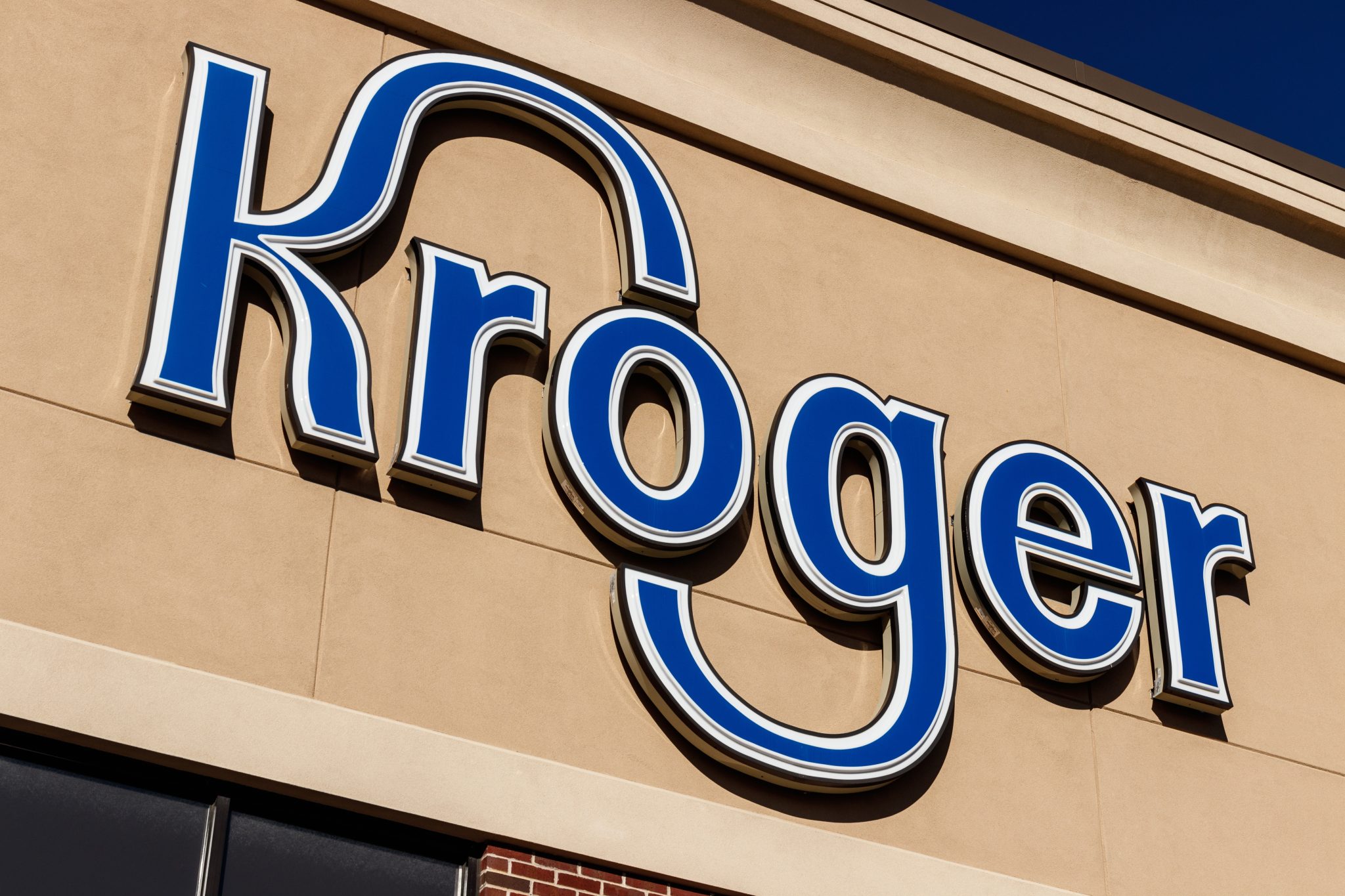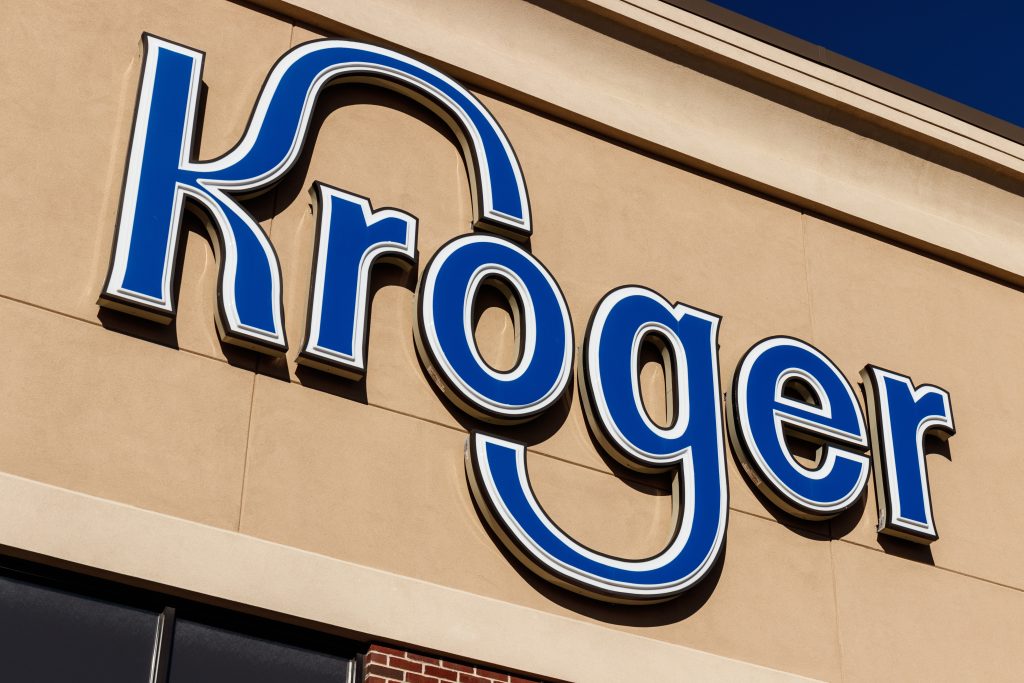 Over 20 Impressive Keto Finds at Kroger
Low Carb at Publix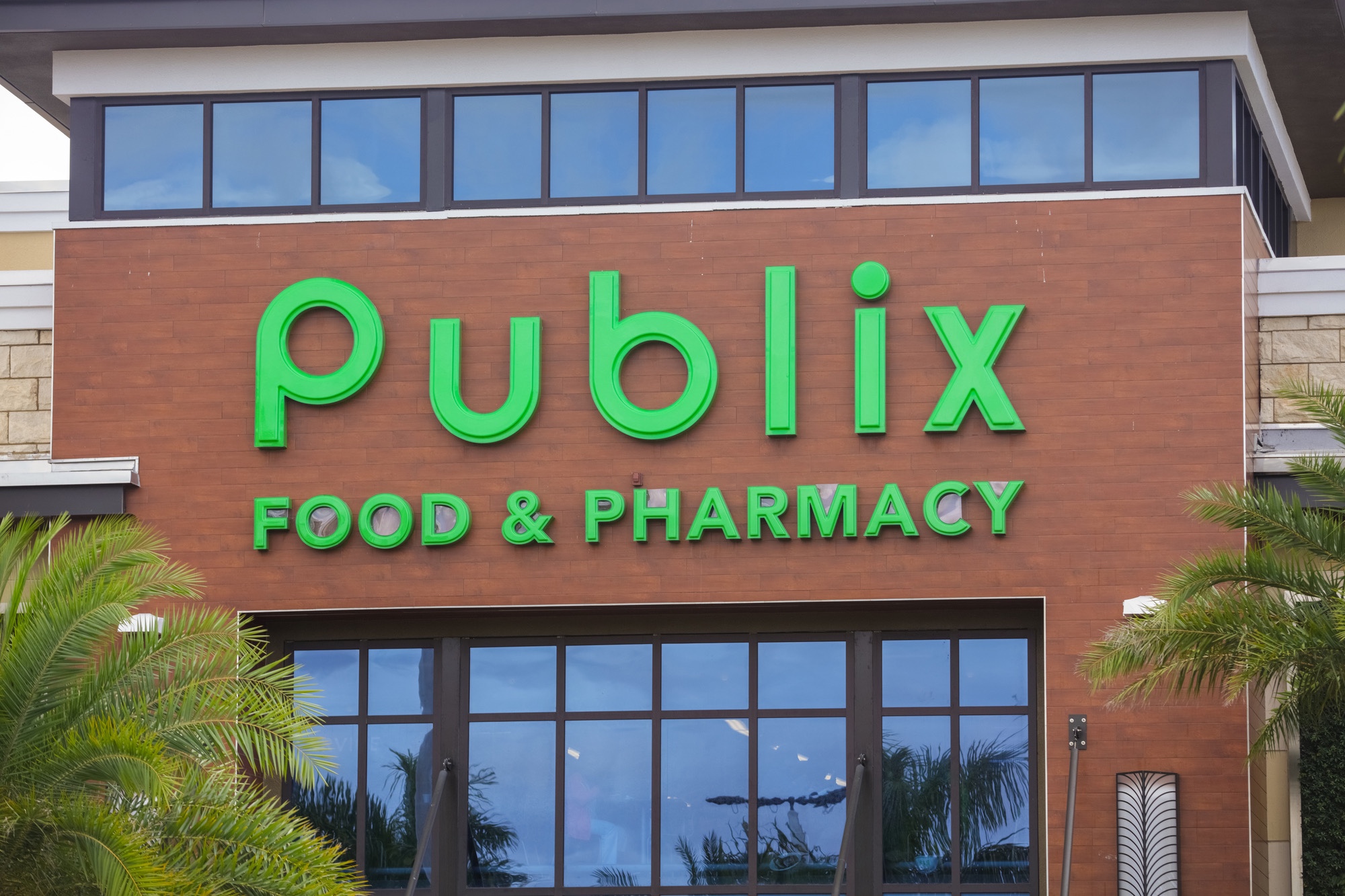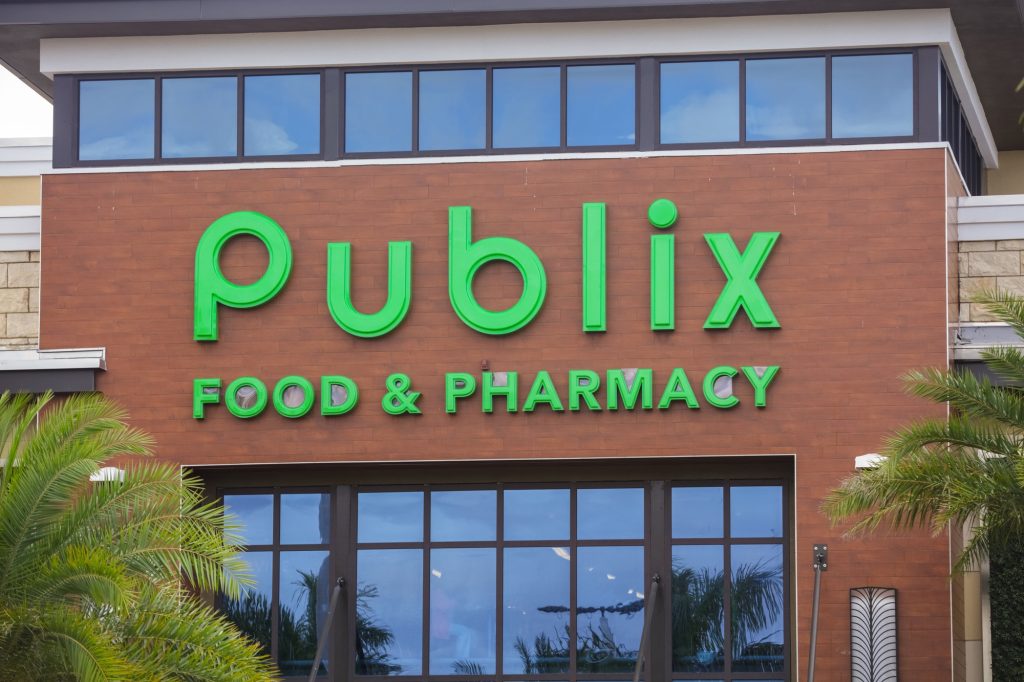 25 Terrific Low Carb Finds at Publix
Author: Natasha Newton (Natasha's Southern Flavor)
Natasha is the founder of Natasha's Southern Flavor. She has a passion for sharing delicious family friendly low-carb recipes that are easy to make and use readily accessible ingredients. Natasha has published three bestselling cookbooks. Her books and recipes have been featured by CNET, Delish, Mindbodygreen, Parade and Women's Health. She enjoys traveling and spending time with her husband, two adult children, and three furbabies.
Read more about Natasha here.